@rphumphries Tweeted an interesting question to me this morning:
@OneMileataTime why is there always a random Iceland Air plane parked outside the Alaska hangar at SEA?
I've noticed the same thing, though never put much thought into it.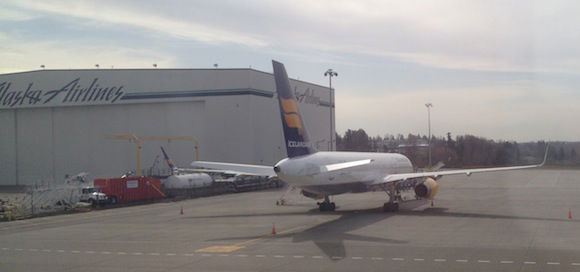 After doing a few minutes of research I figured out the answer… kind of. The Icelandair flight to Seattle lands at 4:40PM, while the flight back to Reykjavik leaves at 3:30PM. So the plane literally sits on the ground in Seattle for 23 hours every day.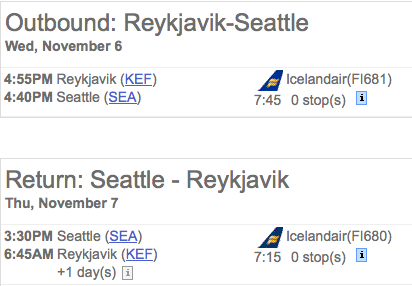 That seems incredibly inefficient and like horrible aircraft utilization, so I did a bit more digging to figure out why they'd leave their plane sitting in Seattle for that long.
Icelandair's business model relies heavily on passengers looking to travel from the US to Western Europe, especially in winter, when Iceland isn't exactly a "hot" destination. Part of the reason this works so well is because Reykjavik is an easy airport to transit (compared to London Heathrow — remember that argument?) and Iceland is more or less right on the way between the US and Western Europe, so it works for them.
But part of providing efficient connections is making sure all the flights are timed properly. For example, all flights from Reykjavik to the US depart between 4:55PM and 5:10PM, while all flights from the US to Reykjavik arrive between 6:20AM and 6:45AM. This is so that the connections are timed well between the US flights and Icelandair's ~20 destinations in Europe. After all, one of the selling points of Icelandair's connecting service is how short the total travel time is.
So if Icelandair pushed their flight from Reykjavik to Seattle forward by ~2.5 hours or pushed the return from Seattle to Reykjavik back by ~2.5 hours the plane could do a same day turn, though it would miss all the onward connections, which more or less eliminates the point of the service for most of the year.
Still, it's hard to imagine they can turn a profit on a flight that requires 23 hours of ground time every day…