Yesterday I posted about the devaluation to British Airways' Executive Club program, which kicks in for bookings made as of April 28, 2015.
There's another Avios program
What makes Avios quirky is that they're not just issued by British Airways, but also by Iberia. Except Iberia has a separate loyalty program, Iberia Plus.
The British Airways Executive Club and Iberia Plus programs are virtually identical, and you can even transfer Avios between them.
Iberia Plus devaluation
Not surprisingly, Iberia's program is being devalued as well. On the mileage earnings side, the changes are virtually identical.
And on the redemption side they're very similar as well — Iberia is introducing peak and off-peak awards, and for travel on partners their award charts match.
The timing of Iberia's changes are odd, though. You'd think they would match British Airways', but instead:
Iberia Plus earnings changes kick in March 1, 2015
Iberia Plus redemption changes kick in April 1, 2015
The bright side of the Iberia Plus devaluation
Interestingly under the new program Iberia Plus has a separate award chart for travel on their own flights.
To recap, here's the current Avios redemption chart:
Here's the new British Airways Avios redemption chart (valid for travel on British Airways and all partner airlines):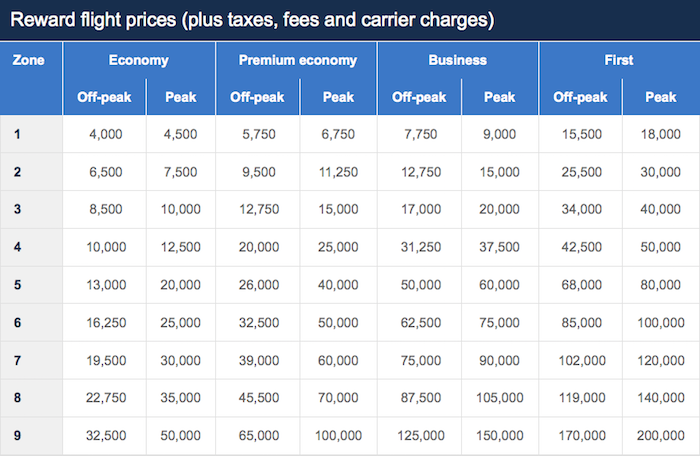 And while Iberia has the same chart for partners, here's the new Iberia Avios redemption chart for travel on Iberia: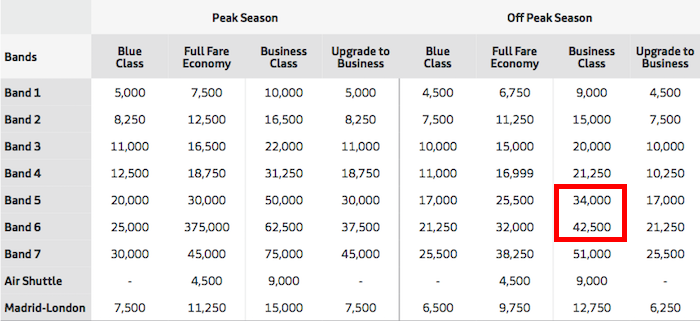 While there was basically no good news with the new British Airways award chart, there is some good news here.
Off peak business class awards that span a distance of 3,001-4,000 miles go from 40,000 Avios to 34,000 Avios
Off peak business class awards that span a distance of 4,001-5,500 miles go from 50,000 Avios to 42,500 Avios
In practice this means that eight months of the year you'll be able to book:
Boston or New York to Madrid for 34,000 Avios in business class
Chicago, Los Angeles, or Miami to Madrid for 42,500 Avios in business class
Best of all, keep in mind that Iberia doesn't impose fuel surcharges for redemptions on their own flights, and that you can transfer points freely between the two Avios programs (as well as directly from American Express Membership Rewards).
Here's the peak season award chart for travel on Iberia:
Bottom line
This in no way neutralizes the suckiness of the overall devaluation, but it is a bright spot. Being able to redeem 68,000-85,000 Avios for roundtrip transatlantic business class without fuel surcharges is great.
(Tip of the hat to Alex K)