Last year Iberia announced a new business class product, which would be installed on their new Airbus A330 aircraft. The new business class product looks very similar to the ones offered by Emirates and Etihad, so should be a solid product for transatlantic travel.
Here's a video of the new product:
https://www.youtube.com/watch?v=5dwxlZrmouc
And here's a seatmap of the new product (as you can see it's a staggered business class configuration):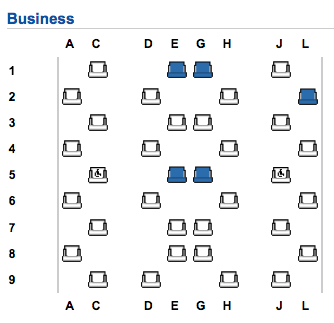 Anyway, Iberia is taking delivery of their first Airbus A330 later this month, and airlineroute.net has published the initial schedule, which is as follows:
Madrid – Dakar IB3328/3329 09MAR13 – 16MAR13 Day 6 (Previously planned to operate in Feb 2013)
Madrid – London Heathrow 20FEB13 – 13MAR13 Planned A330-300 service scheduled on selected flights
Madrid – Luanda eff 08MAR13 2 weekly flights (Previously planned from 01FEB13)
Madrid – Miami IB6123/6124 eff 06MAR13 Daily (Previously to start from 01MAR13)
Madrid – Rome IB3230/3231 16MAR13 1 flight only (Previously to operate 1 weekly in Feb 2013)
Madrid – Tel Aviv 22FEB13 – 13MAR13 Planned A330-300 service scheduled on selected flights
So as you can see the first daily longhaul destination for the Airbus 330 will be Miami, starting March 6, 2013. You can then find Iberia's summer 2013 schedule for the Airbus A330 here, which includes flights to Boston, Chicago, and New York.
Currently Iberia's business class product is angled flat, so leaves a bit to be desired. That being said, this new product will make this one of the best transatlantic options on OneWorld. When redeeming American AAdvantage miles, huge fuel surcharges are assessed for travel on British Airways, though they're at most 30 Euros for travel on Iberia.
Similarly, if you use British Airways Avios for travel on Iberia fuel surcharges are assessed, while if you transfer them to the Iberia Avios program (either from British Airways Avios or directly from American Express Membership Rewards), there are no fuel surcharges.
So there are some easy ways to experience this product without paying huge fuel surcharges, which is a huge win for OneWorld flyers.
(Tip of the hat to William)