I've done some ridiculous things for cheap miles over the years (not as ridiculous as Ben going to a hair-replacement consultation at 16; that one still wins), but when it comes to buying miles the process is typically pretty straightforward.
We often see bonuses on buying miles, or targeted promos for elites — in those cases either the miles themselves are discounted, or you receive more miles for the same base cost. It's pretty simple.
But have you ever heard of buying a coupon to then buy discounted miles?
Iberia and Groupon.es are doing just that, with a deal that's more than a little odd, but could potentially be pretty lucrative.
The first thing you should know is that Groupon.es and Iberia ran a similar promotion in December, and it was pretty messy. Everyone here was traveling at that time, so we somehow missed it completely, but it seems there was more than a slight amount of hassle.
So keep that in mind — you may have to chase down the miles on this one.
The deal
Essentially, you can buy Iberia Avios for about $.013 each through this offer.
That's not a rate at which I'd speculatively buy miles, but there are certainly cases where Avios can be extremely valuable. You can also transfer Avios between Iberia and British Airways freely, which gives you quite a bit of flexibility.
Groupon.es is selling five different "coupons" for Avios:
2,000 Avios – 19 € (65%)
4,000 Avios – 49 € (46% off)
8,000 Avios – € 99 (40% off)
12,000 Avios – 149 € (37% off)
20,000 Avios – € 259 (33% off)
You can buy five coupons per person, in nearly any combination, with two restrictions:
The 2,000 Avios package is limited to one per person
You cannot purchase more than 100,000 Avios total
You can also earn bonus Avios by leveraging a shopping portal (and I'll go through all the steps here shortly), but let's look at the pricing first:
| Purchase Price | Purchased Avios | Avios from Portal | Cost per Point |
| --- | --- | --- | --- |
| 19€ / ~$21 | 2,000 | 95 | ~1.00¢ |
| 49€ / ~$55 | 4,000 | 245 | ~1.29¢ |
| 99€ / ~$113 | 8,000 | 495 | ~1.33¢ |
| 149€ / ~$168 | 12,000 | 745 | ~1.32¢ |
| 259€ / ~$292 | 20,000 | 1,295 | ~1.37¢ |
Again, not rates at which I'd stock up on miles for no purpose, but depending on your circumstances it could certainly make sense.
As I've mentioned before, I primarily use Avios for flights between San Diego and LAX, which seem to be ~$350 round-trip nowadays. In comparison, 11,000 Iberia Avios is a great deal (heck, even 15,000 through British Airways is still better than paying retail), so these are good prices for me.
The cheapest package could also make sense if you just need to "activate" an Iberia account and can't transfer points from Amex.
The process
Iberia isn't the easiest airline to work with, and by all accounts Groupon.es isn't the most delightful either. But anything worthwhile takes some effort, right? I'll try to go through the steps as clearly as possible though.
1) Sign up for Iberia
Hopefully you've all done this already, but just in case: sign up for an IberiaPlus account.
2) Register for Groupon.es
This is not the same as your normal Groupon, you'll have to create a new profile for Spain.
Pay special attention to the email address you use to register, as you'll need that about a dozen times later on.
3) Go to the IB Plus Store
In order to get those extra 5 Avios/Euro, we have to click through to Groupon from Iberia's online shopping portal.
When you're logged into your Iberia account, select "Iberia Plus" in the upper right, then "Iberia PluStore."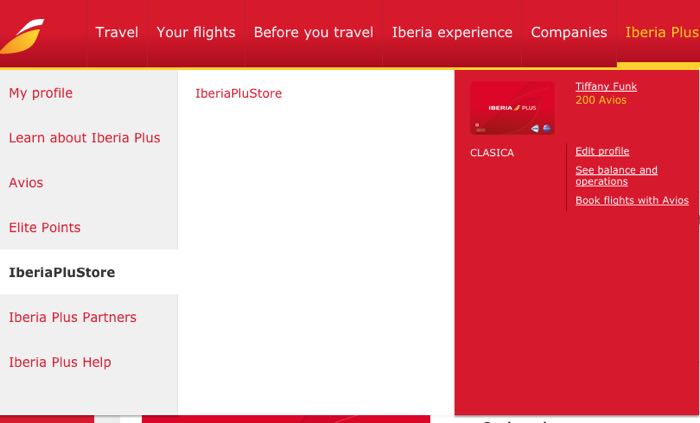 From there, just click through the screens until you're at the main page of the shopping portal.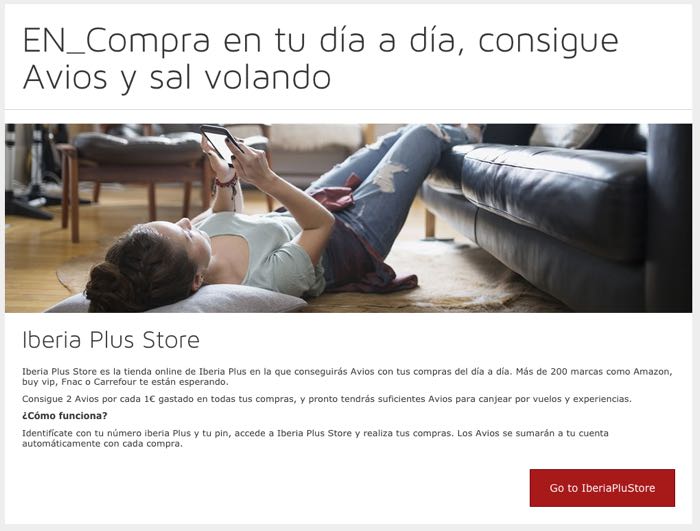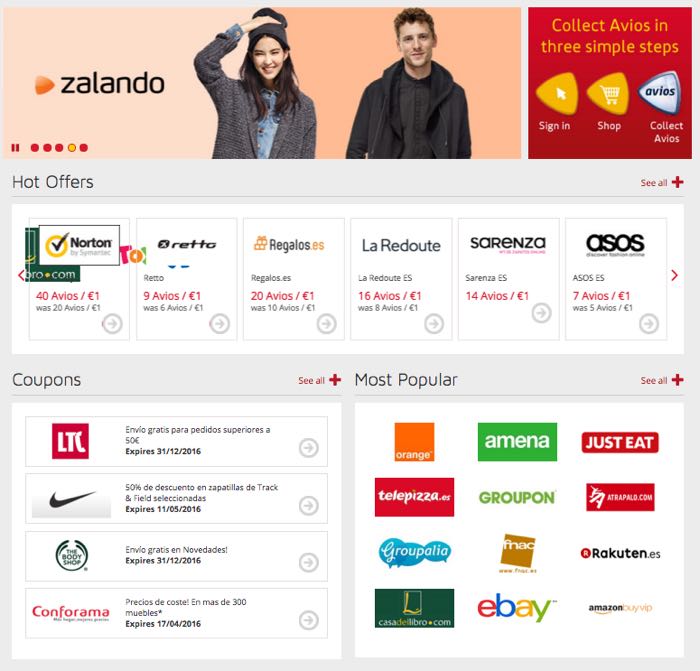 You should see Groupon under the "Most Popular" offers: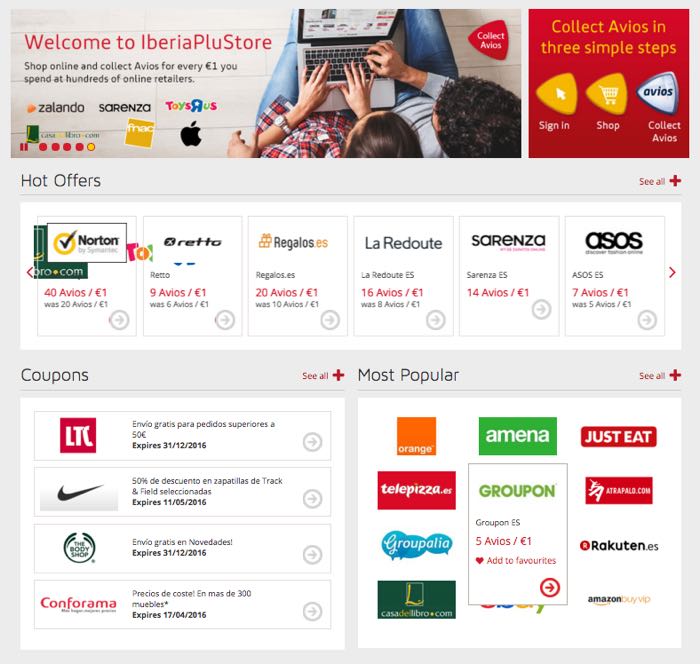 Click through, and you'll see the 5 Avios per Euro offer confirmed.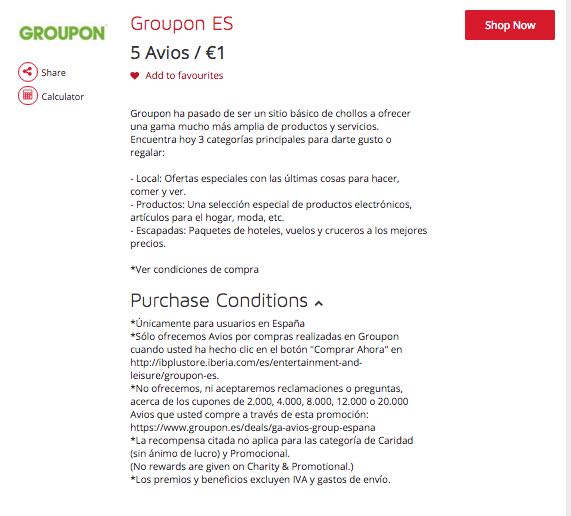 You should then be on the Groupon.es homepage.
4) Choose your Groupon
You may see the Avios offer right away, but if not you can search for Avios in the box at the top of the screen, and it should come up immediately.
Apologies in advance for the hillarible translations — I enabled translate in Chrome before taking screenshots so they'd match what most of y'all would be seeing, but…things are poorly translated.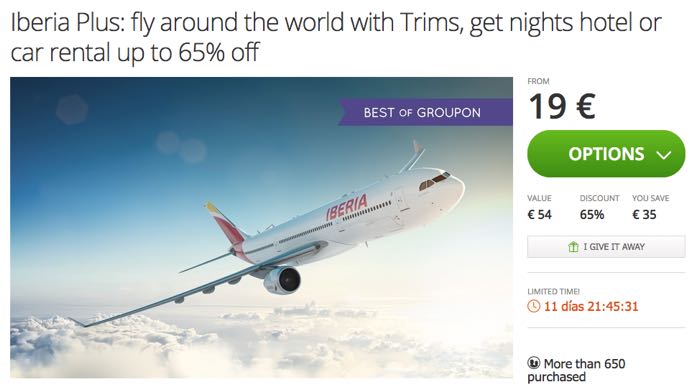 When you select "Options" you'll have a choice of the following packages: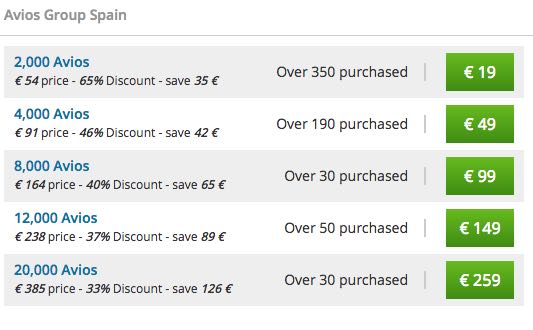 Add one to your cart, and then go to checkout.
5) Pick a payment method
By which I actually mean "link a credit card that doesn't levy foreign transaction fees to your PayPal account, and choose to check out with PayPal."
Trust me.
One, getting the address in your profile to match what Groupon's payment processor wants to accept for your credit card is a pain. Two, there's a more than slight chance you'll be wanting to pressure Groupon later on in this process, so being able to start a PayPal Review and/or a credit card chargeback gives you more control.
I did warn you this was going to be a fun one. 😉
6) Wait for your Groupon to process
Once I finally made a successful payment, I got this message:

Sure enough, the Groupon showed as pending in my account:

And a few minutes later the Groupon was available:

Now, you might think you're done, but really you've just started.
See where it says "Valid until 11 May"? That's how long you have to redeem your Groupon, but you want to redeem this right away! Once the miles are safely in your account you can relax, but it could be a process to get them there, and you'll want to start right away.
7) Pour a glass of wine
This is optional, but I really regret not doing so before the next phase. A nice Tempranillo would be appropriate, but anything will help.
8) Attempt to validate your Groupon
So the idea here is that you take the codes from your voucher, link them to your Iberia account, and voila — the mileage purchase happens.
I can't tell if these people are sketchy, or if the websites are just buggy AF, but it's certainly not that straightforward.
When you open your Groupon voucher, you'll see two codes in the upper left: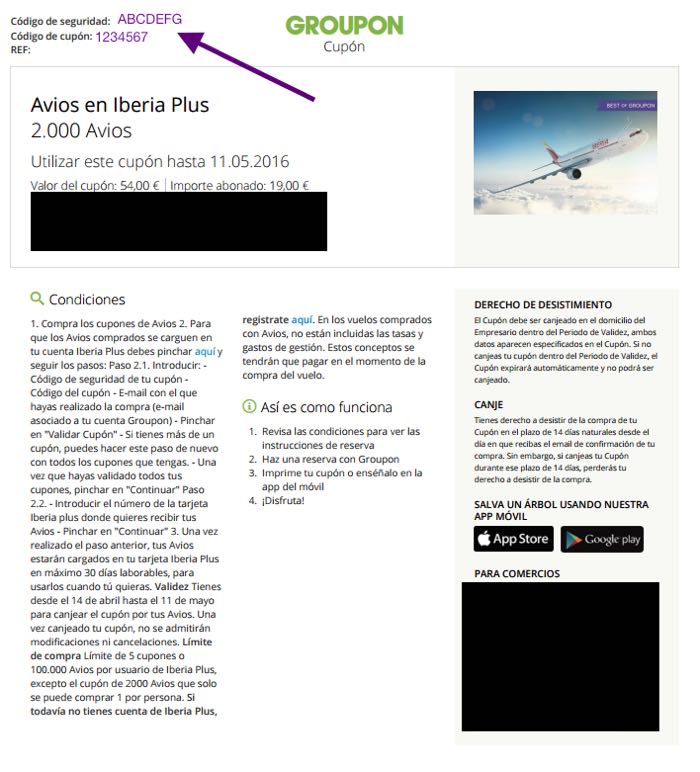 In a new tab/window, open this page, which will let you validate the Groupon. Enter the security code, the coupon code, and the email you used to register for Groupon: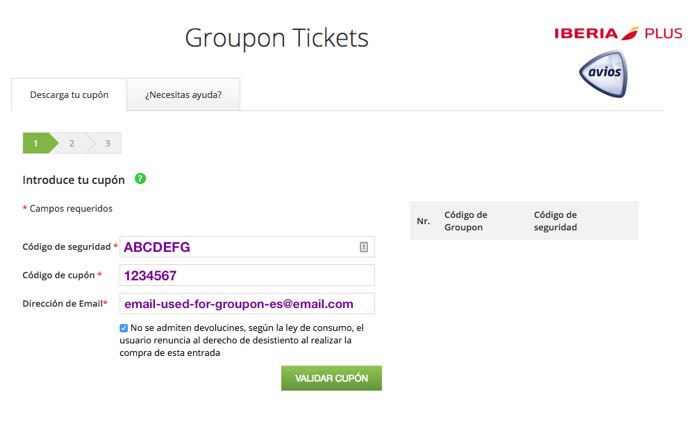 Because this is where the fun starts, you'll most likely receive an error message: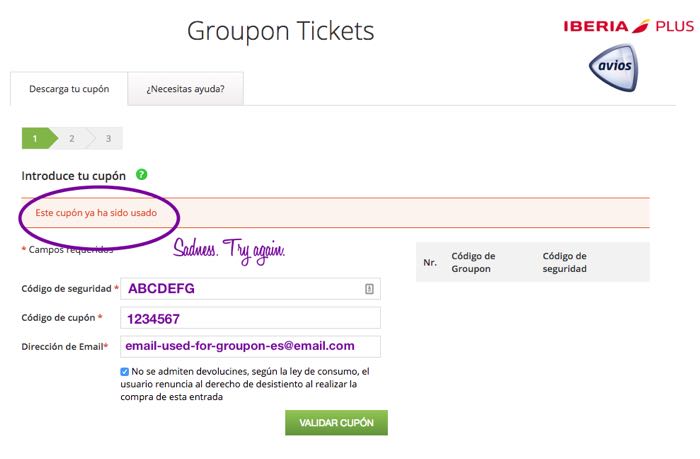 Obviously your coupon hasn't been used yet, and there doesn't seem to be any rhyme or reason as to why this fails.
Just keep entering your information until it actually works (for me this was 15 times, by which point I thought I was going completely crazy, because it's not like this is a complicated form).
Eventually you'll either empty your bottle of wine, or see that your voucher info has populated on the right-hand side of the screen: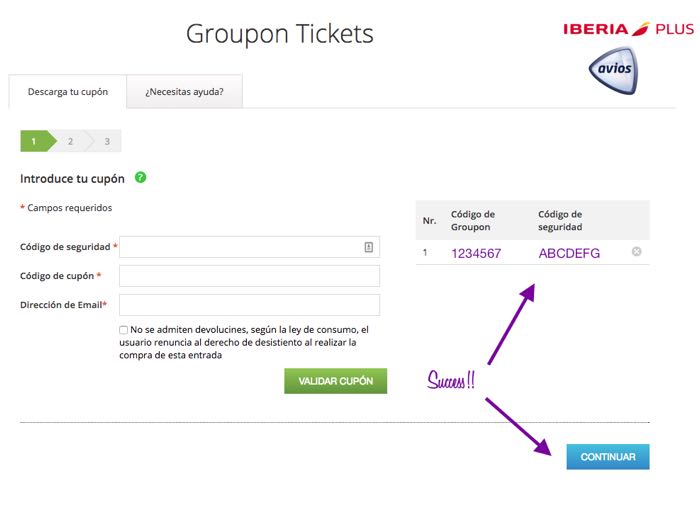 Yay!!!
Press the blue button to continue, at which point you'll be able to enter your IberiaPlus number: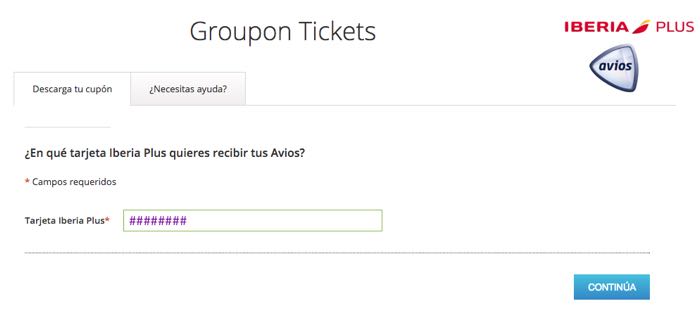 If you enter a valid number, you'll receive a confirmation: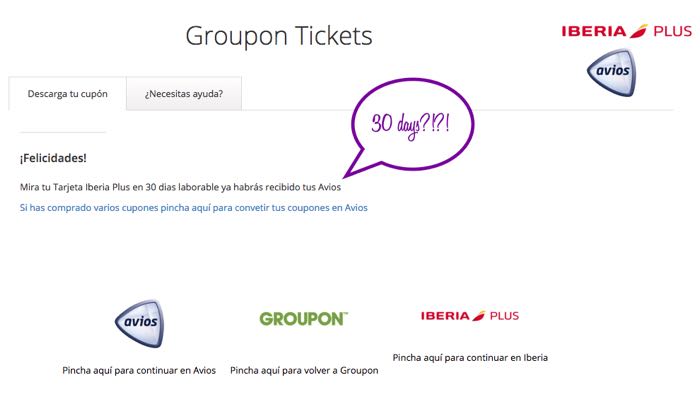 Yep, that's right, Groupon.es is estimating 30 days before the miles post to your Iberia account. I'd like to say that this is because they're under-promising, and are actually batch-processing these in a timely fashion, but…
9) Set a calendar reminder for 30 days out
I'm sure y'all check AwardWallet pretty obsessively, so you'll likely notice when the miles post, but in this case you need to notice if the miles don't post.
Obviously, you'll want to follow up on any miles purchase you make, but in this case you may have to be aggressive with Groupon.es. If they're not responsive, you'll want to have PayPal and/or your credit card dispute the transaction, and you don't want to lose your window of opportunity there.
The Avios from the shopping portal will post separately from the Groupon transaction — make sure to check for both!
So pay close attention, and hopefully you'll see some shiny new Avios in your account next month.
Bottom line
I'm not entirely sure what Iberia is hoping to get out of this — surely they'd be better off selling Avios directly — and the whole process is more than a bit bizarre.
This is a good deal, but it is also has potential to be a tremendous cluster.
If you are willing to play the game of letting it ride and seeing what happens, go for it. If you are someone who is frustrated by incompetence or bad at chasing down loose ends, you should sit this one out.
Did anyone buy Avios through the last Groupon? How did that go for you?