I'd like to apologize in advance for the relatively brief report. I have a couple of exams this week and I'm off to Asia on Saturday, so I have a busy week ahead of me. I'm sure there will be plenty of other coverage on the events of this past weekend, so all the details will get out one way or another.
As I've mentioned probably a dozen times by now, this past weekend about 35 of us flew with Captain Flanagan, and we had some fun activities planned around it. The fun started as about 20 of us headed to ORD, flying together from IAD-RIC and RIC-ORD on the same regional jet. Most people can't understand why we'd choose to subject ourselves to regional jets for that long, but it not only added a lot of extra mileage but also made for a fun time given that we took over half of the plane on both flights.
First about 20 of us met in the Red Carpet Club near C16 at IAD before the flight. It was a combination of FlyerTalkers I've met a dozen times before as well as some I met for the first time. It was a fun crowd, and it was clear that the other people in the Red Carpet Club were puzzled by what the hell was going on.
About 45 minutes before departure we headed out to our gate in the A concourse, where we ran into another FlyerTalker that was booked on the nonstop to SFO. We convinced him to join us on our crazy routing. Fortunately there was room for him to standby.
We got to gate A3 via the Moon Buggy, which is always a fun ride. Eventually boarding began, which was the most entertaining thing I've seen in a long time. The gate agent called for 1K and Global Services to board, only to see a bunch of people rushing for the Red Carpet, almost all of which were actually 1K's. She made another announcement saying "1K's only," since I guess she assumed we weren't all 1K's. Too funny!
As a result, everyone else assumed it was the general boarding call, but she turned several people around and reminded them it wasn't. She even commented to me that "wow, we have a billion 1K's on this flight today, I've never seen this before."
Unfortunately, the flight wasn't quite as much fun, given we had a bit of a not-so-fun FA. As a result we kept the applause to a minimum, and before we knew it we were on the ground in RIC, which is where it really got fun.
As we got off the jetway there was an FT'er waiting for us with "Rhapsody in Blue" playing loudly on his laptop. Hah!
To add to the fun we had an awesome gate agent, the same one I have every time I fly through RIC. She's professional, friendly, and fun. Unfortunately, she didn't know how to add someone to the waitlist without having corresponding "coupons," which made it a bit difficult for the FT'er that just decided to join us. She also mentioned they were cleaning the plane in RIC because there were "United VIPs aboard this flight." 😀
We all made it aboard, and the boarding process was once again hilarious. This gate agent, not surprisingly, admitted she had never seen that many 1K's on a flight before. We explained to her what we were doing and she was impressed.
Fortunately, our FA on this flight, Judy, was awesome. I can't even begin to describe how much fun we had with her. The cabin filled with applause each time she made an announcement, and she cracked every time. The drink service was even more entertaining, with so many passengers using drink certificates. As she came down the aisle we started chanting "Ju-dy, Ju-dy, Ju-dy!" She loved it!
She even brought around the manifest, and all we saw was "100K Flyer" after "100K Flyer." I'm also happy to report that she appreciated my constant sarcasm, although she had a sarcastic attitude to match. Those aboard know what I mean. 😉 She definitely worked hard for a "Going the Extra Mile" certificate.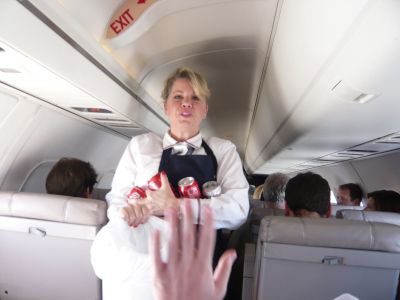 Me signaling the FA to stop serving FT'ers drinks (thanks to bmvaughn for taking the picture)
We eventually made it to ORD, where we arrived in the C concourse, which is where we needed to be, instead of the F concourse that we were originally scheduled to arrive at. Hmmm, I wonder why. 😉
We met up with other FlyerTalkers and then headed over to gate C19, where we met up with our United representative for our tour of ORD operations.
More to come…