Instead of the usual Saturday night on a redeye, I'm spending my Saturday night at a hotel not too far from home. It's quite nice, actually, and it couldn't have been a more beautiful day. I even spent most of the day playing "spot the off duty flight attendants," since the crews from one of my favorite airlines happen to stay here. 😉
Earlier this afternoon I went to the Costco not far from the hotel to buy $1,000 worth of Hyatt gift checks for $800. It was quite an entertaining experience. First I had to sign up for a Costco membership, which was $50 (but it's worth noting that they offer a 100% satisfaction guarantee, so you can get a refund at any time). They made me fill out a form, at which point the agent entered all the information into the computer. Half way through entering the information she started laughing hysterically and said "your birthday is on 4/20. I celebrate your birthday every year." Hah, classy!
Then, as I checked out with a grand total of $799.90, the check-out agent felt bad for me. "Ouch, that's gotta hurt." Actually, for the first time ever I didn't feel bad spending $800, because it was that phenomenal of a deal.
I'll break down the math when "Big Welcome Back" season is over, but I'm actually earning one free night for every $100 I spend. That's even better than what I was expecting. Not bad when I can redeem these nights at top end Hyatt hotels all over the world. So you can bet it'll be a fun summer of travel.

My Costco purchase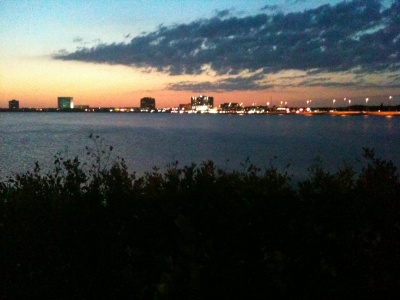 Not a bad view…