After a successful weekend of two bumps netting me $900 in United travel credits, it was finally time to fly home this morning. I was on UA914, the domestic 777 from SFO to IAD. When I checked in I was assigned seat 35A, a window seat in coach (not Economy Plus). I figured I'd be able to get something at least a bit better, but oh how wrong I was….
I've never flown out of SFO on a Monday morning, and after today I don't think I ever want to again. The domestic 777 has a capacity of over 300, and there were nearly 100 people on the upgrade waitlist when first class checked-in full. There were nine Global Services that ended up in coach (according to the gate agent).
When I got to the gate I asked the gate agent if he could keep my boarding pass and see if he could maybe find me a better seat. He immediately dismissed me, citing the handful of Global Services in coach middle seats. Ouch!
Anyway, I really dreaded the flight, because frankly United spoils me so much most of the time, at least as far as personal space goes. As I boarded I could tell it would be a good flight, because the crew was phenomenal. They worked their tails off the whole flight, the captain was awesome (including Channel 9), and frankly Economy "Minus" was kind of cozy….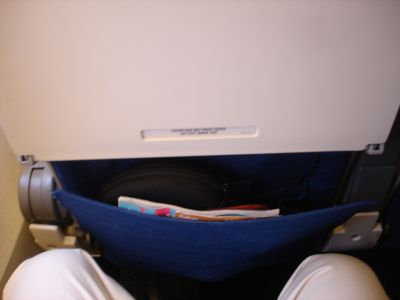 Just to prove it happened
What I really loved, though, was where I sat in relation to the wing. I don't remember the last time I sat behind the wing, for better or for worse. But I forgot just how much fun it can be to sit towards the back of the wing and watch the spoilers, flaps, etc. My eyes were glued out the window for the whole departure and approach, which typically isn't the case when I'm flying up front, because all you can really see are the engines. It's like I just discovered an old hobby again.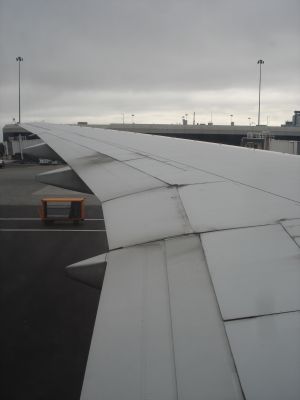 Gotta love the 777!
I was also happy to finally try out the new "Choice" menu that United is testing in many markets. I have to give United a HUGE thumbs up for this. The fact that they distribute "menus" is classy, and the choices are fantastic. I went with a yogurt parfait, which was overpriced at $5, but it was great. Unfortunately the machine refused to accept my credit card, so I got it comped. 😉
And in all fairness the best part about the flight was that it was June 1. That meant the new entertainment was out, so I didn't have to watch Paul Blart for the ninth time (as much as I would have loved to), or the same episode of 30 Rock.
Coach really isn't that bad!