Yesterday I shared the details of Hyatt's "Endless Possibilities" promotion, which runs for the first quarter of 2014. The promotion offers a maximum of 50,000 Gold Passport points or four free nights at up to a Category 4 property if you stay the maximum of 20 nights during the promotional period.
One interesting question was whether Points & Cash stays would qualify as eligible stays for the purposes of this promotion. As many of you probably remember, Hyatt recently announced changes to the Gold Passport award chart, which apply for stays booked on or after January 7, 2014. However, a week later they announced some improvements to the Gold Passport program, in particular by introducing Points & Cash awards.
As the name suggests, Points & Cash awards allow you to pay for part of your stay in points and part of your stay in cash, though what makes them especially lucrative is these stays are eligible for elite stay/night credits and Diamond suite upgrades can be used to confirm upgrades on these stays, neither of which is possible when redeeming points for a free night award.
To recap, the Points & Cash chart looks as follows: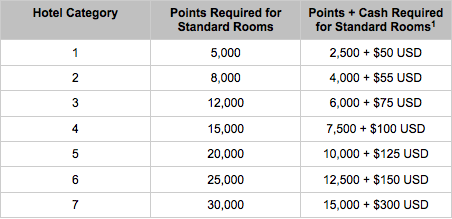 So basically they're giving you an option to pay for your stay partly in cash, though the savings in Gold Passport points varies by category, as follows:
Category 1 save 2,500 points for $50 (2.0 cents/point)
Category 2 save 4,000 points for $55 (1.375 cents/point)
Category 3 save 6,000 points for $75 (1.25 cents/point)
Category 4 save 7,500 points for $100 (1.33 cents/point)
Category 5 save 10,000 points for $125 (1.25 cents/point)
Category 6 save 12,500 points for $150 (1.20 cents/point)
Category 7 save 15,000 points for $300 (2.00 cents/point)
What's awesome — and I've confirmed this with Hyatt — is that stays booked using Points & Cash are considered "eligible" nights for the purposes of this promotion. So if you do a Points & Cash redemption at the Park Hyatt Maldives for 12,500 points plus $150 per night (which is a steal), for example, those nights would also count towards qualifying for this promotion.
It's awesome that Hyatt considers these nights eligible for the purposes of promotions, and in my opinion it makes Hyatt points potentially more valuable post-devaluation than pre-devaluation, aside from the six new Category 7 properties.
Of course the thing that remains to be seen — and the big "if" in all this — is how much Points & Cash space Hyatt will release. Points & Cash awards will initially only be bookable by phone and award space will be capacity controlled, so here's to hoping it's fairly readily available.