With most major international hotel groups, top tier elite members receive complimentary access to executive lounges.
The quality of these varies greatly around the world. In general they're great in Asia, where the lounges largely have food that could be a substitute for dinner, and complimentary alcohol.
Meanwhile in the US they typically have an "honor bar" (where you have to pay for alcohol), and the food spread may look like it's intended for rabbits rather than humans.
If you have access to an executive lounge you're entitled to access for two people per room, and/or for the registered guests in the room. That being said, enforcement isn't very consistent.
At least in the US you can typically open the door to the lounge with your key card, and there's often no one checking how many people you bring into the lounge. Staffing in these lounges is often low, so it might be that just one person is replenishing the buffet, and there's not really a full time attendant.
Meanwhile outside the US I often find there's a "concierge" in the lounge who verifies everyone's credentials when they enter the lounge.
I can't count the number of times that I've seen people bring an outrageous number of guests into a lounge in the US. Now, I never know for sure whether they're violating the rules since it's possible those people also have access, but I imagine at least a good percentage of the time people exceed the guesting limit by a lot.
I've never really seen a mid-range hotel crack down on access (at least one with a fairly small lounge — I imagine it's different at hotels like the Grand Hyatt New York), until this weekend. I just stayed at the Grand Hyatt Tampa, where I've stayed dozens of times before. This time around I was told that they had implemented a new system to "better manage who uses the lounge," and it seems kind of smart to me.
A key is no longer sufficient to enter the lounge, as you're also given a club "card," which is essentially the size of a business card and has your name on it. Then the second guest in your room also gets a card with their name on it.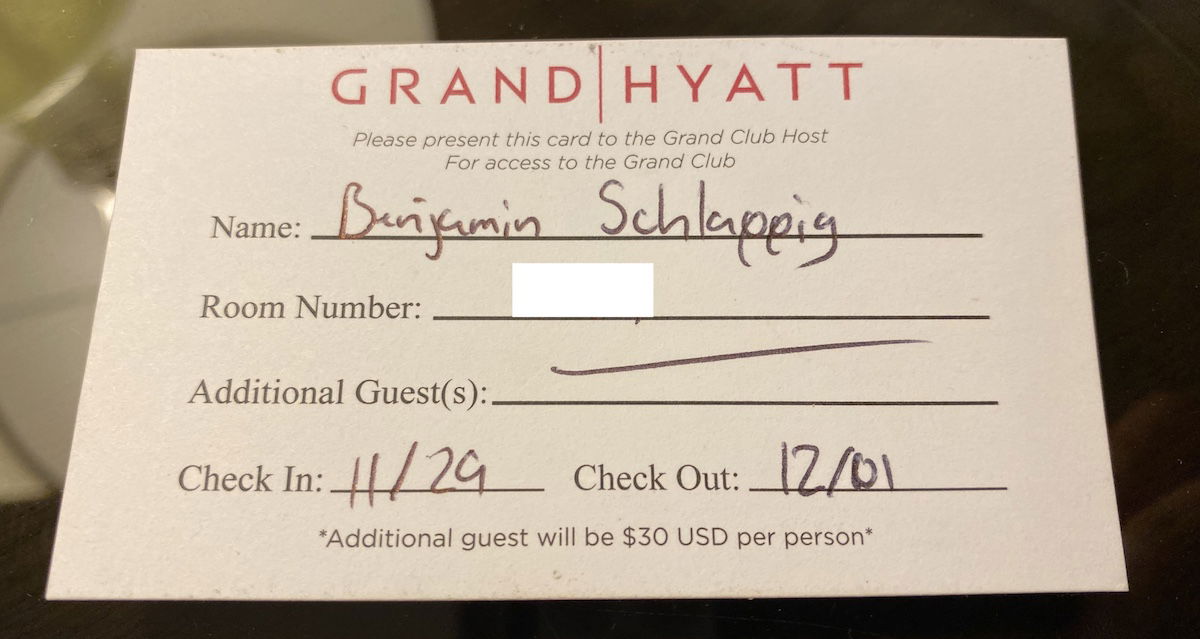 There was someone standing outside the lounge during the breakfast and evening service hours checking these as people entered.
I thought it was a smart system, as it's a good way to verify eligibility. However, I was surprised they actually invested in the staffing to have someone standing outside the door to verify this. Then again, perhaps that person is actually generating revenue, because it's possible that people now pay to bring guests into the lounge.
Also, I'm not sure there's a huge advantage to this system compared to having someone inside the lounge at a desk verifying eligibility as each person walks in, and in that case the attendant could also help with concierge-style services.
The lounge was noticeably quieter than during past stays, though it's also possible that this is due to it being the Thanksgiving weekend, so there aren't many business travelers.
Have you ever seen any US club lounges crack down in a similar way? Would you like to see this practice spread?