Flying Blue can be a fantastic program for award travel. Booking awards with the program is fairly straightforward, but sometimes presents challenges.
You can't piece together award travel like you can with other programs. Their call center agents are always pleasant, but the agents are limited in what they can do.
This guide will walk you through searching for Flying Blue award availability, how to hold and book awards, and how to make changes should your plans change.
Earning Flying Blue miles is easy. Points earned with American Express, Capital One, Chase, and Citi all transfer to Flying Blue.
Searching Flying Blue award space
There are a few ways you can search for Flying Blue awards. The loyalty programs principal airlines, Air France and KLM, have similar sites that both display Flying Blue award prices.
AirFrance.com vs. KLM.com
One of the unique things about Flying Blue is the different websites you can make reservations on. Both AirFrance.com and KLM.com show award availability and pricing, and both are quite easy to use.
If you're looking for a premium economy award or an award in "La Premiere" (Air France's ultra-lux first-class cabin), you'll have to search on AirFrance.com. La Premiere awards are restricted to Flying Blue Golds and higher. Most people can't book those.
KLM.com will not show premium economy or first class, as they don't operate either cabin on any of their flights. Their highest cabin is business class.
It's worth noting that the prices shown on each date's tab are not always accurate! It typically only takes into account pricing on Air France and KLM flights, not partner flights. It doesn't even always show the accurate price for AF and KL metal, as you can see below: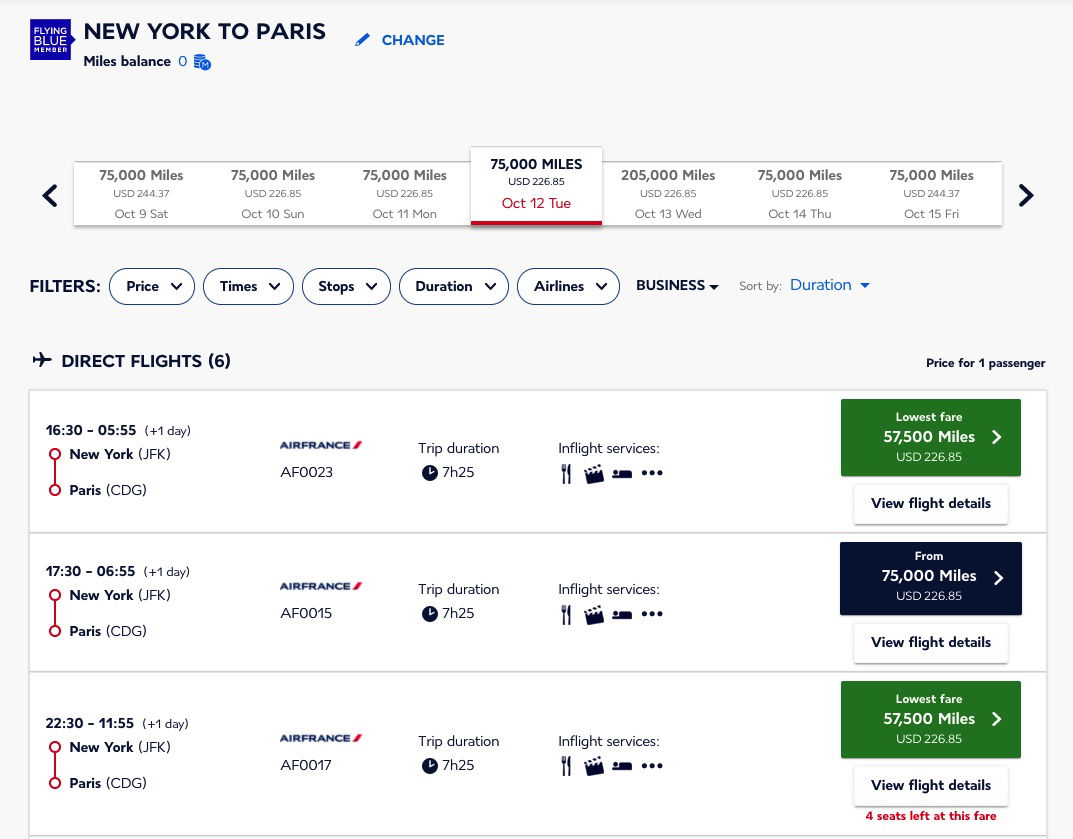 When you're searching for award flights, you can toggle between cabins on the results page. You can also move around dates to see how pricing varies if you've got a bit of date flexibility.
Searching by origin and destination
It's important to note that when searching for award space with Flying Blue you must always search from origin to destination to get the accurate price. You can't search segment by segment and hope to piece those segments together into a single booking later on. Air France and KLM are very strict about this, even when booking by phone. Long story short: always search by your origin and destination.
Air France and KLM utilize married segment logic for award travel. That means the price of a nonstop from Minneapolis to Amsterdam might be more expensive than an award on that same flight from MSP to AMS, but connecting onwards to Frankfurt. Married segment logic is a strategy airlines use to control revenue, and it spills over into awards with Flying Blue.
Pricing Flying Blue awards
Why do award prices with Flying Blue vary so much? Two words: dynamic pricing. That's one of Flying Blue's biggest complexities. Let's break it down.
What's dynamic pricing?
Flying Blue has perhaps the most dynamic pricing of any loyalty program. Awards on Air France and KLM can be either very attractively priced, or ridiculously expensive, and everywhere in between.
For example, Washington, DC to Paris can be as cheap as 53,000 miles in business class or as high as 287,000 miles. There are lots of prices between the two extremes. Because of the variable pricing, it's always worth holding award flights with Flying Blue before transferring or purchasing any miles. More on that below.
Booking multiple passengers at different award levels
With dynamic pricing comes additional complexities when searching for award space. If you look for four seats on an Air France or KLM flight and they're not offered at the cheapest level, it's worth searching for one, two, or three seats to see if there are any available at the lower rates. You can book a few passengers at the cheaper price, then book the additional seats at the higher price.
To better understand this, let's use an example. Here are the results when you search for a party of five from Atlanta to Rome on Thursday, August 6, 2021: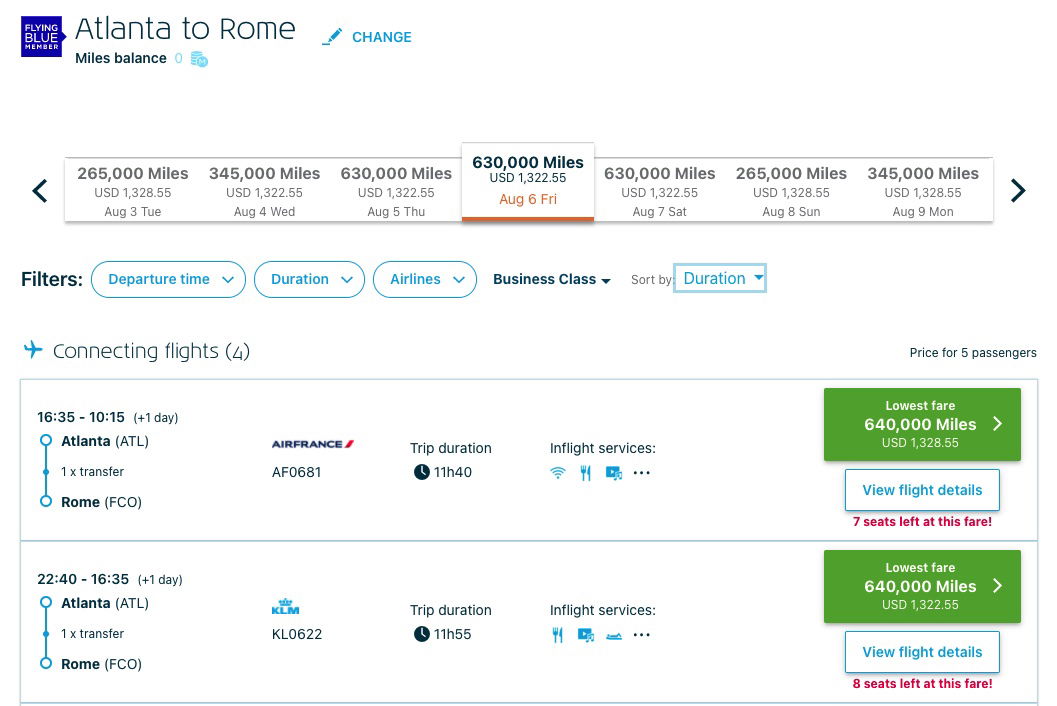 You'll see the price with KLM is 640,000 total miles, or 128,000 miles per passenger. There are eight seats left at the price.
If you search the same date for just one passenger, you'll get the following results: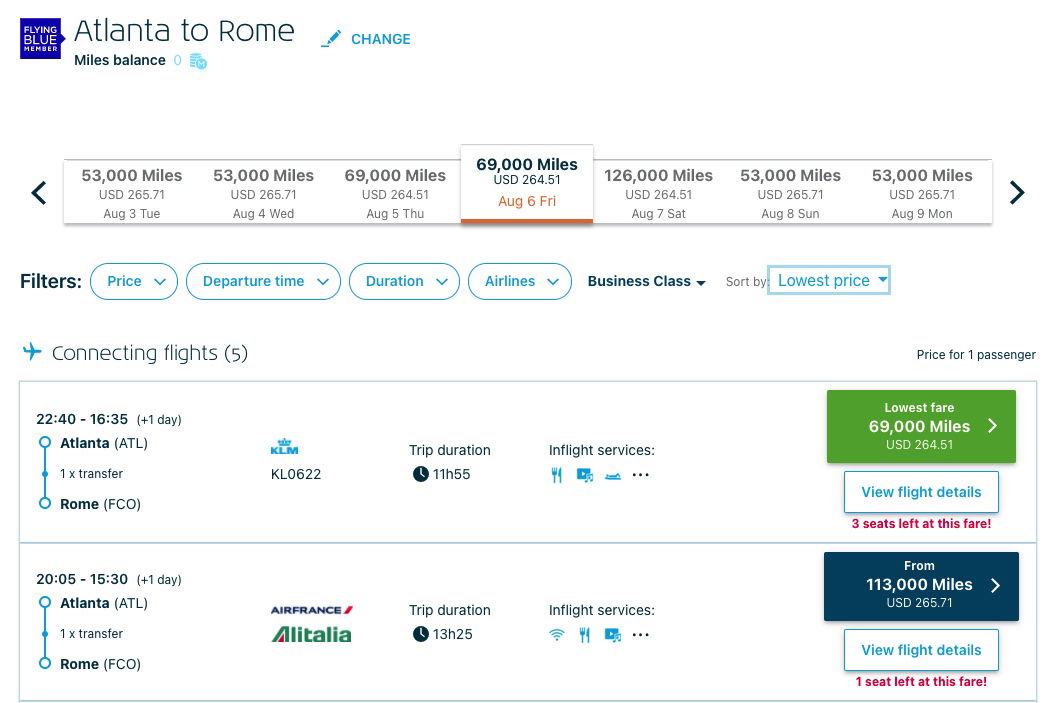 There are three seats available at 69,000 miles per passenger. So, what we can do is book three people at that rate, then passengers four and five at the 128,000 miles rate.
A search for three confirms that price is available: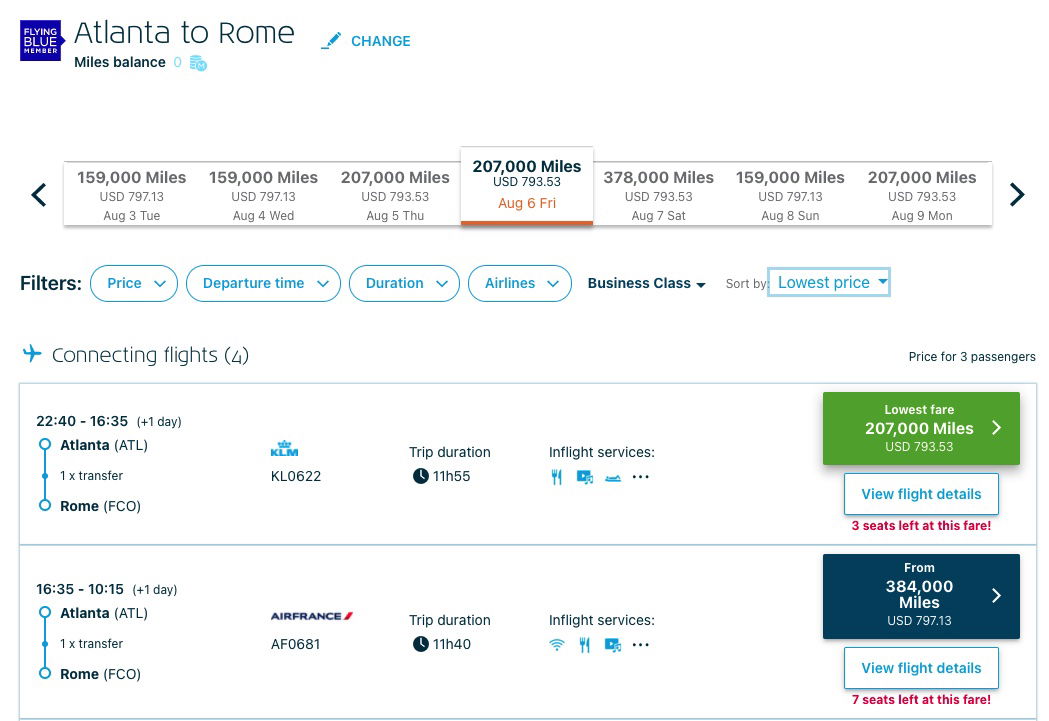 Once you place the flights on hold for three passengers, the price for two passengers at the same rate will jump to 128,000 points each. You can then call back to hold two more seats at the higher rater.
This is a tricky maneuver and is something I'd recommend doing with care. We absolutely recommend holding each reservation by phone to store the pricing.
If you're daring you can try doing this on the website. You can calculate how many points you'll need, book the maximum number of passengers at the lowest rate, then proceed with booking the remaining passengers at the higher rate.
You can also call and create a temporary booking for a few passengers at the lowest price, then the remaining passengers at the higher price. That's the better option.
Flying Blue routing rules
The upside with Flying Blue is that there aren't any strict routing rules. You can route from San Francisco to Sydney to Johannesburg with Qantas, from New York to Rome to Buenos Aires with Air France, or Los Angeles to Amsterdam to Singapore with KLM.
Generally speaking, you'll see at most three segments per direction of travel. Partner flights don't always mix well on the website either. While there might be availability with Delta from Seattle to Tokyo and Garuda Indonesia from Tokyo to Bali, it won't always show up online.
You're really at the mercy of the booking engine, and can only book what shows up online.
Searching for award space on other websites
If you are traveling a route served by Delta or Virgin Atlantic and looking for awards on those carriers, it is generally easier to search for that award space on VirginAtlantic.com. The Virgin website is a bit easier to navigate, and you don't have to login to perform a search.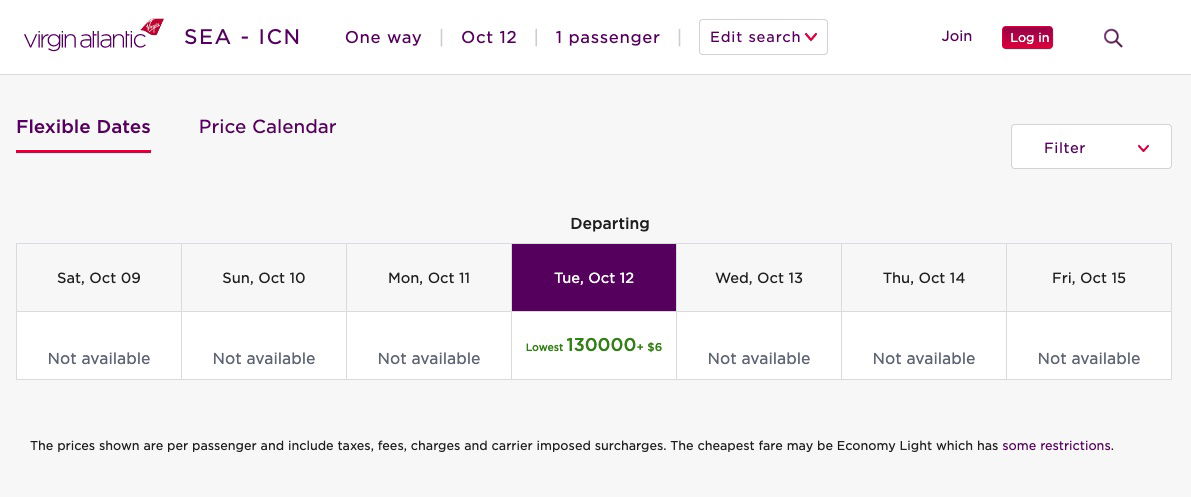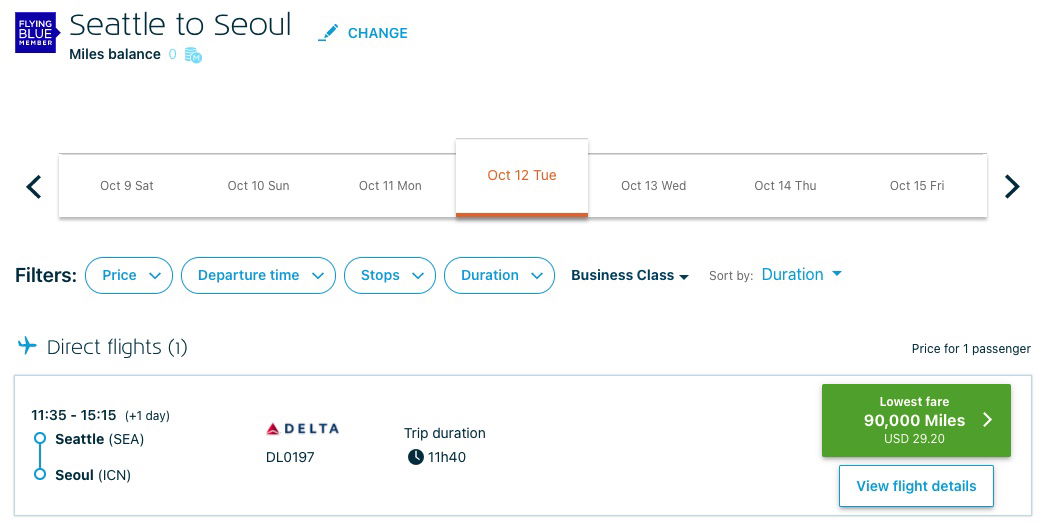 One of Flying Blue's overlooked partners is Japan Airlines. The rates for award travel from the US to Asia on JAL aren't as competitive with Flying Blue as they are with American and Alaska, but it's worth knowing about.
You can search for Japan Airlines award availability on the American Airlines website. Flights you find on AA.com should be available to Flying Blue members, but won't always show up online. It's always worth calling Flying Blue to check on Japan Airlines award availability.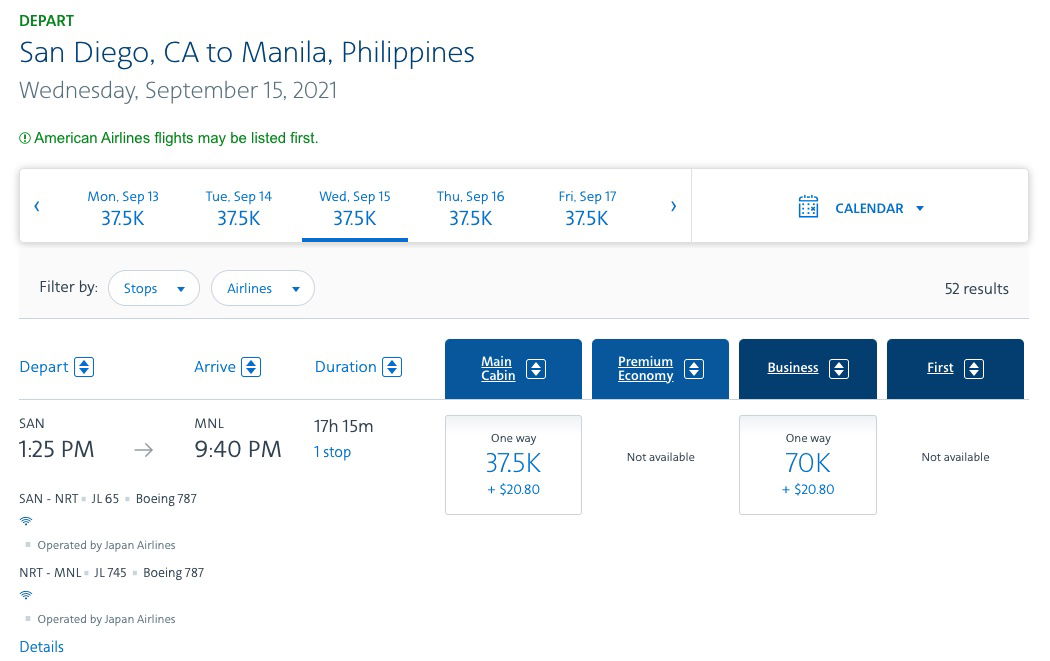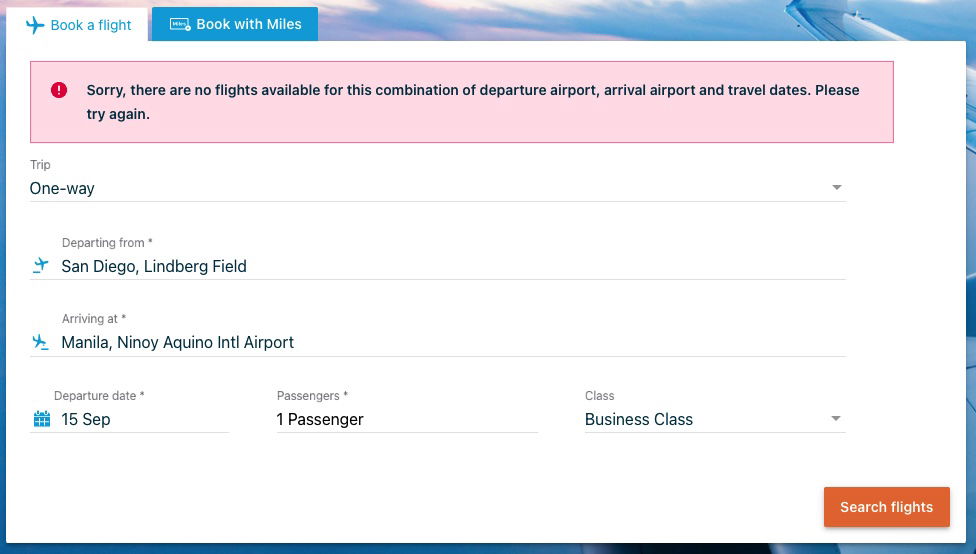 Booking partner flights via Flying Blue
Flying Blue is often the best program to book award flights on either Delta or Virgin Atlantic. Air France, Delta, KLM, and Virgin Atlantic are part of a transatlantic joint venture, but award pricing between the programs can vary considerably.
Redeeming Flying Blue miles for Delta flights
You can redeem Flying Blue miles for travel on Delta anywhere Delta flies. The rates are much more competitive than what you'll typically find available when booking with Delta SkyMiles. If you're transferring points from Amex, Citi, or Chase to Flying Blue it's worth considering Virgin Atlantic Flying Club for Delta awards, as they can be even cheaper depending on the destination.
Both Flying Blue and Virgin Atlantic Flying Club price Delta awards differently. Flying Blue charges based on origin and destination, while Virgin Atlantic Flying Club has a very complicated pricing scheme depending on the zones in which you're traveling.
Generally speaking, Delta flights from the US to the UK in any cabin are cheaper when booked via Flying Club. Delta nonstop flights in business class from the US to Europe are also cheaper via Flying Club. Other than that, Flying Blue will likely be your better option.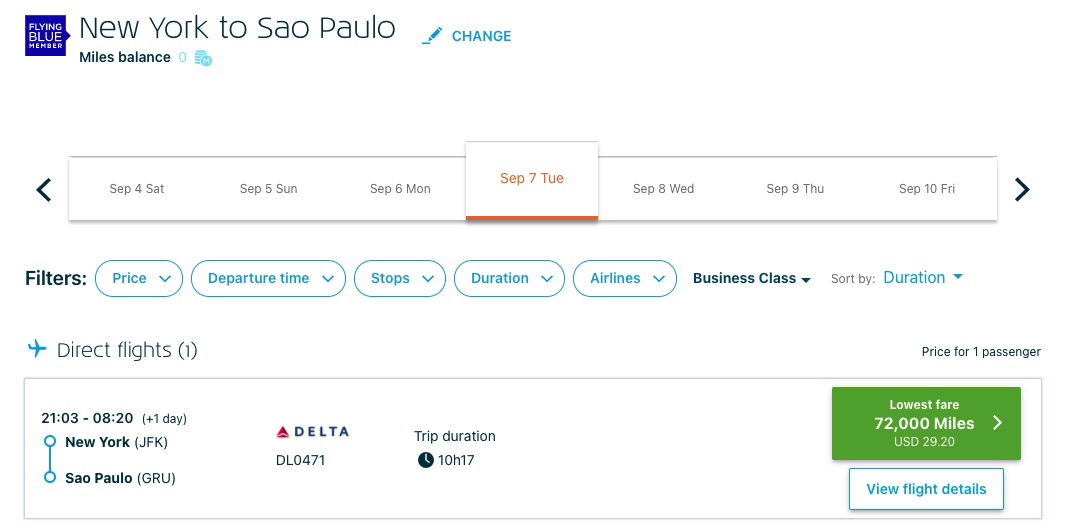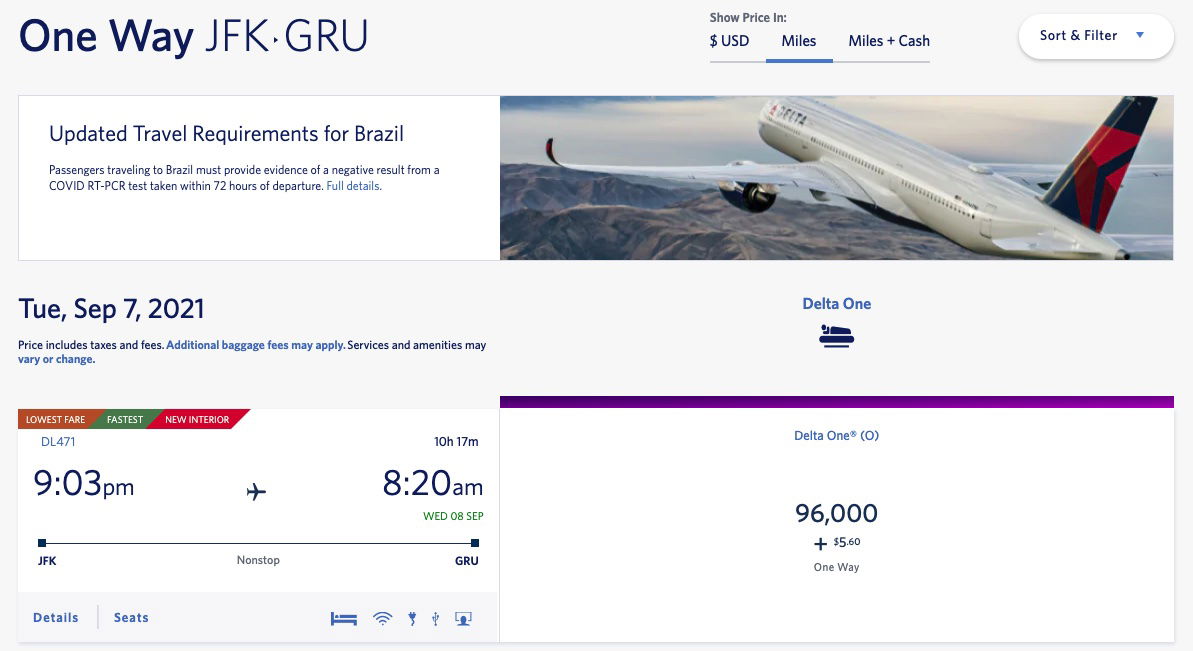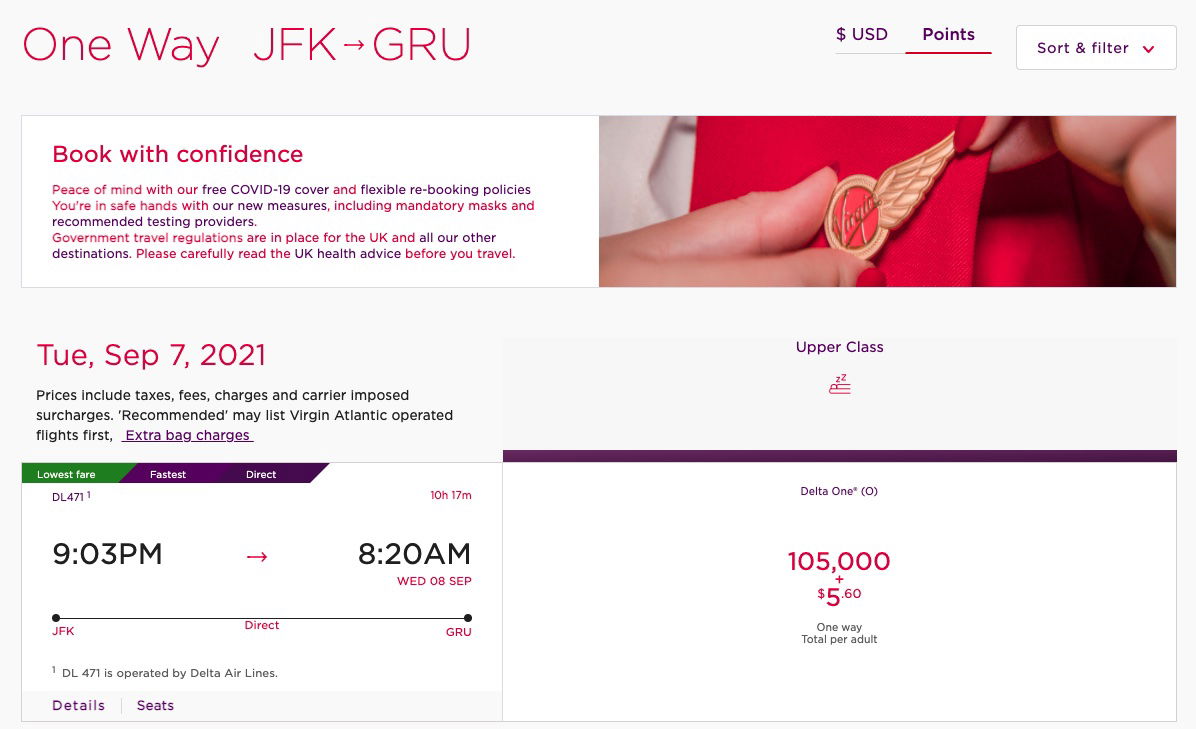 Flying Blue does not levy surcharges on Delta awards either, so you'll usually pay less in surcharges when booking Delta flights via Flying Blue.
Searching for Delta award seats
If you're looking for flights on Delta, it's easier to search on the Virgin Atlantic website if you're searching for specific segments. The calendar view doesn't always work as intended on the Flying Blue website. If there is award travel available within a few days of when you're searching for, VirginAtlantic.com will show those flights. Air France or KLM will likely take you back to the top search page and say "No awards available on this specific date."
For example, if you want to go to Tokyo you can start by searching on VirginAtlantic.com for flights from Los Angeles, Portland, Seattle, Minneapolis, Detroit, and Atlanta. Once you find space on the long haul flight with Delta, you can search from your specific departure airport in the US on the Flying Blue website on that date to see if there is a connecting flight available.
It is not worthwhile searching for Delta awards on Delta.com if you're going to be using either Flying Blue miles or Virgin Atlantic Flying Club miles. The inventory and pricing never lines up.
Once you've found award space and determined the best ticketing program is Flying Blue, you'll want to book these awards by phone. That's because both the Air France and KLM websites typically error out when you select Delta flights. If this happens to you it doesn't mean it's phantom space or anything, it's just Flying Blue's tech that can't process Delta awards online for whatever reason.
Regardless, it's always a good idea to hold the Delta awards by phone before transferring points. That way you can secure the space before issuing the tickets. After you set up your reservations you can select seats online at Delta.com or by using the Delta app.
Redeeming Flying Blue miles for Virgin Atlantic flights
If you're booking travel on Virgin Atlantic, you can save on the award surcharges by booking those flights via Flying Blue. Virgin Atlantic Flying Club levies hefty surcharges on Virgin Atlantic award flights. Those aren't passed along if you book with either Flying Blue or even Delta SkyMiles.
You can hold flights on Virgin Atlantic by phone just like you can other partner awards. It's always worth double checking the price for different programs to see which is cheapest, and be sure to consider the award surcharges as well.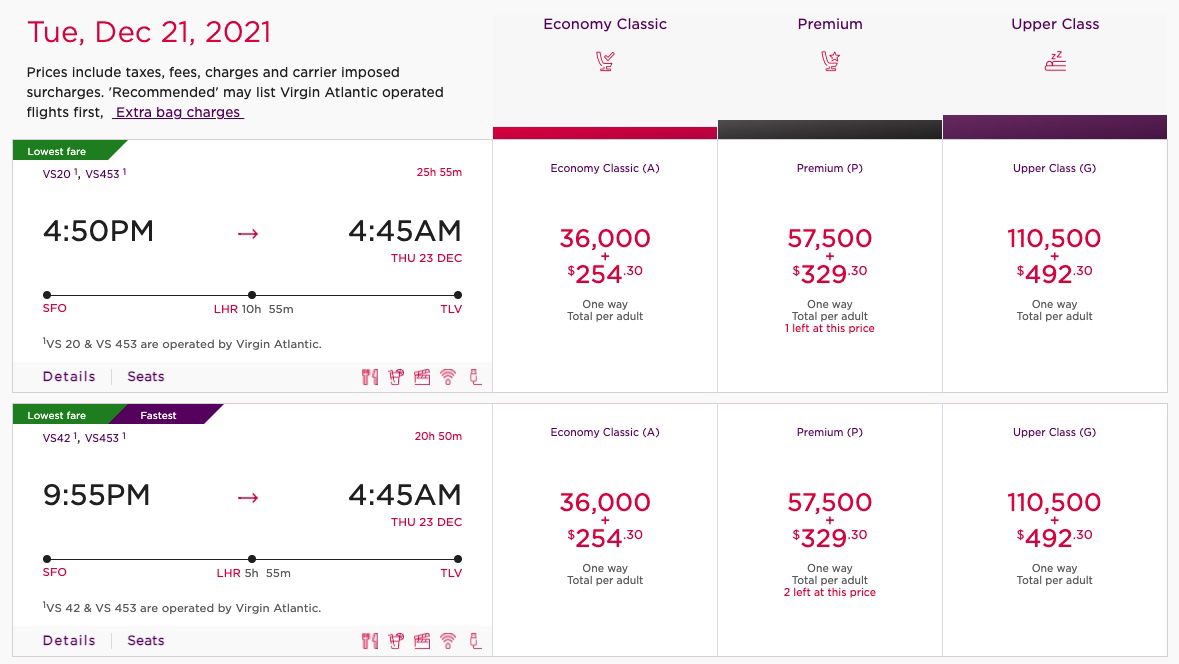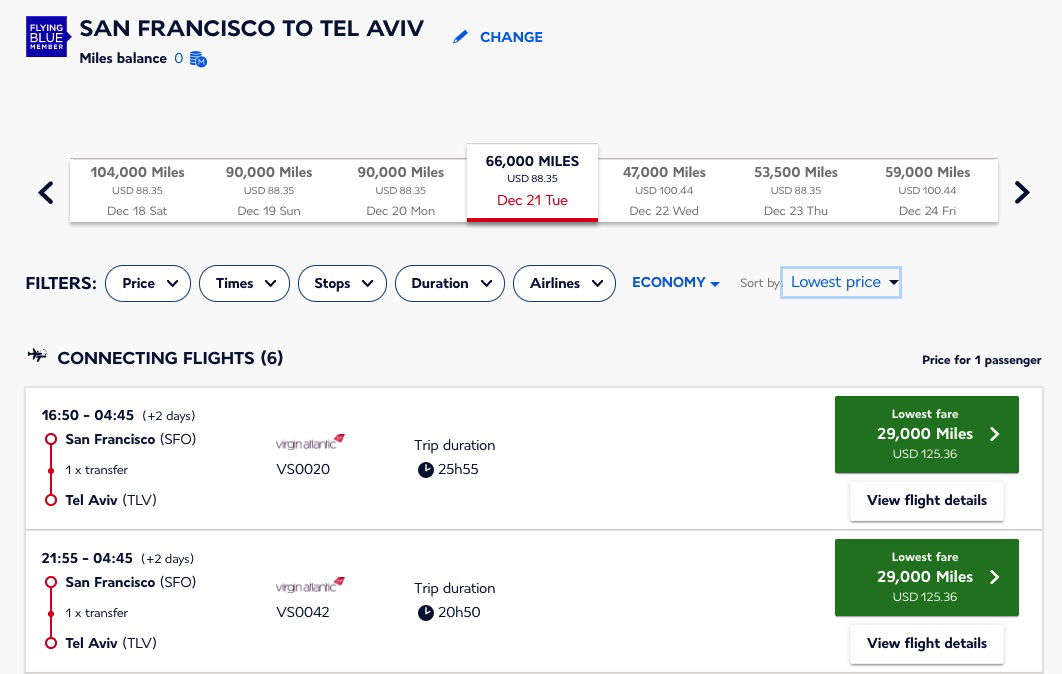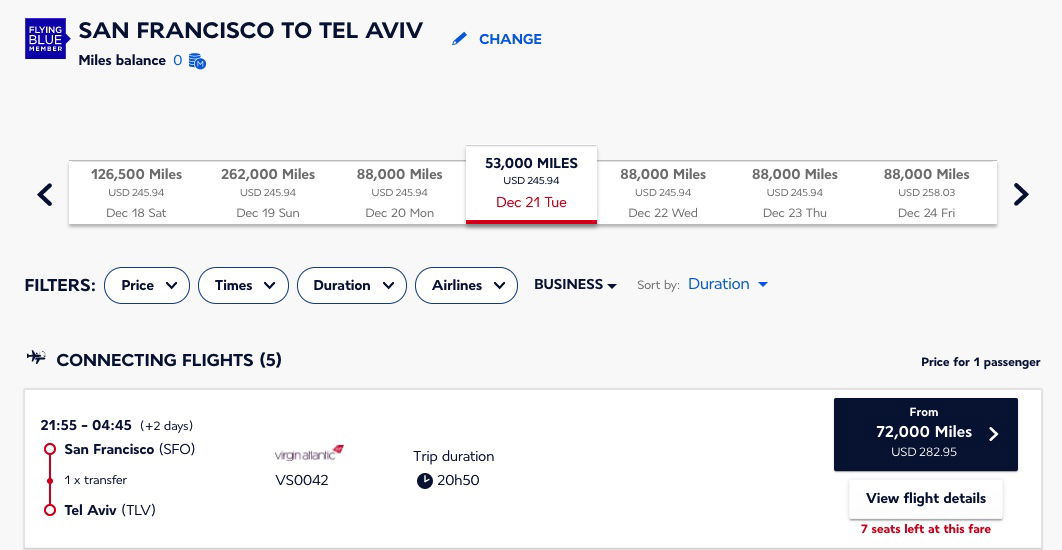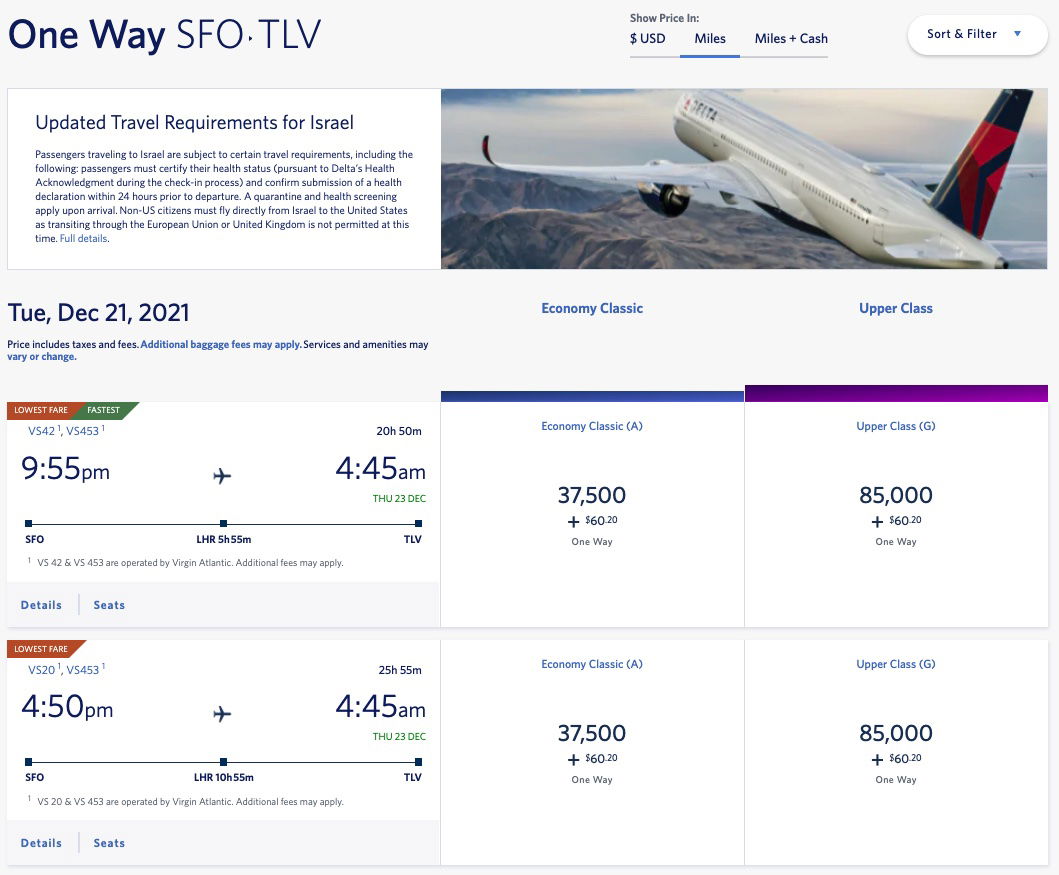 If you're traveling on Virgin Atlantic, be sure to compare the prices between Virgin Atlantic Flying Club, Delta SkyMiles, and Flying Blue.
Generally speaking, Flying Blue is the best program of the three to have miles in, so I would also consider that when transferring points from someone like Amex. Delta SkyMiles is prone to frequent devaluations, and Virgin Atlantic has fewer partners making their miles less valuable.
Holding and ticketing an award by phone
Once you've found flights you want to book, it's always recommended to create a temporary booking and hold those flights before transferring any points. That way the prices stick, and you're not stuck looking at a more expensive award once you transfer your points.
What to say to an agent
You can only hold award flights by phone. Finding an agent who understands what you're asking them to do is the trickiest part about this. Verbiage makes all the difference here.
I typically call the European call centers, and you'll typically get an agent in the EU or the Philippines. Flying Blue's number in Spain is +34 913 753 335. If you call from Google Voice it's just one center per minute.
If you ask the agent to hold a flight for you they might not understand what you're asking them to do. The key phrase seems to be "temporary booking" and mentioning that you'll be transferring miles from American Express or Chase to Flying Blue.
Once the agent understands what you need, just feed them the itinerary, cabin of service, and number of passengers and they should have access to the same pricing you see on the Air France and KLM websites. They'll ask for the passenger names, and create a hold that's typically valid for 48 to 72 hours. You can even hold partner flights, like Virgin Atlantic or Delta awards.
Write down the details
The agents don't always ask for the passenger's date of birth when holding flights. If they don't, when you call back to set up the award for ticketing the agent will get an error after taking your card details and say "oh wait, we need to enter the secure passenger details".
When you hold the flights, be sure to ask for the Air France/KLM record locator, and to ask for the time limit on the booking. I recommend calling the day before the hold is set to expire, as we've seen holds expire prematurely and things get messy if the pricing changes or the flights are no longer available.
Call back to issue your tickets
Once you have an award on hold and miles in your account, you'll want to call Flying Blue again to ticket the reservation. You can't ticket a reservation held by phone online; it must be ticketed by phone.
Call the service line, give them your booking locator, and they'll set up payment for the award taxes, fees, and surcharges. There is typically a phone booking fee of $20 or so per passenger. It doesn't seem like Flying Blue is collecting those right now, perhaps as a temporary benefit during the COVID-19 pandemic.
You'll want to be sure you receive the e-tickets by email. Those will be 13 digit numbers, starting with either 057- (Air France stock) or 074- (KLM stock). Be sure to write those down. Also ask for the partner record locator if you're traveling on any partners other than Air France, KLM, Delta, or Virgin Atlantic.
Selecting your seats
You can select seats online at either AirFrance.com or KLM.com for AF and KL flights. For partner flights, you'll need to go through the respective airline.
If you're traveling on Delta, you can pull up your reservation at Delta.com with the Flying Blue record. However, your Delta record is different and will populate when the reservation loads. The same is true for Virgin Atlantic awards. Other partners may have different record locators that you may need to ask for by phone.
Making reservations on the Flying Blue website
If you already have miles in your Flying Blue account and don't need to transfer points, or if you're an adrenaline junky and don't care about potentially paying more miles if the website errors out, you can go ahead and set up the reservations online. That saves you the step of holding the reservations by phone.
If your reservation includes anything on Delta, it's not advisable to use the Air France or KLM websites. You can usually select the flights, but then when you proceed to the page to enter the passenger details the website errors out and takes you back to the search page. This issue doesn't seem to happen with any other partners.
You'll want to select the flights you want to book, proceed through the five booking pages and enter the passenger details, confirm the price, and enter your credit card details.
Frozen Flying Blue accounts
If you're setting up a Flying Blue account for the first time and transferring a large number of points for a booking, there have been instances where the account will be frozen. Flying Blue combats a lot of fraud, and these measures are in place to verify the identity of newly created account holders and travelers to make sure nothing nefarious is happening.
If you book your awards by phone, this won't be an issue. If by chance your account does get blocked, you will either have to visit an Air France ticketing office (at an airport served by Air France). You can also call a European call center and they can usually unblock the account on their end. The North American call center does not seem to have the ability to do this.
This wasn't frequently an issue, but it wasn't uncommon. It's something to be aware of, but Air France does seem to be blocking accounts like this less and less.
One thing you'll want to be sure to do is use a credit card in the name of the Flying Blue account holder. That raises fewer flags when it comes to fraud.
Changing or cancelling Flying Blue awards
Fortunately Flying Blue is one of the more generous programs when making changes, but it does require doing so at least a few hours before departure.
Change/Cancellation deadline
If you need to make any changes to a Flying Blue award or cancel it, it's vital that you call at least four hours prior to departure. Changes and cancellations within four hours of departure aren't permitted, and you'll forfeit all miles. If you do miss the four-hour deadline you can ask for a partial tax refund.
To be safe, plan to make changes at least a day before departure to avoid running into any issues.
Voluntary changes
If you've booked a Flying Blue award and need to make voluntary changes, essentially you'll have to start from scratch. You'll have to look at live pricing based on origin and destination to see how many miles you'll need to use.
For example, if you've booked an award from New York to Paris to Rome, and you want to change the Paris to Rome segment to a Paris to Athens flight, you'll have to search for award space and pricing from New York to Athens, even though you think you've already got a seat on the New York to Paris leg.
So, when making voluntary changes it's typically easy to cancel an award, redeposit it, and start from scratch. The fees are reasonable too. It's either €45 or $55 per ticket to cancel an award or make changes.
Involuntary changes and even exchanges
The only case where Flying Blue won't charge any difference in miles is either during irregular operations or when the airline has canceled a flight in advance. If this happens they have the ability to process any changes as an "even exchange", which means you won't have to pay any more miles or additional taxes.
During the COVID pandemic, Air France and KLM were both really good about processing even exchanges. They'd typically accommodate you at a later date without repricing the award. If your flights were canceled you could keep your ticket open, but you'd have to pay the difference for future travel unless your flights were booked within a week of your originally scheduled departure date.
Cancelling Flying Blue awards
Normally if you need to cancel an award and redeposit the miles, it's just a €45 or $55 fee per ticket. You'll get a full refund for the miles, taxes, and fees.
Because of the pandemic, most cancellations and changes are free with Flying Blue. They have a very flexible booking policy in place.
It's important to remember that all Flying Blue awards must be canceled at least four hours prior to departure or you'll forfeit your miles. Given that the call centers are not open 24 hours a day, this can be a bit tricky depending on where and when you're departing from, so be sure to keep this policy in mind.
Bottom line
Flying Blue is a great program for award travel, especially to Europe. Once you've booked a few awards with Flying Blue you'll see how competitive the program is once you get an understanding of its complexities.
Have you redeemed miles on Flying Blue before? What was your experience like?