I suspect this is something that many of you are aware of, though I just realized I've never really written about it, so I figured it was at least worth a quick mention.
On a near daily basis I'm curious to see what nonstop flights exist out of an airport, and on what airlines (yes, I probably spend too much time planning trips). For example, I'm about to book an Air Italy business class ticket from New York to Milan, but I don't actually want to visit Milan, since I was just there last month. So I'm curious to see what nonstop flights exist out of Milan Malpensa Airport, so that I could maybe get some inspiration. I like to avoid connecting within Europe whenever possible, since it's not the most pleasant region for flying.
Typically if you Google something like "nonstop flights from Milan Malpensa Airport," one of the first results will be SkyScanner, which lists the airlines that fly out of the airport… sort of. It doesn't list the routes, and it also lists airlines that codeshare on flights to the airport (meaning those airlines don't actually fly there), so it's of limited use, in my opinion.
If you want to see what nonstop flights are available out of an airport, your best bet is always to go to the airport's Wikipedia page. Scroll down to the section for "Airlines and destinations," and you'll get an awesome chart listing all the destinations from the airport, by airline. For example, here's the page for Milan Malpensa Airport.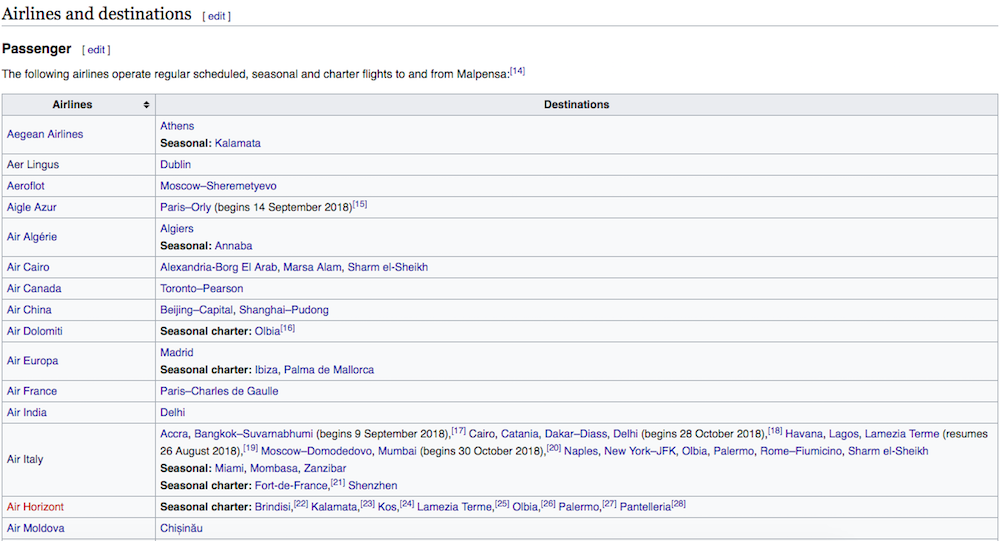 Since this is Wikipedia the information might not be 100% accurate (that's true of just about anything on the internet), but I find it to be pretty spot on almost all the time.
Like I said, I suspect this is something many of you are familiar with. However, this is a tool that I use in my travel planning all the time, yet I don't mention it the same way I mention Google Flights, ITA Matrix, etc.
Anyone else love the Wikipedia airport pages for figuring out nonstop flights, or is there another resource I should be using?