While the integration of Marriott and Starwood's loyalty programs took place over the weekend, there are still lots and lots of glitches. This integration is obviously a massive undertaking, so when I get comments from readers about how some account info isn't correct, my suggestion is to simply wait a few days and hope that it corrects itself.
But there is something else that is really confusing people, that people didn't know was necessary going into the integration. You actually have to manually combine your Marriott Rewards and Starwood Preferred Guest accounts. This is something you're supposed to do following the introduction of the program.
This is confusing since many of us had linked our accounts prior to the program merger, in order to status match and transfer points. So it's a bit odd that you now have to link them again.
As Marriott explains it in their FAQs:
If I Already "Linked," Do I Still Need to "Combine" Accounts?

Yes! Account linking offered a status match between the programs. But by combining your accounts, your earnings will be added together. So rather than just a match, you may get a status boost.

If you already linked your accounts, that's a great start. You created a connection – but they're not yet oneaccount. Now, by combining, you'll only have one login to remember and be able to earn and redeem points across all 29 participating brands with that single account.

Not sure if you combined yet? View your profile.
How to combine your Marriott & SPG accounts
You have the choice of whether you want to keep your Marriott Rewards or Starwood Preferred Guest loyalty program number:
In theory combining accounts is supposed to be straightforward. I say "in theory" because for some (including me) it's not. When I tried to do it I was told the names on my accounts don't match, in spite of the fact that I was able to link them and transfer points between them in the past. Hmmm…
So I'll walk through the process from the SPG side using someone else's account, though it's the same process no matter which account number you want to keep.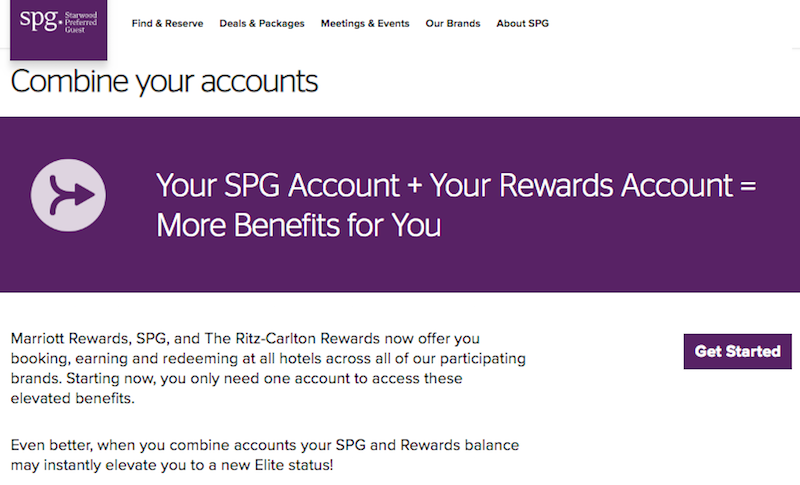 First you'll be asked to enter your SPG account information, and you'll have to enter your password twice for verification.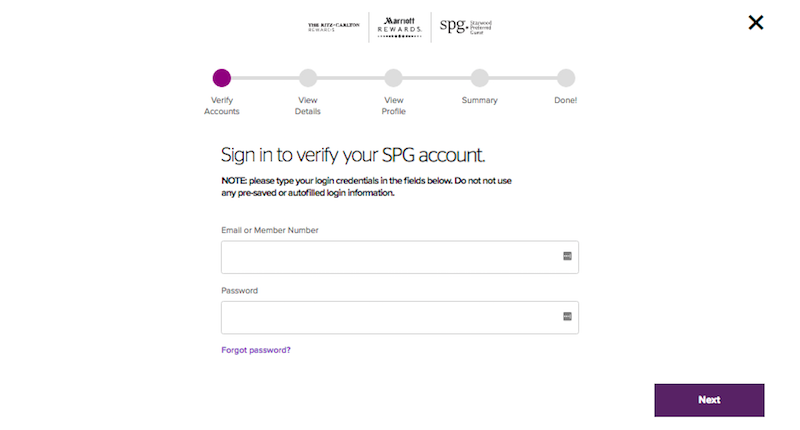 Once you've done that, you'll be asked to verify the information for your Marriott Rewards or Ritz-Carlton Rewards account you want to combine.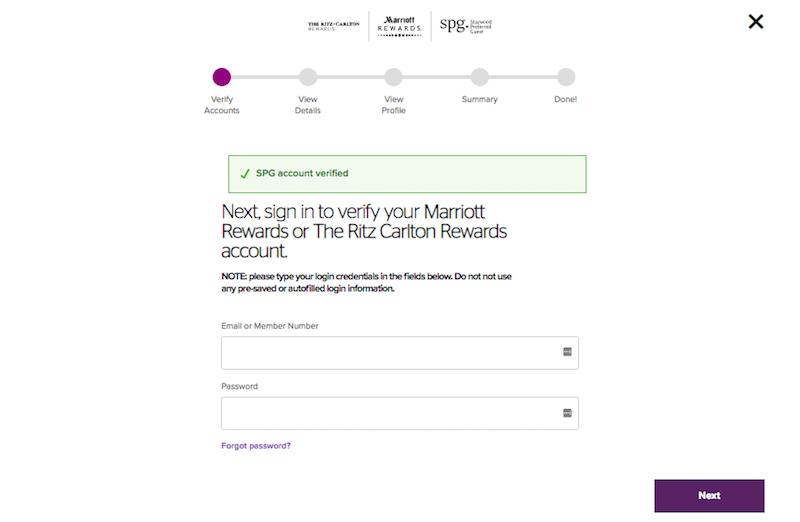 Once you've confirmed that as well you'll receive a full overview of your account info, including total points you're combining, lifetime nights, upcoming reservations, available suite night awards, and available free night certificates.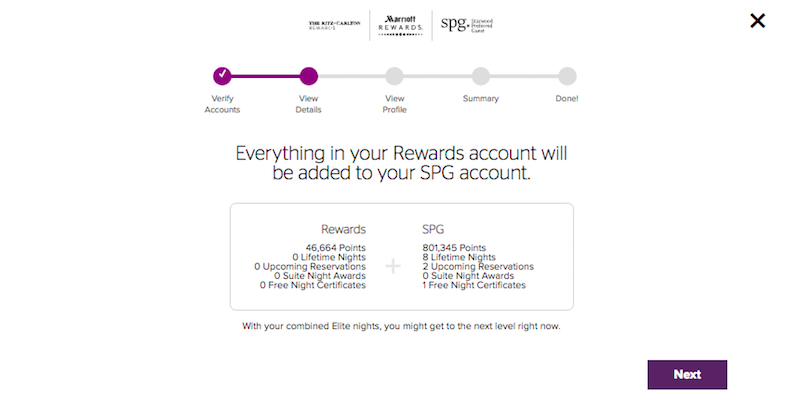 You'll also asked to verify your personal info.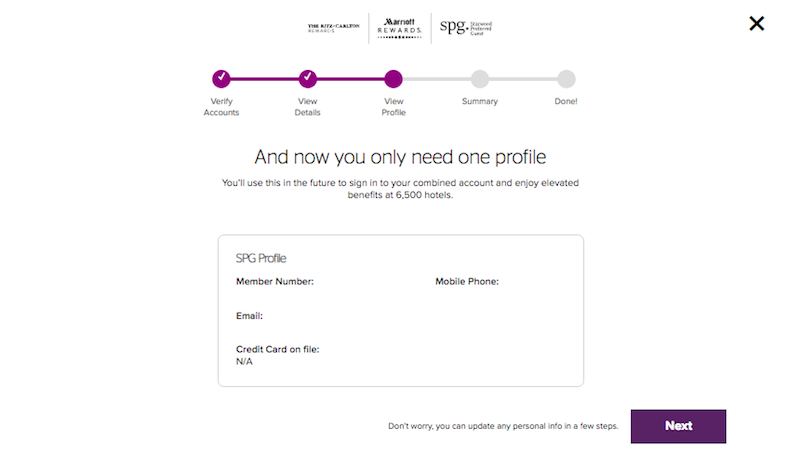 The next page will confirm what you should expect. Specifically, points, lifetime nights, elite status, and upcoming reservations will be merged instantly, while suite night awards, free night certificates, past activity, and mobile key & guest services will be merged within 72 hours.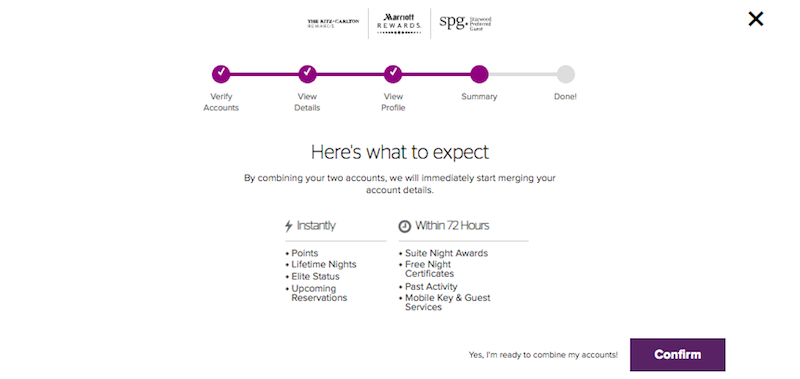 Yes, this is all sort of confusing
Like I said above, it's a bit odd that Marriott first had people link accounts, and now they're having people combine accounts. It's even more confusing because many people already show their combined points balances and other account details without having done anything, so it seems inconsistent whether or not this is totally necessary.
What I am getting lots of reports of is people seeing their activity automatically combined, but it's not totally accurate. Combining accounts should hopefully solve those problems (though it could take a few days for all the correct information to load).
Does it matter whether you keep your Marriott or SPG account number?
It's interesting that Marriott is letting members choose which account number they want to keep. Does it really matter, though?
Unfortunately on the most basic level you won't even be able to keep your original SPG number. SPG members have been assigned a new nine digit SPG number, so your new SPG number is neither the same as your old SPG number nor your new Marriott number.
But perhaps there is one instance where there's value in keeping one number over the other. Typically the way a hotel sees if you've stayed with them before is based on your loyalty number. Often they'll give repeat guests better treatment than first time guests. I'm not sure how they'll be tracking that with regards to those people who who combined accounts and now have a different number, but I wouldn't count on that showing if you do frequent any hotels.
As someone who has made 99% of my stays at Starwood properties rather than Marriott properties, I intend to keep my (newly assigned) SPG number.
Bottom line
If you haven't yet done so since this past weekend, make sure you combine your Marriott and Starwood accounts. If you want to keep your Marriott loyalty number, combine accounts at this link, while if you want to keep your SPG loyalty number, combine points at this link.
What has your experience been with combining Marriott and Starwood accounts?