On Wednesday I wrote about the insane deal that Rocketmiles and LifeMiles were offering for 5x miles on hotel stays. The promotion was supposed to last for five hours, though upon further inspection of the terms, it seems like it only lasted for five hours or until they awarded two million miles, whichever came first. Given how many miles they were giving away per stay, not surprisingly the mileage limit was reached first.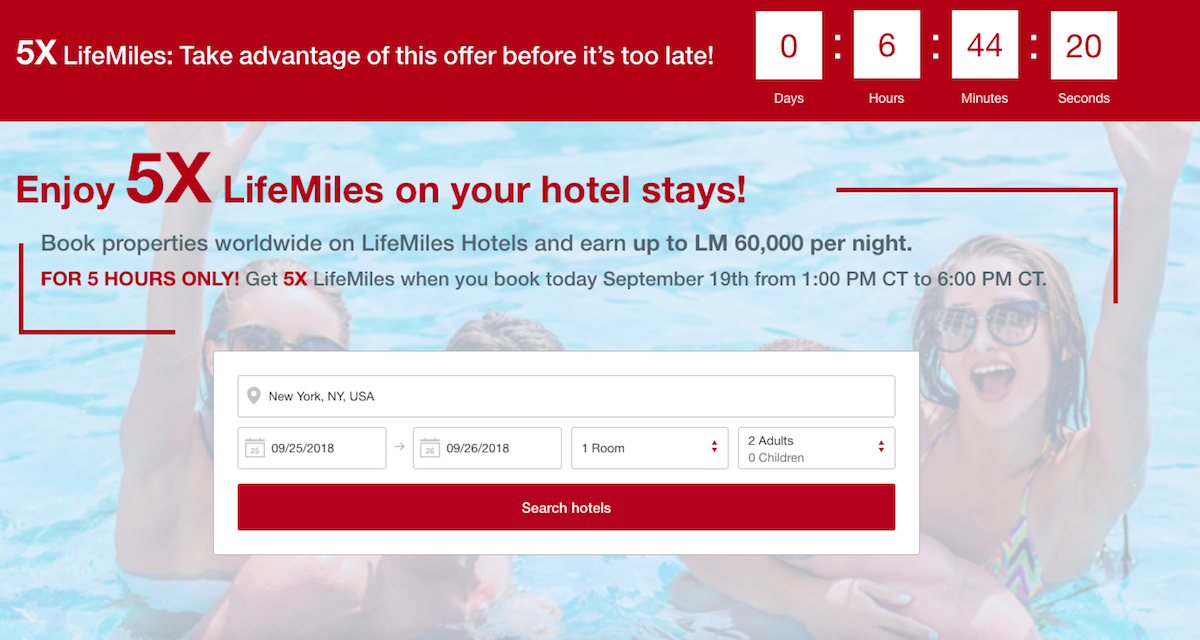 How I took advantage of this promotion
I had four rooms booked at the Sheraton Toronto Airport for an upcoming stay (long story). There weren't standard rooms available and I couldn't redeem points, and since it was a weekday night, rates were high. It was actually 300USD per room, which is crazy high for an airport hotel, but Toronto is an expensive city.
For our dates most hotels were sold out, and other hotels were only marginally cheaper than the rates at the Sheraton, and for that the convenience of the Sheraton being connected to the terminal was worth it. I was still hoping to improve on this and was at least hoping standard rooms opened up so I could redeem points, but that never happened.
Since I was booking four rooms, naturally this stay was the first thing I looked at when this promotion happened. Rocketmiles only lets you book three rooms at once, so I looked at costs of hotels around the airport.
The Westin Toronto Airport was 342USD per night per room on the Rocketmiles website, but they were offering 25,000 bonus LifeMiles per room for the one night stay.
So for three rooms I'd pay $1,027 including taxes and fees, and I'd earn 75,000 LifeMiles.

That meant that this was a method of buying LifeMiles for 1.37 cents each, which was exactly the same cost as what I bought LifeMiles for directly from the program the same day with a 140% bonus.
In other words, this stay went from costing me 300USD per room per night at the Sheraton Toronto Airport, to being "free" after factoring in the value of the miles. How that makes sense for any party involved other than me is a mystery, but I'm not complaining!
Why I'm sharing it
I'm not sharing this to "humble brag," or anything. Full disclosure, I wrote about this promotion before even trying to apply it to any of my own stays, so anyone who read about this promotion quickly had the same access to it than I did.
Rather the reason I'm sharing this is because I think I've learned something over the years in terms of how to take advantage of deals like this. Back in the day I'd spend forever trying to optimize a deal, and I'd be so focused on finding what's "best" that I'd end up losing out on the deal altogether.
Nowadays my approach is the opposite for limited time things like this. Rather than finding what's "best" I find something that works and that I'm happy with, and I pull the trigger right away, realizing it may not stick around.
Furthermore, with the promotion I kept getting error messages, so I kept trying in different browsers, with different credit cards, etc. After probably a dozen tries, it worked. Sometimes it just takes a lot of persistence.
Anytime a deal is "too good to be true," that's the strategy you have to take, in my opinion.
Were you able to take advantage of the insane LifeMiles hotel promotion a few days ago?