China is making some changes to how they structure their taxes, including for hotel stays. These changes could very well cause your next hotel stay in China to be significantly more expensive.
Under the current system, most hotels in China charge guests a 15% "service charge." In practice the "service charge" is made up of a 10% service charge and a 5% business tax, which they simply display as one amount to make things easier.
As of May 1, 2016, China is changing how they tax hotel stays. Rather than charging a business tax, China will instead be charging a VAT (value added tax) for hotel stays. KPMG has an explanation of how the tax system is changing, for anyone who wants to learn more.
What's interesting is how the hotels are taking advantage of this change to charge you more, at least from the looks of it. If you pull up any Starwood hotel in China, you'll see an announcement stating the following:
VAT Change Effective May 1, 2016

Value added tax (VAT) will be implemented in China as of 1 May 2016, and the room charge and charges for other hotel services will be subject to VAT if VAT is in effect at the time such charges are charged.
While the business tax was previously 5%, the new VAT is 6%. So you should be paying just 1% more, right? Wrong, unfortunately.
It seems like hotels are planning on keeping the 15% service charge (which included the 5% business tax), and then tacking on the 6% VAT on top of that. The VAT even applies to the service charge, meaning that starting in May consumers will pay 6.9% more for hotel stays in China.
Take the Park Hyatt Shanghai, for example, where the rate is 1700CNY. I've pulled up the rate for random dates before and after May 1.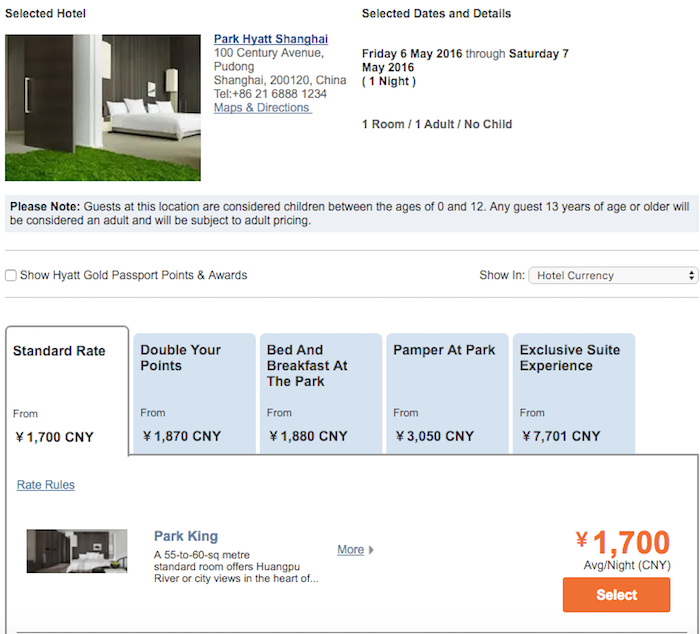 Before May 1 the total for such a stay would be 1955CNY, which reflects the 15% "service charge."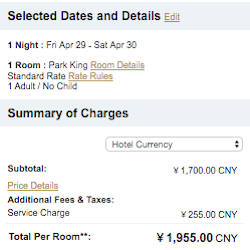 Meanwhile after May 1, the total would be 2072.30CNY, reflecting the 15% "service charge" and cumulative 6.9% VAT.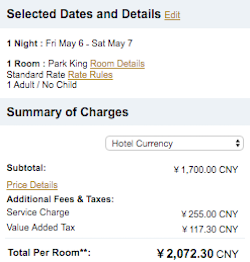 I'm assuming this is intentional on the part of hotels, in which case this is very disappointing. While Hyatt's rates already reflect the new tax, Starwood hasn't yet updated their reservations system to reflect the increase, though they have posted notices on their site.
Bottom line
China is changing how they're structuring taxes, including for hotels. Unfortunately it seems like hotels are taking advantage of this to gouge consumers even more. We should see the "service charge" lowered to 10%, in which case we'd just be looking at a cost increase of less than 2%. I hope hotels reconsider.
(Tip of the hat to LoyaltyLobby)