I find this to be an interesting situation. Let me start by saying that I've been blogging full time for 10 years now. A vast majority of my travel is self-funded. Not once (at least that I can recall) have I reached out to a brand and asked for something for free in exchange for exposure. On some occasions, I've received things comped, though it's extremely rare, and only when companies reach out to me, and I always disclose it. I'm fortunate that I have a business model that works for the blog, so free travel just isn't what I'm after. I'd rather pay for my own travel and provide you guys unbiased reviews.
That being said, I do think it's important to acknowledge that there are tons of influencers who are looking for free travel, and some even get paid by brands for featuring them. I don't fault them one bit, because the reality is that companies are willing to spend tons of money to work with them. Personally I think companies somewhat overvalue the exposure, but the point is that this has become a pretty standard and legitimate thing, and many brands like when influencers reach out to them and propose ways to collaborate.
With that in mind, there's an interesting and sort of crazy story of what unfolded between a Dublin hotel and an "influencer," per the Independent.
It all started when The White Moose Cafe (which runs the Charleville Lodge Dublin) shared the email they received from an influencer on their Facebook page: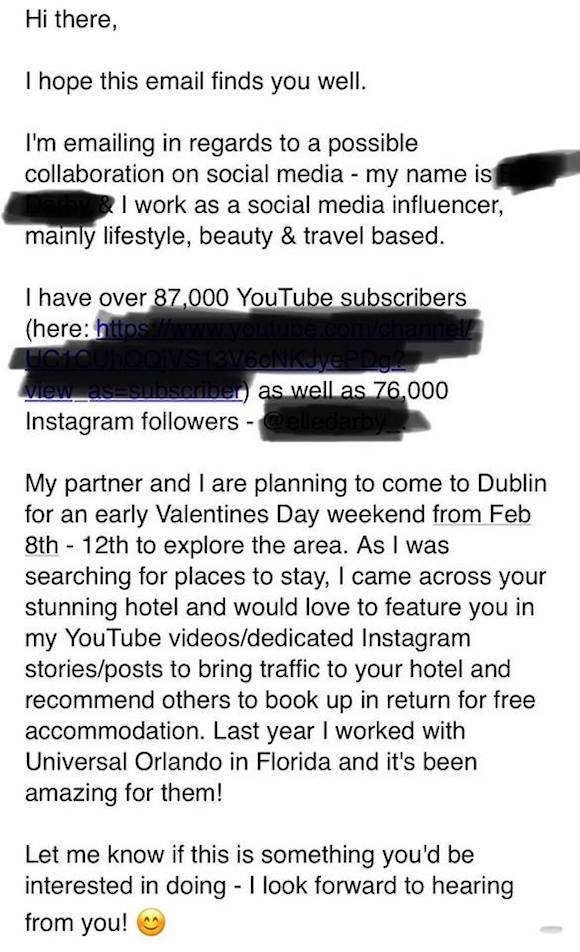 Along with sharing the email, they wrote the following:
Dear Social Influencer (I know your name but apparently it's not important to use names),

Thank you for your email looking for free accommodation in return for exposure. It takes a lot of balls to send an email like that, if not much self-respect and dignity.

If I let you stay here in return for a feature in your video, who is going to pay the staff who look after you? Who is going to pay the housekeepers who clean your room? The waiters who serve you breakfast? The receptionist who checks you in? Who is going to pay for the light and heat you use during your stay? The laundering of your bed sheets? The water rates? Maybe I should tell my staff they will be featured in your video in lieu of receiving payment for work carried out while you're in residence?

Lucky for us, we too have a significant social media following. We have 186k followers on our two Facebook pages, an estimated 80k on our Snapchat, 32k on Instagram and a paltry 12k on our Twitter, but Jesus Christ, I would never in a million years ask anyone for anything for free. I also blog a bit (www.paulvstenson.com), which as far as I'm aware is another way of saying "write stuff on the internet". The above stats do not make me any better than anyone else or afford me the right to not pay for something everyone else has to pay for.

In future, I'd advise you to offer to pay your way like everyone else, and if the hotel in question believes your coverage will help them, maybe they'll give you a complimentary upgrade to a suite. This would show more self-respect on your part and, let's face it, it would be less embarrassing for you. Here is a little video I produced which you may learn from: https://bit.ly/2mKTDTD

Best regards,

Paul Stenson
www.charlevillelodge.ie

P.S. The answer is no.
Obviously this created quite the controversy, and people had strong opinions about this. Both the influencer and the hotel received a lot of hate. This has led the hotel to post a follow-up, banning all bloggers from their business (apparently we're all a single community, and based on what's written, even bloggers paying to stay at their hotel aren't allowed — oddly the owner says he's a blogger too, so is he banning himself from his own hotel?):
**ALL BLOGGERS BANNED FROM OUR BUSINESS**

Following the backlash received after asking an unidentified blogger to pay for a hotel room, I have taken the decision to ban all bloggers from our hotel and cafe.

The sense of entitlement is just too strong in the blogging community and the nastiness, hissy fits and general hate displayed after one of your members was not granted her request for a freebie is giving your whole industry a bad name. I never thought we would be inundated with negative reviews for the simple reason that somebody was required to pay for goods received or services rendered.

The girl in question was never identified in my original post, but she herself went on to create a video explaining how she was "exposed" with "malicious intent" for asking for a freebie. This kind of victimization is very prevalent in the blogging industry, and is in keeping with their general modus operandi of wanting everything for nothing.

If any of you attempt to enter our premises from now on, you will be ejected.

Many thanks,

Paul Stenson
www.charlevillelodge.ie

P.S. Perhaps if you went out and got real jobs you'd be able to pay for goods and services like everybody else. Just a thought!
Meanwhile, the influencer posted a video on her YouTube page (since removed) sharing her embarrassment about the situation. In response the hotel posted this "House Of Influencers" video, mocking influencers:
I'm not really sure what to make of all of this. I guess we have to give the hotel credit for knowing how to get free publicity. Certainly, a lot more people know about the hotel than before. I can't say it's good publicity, but some would say that any publicity is good publicity.
Otherwise, I think the hotel comes across in a negative light. They could have just ignored the email or politely declined. Whether they like it or not, lots of brands are willing to work with influencers, and of course, it's their prerogative not to. They didn't need to shame the influencer in the way they did, and I get why she's embarrassed.
What do you make of this situation?