I'm sure we've all wondered at some point what a front desk associate at a hotel can see about you when you check-in. Do they know how many points you have, if you've stayed at the hotel before, if you earned status through a status match or through credit card stays, or what?
Well, while it's presumably not representative of all hotel chains, reader rickyw shares the "profile sheet" that was accidentally left with his key card during a recent Marriott stay:
Recently checked into a Marriott property, and the front desk agent accidentally left my 'profile sheet' in my envelope with room key. Thought it was interesting what information is displayed to the front desk agent. I feel like it's been brought up a couple times on here, so thought I'd pass along!
Here's the sheet: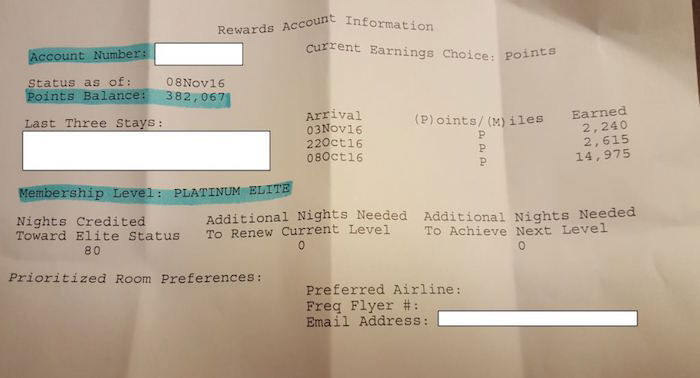 As you can see, it shows his points balance, last three stays, membership level, and how many elite qualifying nights he has year-to-date.
I'm sure different hotel chains have different procedures, but I do know that Hyatt has a similar system where front desk associates easily see your last three stays (I've had many associates start conversations about recent places I've been, like "I see you were at the Park Hyatt Maldives recently, how was that?"). And with the combined SPG/Marriott program, I imagine that the process will be similar at Starwood hotels moving forward as well.
Unfortunately the sheet doesn't seem to address my biggest hotel check-in pet peeve, which is whether the person checking in is a repeat guest or not.
Presumably there's a lot more information front office associates have access to if they dig, but it's interesting to see what's on the "profile sheet" when you check-in.