There are pros and cons to each hotel loyalty program, and there's not going to be one program that gives you the best of all worlds. That's probably also why we're not all loyal to the same hotel program (which is a good thing).
My personal favorites are Hyatt Gold Passport and Starwood Preferred Guest, though there's no doubt that there are plenty of reasons to like other hotel elite status levels as well.
While perhaps totally random, I figured I'd compile a list of some hotel elite status perks I'd like to see across various hotel chains. In many cases the perks could apply to more than one chain, so don't take this as the conclusive list of everything I'd want to see at any given hotel chain. For that matter, these perks aren't all necessarily specific to elite status, but some are just general changes I'd like to see at programs.
But I figured it was an interesting brainstorming exercise, and in the comments below I'd love to hear what you guys would like to see changed.
With that out of the way, here are some perks I'd like to see, in no particular order:
Hyatt Diamond Gold Passport: complimentary bottled water
It always sucks when you arrive at a hotel late at night and are thirsty, and the only option for water is the $5 bottle in the minibar. Starwood offers their Platinum members a couple of complimentary bottles of water in their room, so it would be nice to see Hyatt do the same. Admittedly lots of Hyatt hotels already do this, though it would be nice to see it as an official policy.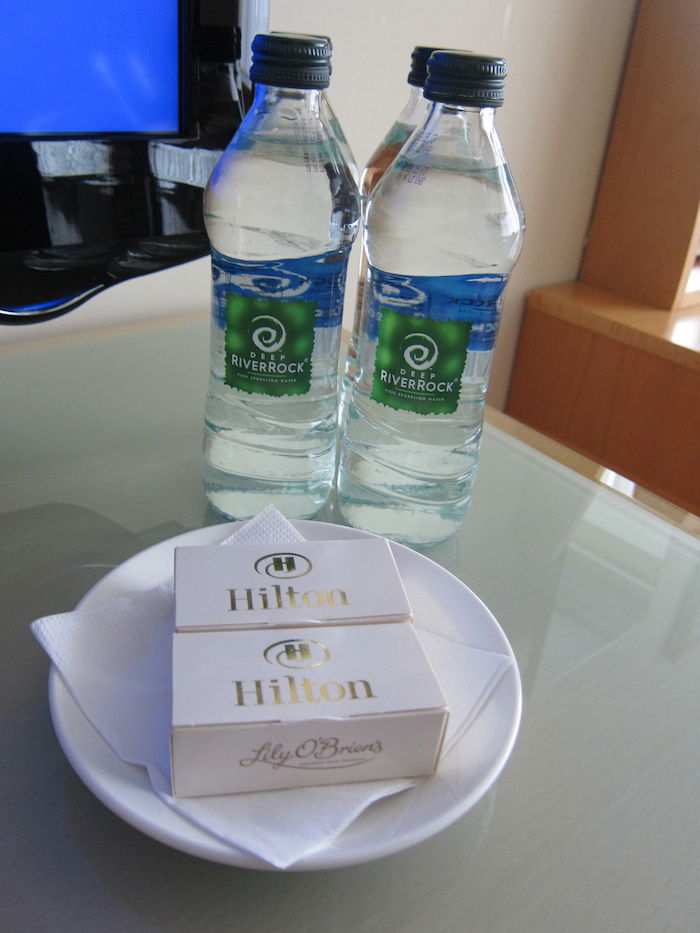 Love me some free water (and chocolate doesn't suck either!)
InterContinental Royal Ambassador: elite benefits on award stays
The greatest thing about Royal Ambassador status with InterContinental is that it comes with many guaranteed benefits, like 8AM check-in, 4PM check-out, etc. Unlike with other chains, all of these benefits are guaranteed, regardless of how full the hotel is.
One glaring omission in terms of benefits, though, is that they only apply on revenue stays. On award stays InterContinental Royal Ambassador members don't technically receive benefits, even though in practice many hotels will still honor them. This policy is puzzling to me and rather antiquated, given that virtually all other chains honor benefits on award stays.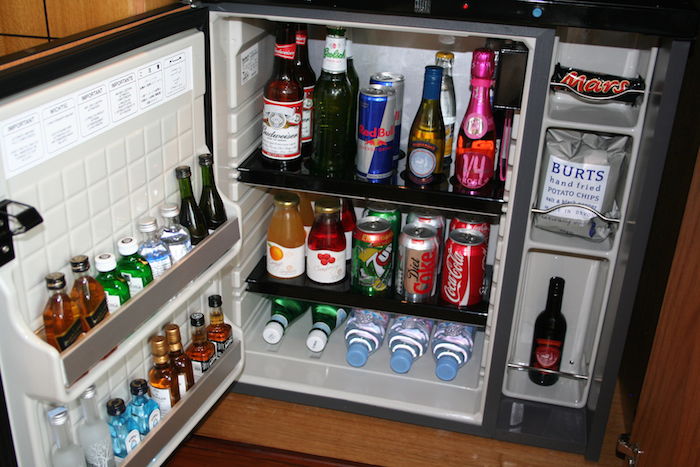 Complimentary minibar beverages, a Royal Ambassador benefit on revenue stays
Hilton Honors Diamond: confirmed suite upgrades
I'm a Hilton Honors Diamond member, and so far can't say I've noticed much of a difference between Diamond and Gold status. In 2012 Hilton added suite upgrades as an official Diamond benefit, though differently than other chains.
For example, Starwood offers guaranteed suite upgrades based on availability. That means (theoretically) if there's a suite available at check-in, you should receive it as a Platinum member. The verbiage for the Hilton benefit, on the other hand, is as follows:
Upgrades may also be rooms with desirable views, corner rooms, rooms on high floors, rooms with special amenities, rooms on Executive Floors**, or suites, as identified by each property.
With Hilton the terms are basically saying that you may receive a suite upgrade at the hotel's discretion, but that the hotel isn't required to give it to you even if available.
I'd love to see Hilton add some confirmed Diamond suite upgrades, much like what Hyatt and Starwood offer. It doesn't have to be much, but just something.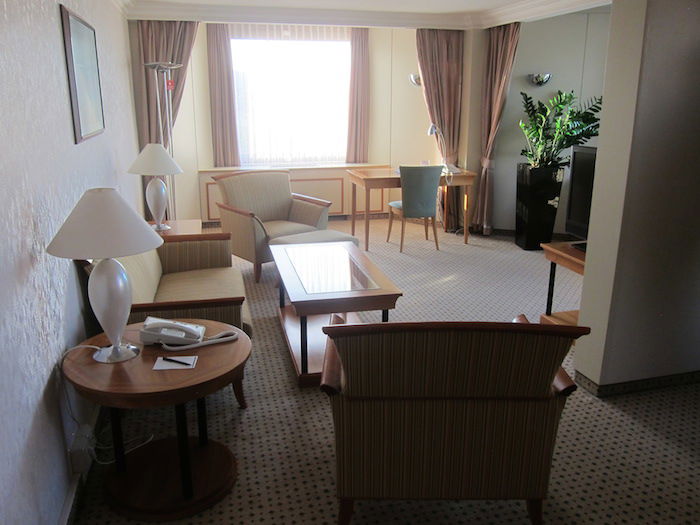 Suite at Hilton Budapest
Hilton Honors Diamond: guaranteed late check-out
Hilton already offers Diamond members late check-out based on availability, which is ultimately at the hotel's discretion and "subject to availability," which basically means that they can give it to you if they feel like it (which describes many aspects of the Hilton Honors program).
Hyatt and Starwood offer guaranteed 4PM late check-out at all non-resort properties, so it would be nice to see Hilton do the same. Really with Hilton it would just be nice if they did something to differentiate Gold status from Diamond status, which they haven't really done up until now.
Marriott Rewards Platinum: breakfast at resorts
Despite having the highest elite qualification tiers of any hotel program, Marriott has had among the stingiest breakfast benefits. Up until last year they didn't even offer elite members breakfast on weekends or at resorts. They improved that slightly in 2013 by adding breakfast on weekends.
However, as a benefit they still don't offer Platinum members complimentary breakfast at resorts. Some resorts of course offer it, but it's puzzling that this isn't a published benefit.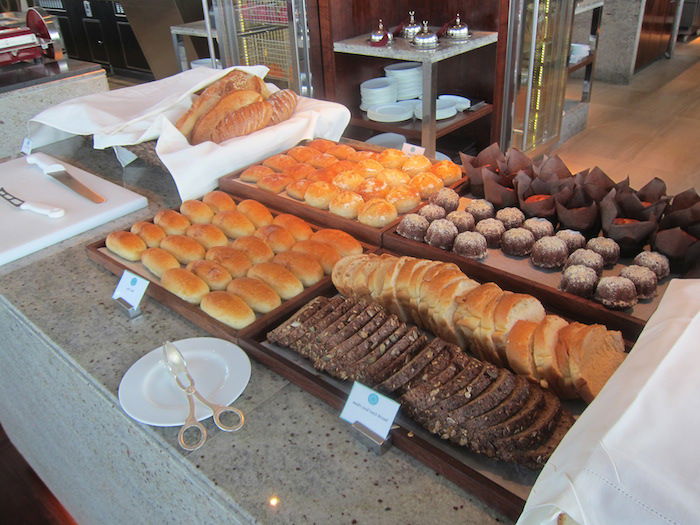 Because who needs breakfast while on vacation anyway? 😉
Hyatt Gold Passport Diamond: fifth night free on points redemptions
Hyatt Gold Passport is probably my all around favorite loyalty program, and they're always looking to add new benefits. Earlier in the year they added Points + Cash redemptions, which I've found to be wonderfully useful.
There's no denying, however, that the cost of free night redemptions has gone up substantially over the years. And I don't blame them for it one bit, as I find it to be perfectly justifiable given the direction the hotel industry has gone the past few years. But a few years back they charged 18,000 points for a free night at one of their top properties, while they now go for 25,000-30,000 points per night.
Hilton, Marriott, and Starwood offer fifth night free award redemptions, so I'd sure like to see Hyatt offer the same, even if it's just an elite benefit as opposed to something available to all members.
Hyatt Gold Passport Diamond: marginal benefits for exceeding 50 nights
As I mentioned above, my primary hotel chains are Hyatt and Starwood. I've already requalified for top tier status with both programs.
With Starwood, there are marginal benefits for exceeding 50 nights (75 nights gets you 24 hour check-in and an extra Starpoint per dollar spent, while 100 nights gets you Ambassador status).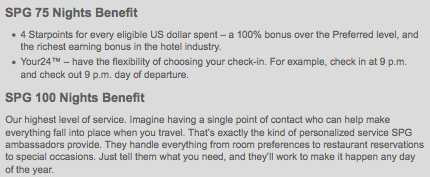 Marginal benefits for exceeding 50 nights with Starwood
However, with Hyatt, I'm kind of torn. You get four Diamond Suite Upgrade Awards for passing 50 nights, and then there aren't really any marginal benefits beyond that. Now, Hyatt does have Courtesy Card, which is invitation only, so I assume if you put in enough nights there's a chance of earning that.
I'll continue to stay at Hyatts mainly because I actually enjoy staying at their properties. If I get Courtesy Card, great. If I don't, that's great too.
But it would certainly be nice to see them add some additional published marginal benefits. How about extra Diamond Suite Upgrade Awards for passing 75 or 100 nights?
Starwood Preferred Guest Platinum: reasonable redemption rates for top tier properties
There's no denying that Starpoints are incredibly valuable, and I actually really struggle with redeeming them. That's because they can be converted into airline miles at a 1:1 ratio, with a 5,000 point bonus for every 20,000 points transferred. So there's a fairly transparent opportunity cost to redeeming them.
As far as Starwood hotel redemptions go, I find the best value is generally for mid-tier hotels in high season. There are some top tier hotels that can also be a great value, like the redemption I made last Christmas at the St. Regis Bal Harbour.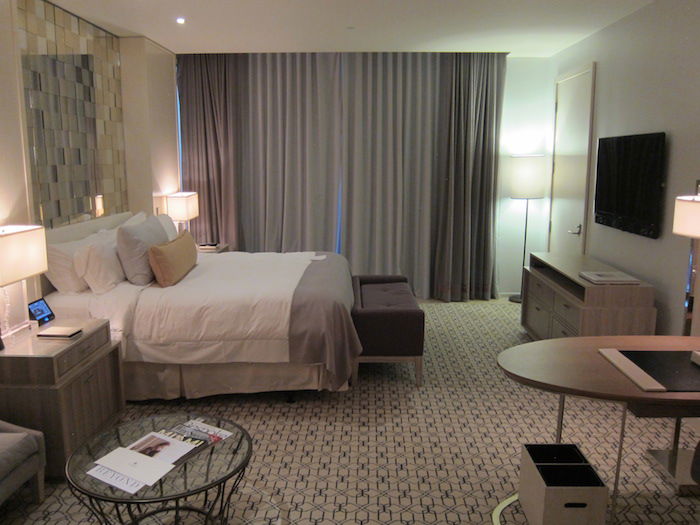 St. Regis Bal Harbour
Nonetheless, at 30,000-35,000 Starpoints per night for top tier hotels, that can be a tough cost to swallow. However, what makes it worse is Starwood's redemption rates at all suite properties.
Take the W Koh Samui, for example, which consist exclusively of "specialty" rooms. It's already a Category 6 property, and then because it's an "all suite" property, they charge double points on top of that. So the cost is literally ~40,000 Starpoints per night, which is ridiculous.
The reason this doesn't make sense (aside from the obvious) is that a hotel's category is determined by the average daily room rate, so the fact that it's an "all suite" property should already be factored into the number of points required. So you're essentially being double penalized.
It would be nice to be able to redeem Starpoints at their truly aspirational resort properties for a reasonable cost.
Bottom line
I know above I've listed more areas for improvement for Hyatt than any other chain, and that's simply because I love them the most. I think they offer the most compelling program to begin with, and since I stay with them most, I also see the tweaks they could make to improve things firsthand.
What new perks would you like to see added to your favorite (or least favorite) hotel chain?