Most hotel chains offer their top tier elite members a "reservation guarantee." Basically as long as you book a few days in advance (typically at least 48-72 hours before arrival), you're guaranteed a room. At least in theory that's what the guarantee looks like.

Now, this isn't something I've taken advantage of up until now, given that they'll charge you the rack rate if you make a booking under the guarantee. Since my travel schedule is usually pretty flexible, I have no reason to pay a fortune for a reservation guarantee when I could otherwise just reschedule my travel and use points.
The catch with these guarantees is that the hotel chains always have an "out." What's interesting is how the fine print differs between chains when it comes to this guarantee.
Hilton's Diamond Reservation Guarantee has the following terms:
The Diamond Reservations Guarantee allows Diamond members to place a guaranteed reservation at a sold out hotel when made 48 hours prior to arrival, except during Extraordinary Demand Date periods, when the hotel becomes overbooked on inventory by more than 10%, and for some hotels when the hotel becomes overbooked on inventory by more than 2%. See Terms & Conditions for details.
Hyatt's Diamond 48-Hour Guarantee has the following terms:
Guarantee valid for one standard guestroom when paying the hotel's Hyatt Daily Rate. Not valid at Hyatt resorts, Hyatt Zilara and Hyatt Ziva properties, Hyatt Residence Club resorts, or during extraordinary room demand.
IHG Rewards Club's Platinum Guaranteed Room Availability has the following terms:
Requires 72 hours advance notice. Platinum Elite members are guaranteed one guest room for personal use for reservations made at least 72 hours prior to the date of arrival, except during special events that result in extraordinary demand, as determined solely by the hotel. Guaranteed room availability is not valid for Reward Nights. These reservations can only be made through the IHG® Rewards Club Service Center.
Marriott's Platinum 48-Hour Guaranteed Availability has the following terms:
Traveling on short notice? We guarantee you'll always have a room for any paid stay. Just make a reservation at least 48 hours before arrival at any of our 3,700+ participating hotels (Excluding Marriott Vacation Club. At Residence Inn and TownePlace Suites, applies to Studios only.) This offer may not be available during certain limited dates or special events, so be sure to check on this when you book.
Starwood's Platinum Guaranteed Room Availability has the following terms:
Applicable to one standard room booked by 3 p.m. local time 72+ hours before day of arrival at participating hotels. Member must pay regular RACK rate. Black out dates apply. Not available at resorts. Room upgrade and Free Night Award redemption do not apply when this benefit is utilized. Minimum length-of-stay requirement must be met.
As you can see, while the way they phrase the restrictions differs by chain, these aren't actually guarantees:
Not available if the hotel is overbooked by 2-10%
Not valid during periods of extraordinary room demand
Not available during certain limited dates or special events
Blackout dates apply
And I get the need for "outs." During the World Cup, Super Bowl, etc., I can totally see the need for these restrictions. But what about during somewhat smaller events?
I'm not trying to pick on Hilton specifically here, because I'm guessing the policy is the same for every chain, but I've finally tried to exercise this guarantee for the first time. As you guys know, I'm taking my dad on a big round the world trip in a few months, and I thought I had all the details ironed out. I finally figured out a way to get down to Queenstown for a few days without it being too much of a hassle. It's something I really want to do, because all the other destinations we're visiting during this trip are big cities.
The only problem is that the Hilton is sold out for one of those nights. Most of the other hotels seem to be sold out as well, as it seems that the Queenstown Marathon is that weekend. In the case of Hilton specifically, I find it interesting that they claim that the guarantee doesn't apply anymore when hotels are overbooked between 2% and 10%. Now I'm no expert on hotel inventory management, but I would assume that hotels are ordinarily overselling by somewhere in the range of 2-10%, especially months in advance when there could still be lots of cancellations.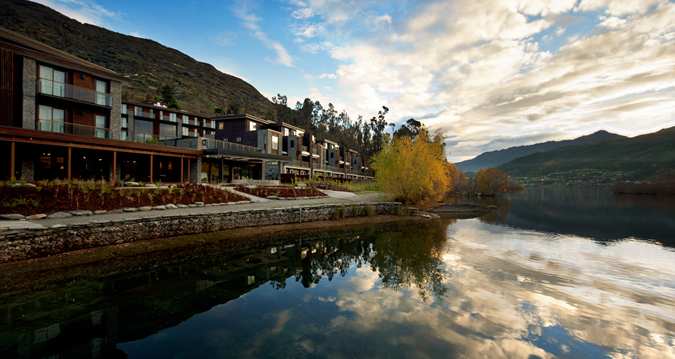 Based on that it sure seems like a hotel might be oversold by somewhere between 2% and 10% and still be selling one more room to the general public, and then once that room is sold, there are no rooms for sale regardless of whether you're exercising a guarantee or not. In other words, I have to wonder whether hotels are actually allocating any inventory to this "guarantee."
From the hotel's perspective I can't blame them if they're not. The individual hotel doesn't really have a reason to care who books that last room. If anything they might prefer a non-elite, because there are fewer complimentary benefits they have to offer them.
Anyway, it is what it is and there's nothing I can do about it. But I figured I'd share my experience since this is my first time trying to use the guarantee. I figured it wouldn't work during New Years Eve in Sydney, at the World Cup, Super Bowl, etc., but it seems that it's even more restrictive than that.
To anyone that has used one of those guarantees before, have you actually found them to be useful, or more of a gimmick?