Hawaiian has a unique market position as an airline, both geographically and in terms of their competitive scene:
They're the only major airline based in Hawaii, so while they have competition from both US and Asian airlines, they're the only one with a comprehensive route network to/from Hawaii
They operate flights both to the US mainland, as well as international destinations, though they do nothing to differentiate the products by market — in other words, they fly the same planes to New York as to Sydney
As a result, Hawaiian has long had a hybrid first class product. Their A330 is their flagship plane, and they fly it to most of their international destinations, as well as many of their destinations in the continental US.
The plane features 18 recliner first class seats, spread across three rows in a 2-2-2 configuration. They feature 45 inches of pitch, so in terms of quality are sort of between international business class and domestic first class.
Well, it looks like Hawaiian will substantially be improving their longhaul premium cabin product, as Hawaiian will progressively be installing fully flat beds up front. This was shared during Hawaiian Airlines' media day, which @crankyflier and @JetSetCD are doing an excellent job of covering.
Here's what we know about Hawaiian's new first class so far:
Hawaiian will continue to have 18 first class seats on the A330, spread across three rows in a 2-2-2 configuration
The fully flat first class seats will feature 76″ of pitch
Hawaiian is removing the built in IFE in first class, and instead will hand out tablets, for which there's an "arm" (it certainly counters the trend to see an airline removing IFE from seats)
The first plane with the new first class will debut in the second quarter of 2016
Overall, Hawaiian's A330s will feature 16 fewer seats — they're maintaining 18 seats in first class, increasing extra comfort from 30 seats to 68 seats, and reducing economy from 246 seats to 192 seats
Here's a picture that Brett Snyder shared of the new first class product: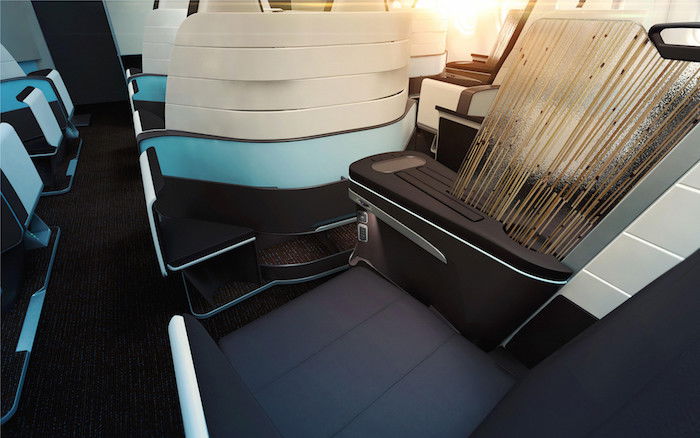 Then here are some Tweets with pictures of the new seats:
Here's the layout of the new Hawaiian F cabin, call it the reverse Lufthansa #HAGlobalMediaDay pic.twitter.com/NA57ivlhaq

— Brett Snyder (@crankyflier) October 19, 2015
whoa whoa whoa. Using Oculus Rift virtual reality to try out the new @HawaiianAir First seats. #HAGlobalMediaDay pic.twitter.com/Abr6rjDRxf

— Cynthia Drescher (@JetSetCD) October 19, 2015
In a way, the new product looks like the reverse of Lufthansa's new business class. On Lufthansa the seats angle towards one another so there's a shared footrest in the middle.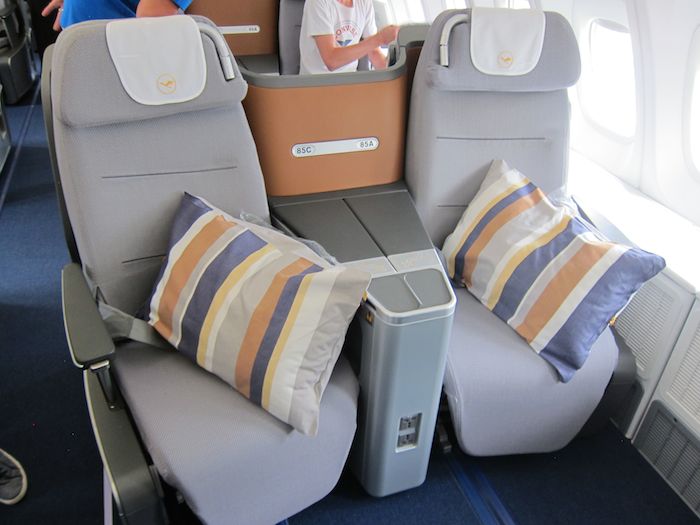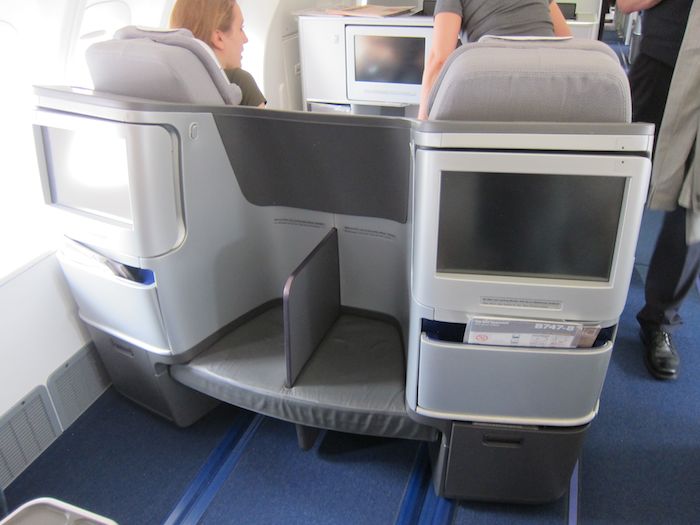 Hawaiian's product seems to be the opposite, whereby the seats are close to one another and then angle away from one another, whereby the footrests are instead at the corners of the seats.
American Airlines is a partner of Hawaiian Airlines, though unfortunately as of September 1, 2015, they added some restrictions to their partnership. Specifically, as of that date you can no longer redeem American miles for travel on Hawaiian between the continental US and Hawaii.
Bottom line
This is a very nice improvement for Hawaiian Airlines. This means they will once again be competitive on their international route, which were previously served by the foreign airlines offering service to Hawaii, like ANA, Japan Airlines, Korean Air, Qantas, etc.
Meanwhile Hawaiian will likely now offer the best product to the continental US. Previously other US carriers flew a mix of domestically and internationally configured planes to Hawaii. Those routes operated by Hawaiian A330s will now feature a very nice product, especially given that Hawaiian's service has a bit of island "flair."
Does this new product change whether or not you'd fly Hawaiian first class in the future?