Hawaiian Airlines has just introduced basic economy fares, though I guess you could say they're fashionably late here…
Hawaiian Airlines' New Basic Economy Fares
This week Hawaiian Airlines has started selling what they're calling "Main Cabin Basic" fares in select North American markets.
These fares are initially being offered on select nonstop flights between Honolulu and three mainland markets for travel as of October 21, 2019. These markets include Los Angeles, Long Beach, and San Jose.
Brent Overbeek, Hawaiian's SVP of Revenue Management and Network Planning, said the following about these new fares:
"We are now offering a full range of fare options to our guests on these routes with the addition of the best-value Main Cabin Basic product in the industry – one that combines our lowest fares with our award-winning Hawaiian hospitality, including complimentary meals and in-flight entertainment, delivered in the comfort of our modern fleet."
Hawaiian Airlines Main Cabin Basic Fare Restrictions
How punitive are Hawaiian Airlines basic economy fares? On the plus side, Hawaiian isn't adjusting the free carry-on allowance for these passengers, unlike United. Furthermore, Hawaiian does offer free meals on flights between Hawaii and the mainland, and all passengers will continue to be able to enjoy those.
However, Hawaiian Main Cabin basic passengers won't be able to select seats before check-in, won't be able to change flights, won't be able to upgrade to Extra Comfort or first class, and won't earn bonus miles.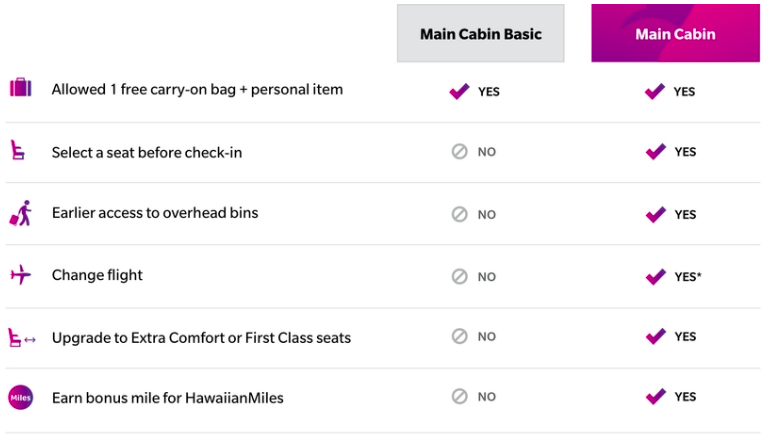 Hawaiian's Main Cabin Basic Price Difference
In the markets in which Hawaiian Airlines has rolled out these new Main Cabin Basic fares, it looks like they're charging an extra $30 to avoid these fares across the board, regardless of what the price for a ticket is.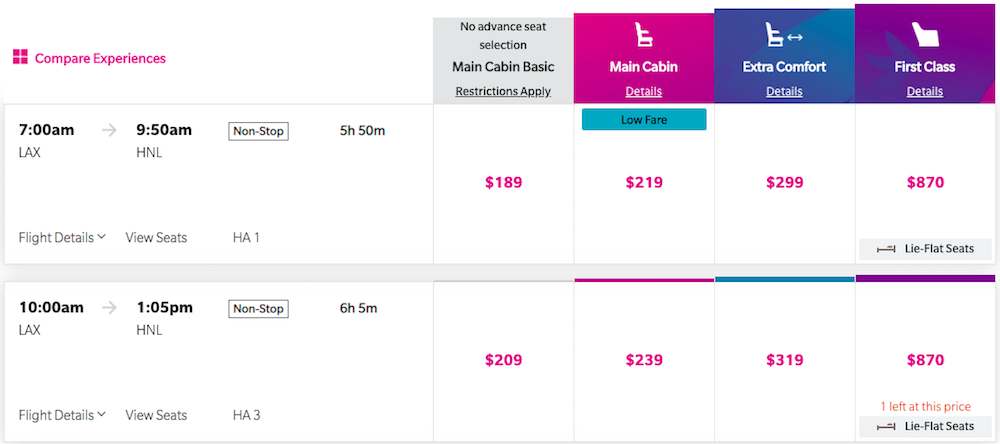 So consumers have to decide if it's worth spending $30 to be able to select a seat, to be eligible to board earlier, and to possibly be able to upgrade.
Main Cabin Basic fares also aren't eligible for changes or cancelations, though given that Hawaiian's fee for that is usually $200, for many fares there's not even any practical value from that anyway.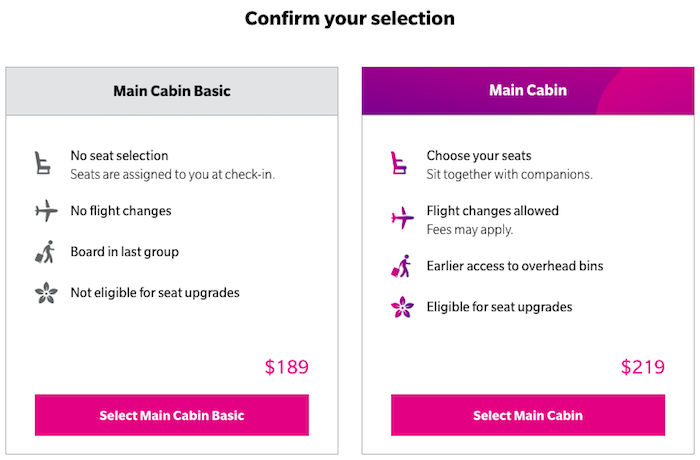 Bottom Line
Hawaiian Airlines is joining the crowd by offering basic economy fares, which doesn't come as much of a surprise. They'll be available for travel starting in a few weeks for some Hawaii to mainland routes, though this isn't available yet on a widespread basis.
At least these fares aren't too punitive (since you still get free meals and carry-ons), but this is still without a doubt a negative development for passengers.
What do you make of Hawaiian's new Main Cabin Basic fares?