In the interest of full disclosure, OMAAT earns a referral bonus for anyone that's approved through some of the below links. The information and associated card details on this page for the Chase Freedom Flex℠ card has been collected independently by OMAAT and has not been reviewed or provided by the card issuer. These are the best publicly available offers (terms apply) that we have found for each product or service. Opinions expressed here are the author's alone, not those of the bank, credit card issuer, airline, hotel chain, or product manufacturer/service provider, and have not been reviewed, approved or otherwise endorsed by any of these entities. Please check out
our advertiser policy
for further details about our partners, and thanks for your support!
Uber and Lyft compete fiercely for business — not just trying to gain market share from other forms of transportation, but they also have to compete against one another. As a result, both companies have membership programs, offering additional perks for a fee, as well as some loyalty program collaborations. This is intended to get people to more consistently be loyal to one company.
A few years back, Lyft Pink launched, which was the ridesharing giant's subscription service, intended to compete with the Uber One membership option. This was recently relaunched, so I wanted to go over all the details in this post. This is especially worth understanding, given that the Chase Sapphire Reserve® recently added a complimentary Lyft Pink All Access membership perk.
Lyft Pink membership details
Lyft Pink is a membership program that offers an elevated Lyft experience across Lyft's transportation network, including rideshare, bikes, scooters, rental cars, and more. Lyft claims that members save an average of $29 per month, excluding the cost of membership (which is less than that).

Let's take a look at the pricing and perks.
Lyft Pink membership cost
A Lyft Pink membership costs $9.99 per month, or $99 annually (which comes out to $8.25 per month). Back in the day Lyft Pink cost $19.99 per month, so the price for the base membership has roughly been cut in half. If you get a monthly subscription, you can cancel at anytime, while the annual membership is a commitment for 12 consecutive months.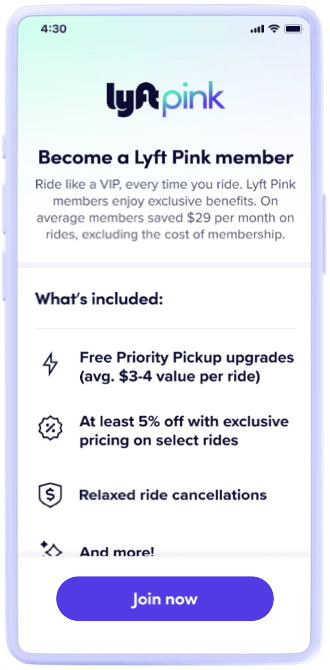 Benefits of Lyft Pink membership
What does a Lyft Pink membership offer, for the $9.99 per month or $99 per year fee?
5% off Lux, Preferred, and XL rides
Priority pickup upgrades to get picked up faster and save $3-4 per ride on average
Cancellation forgiveness, where you can cancel up to three times per month for free
In-app roadside assistance for your own car, free up to four times per year
Free bike or scooter unlock each month
Free SIXT car rental upgrades
Save on food delivery with a complimentary Grubhub+ membership for one year (ordinarily $9.99 per month)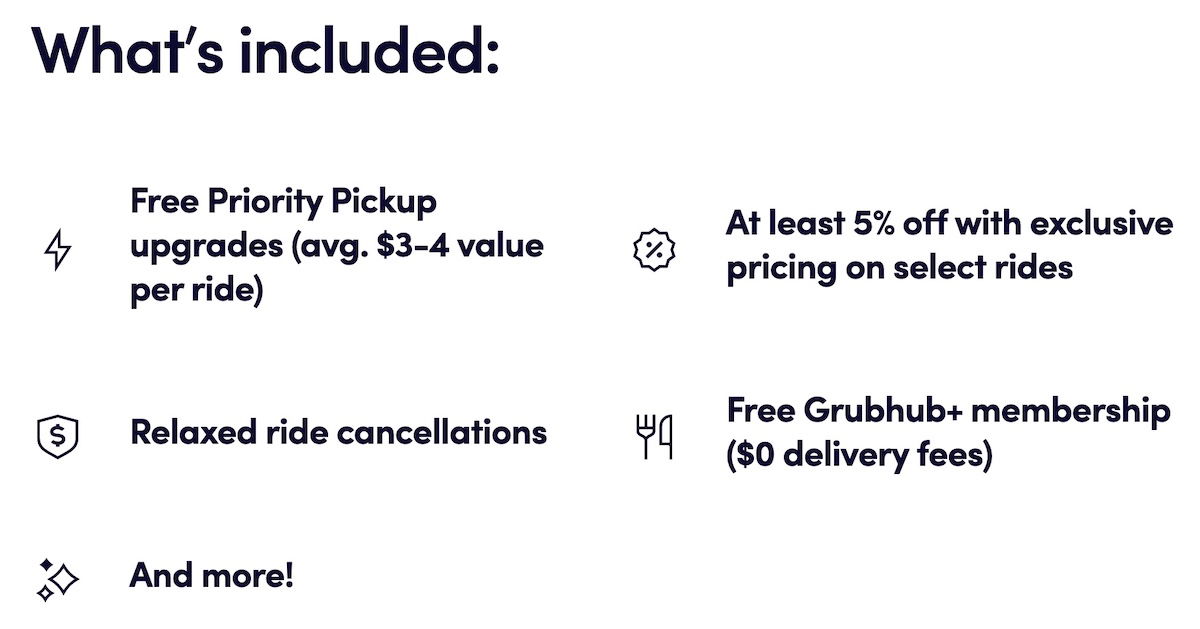 Lyft Pink All Access membership
In addition to a standard Lyft Pink membership, there's also a Lyft Pink All Access membership. This costs $199 per year, so on an annual basis it's double the price of a standard Lyft Pink membership, with no monthly subscription option.
What are the incremental perks of Lyft Pink All Access?
Unlimited 45-minute classic bike rides
Unlimited electric bike and scooter discounts
Three free bike or scooter guest passes
Access to Bike Angels rewards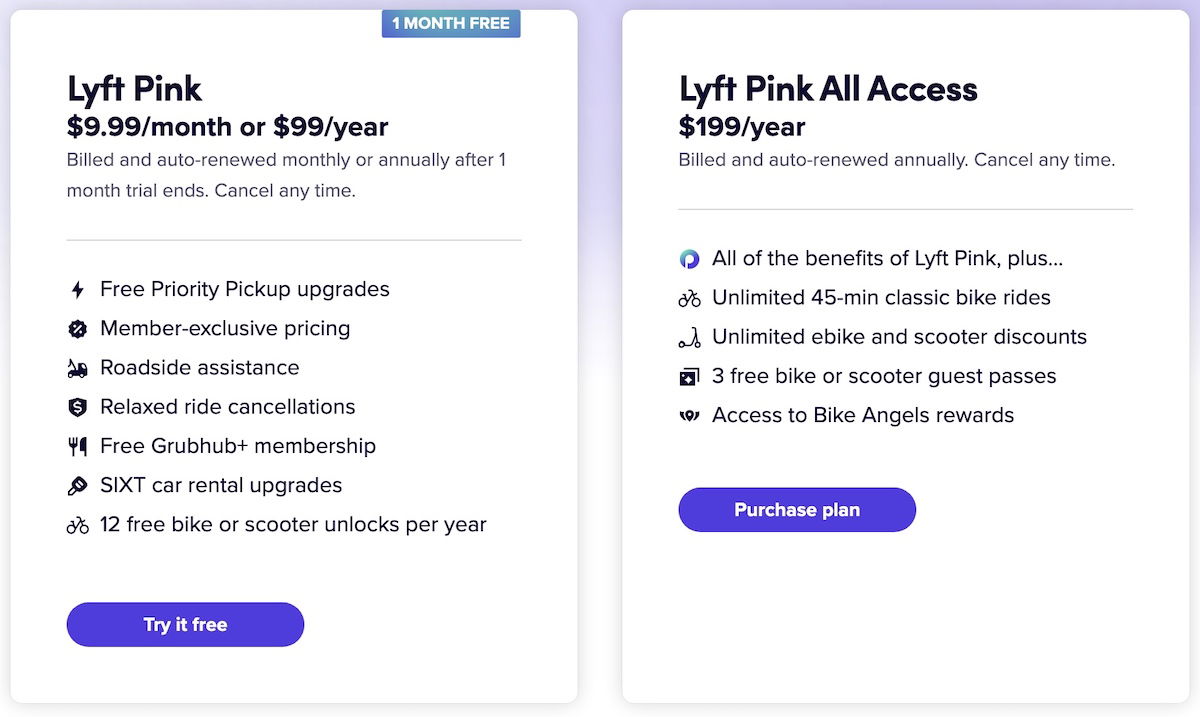 How to sign-up for Lyft Pink
You can sign-up for a Lyft Pink membership at this link. At that point you can choose whether you want a monthly or annual membership.
Lyft perks with Chase credit cards
Chase & Lyft have a partnership, which is the best way to maximize value with Lyft. First of all, through March 2025, you can earn 5-10x Chase points for your Lyft spending:
As it pertains to Lyft Pink, there's a further way to maximize value here. The Chase Sapphire Reserve® offers a two year Lyft Pink All Access membership. You must activate this by December 31, 2024, and once activated, it's valid for two years. This is a potentially a huge perk, and can help make the Sapphire Reserve worth it.
Is Lyft Pink worth it?
While it's nice to see Lyft Pink make a comeback at a lower price point, unfortunately it has fewer perks, and less tangible value. Let's crunch some numbers, based on paying $99 per year:
You're getting 5% off Lux, Preferred, and XL rides, so you'd recoup your $8.25 monthly fee after $165 in monthly eligible spending; of course this isn't helpful if you typically just try to book the cheapest rides, since these are all premium options
The priority pickup upgrade perk is one that's tough to assign a value to, since it's hard to know how often you're actually being upgraded, and what the value of that would be
One significant potential benefit is getting three free cancellations per month, since those can otherwise cost $5-10; just cancelling twice per month would recoup your membership fee right there
If you use Lyft's bike or scooter feature, that adds even more value
For some people the biggest perk will be a complimentary Grubhub+ membership, as that ordinarily costs at least as much as a Lyft Pink membership; that's a very easy way to justify Lyft Pink, and it makes everything else the icing on the cake
Lyft Pink All Access unfortunately doesn't offer any further ride discounts, though it is useful if you rent bikes or scooters through Lyft. I'd say that's where the biggest value potentially is.
The way I view it:
Lyft Pink is worth it for at least a year if you'd otherwise pay for Grubhub+, plain and simple, since it's potentially cheaper, meaning you save money right there
Beyond that, if you often take Lyft's premium ride options, if you frequently cancel rides, and/or if you value the 12 bike or scooter rentals each year (ideally at least two of the three would apply to you)
Lyft Pink All Access is much harder to justify if paying cash, unless you value the unlimited access to bikes
As someone who has the the Chase Sapphire Reserve® (review), I'll absolutely take the complimentary Lyft Pink All Access membership for two years; I don't value it at $199, but between Lyft Pink All Access and earning 10x points on Lyft spending, it will keep my business with Lyft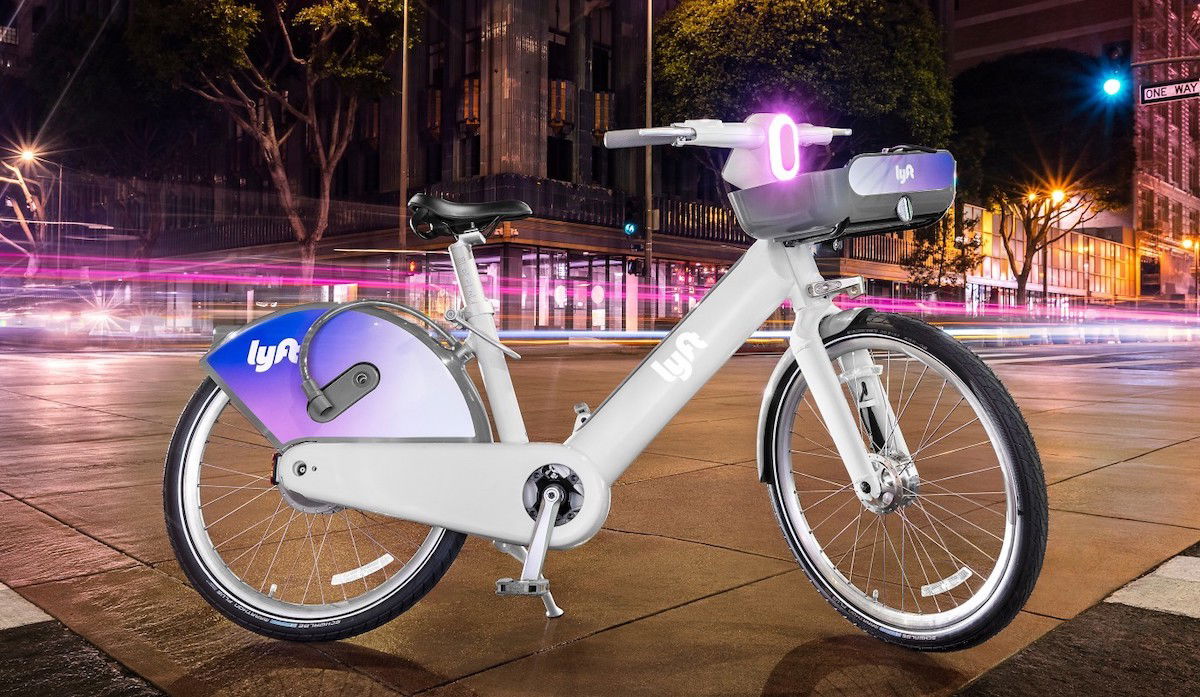 Bottom line
Lyft Pink has recently relaunched with a lower fee, and two membership tiers. For ~$10 per month or $99 per year, you can receive discounted rides, priority rides, waived cancellation fees, a Grubhub+ membership, and more. If you use Lyft with any frequency, or if you'd otherwise pay for a Grubhub+ membership, then signing up could make sense.
Then there's Lyft Pink All Access, which is awesome for those with the Chase Sapphire Reserve®, as you can receive a complimentary two year membership.
What do you make of the Lyft Pink value proposition?