I always get a chuckle out of internet stories showcasing the world's best first class products. They're usually written by people that have clearly never flown any of them.
In most cases they're sort of annoying, but reader @craig_xpat sent me a link to one that's so bad that it's actually kind of adorable and endearing.
This particular article is written by TheRichest, which seems to be a website dedicated solely to creating "top 10" lists of rich people things. So in looking at the thing that takes up space on the internet article entitled "The Top 10 Most Luxurious First Class Airlines," which airline takes the #9 spot?
Air India… I $hit you not! Why?
Air India may possibly be the new airline to travel. This airline offers you a flight of relaxing luxury; which is what flying should always be about. Their "sleeperette" reclines to a complete 180 degree angle, complete with its own mattress topper, and has easy access to the aisle. Don't forget about the most important feature to any flight: the food. From lamb chops, to kabob's, you'll never be disappointed—because who actually eats those pretzel bags they hand out?
And ahead of them is Jet Airways at #8, even though they only display a picture of their business class product:
Jet Airways may not be like the first two, but that doesn't mean you can't fly in an expensive lifestyle! You get your own reclined bed, as well as your choice of movies and magazines at your own side table. If you want a bottle of champagne, they'll open it right in front of you; making you feel like Jay Gatsby himself! Your overnight kit includes slippers, an eye mask, and of course, your own PJ's. If you're lucky enough to join this first class flight, you'll get to enjoy exotic dishes, like squash soup, or cheese plates!
Then Korean Air is #7, which will leave you feeling "close to nature:"
Korean Air offers a different sense of first class, but nonetheless any more enjoyable. Their "Kosmo Suites" offer you perfect privacy, and its wood finished design will leave you feeling close to nature, and closer to peace and serenity.
Anyway, check out the whole article, it's just spectacularly amusing…
Oddly absent from the list is Singapore Airlines. After all, who needs Singapore Airlines' A380 Suites Class when you can fly American, Air Canada, Jet Airways, and Air India "first class?" 😉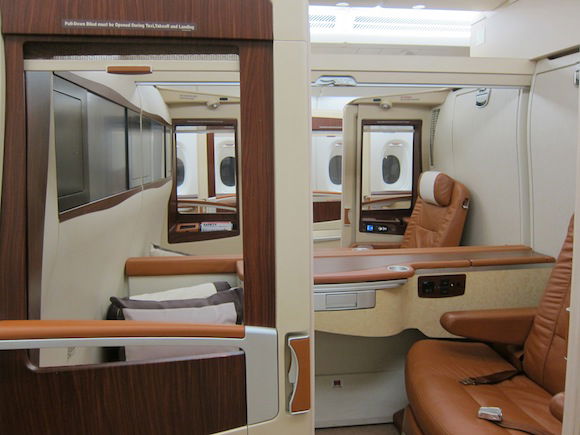 Singapore Airlines A380 Suites Class