Just a couple of days ago I wrote about how I'm changing my tune a bit about visiting Cuba. Initially I was going to wait a while given how much US carriers were charging for flights to Cuba. However, ticket prices have gotten progressively lower, to the point that I figure I might as well make a weekend trip to Havana, and perhaps make a more in-depth visit at some point in the future.
While there are lots of flights with great fares between Florida and Cuba, only a single airline will fly nonstop between the west coast of the US and Cuba. Specifically, Alaska Airlines is launching daily nonstop flights between Los Angeles and Havana as of January 5, 2017, with the following schedule:
AS286 Los Angeles to Havana departing 8:50AM arriving 4:55PM
AS287 Havana to Los Angeles departing 5:55PM arriving 8:45PM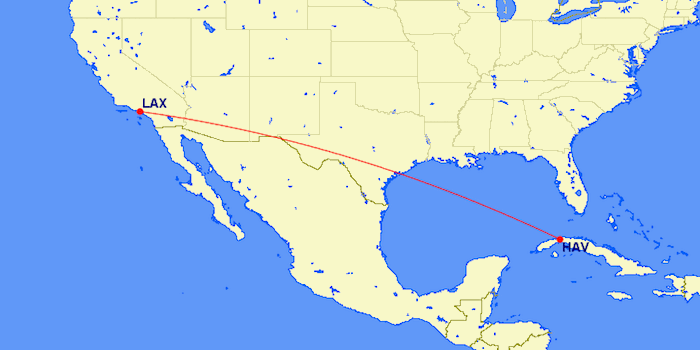 If you're interested in taking these flights, it's worth noting that Alaska Airlines has published some great fares on these flights. Per The Flight Deal, you can fly roundtrip from Los Angeles to Havana for $339 including all taxes and fees. There's no minimum or maximum stay, and the fare seems valid through the end of the schedule.
Also keep in mind that those with the Alaska Airlines Visa Card receive a $109 plus tax companion certificate, which can be redeemed on this route.
It doesn't save you that much, given the low fare to begin with combined with the high taxes for Cuba. However, two people would end up costing you $525, or ~$262 per person.
If you're interested in flying first class, fares aren't too bad given the length of the flight, at ~$1,000 roundtrip. However, I imagine upgrades on the route will be fairly easy for Alaska elite members, given that this is a pretty leisure focused market. I certainly wouldn't pay for first class, given that Alaska's product isn't that great.
I have a hard time imagining this route will turn a profit for Alaska anytime soon given the daily frequencies, so we might as well take advantage of the great fares in the meantime.
Is anyone booking one of these great Alaska fares between Los Angeles and Havana?