Unfortunately at this point I don't think a hotel adding a destination fee is generally newsworthy anymore, because it's becoming so common.
The reason I'm writing about it this time is because the Grand Hyatt Washington DC has added a destination fee, and as far as I know this is a fairly new trend for Washington. We've seen these added in New York and Los Angeles, for example, but as far as I know, not many hotels in DC have these fees.
The basics of destination fees
Destination fees are additional fees when you're booking a hotel that often aren't disclosed in a transparent way. These are "junk fees" similar to airline fuel surcharges.
Why do hotels have destination fees?
They're a way for hotels to try and get more revenue without increasing the "transparent" room rate
It works out better for the hotel than an increase in the room rate, since historically they don't have to pay travel agents a commission on the resort fee (though some online travel agencies are changing that)
In some areas it also allows them to skirt the typical occupancy tax that otherwise applies on the room rate
These initially started as fees at resorts, but things have gotten much worse, as we've now seen these fees largely spread to city hotels as well.
The problem is that once several hotels in a market introduce these fees, they seem to spread really quickly. That's because on first glance a hotel with a destination fee would appear to be more reasonably priced, so consumers may gravitate towards hotels with lower base rates.
The Grand Hyatt Washington DC's new destination fee
The Grand Hyatt Washington DC is adding a destination fee as of June 1, 2019 (waived for Globalist members). First of all I have to give the hotel credit in two ways:
They're at least providing some advance notice of the implementation date (even if it's just a couple of days, rather than the zero advance notice we usually see)
They're transparent about it, as the destination fee shows at the top of the booking page

The Grand Hyatt Washington DC includes a lot of stuff with this destination fee, and I find that sort of annoying. I almost wish hotels would just say "hey, we're going to screw you and charge you $20 per day for a $10 per day hotel credit," but instead they come up with a laundry list of amenities.
Some of these amenities are completely useless, while other amenities are ones that are already included.
What's included with the Grand Hyatt DC destination fee
Here's what's included in the Grand Hyatt Washington's $20 destination fee:
10% off Old Town Trolley Tours Silver Pass
Discounted luxury town car transportation to Union Station, Reagan National Airport, Dulles International Airport and BWI Airport (discounts between $31 and $65 per normal fare)
Over $70 discount on a two-hour private sedan tour of monuments and memorials including the White House and Capitol Building, round trip to the hotel
15% off guided bike and Segway tours with Bike and Roll
Preloaded Metro Card ($3 credit). Access to Metro Center Station via lobby.
Washingtonian Magazine
Boarding Pass Printing
$10 daily food and beverage credit (excluding alcohol, tax, service charge and gratuity) for breakfast, lunch and dinner periods in Cure Bar & Bistro, Cabinet Restaurant, and in-room meal delivery
Premium High Speed Internet
Google Chromecast ready guest rooms
Two (2) bottles of water daily
Access to digital publications via PressReader
Luggage handling / storage
Local & domestic long distance phone calls
Healthy snacks in Lobby and Fitness Center
24-hour access to Fitness Center
Great, so we can expect 24-hour access to the fitness center, luggage handling, and free Wi-Fi. This is totally worth it… not!
Basically what this boils down to is that you get a $10 food & beverage credit (which is really just a way to drum up more business for their restaurant) and a $3 Metro Card for $20 per day.
I suspect the "healthy snacks" in the gym will just be some apples.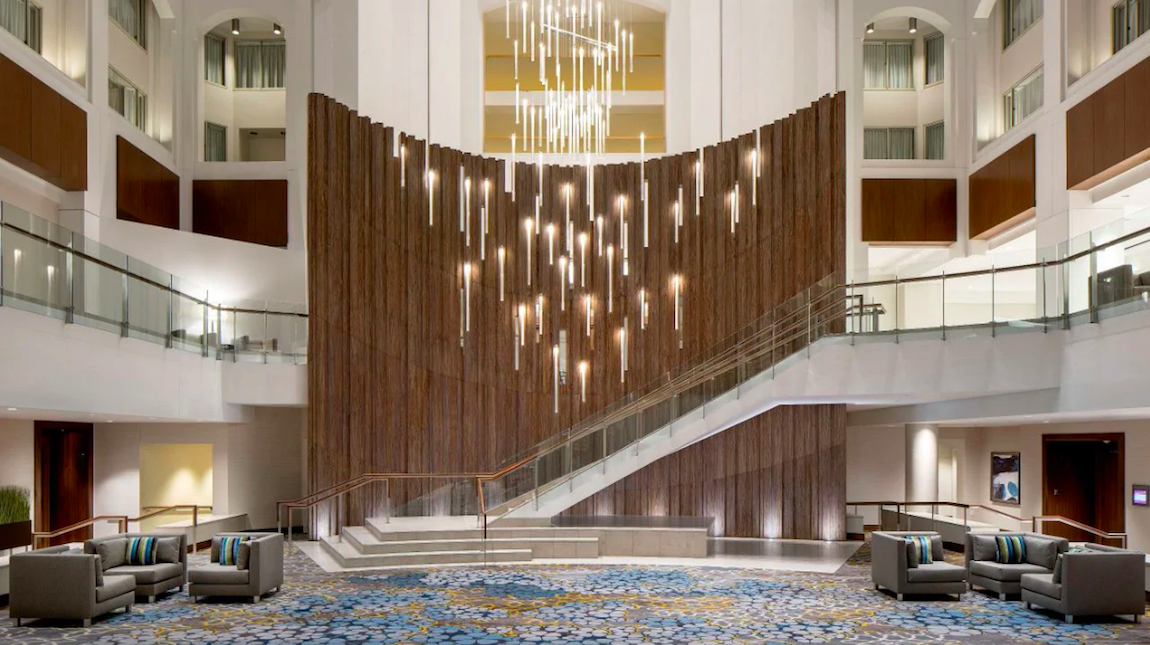 Grand Hyatt Washington DC lobby
Bottom line
I suspect we're going to see a lot more DC hotels add destination fees over the coming weeks and months.
On the plus side, the Grand Hyatt DC is at least transparent about the new fee. At the same time, there's something that irks me about the long lists of benefits they add to justify these fees, not to mention that they claim basic hotel services are part of that fee.
(Tip of the hat to @HH_Cash)