Someone from American recently told me that the airline integrated Grab into their app. I had never heard of Grab, so did some research and finally had the chance to test it out today. I figured I'd report back with my thoughts.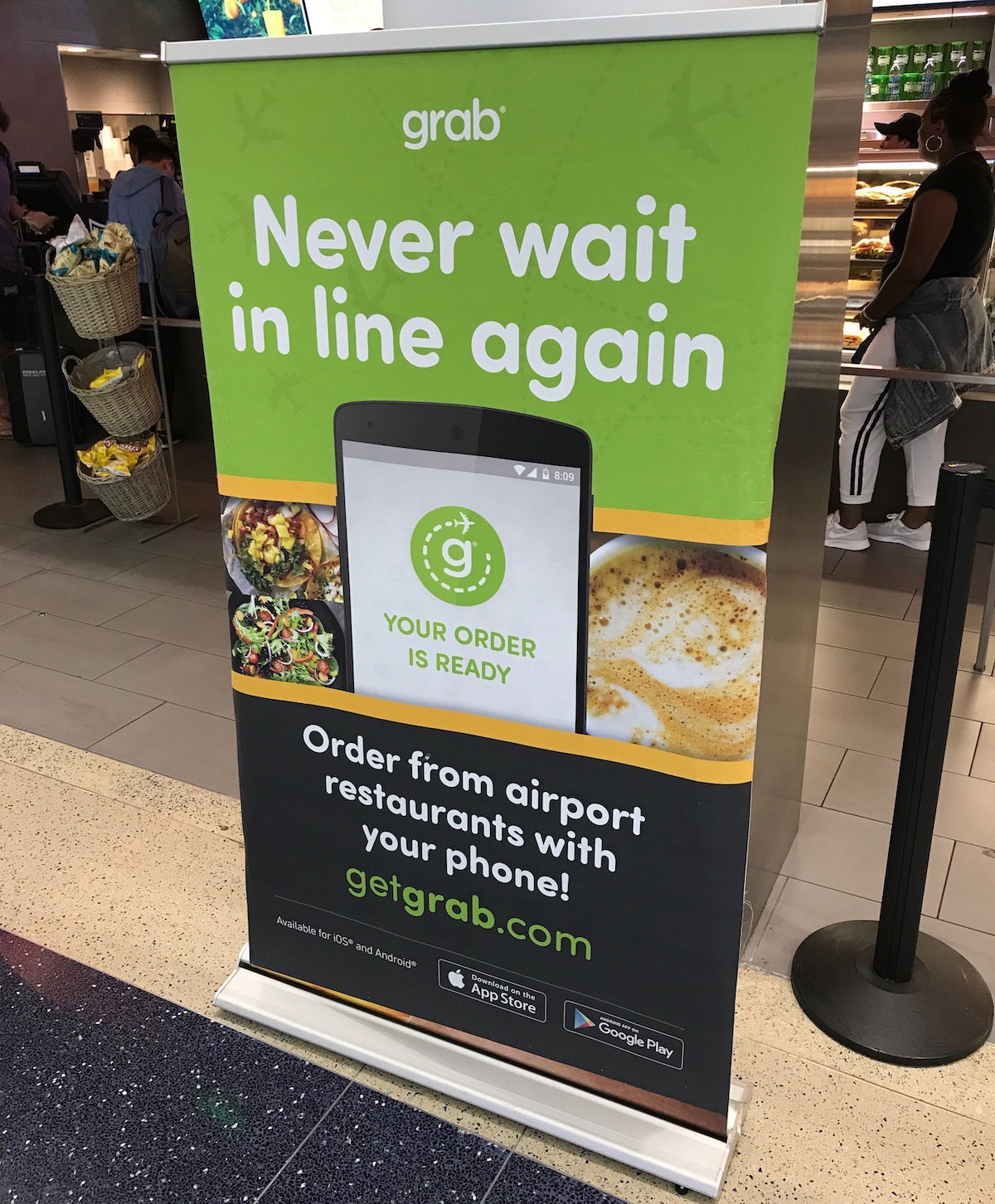 What is Grab?
Grab works with select airport dining establishments to allow ordering through their app. The idea is that you can place your order through the Grab app, and handle all the payment through there. Then you can just go straight to the pick-up counter, allowing you to bypass the ordering line. Obviously on the back-end the restaurants are onboard with the idea, as Grab orders are accepted through their systems.
There are no fees to use Grab. Instead, presumably their partnrs are paying Grab a percentage of the revenue or some sort of fee for bringing them more business.
The app is only available at select airports, though that number is growing, both in terms of eligible airports, and in terms of the number of merchants at each airport.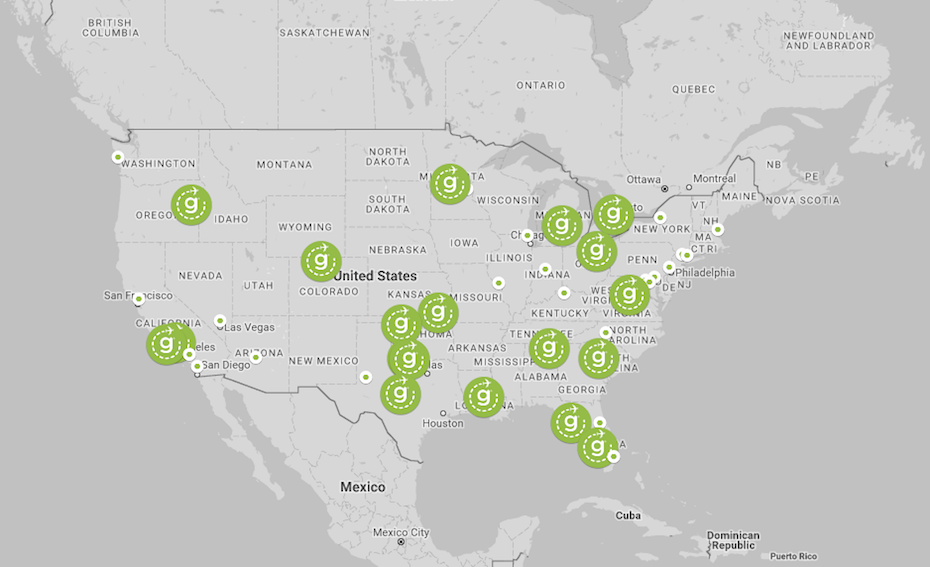 How does Grab App work?
Today I was flying out of LAX Terminal 4, so decided to take the app for a spin.
First I downloaded the Grab app.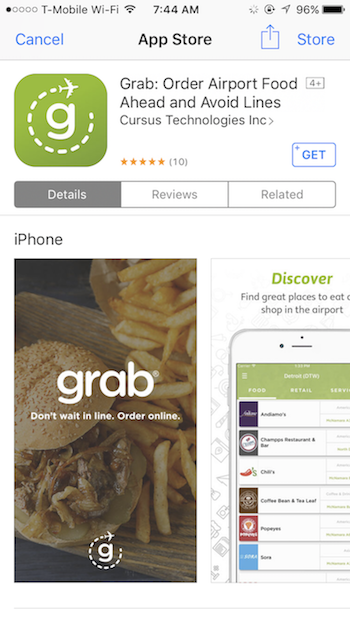 The app can tell your location, so they showed me the retailers available at LAX. The catch is that as of now the number of retailers is extremely limited. For example, in Terminal 4 the retailers included Dunkin' Donuts and Homeboy Cafe.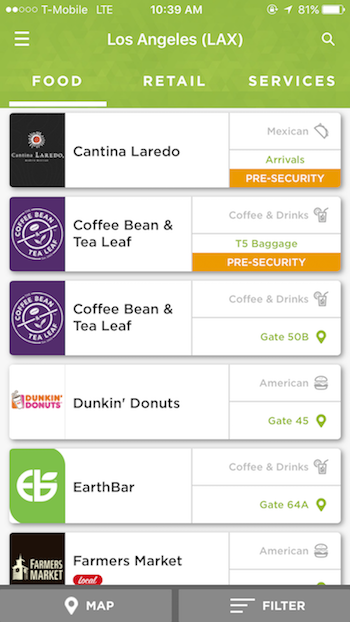 Through the app you'll see the full menu.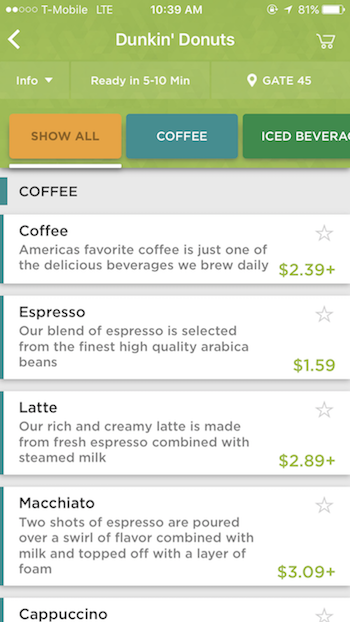 You can customize your order as much as you could if ordering in person. For example, I ordered a Dunkin' Donuts medium iced coffee with skim milk, but could have added syrup, etc.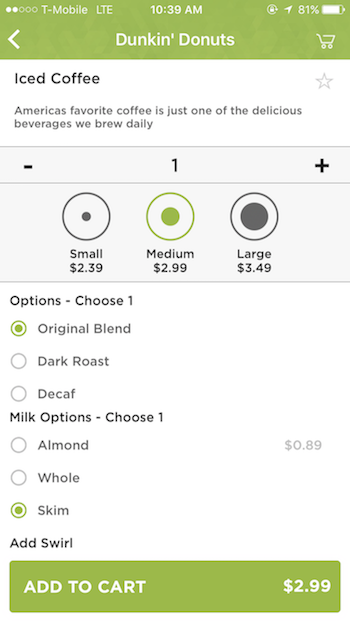 The next page confirmed the order along with the cost.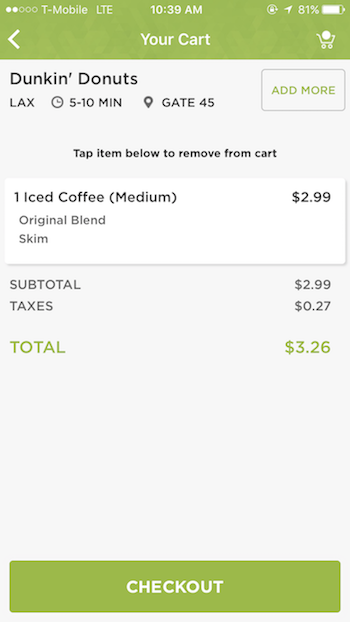 Then I could select my payment method. The app saves your payment information, so you only need to add it once.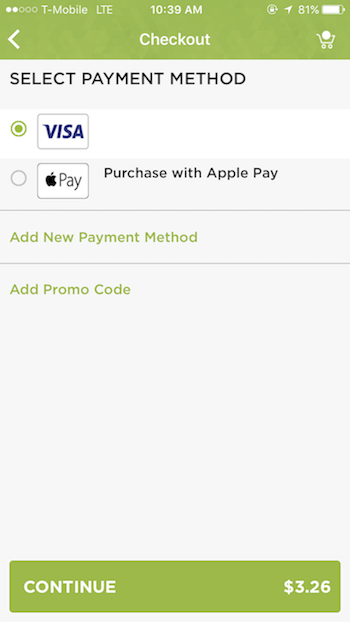 Then the next page said where Dunkin' Donuts is located, how long the order takes, and what part of the counter to pick up the order at.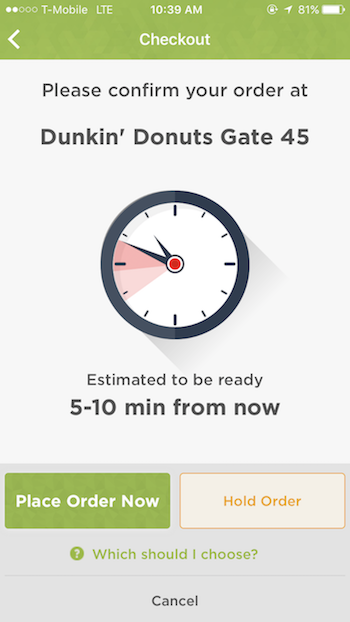 I timed it and went to Dunkin' Donuts exactly five minutes later. As I walked up to the pick-up counter on the left with my phone, the lady said "Grab order?"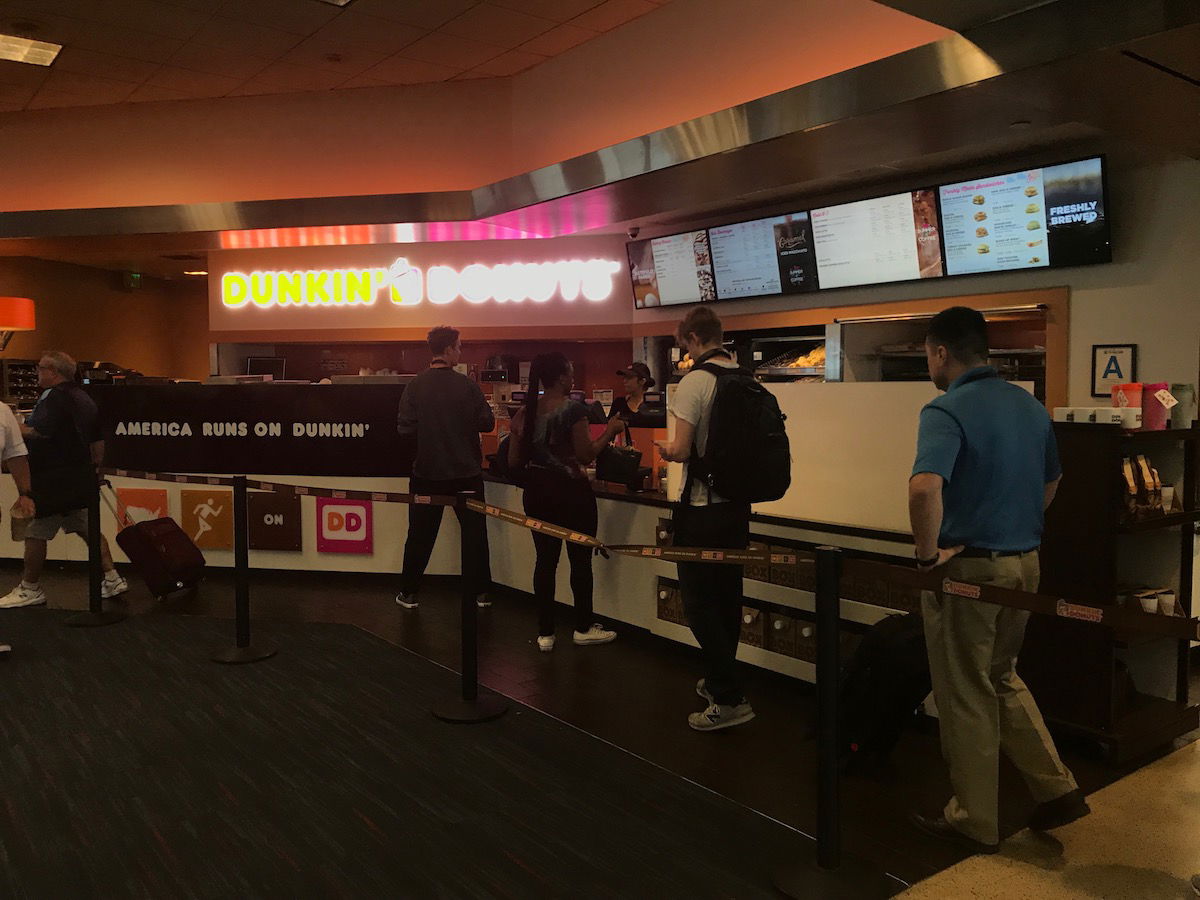 My drink was prepared accurately. Talk about flawless execution all around. Clearly Dunkin' Donuts has sufficiently integrated this into their system so that the orders automatically show on the screen and won't be skipped.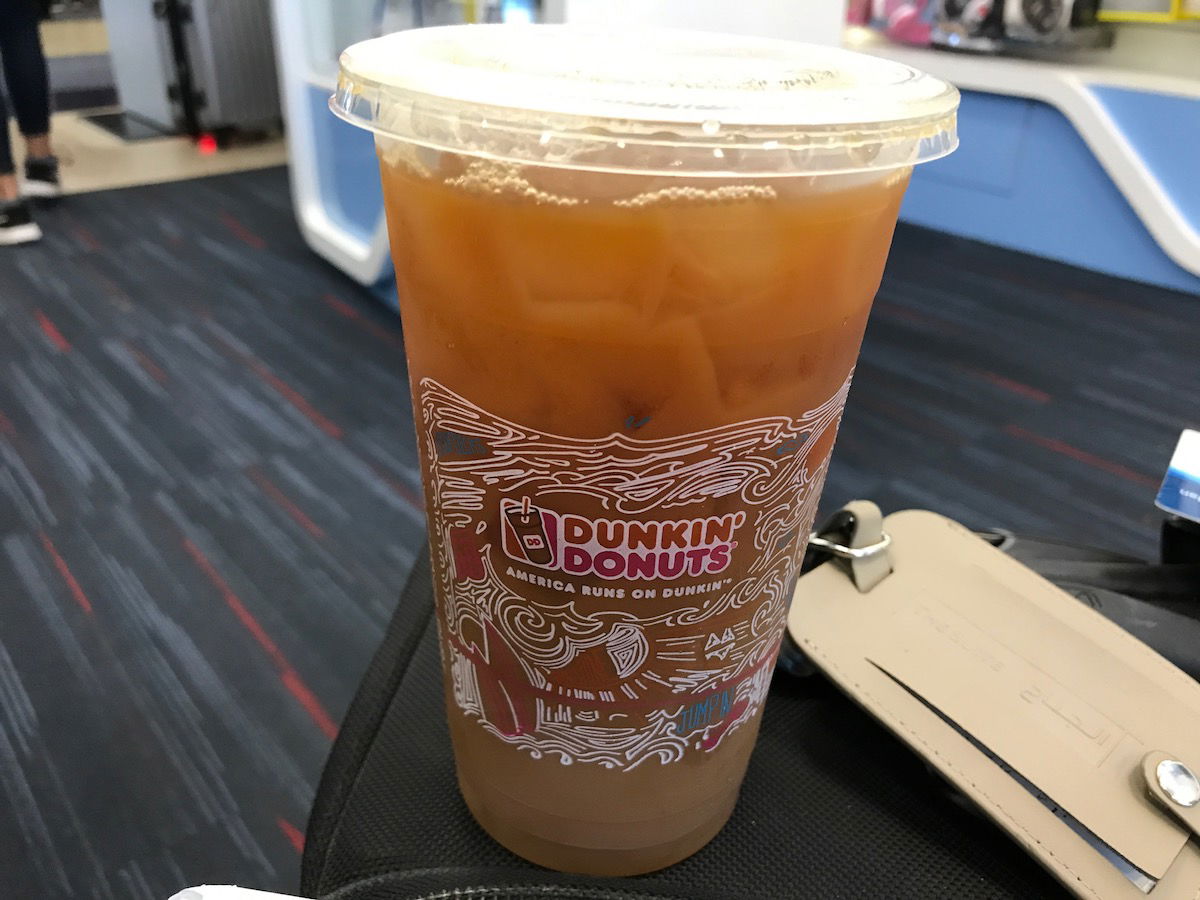 There was maybe a 5-10 minute wait at the time, so I got to skip that line. However, if you're at the airport earlier in the day, sometimes the wait is crazy, making this a huge timesaver. Just order a coffee as you're about to go through security, and then you can go right to the pick-up counter and pick it up. Awesome!
I figured I should try this with a second restaurant just to be thorough, so I tried Homeboy Cafe.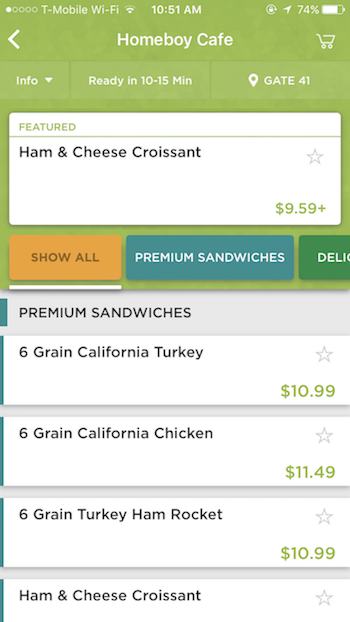 I didn't want to consume food or more calories just for the purpose of a review (I do enough of that flying), so I just ordered a bottle of water. In retrospect that was a bad move in terms of finding out how useful the app is, since there's no prep required.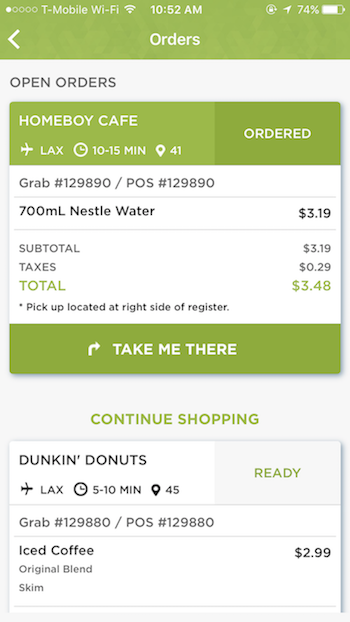 After five minutes I headed to Homeboy, and went straight up to the counter on the left. This was a bit awkward, since others seemed to think I was cutting the line. Best I could tell they hadn't really received my order. When I said I'm picking up a Grab order they walked over to a screen a few feet away, said "oh," and told me to go ahead and grab a bottle of water. I'm not sure they would have gotten to it if I had ordered something that required preparation.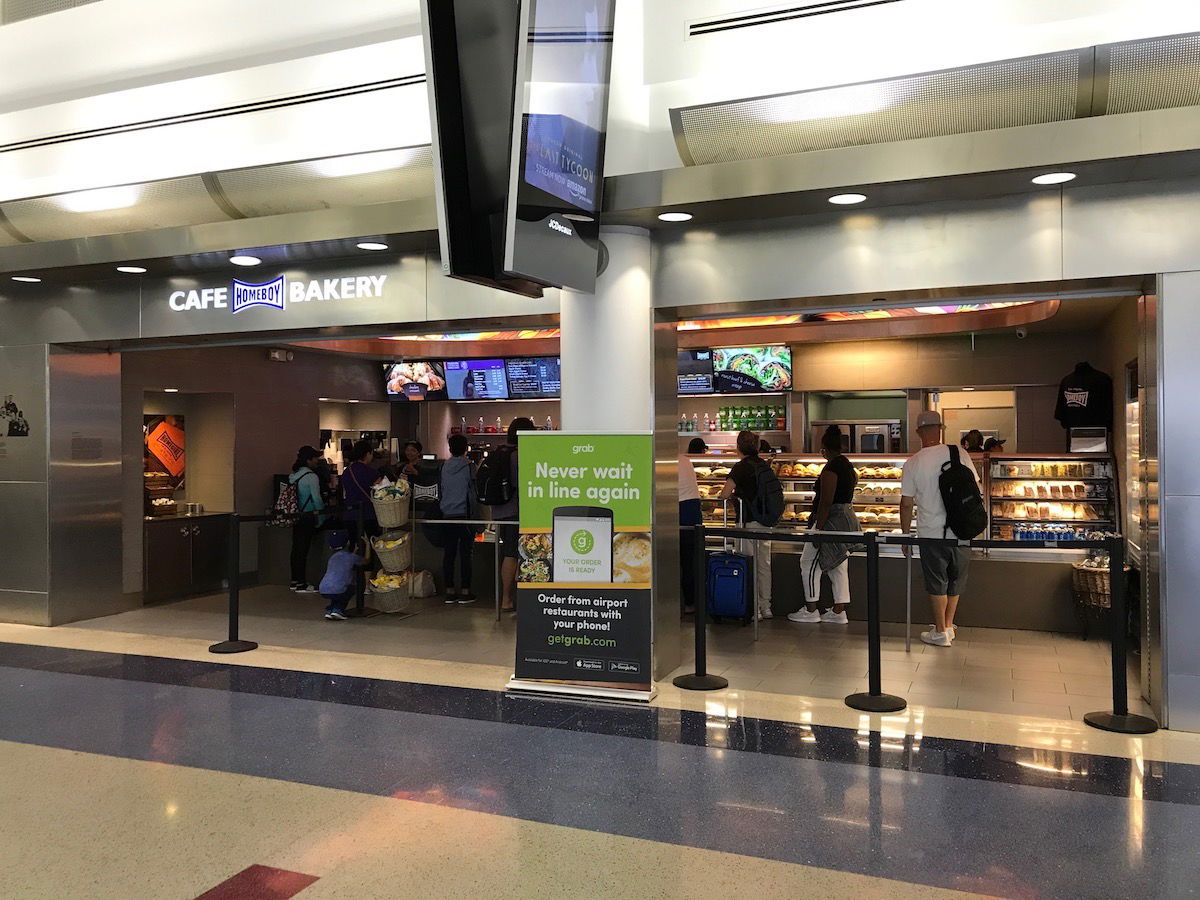 On the plus side, at least they were familiar with the app. However, it didn't seem like they had a great system for being alerted when an order came through.
American's app integration
Okay, back to the way I first found out about this. American has integrated Grab into their app, so that you can place Grab orders directly through the American app. When you're in the app, go to the bottom and click on "Terminal Maps."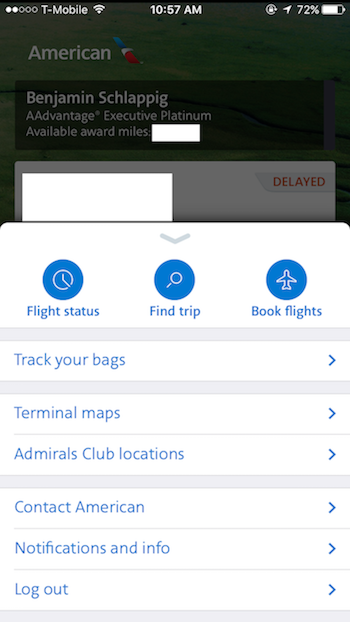 Pull up the terminal for the airport you're at, and at the bottom you should see that it says "Order Food."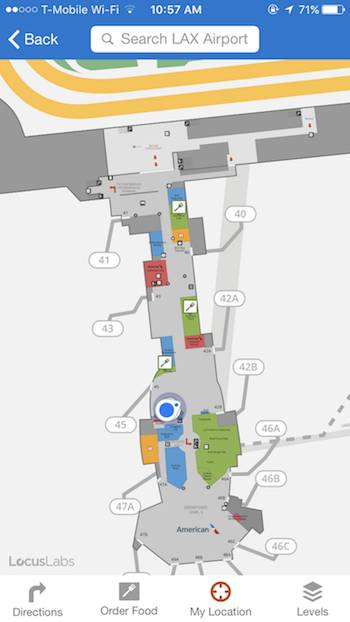 Then you make Grab orders in exactly the same way without actually having to go to the Grab app.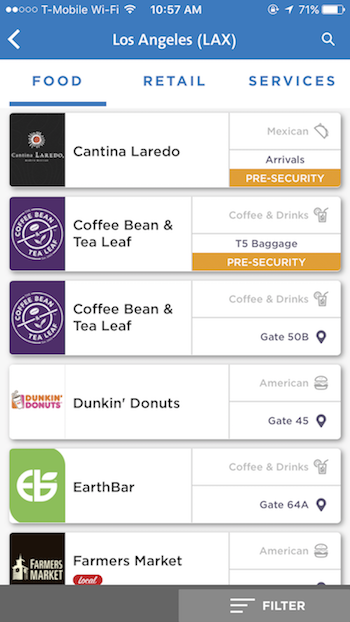 It's a nice feature, though I don't see any benefit to it over just using Grab directly (the intention here is probably that people find out about Grab through the American app and that prompts them to use it, and presumably American is getting some cut on that).
Save 20% on your first Grab order
While it's not the most lucrative referral program, Grab does offer 20% off your first order when being referred by someone, and the person referring you gets the same. My referral code is 1BE210A9. That's pretty good when you consider no fees are being charges — you're paying exactly what you'd pay at the counter, and are getting a discount on top of that.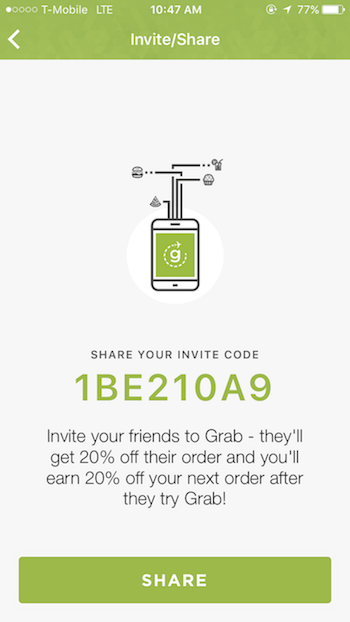 Bottom line
I love when technology makes life easier. It's fairly rare that I buy food or drinks at airports, so this is of relatively limited use to me. However, if I were buying something, I could see this being great. For example, the line at an airport Dunkin' Donuts in the morning can often be 20+ minutes long, so being able to order the coffee as you go through security and pick it up right away is awesome.
The only thing is that I wish they had more restaurants and airports participating. As of now there's a limited selection. I think this concept is most useful for coffee shops with long lines, and also for restaurants that actually prepare food, like a pizza place. Meanwhile for a prepared sandwich place, I'm not sure I'd find this app as useful, since there's value in seeing what's on offer, etc.
If you ever buy food or drinks at airports it's at least worth using this once, since you can save 20% on your order.
Have you used Grab before? Do you see value in something like this?