I've come to realize that I don't embrace technology enough when traveling abroad. Language can be a struggle when traveling, though in general I think we all manage to get by, perhaps through a combination of learning basic words & phrases, using universal "signals," etc.
Yesterday a friend pointed out to me that Google Translate has a useful app, which I'm now really excited to try out. I've known all along that you can use Google Translate to translate text, though I'm fascinated by the fact that the app lets you point your camera at signs and pictures with text, and it'll translate them for you in real time.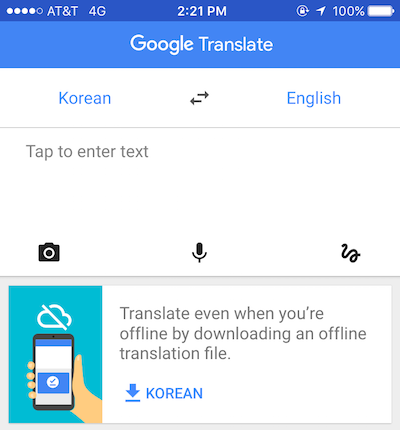 Here's a video Google has about the Google Translate app (while the app has been around for a long time, I think the ability to point your camera at text and have it translate in real time has only been around for a couple of years):
Perhaps equally awesome for those who don't use data on their phones when traveling abroad, Google Translate lets you easily download offline translation files, so that you can use the feature even when offline.
So far I've only used the app by taking pictures of my computer screen in foreign languages, and it has worked magnificently. I can't wait to try it on my next trip abroad.
On the plus side, I'm finally switching to T-Mobile for their simple choice international plan, after being with AT&T for far too many years. So at least I'll be able to use my phone abroad to look up things, rather than exclusively relying on this app going forward.
Has anyone used the Google Translate app when traveling internationally, and if so, how well did it work?