As I've explained many times before, inflight Wi-Fi has really changed my ability to travel. As someone who can work from a laptop with an internet connection anywhere in the world, it greatly reduces the "opportunity cost" of time I spend on planes. Given the amount of domestic flying I do, a Gogo Unlimited monthly membership is a no brainer, regardless of the cost. Of course I'd rather pay less than more, but that applies to just about every aspect of my life.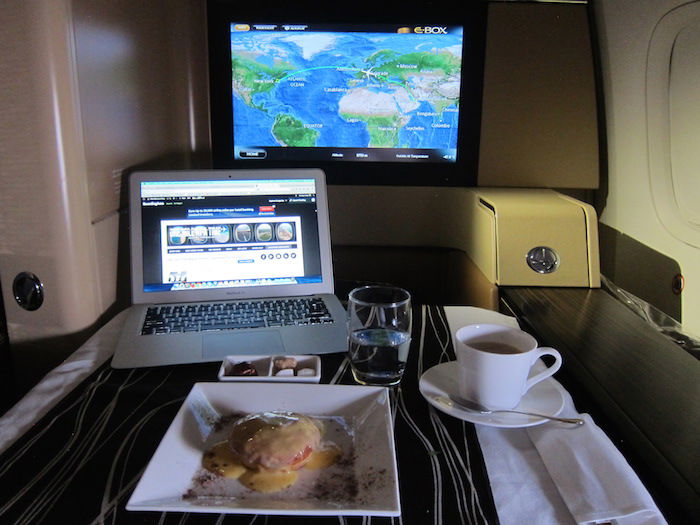 Unfortunately this picture wasn't taken on a Gogo equipped aircraft
Gogo has been raising their prices for Wi-Fi over the years, which is understandable, given that the number of planes with Wi-Fi connectivity has been increasing as well. Furthermore, Gogo has been investing in better technology for inflight Wi-Fi, in hopes of increasing the speed of the service drastically.
However, up until now Gogo has typically been grandfathering in existing members at the old rates, meaning I haven't really been impacted by price increases.
Well, it looks like that's finally about to change, as I'll be paying $59.95 rather than $44.95 for my Gogo Unlimited plan starting next month.
Here's the email I just received from Gogo:
Dear Ben,

We want to inform you of changes to your Gogo Unlimited subscription.

Since purchasing your subscription over a year ago, your price has remained unchanged for the past year despite increased prices for all new customers. Effective 06/27/2015, the price of your Gogo service is scheduled to increase from $44.95/month to $59.95/month and is guaranteed for the subsequent year.

No action is required to continue your subscription. You may cancel your subscription at any time by emailing us at [email protected] or visiting Customer Care for more information.

Gogo Unlimited remains our best value for frequent travelers on our participating airlines, offering savings up to 50% compared to purchasing all-day internet access in-flight on two round trip flights.*

Please note that the participating airlines included in the Gogo Unlimited subscription are subject to change at any time without notice. Click here to view a list of participating airlines and check back regularly for the most up-to-date information on the Gogo Unlimited subscription's participating airlines.

Continuous investment in technology will enhance your inflight experience

We continue to invest aggressively in our technology to meet increasing demand for bandwidth and to deliver reliable connectivity.

ATG4, our next generation Air-To-Ground technology, delivers 3x the bandwidth to aircraft in North America compared to our standard ATG technology. We're in the process of upgrading all ATG-equipped aircraft to ATG4. Currently, more than one-third of ATG-equipped aircraft have been upgraded, and we expect that number to jump to 50% by the end of this year.

Our satellite solutions provide connectivity on international and select domestic flights. These technologies will provide an improved experience across all flights, and allow even more passengers to stay connected on long-haul international trips.

Ku, launched in 2014, is available on Delta Air Lines' international fleet and will be available on most aircraft by the end of this year.

2Ku, which delivers 20x the bandwidth of ATG, is expected to launch by the end of this year.

Expanding our North American coverage
In 2014, we expanded our North American coverage to provide seamless connectivity on flights across the U.S. and Canada with additional cell towers throughout both countries. We plan on building even more towers over the next year, which, along with ATG4, will offer more reliable connections throughout our existing North American network.

Thank you for your loyalty and your business,
The Gogo team

*Savings vs. 4 all day passes purchased in-flight
Of course I'm not happy about having to pay an extra $15 per month for Wi-Fi, but at the same time I can't blame them for raising prices, and it also doesn't ultimately impact my demand for inflight Wi-Fi, which is quite inelastic.
For those of you that have previously been grandfathered in at the old rates, do these price increases impact your willingness to pay for a monthly Gogo membership?