Global Entry is a trusted traveler program that allows members to bypass the lines at immigration. It also lets you skip ahead through customs after you exit baggage claim. For many, it can be a real game changer.
The Global Entry program has been around long enough now that I expect most people generally know how it works. However there are often questions about how it works with kids. My entire family of four has had Global Entry for several years and we love it. When your 3 year old has to get pages added to his passport, you know you've been bouncing in and out of the country a lot, so avoiding the line at immigration is handy.
In this post, I explain the process of how to get it, how it works, and what to expect. Let me apologize up-front for the gratuitous use of photos from the DHS website — I've just never felt inclined to find out what happens if you take pictures in the immigration area.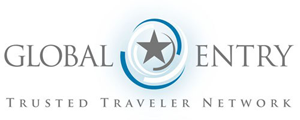 Kids Need Global Entry Too
Everyone in your family needs to have Global Entry for you to go through the Global Entry lane. That includes the kids. It's not sufficient just for Mom and Dad to have Global Entry without the children. If you try it, you'll end up doing the walk of shame to the back of the regular line.
This is a key difference between TSA Pre and Global Entry. With TSA Pre, only the adults need to have Pre-check; the kids can come along even if their boarding pass doesn't go beep beep beep. With Global Entry, everyone in the party needs to have it. Now I'm not saying that an exception has never been made for the cute offspring of two GE parents, but for once, I've actually played by the rules and never asked for any special favors.
The Application
The application for kids is identical to that for adults. You get to list every country that junior has been to which is kind of cool. And every address they've lived at. The $100 fee is also the same for both adults and kids. It's also good for five years, same as adults.
We were fortunate to get our family's Global Entry fee paid for by a combination of airline status and credit card benefits. Sadly, as of last January, United recently stopped issuing Global Entry fee payment codes to Platinums and higher.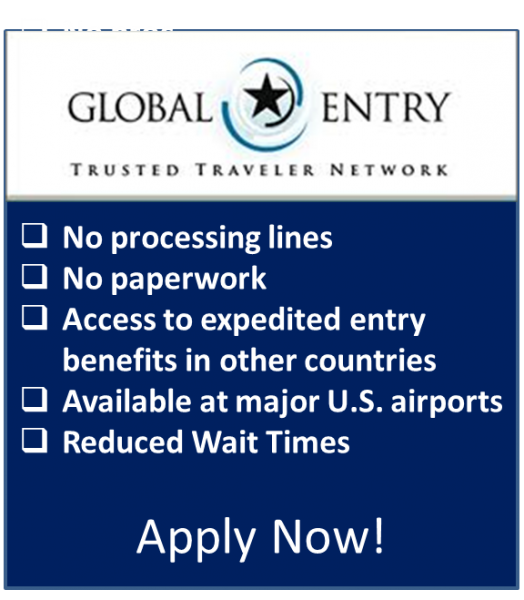 The Interview
We applied for Global Entry during the what seemed like the mad rush. Everyone wanted it and the calendar for the in-person interview was full for months. We ended up scheduling our interview at the Detroit office on the day before Christmas while we were visiting family for the holidays. We weren't sure how to schedule it for the four of us, so we basically just reserved four consecutive time slots.
We showed up at the Global Entry office at Metro Airport at our prescribed time. Nobody else was waiting, so we pretty much went right in. We explained that we were all applying for Global Entry, my wife and I, our two year old son, and 6-month old daughter.
There were three Customs and Border Patrol agents in the office that day and they couldn't have been nicer. Two of them basically babysat our kiddos while they asked my wife and I the obligatory questions — it was long enough ago that I don't really remember what they asked, but I seem to think they just reviewed the data from the application.
The kids really didn't have to do much of anything other than get their picture taken. It's worth nothing that the kids aren't finger printed. I'm not sure at what age they do get fingerprinted, but our toddler and infant definitely were not.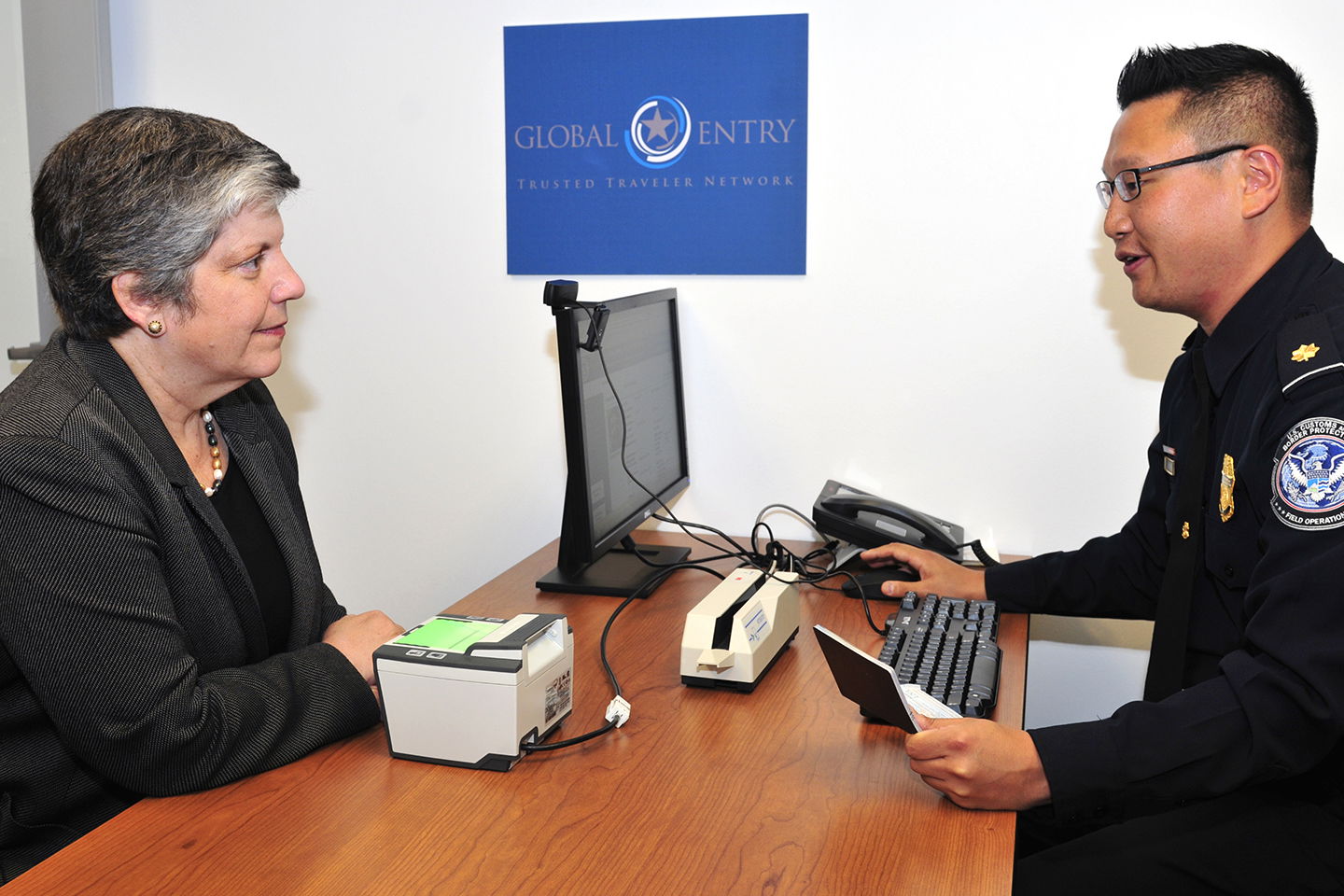 The Global Entry Kiosk Experience
We really didn't know what to expect the first time we hit the Global Entry lane at immigration. Here's how the process works.
Each member of your family needs to be processed at the kiosk, and one at a time. It's actually pretty easy for the most part. For adults, the process consists of:
Scan your passport
Get your picture taken
Scan your fingertips
Verify the flight information (I've never seen it be wrong)
Answer the questions using the toggle buttons (I like that they have a "no to all")
Pick up receipt
The difference for kids is that you don't scan their fingerprints. After you scan their passport, a message will pop up on the screen saying "No biometrics on file" and then proceeds to ask you questions on their behalf.
The crux of the process involves holding them up to have their picture taken. When we're arriving from Europe, it usually goes pretty well. If you've just landed on a redeye from Asia, however, you can be darn sure that the kids are going to be asleep, or worse, wanting to be asleep. Either way, you're going to have to lift them up and try to get their face in front of the camera.
It usually looks like I photobombed their picture, and sometimes the kid ducks such that the picture only includes me!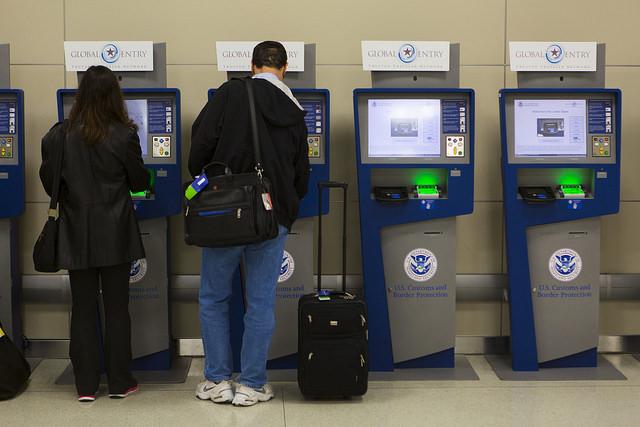 It doesn't really matter how good or bad the picture turns out to be, as you end up with an X on the receipt, indicating that you need to talk to an officer. This really isn't a big deal as there is usually an officer working the lane near the Global Entry area. Sometimes it's a dedicated Global Entry lane, other times you can make dual use of the crew/diplomat lane. The officer looks at their Global Entry receipts, verifies that the photo in the passport could have once matched the kid who is now asleep in the stroller (or on your shoulders), and then welcomes you into the country.
The Old Global Entry Kiddo Experience
The process I just described isn't how it originally worked. I'm including the following description for completeness, and for those who may have gone through Global Entry with kids a year or two and are thinking "that is definitely not how it worked for us."
When we first got Global Entry, the kiosk wasn't programmed to know that the kids didn't have biometrics. So the first few times we would try to scan their fingertips, knowing it was futile since they had never been fingerprinted. But I've learned that when interacting with our government, it's important to show that you went through the motions.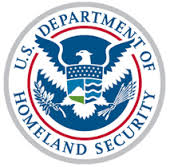 We'd then stop at the officer working the nearest lane and explain the situation. Back then of course, many of the officers assumed that only my wife and I had GE and that we were trying to sneak the kids through with us. That would really irritate my wife, so she started to greet them with "Hi. My kids have Global Entry but they don't have fingerprints on file" before they could accuse us of being GE scofflaws.
I always carry our official Global Entry ID cards with us to prove that the kids do have GE, but I don't think I've ever been asked for them. They are useful, however, when questioned by irritable customs officers who think you are trying to hijack the GE exit lane, just to ask them, "I have their Global Entry cards – would you like to see them?"
Would I Recommend Global Entry For Kids?
That depends. There's not much point in you (or you and your spouse) getting Global Entry by yourselves if you travel most of the time with the kids. It won't do you much good, unless you decide to split up, which isn't something I would recommend in an immigration line for anyone (just ask Ben.)
Some say that getting through immigration faster just means you end up waiting in baggage claim. But for us, that's far better.
There is no line! The kids can run! There are carts to play with, conveyor belts to ride on — wait, my kids would never do that. Meanwhile, waiting in any type of line, immigration or Disney, can just be miserable with tired, cranky kids.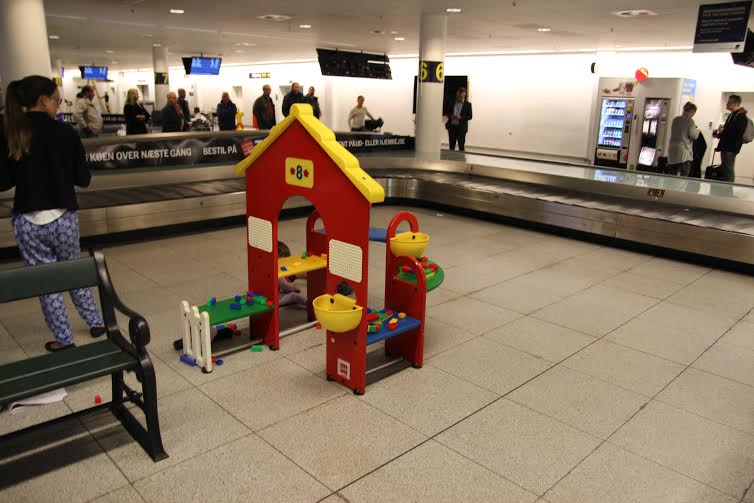 For the record, I've seen some horrendous lines at immigration during peak arrival periods, so I know that it can sometimes save a ton of time. It definitely has value to my family. Think of this as an insurance policy — you might not care about having it most of the time, but when you need it, you'll care a lot.
Will My Credit Card Pay For My Kids GE?
If you have a credit card that reimburses the Global Entry application fee, absolutely.
When United was paying the Global Entry application fee for Premier Platinums, 1Ks, and Global Services members, they simply sent you a one-time use code for their corporate credit card. It didn't matter who you used it for.
For the credit cards that provide Global Entry fee credits, you simply charge the application fee to the card in question, and then receive a statement credit. If you have one of those credit cards, you should be able to use the Global Entry fee credit for anyone.
Conclusion
We've had mostly favorable experiences using Global Entry with our kids. The update to the kiosk software that allows it to recognize that the kids have Global Entry but don't have biometrics on file has removed the only real hiccup, and sort of formalized the process for taking kids through Global Entry. We get a lot less confused looks these days as a result.
There's definitely value to GE if you travel internationally as a family but only you know how often you'd use it, and how much you are willing to pay to sidestep a huge line. If your credit card(s) will cover part of the cost for your family (as in you, or you and your wife), maybe it's best to think of just the incremental cost required for the kids, since without them included, yours might not be as worth much.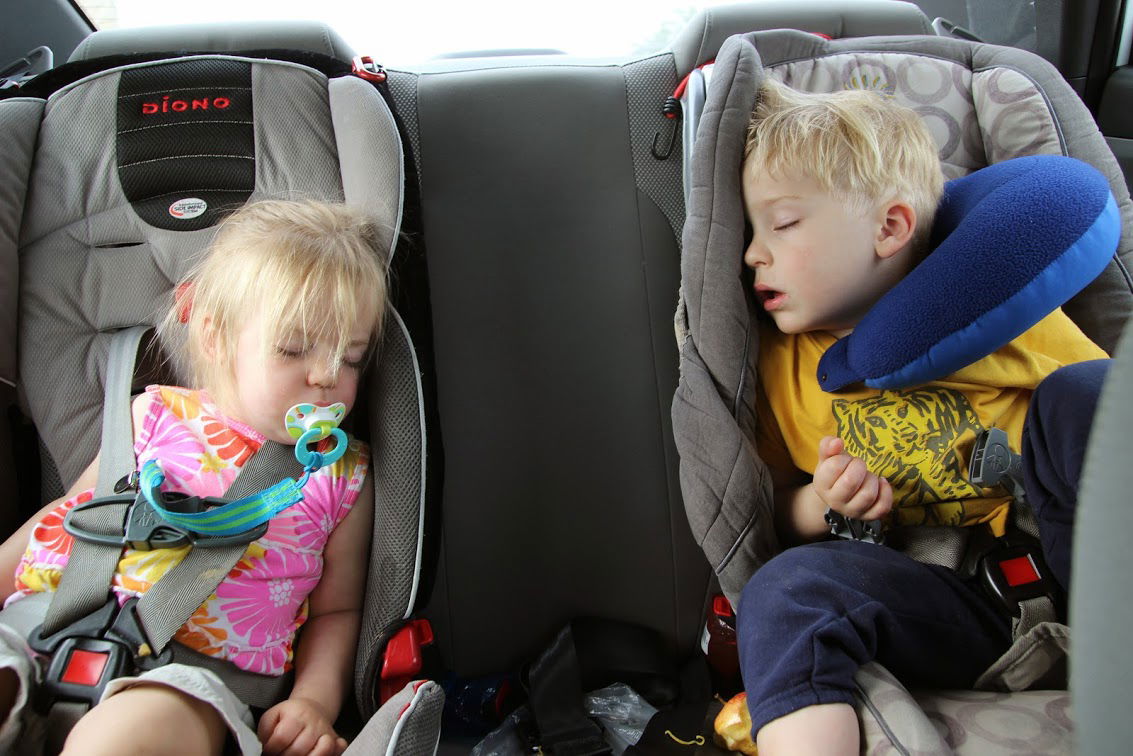 ---
Do your kids have Global Entry?