For those just joining us, here's the background information:

The Etihad Residences Blog Post Link
The Etihad Residences Kickstarter Link
Earlier in the week Etihad Airways unveiled their new Airbus A380 aircraft, which they'll start flying later this year between Abu Dhabi and London. Some readers suggested I start a Kickstarter campaign to fund a flight in the new Residence product to review it.
The response has been overwhelmingly positive, much more so than I expected, though of course hasn't been without a lot of criticism either. So I figured I'd share some more thoughts, now that I've had a chance to read and process what others have said.
First of all: WOW and thank you!
I launched the Kickstarter campaign yesterday, and in less than a day we're more than a third funded. That's totally insane and crazy.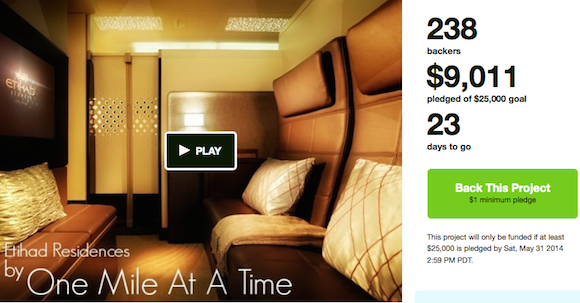 But more importantly, I just love the feedback and conversation this has generated.
I'm just as thrilled by someone leaving a comment saying "cool idea, I donated $5" as I am by someone saying "this is absolutely nuts, I'm not donating, but I get the idea behind it."
The internet is the internet.. and I'm a big boy
I've been blogging for over six years, so trust me, there's nothing on the internet that really hurts my feelings. I don't moderate comments and have been taking it up the chutney here for eons, so to those saying "wow, there are some harsh comments," let me just reassure you guys that my feelings really aren't hurt.
There has been lots of positive feedback, some tough love that's constructive, and of course a smattering of internet trolls, who I can't help but feel bad for.
This project is totally out of character for me…
If you don't know me, I see how this project can come across like this:
Those that know me know that I'm basically the most sheepish person in the world when it comes to asking for things. So this is totally, totally out of character for me.
At the same time, what gets me going in the morning are new, creative ideas, even if they're totally out of my comfort zone. So when readers suggested the idea of a Kickstarter campaign, my first thought wasn't "oh yay, maybe I can fly Etihad Residences," but rather "that's really creative, I'd be curious to see how it works in practice."
So the process of learning about Kickstarter and starting a campaign and seeing the reaction has been truly invigorating.
It's what I love about the internet.
I said it in my original post and I'll say it again. I'll be just as happy if the funding goal isn't reached as I would be if it is reached. Regardless, it teaches me a lot.
PLEASE don't contribute to me in place of charity
Kickstarter is a unique platform in that it funds creative projects. This can be something altruistic like trying to find a cure to cancer, or can be something ridiculous, like building a statue of Robocop in Detroit.
So on one hand I hate being on the same platform as projects that actually want to improve the world, but at the same time what makes Kickstarter great is how unique it is and how easy it is to use.
I figured this would go without saying, but it seems to be a point of contention, so let me say it explicitly — please, please, please DON'T donate to this project rather than charity.
The way I view this project — at best — is like paying for entertainment. I think of this similar to going to the movies on Friday night, having cable TV, buying a tabloid, etc.
Most people don't go to the movies on a Friday night and say "hmmm, should I donate to charity or go to the movies?"
Whether or not they should is a totally different story, but I think we can all agree that in most cases they don't.
So unlike some of the other things on Kickstarter, this isn't a charity project. But I assume (hope?) that's something that everyone understands.
I'm not asking people to contribute

I know I'm driving home the same point here, but I'm really not begging or even asking anyone to contribute. I'll let what I said in my original post speak for itself:
"This is totally f*cking ridiculous."
"I've done a lot of crazy stuff in my flying "career," including six transpacific flights in five days and eight flights back and forth to Brazil over 10 days, but even suggesting this as a possibility is the most ridiculous thing yet."
"It's totally ridiculous and there are so many better ways you can spend your money."
"If a few thousand people pitch in the cost of a movie ticket we'd certainly be there. But you shouldn't contribute based on that, or on doing something for me, or for any legitimatish reason. Seriously."
"And my feelings won't be hurt if you don't. This is quite possibly the most ridiculous Kickstarter campaign ever, and I figured it would be entertaining if nothing else."
I'm incredibly fortunate to be able to blog and pursue what I love for a living, and the way I look at it, there are two main "missions" I have with this blog.
The first is to provide useful information, be it in the form of mileage tips, product reviews, etc.
But the other thing that I think makes my blog somewhat unique is that I also try to entertain.
I realize not everyone likes my sense of humor, but it's who I am and I pour all of "me" into the blog. I don't try to write in a corporate way and I don't have ghost writers or a million contributing writers.
The extent of this project is me trying to entertain you guys.
Regardless, something good comes of this
I've had a handful of people leave comments/message/Tweet me saying "this is ridiculous, and I'm donating "$__" to "XYZ" charity instead.
That's awesome and puts a smile on my face! So even if this whole project doesn't work out, at least some good came of it.
BoardingArea also just donated $500 to the American Airlines Susan G. Komen Fund.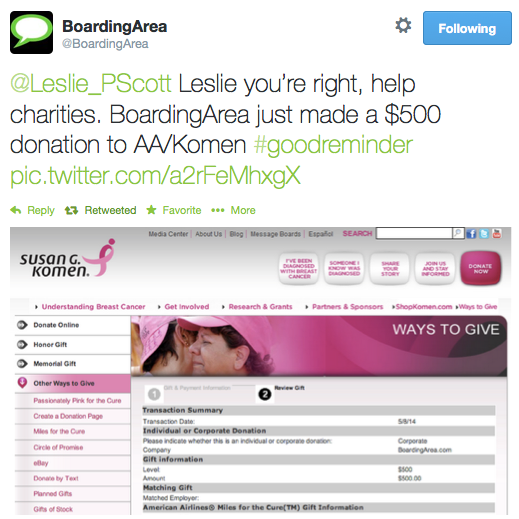 This trip will be about you guys
The unique thing about Etihad Residences is that it's virtually the same price for two passengers as one. My intent with that seat isn't to swoon a love interest (that would require having one) largely on your dime, but rather to bring along a blog reader and cover all their travel expenses.
I haven't decided yet how to do that, and am still working on the logistics. Frankly I never thought we'd get close to the funding goal so figured it would be a moot point.
Kickstarter specifically prohibits holding a contest in conjunction with contributing, so I can't directly tie it to people that contribute. At the same time, I could have added a "contribution" level, whereby if you contribute a certain amount you'd get the second seat.
But to me that's not fun.
I also don't like the idea of anyone having to pay to share in this experience. I want this to be fun to you guys and that someone truly passionate gets that second seat, and not just some random person on the internet looking for a discounted second seat in the cabin.
So in the unlikely event this gets funded, I have a couple of ideas:
We'll hold some sort of a contest on the blog for the second seat, where you can submit a creative entry which will be voted on
We'll do something involving charity
I'm totally open to ideas here, though I'd still be in shock if this project actually gets funded.
Bottom line
I'm having a lot of fun with this so far.
I'm equally happy whether this gets funded or doesn't get funded.
I'm equally happy whether you contribute or don't contribute.
I'm equally happy whether you think this is a good idea or a horrible idea (though ideally you see where I'm coming from, my intent, and that I'm not an entitled jerk).
I'm not going to tell people how to spend their money, though please do donate to charity rather than donating to this project, if that's what you're deciding between.
And at the same time I can promise I'll do everything in my power to make this as interesting for you guys as possible, if it gets funded, since one of you will be joining me.
So thanks for the feedback, and keep it coming! The past 24 hours have been incredibly overwhelming and exciting.