Barclays issues a Frontier Airlines credit card, and today they've announced some major changes to the card. I'm very impressed by the changes they've made to the card, but it doesn't change the fact that I won't be getting it, and that I still don't think it's compelling for most. However, I'm still impressed, because I think this is about as good as they could possibly do for an ultra low cost carrier co-brand credit card.
Frontier Airlines World Mastercard basics
Here are the basic things to know about Frontier's refreshed credit card:
Welcome bonus: 40,000 miles after spending $500 within 90 days of account opening
Annual fee: $79
Points earning structure: 5x miles at flyfrontier.com, 3x miles on restaurant purchases, 1x miles on everything else
Other perks: your miles won't expire as long as you make at least one purchase every six months (previously they expired after six months), and you receive a $100 discount voucher when you spend at least $2,500 on the card in a year, the award redemption fee is waived, and you receive priority boarding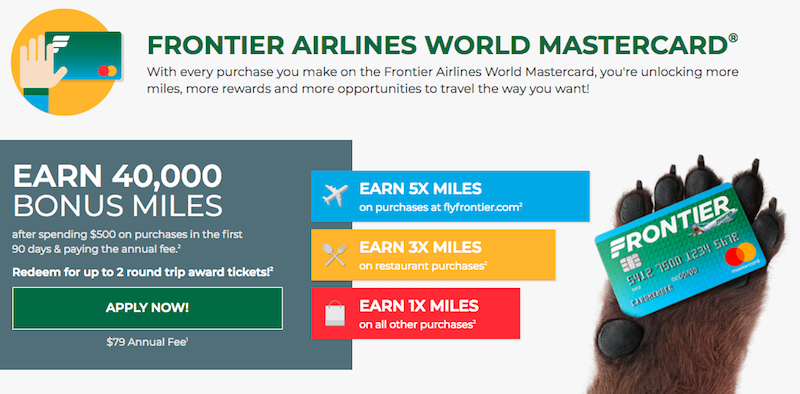 What makes this card especially interesting is that Frontier is revamping their elite status, and they're giving those with the credit card one elite qualifying mile for every dollar spent. Here are the benefits of elite status: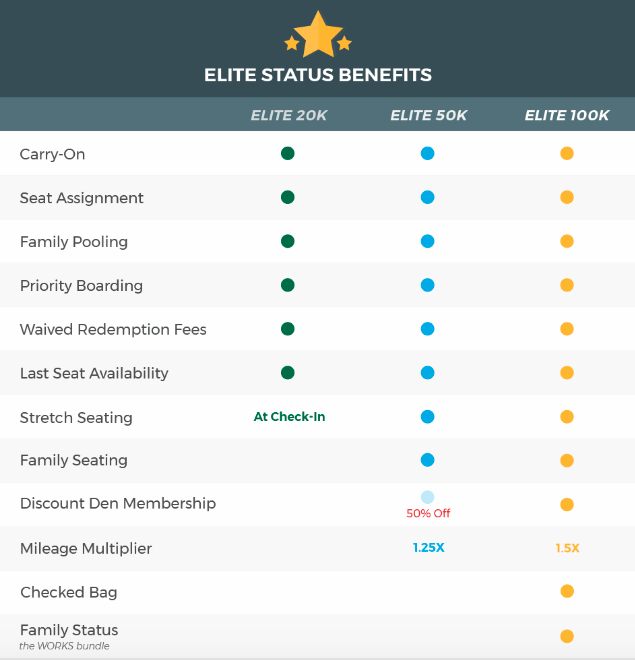 Since Frontier is an ultra low cost carrier, they charge for just about everything, so the benefits you get are potentially pretty valuable, like seat assignments, priority boarding, and potentially even free checked bags. They're also introducing family pooling as part of their elite program, allowing one primary member and up to eight contributors to combine their miles for the purposes of increased award redemptions.
For context, here's Frontier's award chart, and all of these prices are the minimum number of miles required: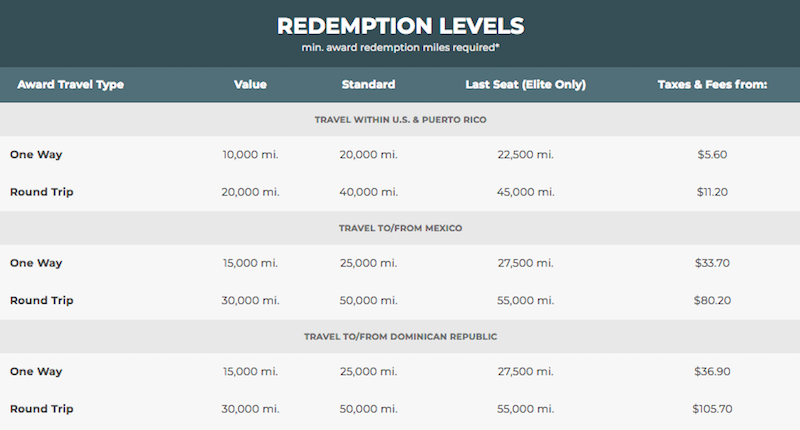 Previously Frontier miles expired after six months, though as long as you make at least one purchase with the credit card every six months, your miles won't expire.
The problem with Frontier's new credit card
Seriously, I have to give Frontier and Barclays big credit for this product. It's a unique card, and they've added some innovative benefits that we haven't seen from other cards.
The problem, really, is that Frontier is an ultra low cost carrier. How much value can you reasonably offer with a card like this, given how cheap Frontier fares usually are? I just fail to see any circumstances under which one would come out ahead with this, compared to just earning 2% cash back on a no annual fee card.
I value Frontier miles at maybe half a cent each, given the typically low prices for Frontier fares. So when you're earning just one mile per dollar you're earning a return of 0.5% (by my valuation), compared to 2% with other cards. While being able to earn elite status with credit card spend is great, there's a huge opportunity cost to the money you're spending there.
For example, say you spent $100,000 on the card to earn top tier status. You'd earn 100,000 Frontier miles, you'd have a lot of benefits when flying Frontier, but the opportunity cost of that spend would be $2,000, compared to using another card. Not only would you probably get more value with the cash, but you'd have a ton more flexibility.
I suppose in niche situations this might make sense. For example, if you have the card and spend $2,500 on it per year you'd get a $100 discount voucher, your Frontier miles wouldn't expire, and you'd get some other perks. But personally for anything beyond that, I feel like you're giving up way too much flexibility to justify using this card.
What do you make of the refreshed Frontier Card, and do you see circumstances under which it could make sense to put spend on it?