I'm so excited, I just have to share my pre-flight excitement. Last spring I first wrote about what I called the most random transatlantic route.
Specifically, German leisure airline Condor flies once weekly seasonally between Frankfurt and Whitehorse, located in Canada's Yukon territory.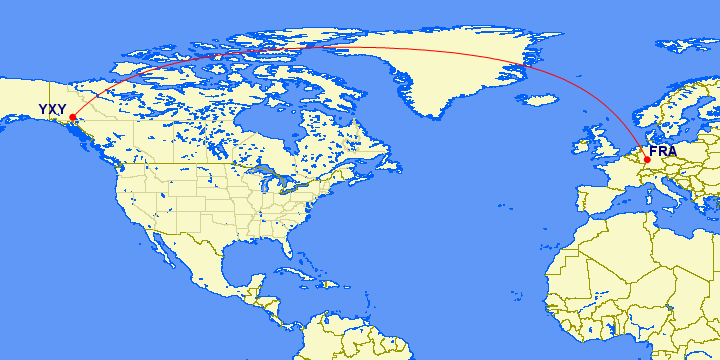 This just seems like such an awesome and random route, and I've been wanting to fly it ever since I've heard about it. Well, that's finally happening today, and it's on the last flight of the season. Andrew and I booked this a while back — the one-way business class fare was under $1,000, and we'll be earning a lot of Alaska Airlines miles for it.
There's so much about this flight that interests me:
Do the crews actually spend an entire week in Whitehorse for their layovers? Since this is the last flight of the season, how long does the crew spend in Whitehorse, and how do they fly back (maybe they deadhead back via Vancouver on Air Canada and Lufthansa, but who knows)?
How does immigration for this flight work? Do they have local immigration officers, do they fly out immigration officers once a week from another international airport, do they station people there seasonally, or what, since I believe this is the airport's only international flight?
What will the ratio of passengers to fanny packs be (not that there's anything wrong with fanny packs!)?
Anyway, I'm so excited, and I also can't wait to see the views on this flight, since this is by far the Northernmost transatlantic crossing I've ever had. Here's the Flightradar24 for last week's flight: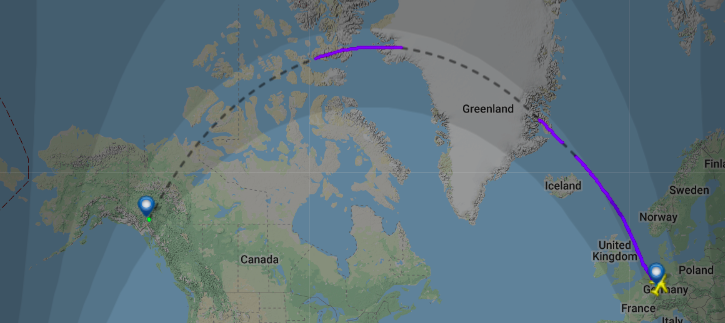 If you want to follow along, here's the Flightradar24 for our flight.
Also, it looks like our plane has registration D-ABUP, which is a former Transaero 767. Ugh, so sad I didn't fly it in the Transaero days!