Just as the United dragging incident sparked a lot of interest regarding the finer points of how airlines overbook flights, the American strollergate altercation involving the mother of twins has led to a lot of discussion about the finer points of flying with strollers, prams, baby buggies, or the like.
It turns out I've had quite a bit of experience traveling with a stroller given that my wife and I have taken our kids — now aged 5, 4, and 1 — on multiple international trips each year since they were born. In fact, I would say that our BOB Revolution stroller is probably our most coveted piece of travel gear, and the one thing most responsible for allowing my wife and I to maintain much of our pre-kid jetset lifestyle.
So I thought it might be useful to go over the basics of what it's like to fly with a stroller. I'm going to focus on domestic travel within the United States, and then make a few comments about the variations you might see around the world. But at least within the US, I've found that stroller policies and procedures are pretty consistent across airlines and airports.
Where should you check your stroller?
You generally cannot bring your stroller onto the plane, so you're going to need to check it. (With the possible exception of some collapsible strollers, which I'm not familiar with so won't be covering.) The decision then is whether to check it at the front counter with your other bags — the stroller is free, by the way — or take it to the gate and check it there.
I recommend bringing your stroller all the way to the gate.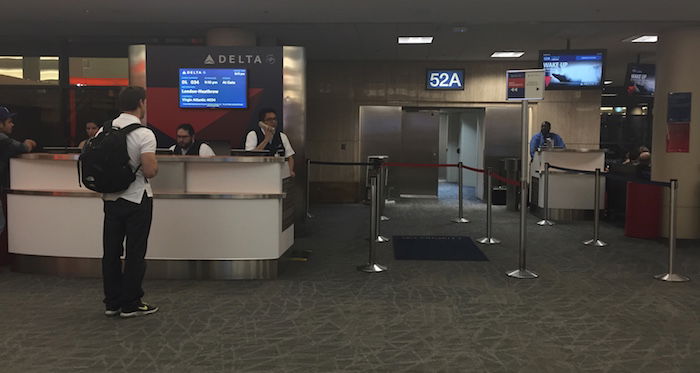 I recommend taking the stroller to the gate
There's just really no good reason not to in my opinion. Sprawling airports can make for tired little feet at best, or tired shoulders for Dad when the little one doesn't want to keep walking.
You can also use your stroller as a luggage cart, which comes in handy when you realize that you need to schlep the kids carry-on bags in addition to your own.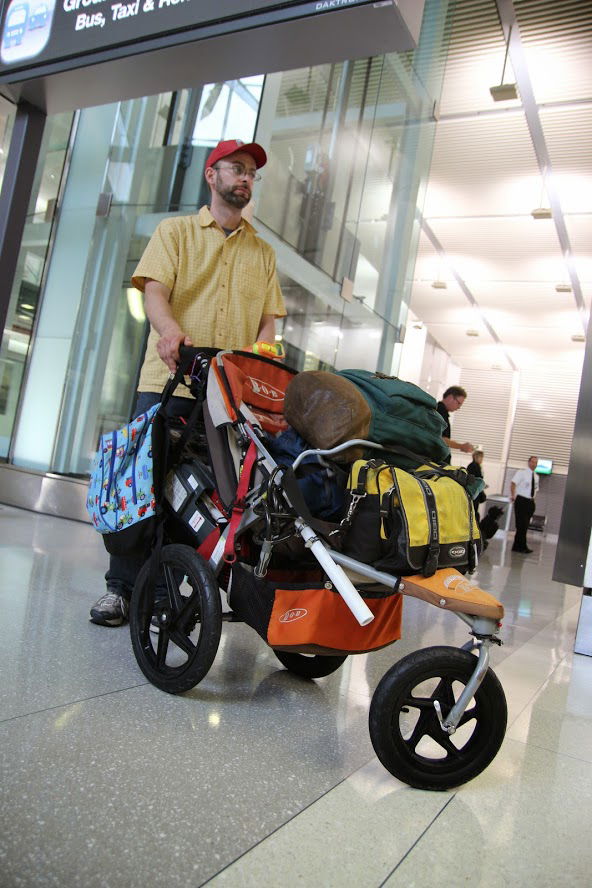 Stroller or luggage cart?
So my advice is take the stroller to the gate, with the possible exception of a few international airports that provide loaner strollers once you are past security.
How to gate check your stroller
Once you arrive at the gate, you need to get a gate check tag for the stroller. You might as well do this as soon as you arrive because the longer you wait, the busier the gate agents get. You can also get one as you start the boarding process, but then the line will slow and it will seem like everyone is impatiently staring at you.
Either way, the agent will need to ask you a couple of questions. If it's not obvious, they'll ask how many pieces your stroller is because they need to tag each item separately. So if there is a car seat on it, and you are not taking the seat on the plane, then you have two pieces. If it's just the stroller, then you have one.
They'll also want to know your final destination. Don't worry, they aren't going to check your stroller all the way there — they just want to put both flights on the tag so you don't have to go through this process again prior to your connecting flight. Sometimes they only bother to list one flight, and that's fine too. Just remember to take off the old tag and get a new one at your connecting airport.
Sometimes, depending on the gate agent, they might also make you sign the tag indicating that you release them from liability if anything gets broken. Then they'll affix the tag to your stroller and give you the claim stub. Supposedly you shouldn't lose this, so I always give it to my wife for safe keeping.
At that point, you should be ready to herd your clan down the jet bridge.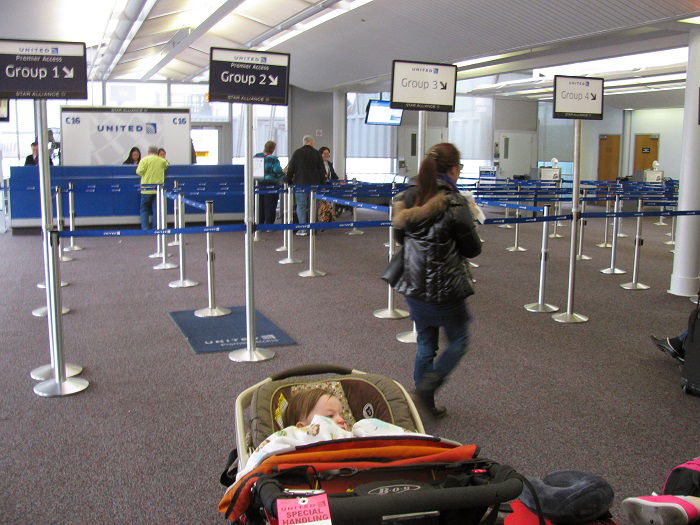 Stroller tagged and ready to go
Preparing your stroller for checking
When you get to the end of the jet bridge, you'll need to get your stroller ready to go into the cargo hold. If there's a line, I actually suggest starting this process while you're slowly moving forward so that you're close to ready by the time you get to the end. That means packing up the loose items in the stroller, gathering up coats and jackets that are stored underneath, and frantically searching for someone's pacifier. Then all you'll have to do when you get to the end of the jet bridge is unload the kids, collapse, secure, and go.
I've done this so many times that I can basically unload the stroller, fold it up, and strap it down, all while I'm rolling down the jet bridge. Then when I get to the end, I'm ready to drop it off and board the plane. It's not only efficient, but it also provides entertainment to everyone in the jet bridge. I like to tell them that in a past life I worked on a race car pit crew….
Anyway, we have a BOB Revolution, so to get it ready we fold it in half and then secure it in that position with a strap.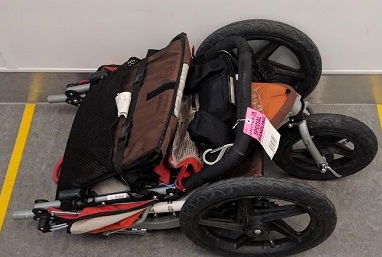 BOB Revolution collapsed for transport
I've also seen some folks put their strollers in a protective bag, but that seems unnecessary to me.
It's also worth noting that you're not supposed to leave anything in the stroller. I'm not sure why this is a rule, but supposedly it is. That said, I've been known to stuff a few extra diapers into one of the interior pouches and it's never been a problem.
Where do I leave my stroller?
Once you've got it all packed up, you leave it in the sort of circular vestibule-like space at the end of the jet bridge. On my flight yesterday, somebody had left wheeled-walker there to be gate-checked.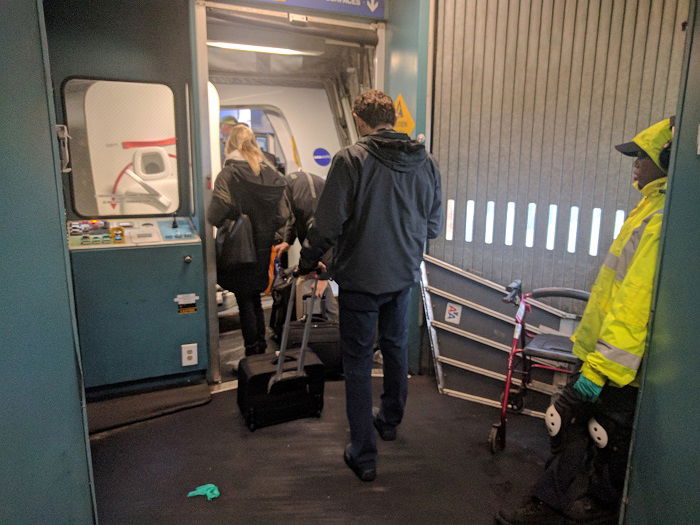 Leave stroller here
Or on the right side of the jet bridge along the wall.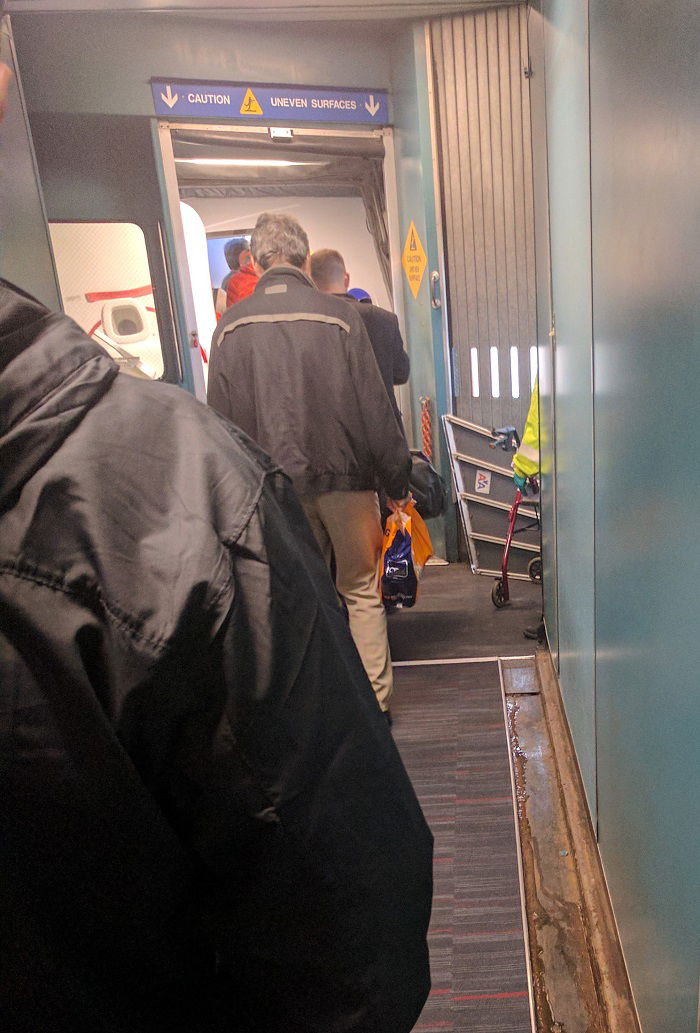 Or here
If it's a small regional jet, there will likely be a bunch of rollaboards already there, or if it's a flight to Orlando, you can just add your stroller to the flotilla.
Sometimes you'll see a ramp worker waiting just inside the exterior door that leads to the stairs to the tarmac — he's the one that is going to handle your stroller, so be nice to him (or her). Seriously, in many cases these guys are awesome, so if they help you out, tell them how much you appreciate it.
Finally, if you're flying in business or first on a widebody plane, you might want to ask where to leave the stroller. That's because these planes often board through two jet bridges, one of them for premium cabin customers and one for economy. Since it's more common for families to be flying in the back, the second jet bridge is likely to have most of the strollers so it can be helpful to put your stroller there as well.
Where do I pick up my stroller?
You collect your stroller at the same spot you dropped it off. If you are seated toward the back of the plane, there's a decent chance that your stroller will be waiting for you by the time you get off. Otherwise you might have to wait a bit. And if you are flying into Newark, you might have to wait a loooong bit. Seriously, strollers seem to take forever to come up at Newark. Don't know why.
The jet bridge can often be a congested place following the flight. There are often a bunch of wheelchair pushers queuing to meet passengers needing assistance. The cleaners might be milling about waiting to get on the plane. And of course there's a steady stream of passengers coming off the plane.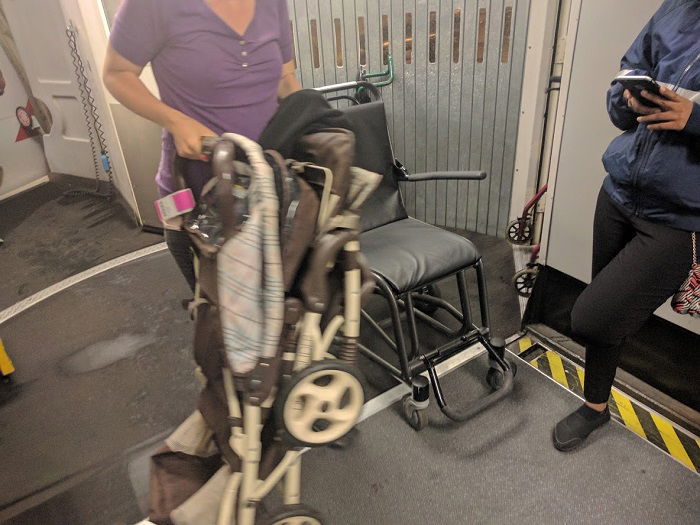 The point is, there's a lot going on in a small space. We usually take a divide and conquer strategy where my wife takes the three kids into the terminal, where they can run around, go to the potty, and generally not be in the way. I then wait for the stroller, usually at the front of the line so that I can greet the ramp worker as soon as he unlocks the door. That way he only needs to hand it to me, rather than find a place to put it down. Of course, it also lets me thank him.
Again, there can be some variations. If you are flying on a widebody in a premium cabin, you might want to ask where the strollers will be returned just like you asked where to put it prior to departure.
And if you are arriving somewhere outside the US, all bets are off. Each country tends to do things differently, and it doesn't matter whether you are arriving on a US carrier or not. In Germany, for example, strollers are usually delivered into the terminal, after you exit the jet bridge. In Norway, they are sent to baggage claim. We pretty much always ask if we are landing in a foreign country just to be sure.
Finally, I'll mention the obvious — don't forget your stroller. Once you leave the jet bridge, you generally can't go back in. That's not a catastrophic mistake, it just means that you have to wait for an agent to go back and retrieve your stroller, which is sort of a pain. So if in doubt, ask before you go up to the gate.
Once you have it, you can pack up and be on your way.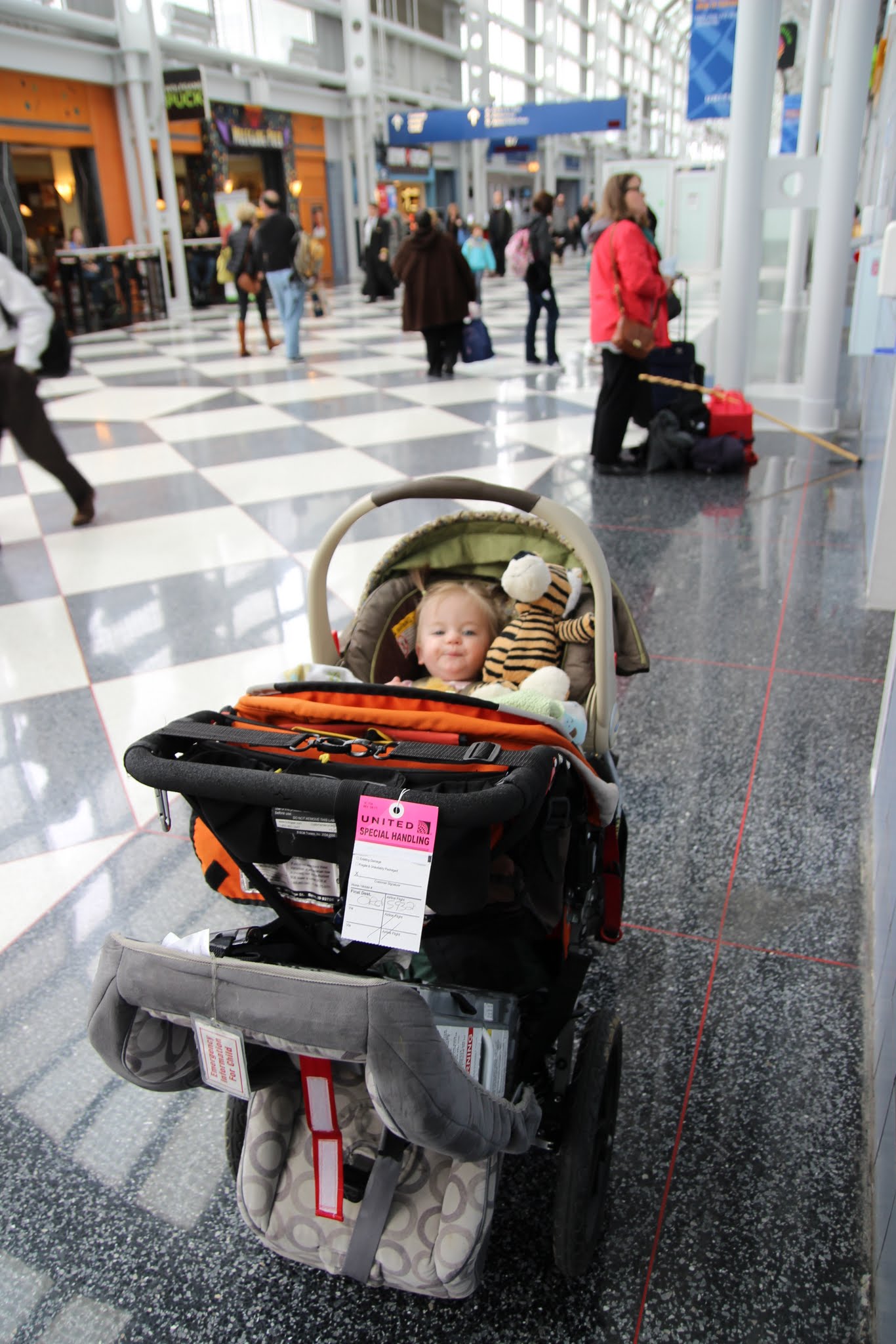 Bottom line
Traveling with kids can be stressful, but bringing along a stroller should not be. At least within the US, the process of gate checking and then reclaiming a stroller is pretty consistent across airlines and airports so once you get the process down, you'll feel like a pro.
Of course, once you land in a foreign country, you'll have to figure out how the locals do it. So when in doubt, just ask. Most folks — airline staff and fellow passengers alike — are often more than willing to help.
Do you have any tips for traveling with strollers?