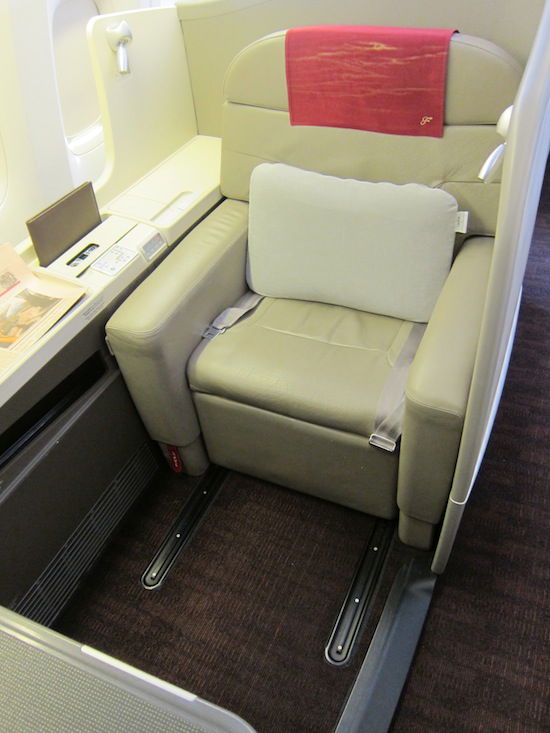 Have you ever had a flight where one minor detail of the flight is the only one that sticks with you?
Well, I just completed a 12-hour flight on JAL from Tokyo Narita to New York JFK, and while the service was great, and seat and food were good, there was one aspect of the flight that just left me confused.
I conked out pretty quickly after the initial meal service while the cabin lights were still turned up all the way, figuring they would eventually be dimmed, as they are on virtually every longhaul flight I've taken. Not only is it dark outside almost the whole way, but when I looked back at the business class cabin I see that it's dark. Meanwhile, the lights are all the way up in first class.
I nicely asked the flight attendant if there would be a way to dim the cabin lights a bit, and she proceeded to turn some of the lights off… a bit. The purser then came by to apologize profusely, and explained that other passengers are trying to read (it's worth noting six passengers were sleeping and two were watching movies).
Unless, I'm missing something, that's the purpose of the reading lights, no? Like, when you want to read?
Anyway, it's a minor aspect of the flight, though I find it so odd that it's really what stuck with me about the experience. On every one of my over 100 longhaul first class flights I've always had them dim the cabin lights, so why they didn't do so is beyond me.
Who knows, maybe I was the one snoring loud and they wanted to keep me up as much as possible? 😉
And on a somewhat unrelated note, the older Japanese gentleman seated across from me (who I'm 99% sure is a Japanese TV personality) decided not to wear underwear with his pajamas. I know this because when he changed into his pajamas he prominently placed his underwear on the tray table. He then proceeded to fart most of the way to New York. I'm pretty sure we only needed half a tank of gas to get to New York, cause he provided the other half…