Finnair will be the European launch customer for the Airbus A350, and today revealed quite a bit of information about what we can expect.
Finnair will take A350 delivery second half of 2015
Finnair has 11 firm orders and eight options for the A350. They should begin taking delivery of them the second half of next year. The first destinations to see the A350 will be Shanghai, Bangkok, and Beijing. Then in 2016 they'll add A350 service to Hong Kong and Singapore. Currently their only longhaul aircraft are the A330 and A340, so the A350 will eventually become the backbone of their fleet.
Finnair A350 will have reverse herringbone business class seats

Reverse herringbone seats are my favorite kind of business class hard product, so I'm happy to see they'll offer them on the A350:
The 297-seat configuration includes 46 seats in Business Class in a 1+2+1 layout, ensuring direct aisle access to all Business Class passengers. The Zodiac Cirrus III seats convert to fully flat beds, while a 16-inch touch-screen inflight entertainment system comes programmed with films, TV shows, music and other digital content on demand in numerous languages. Seats in Business Class also come equipped with AC and USB power outlets.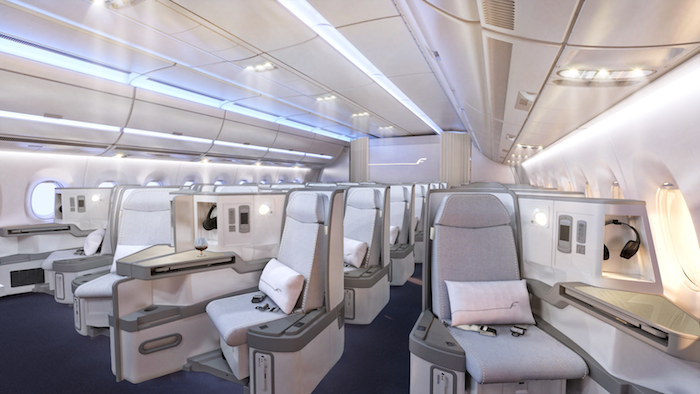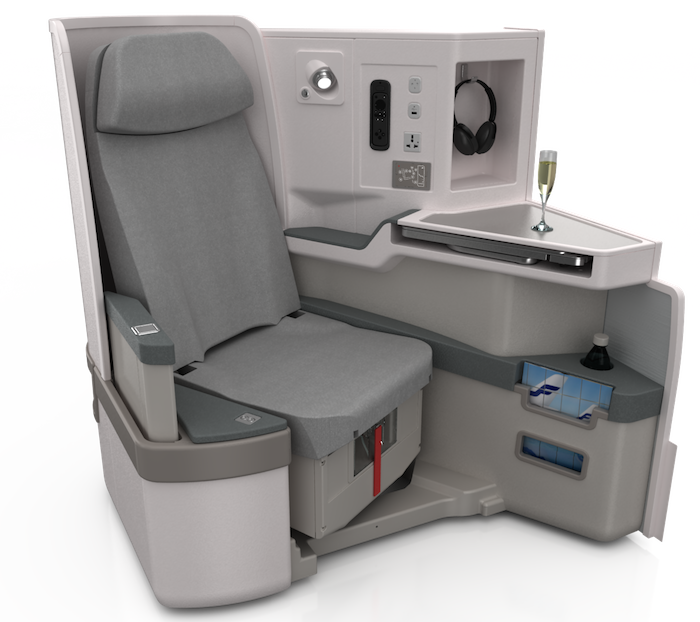 For context, Finnair's current "new" A330 business class product is a Vantage-style staggered seat, similar to what's offered by Austrian, Brussels, Delta, Swiss, etc.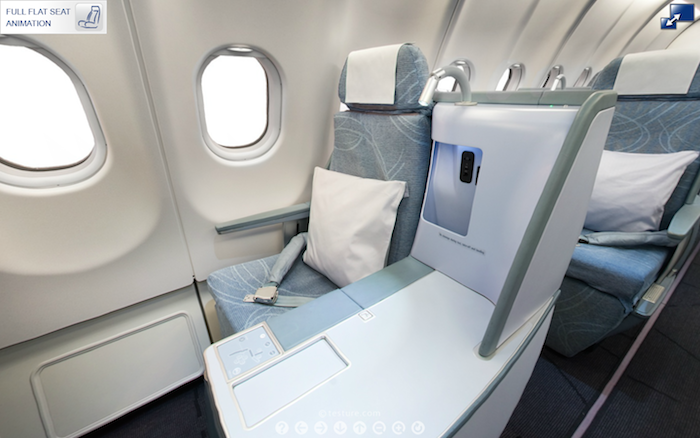 Finnair A350 will have economy comfort seats
They'll have nine slimline seats per row with 31″ of pitch, which I suppose is the industry norm. But they'll also offer 43 economy comfort seats, featuring extra pitch:
The Economy Class cabin features comfortable Zodiac Z300 slim-line seats with a 31-inch seat pitch in a 3+3+3 layout. At the front of the Economy Class cabin are 43 Economy Comfort seats, with comfier headrests, high-quality headphones and four extra inches of leg room. All seats in Economy include an 11-inch touch screen inflight entertainment system and USB power outlets.
Finnair's route network fascinates me
I really like Finnair and think their Helsinki Airport hub is hard to beat given how user friendly it is. At the same time, their route network just fascinates me. They serve one destination in the US year round, while they serve about a dozen destinations in Asia. And as you can see above, their first handful of routes featuring the A350 will be to Asia.
With European airlines we typically see a pretty good split between US and Asian destinations, so it's always interesting to me to see Finnair have more Asia service by such a wide margin.
Bottom line
I'm hoping to finally fly Finnair business class soon, given that it's one of the transatlantic airlines you can redeem American AAdvantage miles and US Airways Dividend Miles on without paying fuel surcharges.
If you've flown Finnair business class, what has your experience been?