Taking a complete 180 from this morning's post about chasing Thai's most modern first class product, here's something else worth chasing, though for completely different reasons.
Thai Airways has so many different aircraft configurations and is constantly swapping their planes to the point that you could feel like you're in 1970 or 2020, depending on which aircraft configuration you get on a particular day. While most of their 747s feature their "current" first class product, they still have a few 747s flying around with their ancient first class seats. These aircraft primarily operate flights within Thailand, from Bangkok to Hong Kong, and also from Bangkok to Copenhagen and Stockholm.
What's cool about their routes from Bangkok to Copenhagen and Bangkok to Stockholm is that Thai realizes their old first class product is beyond outdated, so they sell it as business class. As a result, there are only 14 seats. So while the meal service is the same as any other business class flight, it really does feel like first class.
Along the same lines they have a 50 seat business class cabin which they realize is totally outdated, so they instead sell it as Premium Economy on their routes to Copenhagen and Stockholm.
I recently got to fly this 747 from Phuket to Bangkok, and while it was outdated in every way, I couldn't help but feel like I was flying in the "good old days." It started with seeing the plane at the gate in Thai's old livery, which looks pretty dated at this point.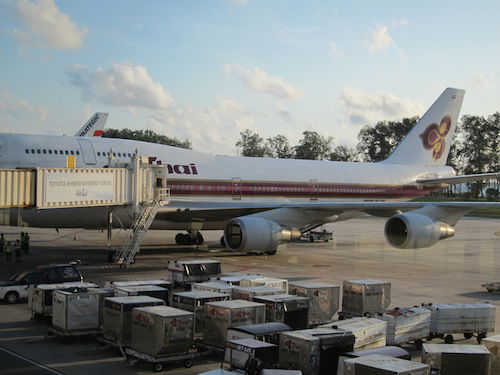 Thai Airways 747
And that feeling certainly continued aboard. Their lower deck business class cabin only takes up the left side of the aircraft, as the entire right side of the business class cabin is taken up by the galley. It can feel quite claustrophobic to sit in the center section on the right side, given that there are no windows. What's awesome, though, is that the business class aisle is literally more than double as wide as any other airplane aisle I've ever seen.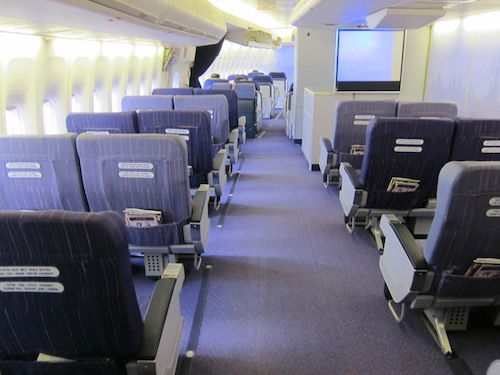 Business class
And then there's the first class cabin, featuring only 14 recliner seats.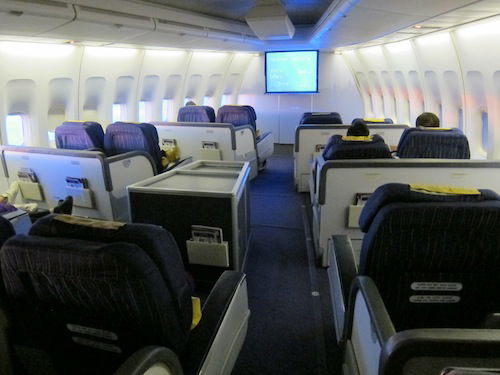 First class
While the seats may be outdated, they're the most comfortable, well padded seats I've ever sat in, be it on the ground or in the air. While you don't have a wide, flat bed, these seats are literally the most comfortable for lounging.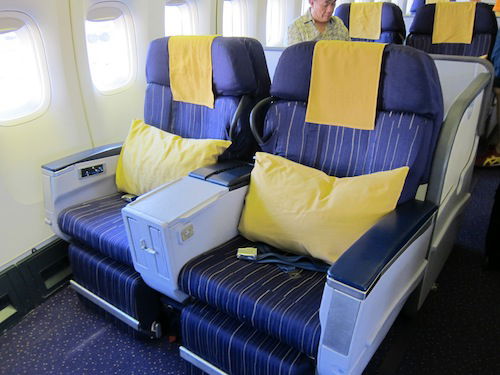 First class seats
Besides, who needs personal televisions when you have one of these badass projectors at the front of the cabin? 😉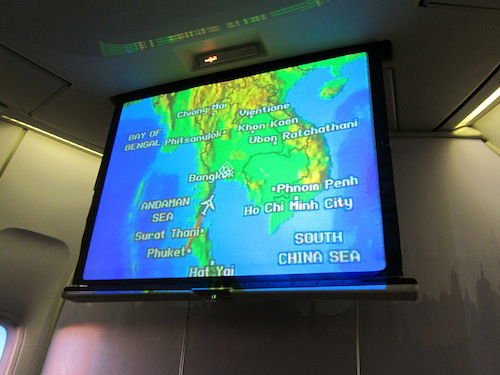 Projector
Anyway, I'm sorely tempted to book a business class award ticket from Stockholm or Copenhagen to Bangkok. Award availability on the route is phenomenal despite there only being 14 seats, and I can't help but think that flying might actually be more fun without an in-flight entertainment system containing a thousand movies and TV shows.