I love just about nothing more to relax than lying in the sunshine on a beautiful beach in an exotic location.
A lot of my travel for most of my adult life has revolved around seeking out some of the most beautiful beaches I can find around the world.
Growing up in Adelaide, Australia, 20 minutes from some truly beautiful beaches, combined with the city's blisteringly hot summers — it's 38 degrees C/100 F today — meant most of my summers growing up were spent at the beach, and I now love visiting as many beaches around the world as I can.
Cities are great, but in the middle of summer I love being on the coast, relaxing with a beer in hand, reading a book in the sun and watching the world go by.
I've visited hundreds of beaches in (I would estimate) at least 20 different countries, and have found some really beautiful ones. When I've mentioned my love of beaches in previous articles here at OMAAT, I've had a number of readers ask what my favourite beaches are.
Now I don't profess to have visited every beach in the world — no one has.
So this is not a definitive list of the world's best beaches — these are instead my favourites I've personally visited and enjoyed.
What do I look for in a great beach?
Good conditions to both enjoy the sand and the water — warm weather (in summer at least), sunshine, not too windy, and water that's a nice temperature to be in. As beautiful as the beaches in Cape Town, South Africa are, the water is so ice cold that nobody goes in it, which to me, largely defeats the purpose of going to a beach!
Some facilities such as cafes, bars, restaurants, bathrooms, parking, etc., though this is a balance — I don't tend to enjoy really built up, crowded, commercial, noisy beaches.
Picturesque — blue water, white sand, ideally little to no seaweed, and no rubbish.
It was very difficult to pick juamat five, but in no particular order, these are my favourites.
1. Rilindja Beach, Ksamil, Albania
When I first saw this beach it took my breath away and I would go so far as to say it is the most beautiful beach I have seen in Europe.
The sand was about the whitest and softest I've experienced and the water was unbelievably clear. Albania was not where I expected to find such a beautiful beach, but I ended up staying there for a week because the beaches in the local area (Rilindja especially) were so stunning.
Ksamil itself is not a beautiful town, but its beaches more than make up for it.
The town's peak tourist season is unusually short — only around 10 weeks from late June to early September. We were there in mid-September and local cafes and restaurants were closing by the day, but it meant there were no crowds.
Albania, including Ksamil, is a very affordable country to visit.
https://www.instagram.com/p/BZk2Su8Fvqf/
How to get there on miles
This place is a little tricky to get to.
You can fly into Albania's capital Tirana from major airports like London Gatwick (on British Airways), Frankfurt (Lufthansa or Adria), Rome (Alitalia) or Istanbul (Turkish) or various low cost charter airlines from other European airports. But you'll then need to either drive, or take a bus transfer for around five hours down to Ksamil.
We did this and while inexpensive, Albania's roads aren't amazing, so it;'s not the most comfortable journey.
Another way to get there, which should be quicker, is to fly into the nearby Greek island of Corfu (you can see Corfu from Rilindja beach). This has seasonal flights from airports like London (on BA), Dublin (Aer Lingus), Helsinki (Finnair), Munich (Lufthansa) and Geneva (Swiss) as well we charter airline flights from all over Europe.
Once in Corfu you can take the ferry to Sarande (Albania) and then it's a short drive/bus down to Ksamil.
Corfu is a great destination as well, although the beaches have nothing on Ksamil.
2. Trinity Beach, Far North Queensland, Australia
Far North Queensland has no shortage of stunning beaches — I think amongst the best in Australia.
Different Australians like different parts of 'FNQ' — Port Douglas is popular for honeymooners, while Palm Cove is well known for its spa treatments, and safe and family friendly holidays.
I've been to FNQ several times and tried out a few different locations, but Trinity Beach remains my favourite. It's much smaller than Port Douglas and Palm Cove, so retains a quaint, small seaside town feel while still being accessible by road to the Great Barrier Reef, and to me is the definition of relaxation and tropical tranquillity.
The main beach is just steps away from multiple accommodation options as well as a handful of laid back, welcoming cafes and restaurants.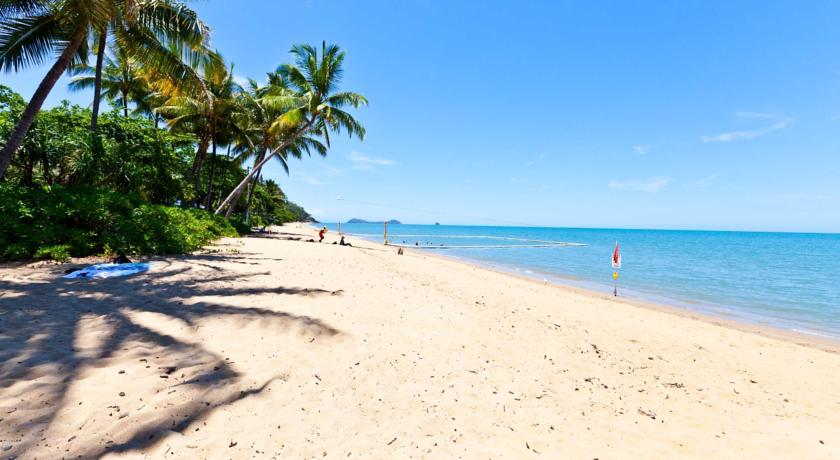 How to get there on miles
Trinity Beach is one of the 'Cairns Northern Beaches,' all accessible by road from Cairns Airport. Both Qantas and Virgin Australia have numerous services to Cairns from other cities in Australia — especially the major airports of Brisbane, Sydney and Melbourne.
Cairns also sees a handful of international airlines, like Cathay Pacific from Hong Kong, Air New Zealand from Auckland, China Eastern from Shanghai and Hainan Airlines from Shenzhen.
3. Ko Samet Island, Thailand
Thailand has a huge number of beautiful beaches, and picking just one here was tough.
Ko Samet/Samed narrowly edged out Ko Lanta for me, because it's a unique island experience, easily accessible from Bangkok.
The island is so small that it only has one main road and much of the island is walkable. There's plenty of beautiful, inexpensive villas and other accommodation at the back of different beaches on the island, as well as being dotted with various bars and restaurants right on the beach that you can easily walk from one to the next, along the beach.
Eating an entire baked fresh fish on the sand by candlelight is a beautiful way to enjoy Thailand!
There is a good amount of facilities, though fortunately Ko Samet's strict conservation restrictions means the island hasn't seen the same sort of rampant, unregulated development of places like Phuket (when I was there at least), so it remained peaceful, clean but still with beautiful white sandy beaches and refreshing water for a dip when the sun got too warm.
I haven't singled out one particular beach in the island, because they are all quite similar and I enjoyed a number of them equally.
I've been to the Philippines and they also have beautiful beaches though I have a soft spot for the overall setup/facilities of Ko Samet.
I find the service culture in Thailand to be far better than the Philippines especially in terms of understanding guests needs which is one the reasons I've been to Thailand far more times than the Philippines.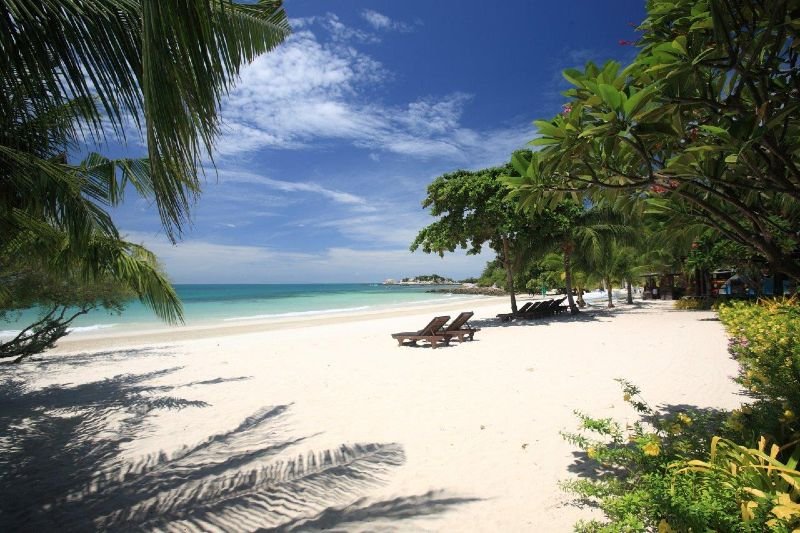 How to get there on miles
Fly to Bangkok BKK airport, one of Asia's major airports serviced by dozens of major carriers.
From there you can either get a taxi, mini-bus or hire a car for the 3 – 4 hour drive down the coast to Rayong or Ban Phe, to then take the short ferry across to Samet (it is an island, remember!).
4. Long Bay, Anguilla, Caribbean
I visited Turks and Caicos last month mainly because it has the 'world's no 1 beach,' as voted by Trip Advisor, Grace Bay.
Grace Bay was certainly a lovely beach, but it doesn't make my list of favourites. It had a fair amount of seaweed on the beach and in the water, and although there were huge resorts right on the beach, there were surprisingly few facilities there, meaning you needed to leave the beach to have a meal or a drink.
I spent three weeks island hopping through the Caribbean last month, as I'll write about in a separate post, and it has plenty of fantastic beaches, but the most stunning beaches I saw were in the tiny island of Anguilla.
We stopped in Long Bay for lunch as part of a day long catamaran sailing adventure, and I could not get over the incredible turquoise waters of the island with their white sandy beaches.
It was exactly what the postcards of beautiful Caribbean beaches look like!
https://www.instagram.com/p/BrdYXduAVBf/
How to get there on miles
This one isn't easy!
While Anguilla has an airport, it is only serviced by small regional airlines from other nearby islands.
Your best bet is to fly to nearby, larger Sint Maarten (SXM) airport, which is serviced by major airlines like Air Canada (from Toronto), Air France (Paris), KLM (Amsterdam) and United, Delta and American from various major US airports.
SXM airport has the added benefit of some of the world's most unique plane spotting opportunities!
5. Se Rapita, Majorca, Spain
Spain is a reliable European option for great beaches, and with the addition of their fantastic Mediterranean climate, great food and wine and easy transport options, it's one of my favourite countries in Europe in summer.
I've chosen Se Rapita for its beautiful clear water and miles of uncrowded, peaceful beaches.
The beach is dotted with the odd bar/cafe if you're looking for something to eat or drink, but otherwise, even in the busy summer months, it has never been crowded when I've been there and is incredibly peaceful.
There's the odd yacht bobbing lazily out in the ocean but the peace isn't broken by jet skis racing each other or hawkers trying to sell you things every five minutes.
https://www.instagram.com/p/BHzGMYRgKEG/
How to get there on miles
The only airport on the island, Palma de Majorca Airport (PMI), is the third busiest airport in Spain, with most major European airlines flying there at least seasonally over the busy summer months.
It's very popular, especially with British and German travellers, so if you're redeeming miles you'll want to book as early as you can.
There are no long haul flights to Majorca yet, but with Qatar now operating to Malaga (another Spanish beach holiday destination with less traffic than PMI), I hope to see long haul flights, at least seasonally to Majorca at some stage.
Bottom line
I'll continue to look for great beaches as I travel in the warmer months, as I find them to be a great way to relax in the sunshine.
This is by no means a ranking of every beach in the world, just those I've been lucky enough to visit on my travels.
If you have found even better beaches than any listed above please let me know in the comment below as I'll never get sick of exploring new ones as well as returning to these favourites.
Where is your favourite beach?