ExpertFlyer is a subscription based service that I find valuable. A subscription costs $99 per year, and there is quite a bit of value you can get out of it:
You can see fare class inventory and fare rules for a vast majority of airlines
You can search award availability on select airlines
You can look at seatmaps for specific flights on many airlines
Most useful of all is that you can set alerts, so that you'll be emailed when a specific seat opens up, specific fare class opens up, award seat opens up, etc. (though for award seats it only works on select airlines)
If you're a frequent flyer, I think having an ExpertFlyer subscription is well worth it.
Well, ExpertFlyer has just added another feature that I think many will find valuable. ExpertFlyer now offers flight schedule alerts, which will monitor a flight for any schedule change, and notify you as soon as it's made. You can choose how sensitive you want the alert to be — whether you want to be notified of any change, or only want to be notified of a change of at least 5, 15, 30, 60, or 120 minutes.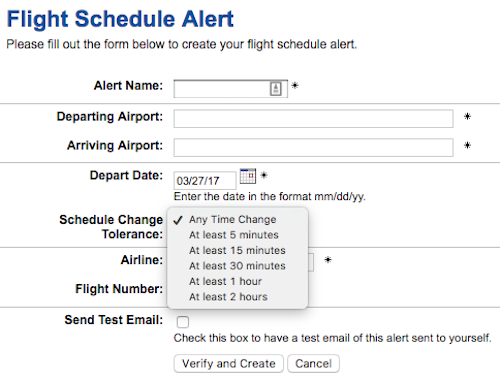 You can create these alerts in one of three places:
Flight Details results page
Flight Timetables results page
The Create New Flight Schedule Alert page (linked to from the left side menu)
There are a couple of reasons something like this could be valuable:
Often airlines will have schedule changes but won't inform passengers; they're supposed to, but that doesn't mean they will, so this is a great way to stay on top of that
Airline schedule changes allow you to change tickets without paying any fees, so this is an easy way to track whether or not you get one of those
As a premium ExpertFlyer member you can set up to 30 alerts at a time, which includes all types of alerts. So if you're a super frequent flyer you'll have to pick and choose which flights to set alerts for.
Will you get any use out of ExpertFlyer's new flight schedule alerts feature?