As I wrote about yesterday, I booked my return from Europe to the US in Lufthansa first class using Air Canada Aeroplan miles. That involved flying Air Dolomiti (Lufthansa's subsidiary which operates many of their Italy flights) from Catania to Munich, and then flying Lufthansa back to the US.
I find Air Dolomiti to be such a fascinating airline.
They operate some flights independently while others are operated exclusively on behalf of Lufthansa. You've gotta love when the Germans and Italians work together, because it makes for some good entertainment.
For that matter, I don't think I've ever seen an airline where the flight attendants "doll up" as much as at Air Dolomiti. They make the "Singapore Girls" look all natural, by comparison.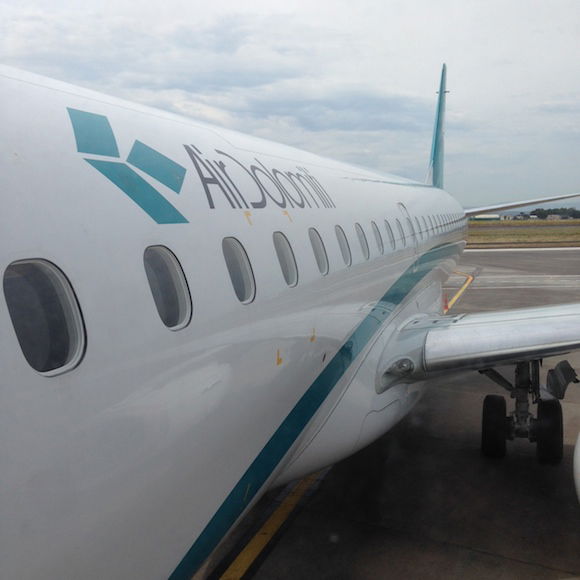 Air Dolomiti EMB-195
I booked the flight literally three hours before departure, which I knew would be an adventure in terms of catering.
I've gotta be honest, I felt a tiny bit guilty (and a huge amount happy) about the fact that I was the only passenger booked in Lufthansa first class from Munich back to the US. Lufthansa usually only caters based on the number of passengers booked in a cabin, so my guess is that they had to make a last minute phone call to catering to get food provisioned for the first class cabin.
Anyway, I showed up at Lufthansa check-in at Catania Airport, and the friendly Lufthansa representative (who spoke English and German — and presumably Italian — flawlessly) quickly checked me in and apologized for the fact that there would be no meal for me on the first flight since they catered for exactly the number of booked passengers (and notated my boarding pass as such).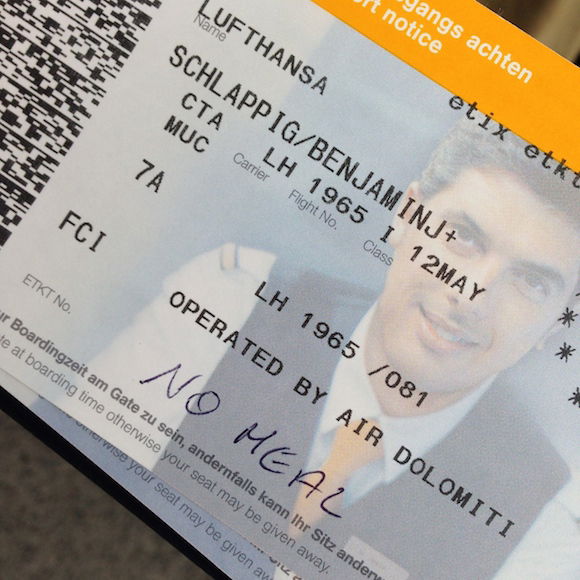 "NO MEAL"
I said that was totally fine, it's not like the food intra-Europe is much to speak of, though she still made a phone call to see if she could procure an extra meal.
When I got to the gate she approached me to tell me that they had catered an extra meal for me, which was a nice touch, though like I said earlier, really not necessary.
I was assigned seat 7A. For those of you not familiar with intra-Europe business class, it's literally economy class with a blocked middle seat. Or in the case of the EMB-195 I was flying (which is in a 2-2 configuration) every other seat in business class was simply blocked off and not occupied.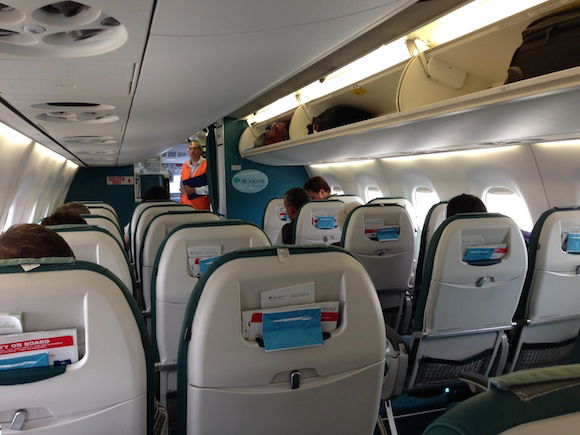 Air Dolomiti EMB-195 business class cabin
So I sat in 7A and there was no real way to tell where business class ended, as there wasn't the usual "partition."
The flight attendant came around business class to offer everyone magazines… and stopped at row six.
Then she came around to do the meal and drink service… and stopped at row six.
Once done with the business class meal service she came up to serve me a drink in a plastic cup and a packaged sandwich.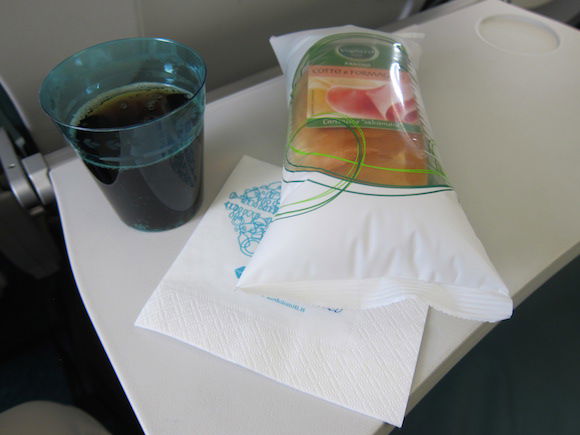 Air Dolomiti economy class service
Clearly she didn't realize I actually was a business class passenger, and I wasn't quite sure how to tell her.
Like I said I didn't really care about the meal but the check-in agent said it was catered, and I was hoping for some drink refills, which seem easier to come by in business class than economy class.
Then the following conversation ensued:
Me: "Excuse me, this is business class, right?" (I held out my boarding pass which clearly stated business class)
Her: "Yes, I have food for you, you're seated in the wrong seat, you should move up to one of the empty seats in business."
Me: "This is 7A, right? That's what they assigned me."
Her: "Yes, but they messed up, this isn't business class."
Me: "Oh that's okay I can just stay here if that's alright."
Her: "No, you are in business class, you must move up."
She walks away, and per her instructions I proceed to self upgrade myself mid-flight.
Naturally I got evil glares from the other business class passengers, which isn't surprising since it looked like I was trying to self-upgrade.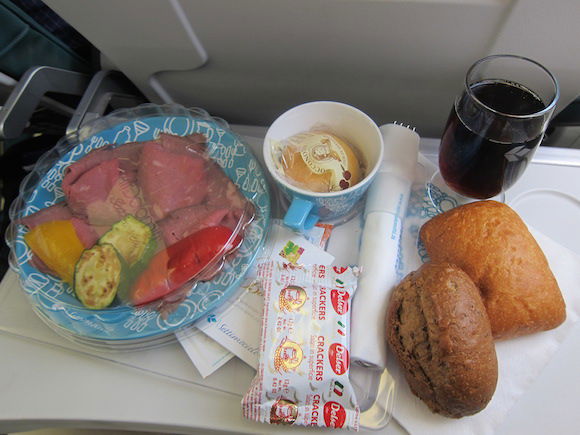 Air Dolomiti business class snack
The funny thing is that she still gave me (and most other business class passengers) an Air Dolomiti "Your opinion is valuable to us" survey.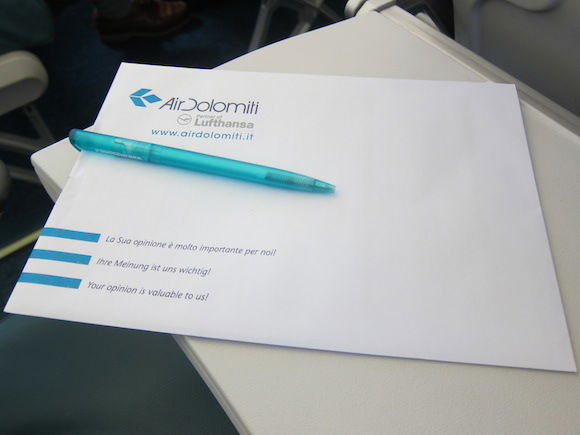 Air Dolomiti survey
Just as we were beginning the descent shortly after the captain turned on the seatbelt sign, I got up to use the lavatory. As I walked up there she said "you should be seated, pay attention."
Speaking of paying attention…
So I'm curious, how do you handle a situation where you're actually seated in a different cabin than the crew thinks you are?
The joys of intra-Europe business class, I suppose…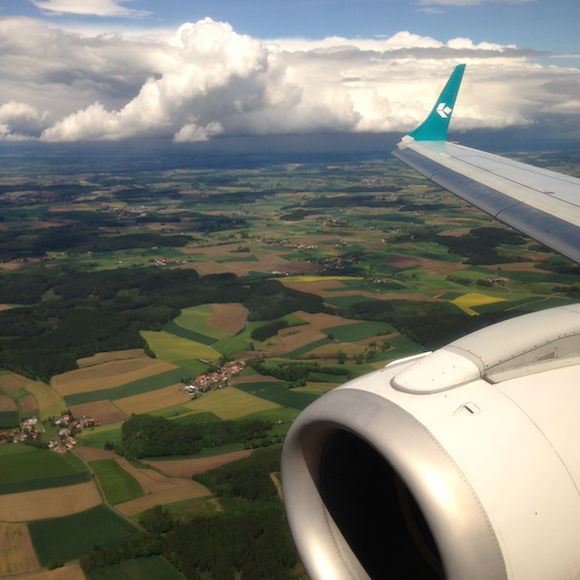 View on approach into Munich