A few weeks ago I answered a question from a reader who was terrified of flying, asking how best to deal with it. Unfortunately I didn't have a good answer, other than being able to relate to the situation.
I think the only way to really get over a fear of flying is to keep flying and hope it eventually goes away, given that most people admit it's an irrational fear.
And it's an irrational fear I faced for a while, following my Royal Jordanian flight a few years back, where I was convinced (wrongly) that I was more or less dead. So while I don't think I'm scared of flying anymore, that event causes me to still overanalyze every aspect of flying, and all the things that could go wrong.
And a lot can go wrong. What if a mechanic didn't tighten a screw correctly? What if there's something in the cargo hold that's explosive? What if we're over an ocean and a fire breaks out? These are all things which have happened, but at the same time they're so rare that you just have to come to terms with how good your odds of being okay are.
Which brings me to my flight on Hainan Airlines yesterday, where I was briefly sweating. The reason I'm sharing this isn't because I think anything was actually wrong, but rather to hopefully comfort those who are scared of flying and show it happens to everyone. I've flown almost five million miles, and I was literally borderline freaking out.
Why? Because I wasn't in control, because I didn't know what was going on, and because I was prematurely analyzing the situation. Give me as much turbulence as you want, I won't be scared one bit. Give me a situation where everything seems fine and my mind starts wandering about possibilities of what could be wrong, and I'll be borderline freaking out.
So what happened on yesterday's flight? We took off from runway 24L at LAX, as I've done dozens of times before.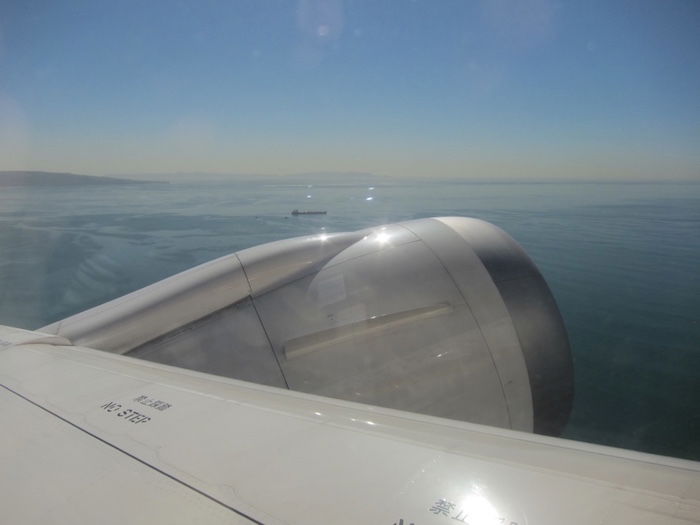 Typically when you fly to Asia you either fly out over the Pacific and fly straight over, or you hug the coastline for a while up to Alaska.
In this instance we took off from LAX, and did something very different. We turned right, and then turned right again. We began flying northeast, and we also began to level off.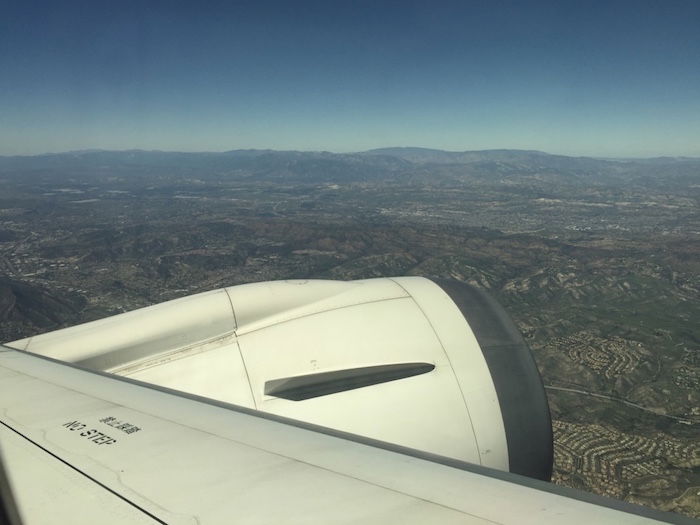 Here's the route for our flight, via Flightaware:

Meanwhile here's the more normal route to Asia, from the Japan Airlines flight departing ahead of us:

Logically I should have assumed we were probably being vectored around for traffic, or something, though this is certainly a unique way to do so.
What was I thinking in practice? A million different things, the first of which was "hmmm, is there something wrong with the plane and they're leveling off and trying to figure it out, to decide if we need to turn back to the airport or not? Did some alarm go off in the cockpit? Are they figuring out where they're going to dump fuel?"
All of this is of course completely irrational. But that's how my mind was wandering, and it caused my palms to sweat, and I even began to take deep breaths. I was making myself scared.
Again, I realize it was irrational, but at the same time, the more you know, the more out of control you can feel. To everyone else this was nothing out of the ordinary.
But when you know what "normal" is, and see something "not normal," it's easy to let your mind wander and assume the worst.
Hopefully it's at least comforting to those who are infrequent flyers and are terrified of flying… it happens to all of us, just for different reasons.
To those who are frequent flyers, do you ever overanalyze situations while flying, to the point that you're freaking yourself out? Is it just me? 😉