There has been some crippling fog in the UAE the past few days which has caused some serious operational disruptions for both Emirates and Etihad.
While major disruptions for an airline with just one hub are bad enough, it's especially bad right after New Years, when flights are presumably packed to the gills.
One story making the rounds is about yesterday's Etihad flight from Abu Dhabi to San Francisco, which was delayed on the tarmac in Abu Dhabi for 12 hours. Combined with a 16 hour flight time, that made for a 28 hour journey.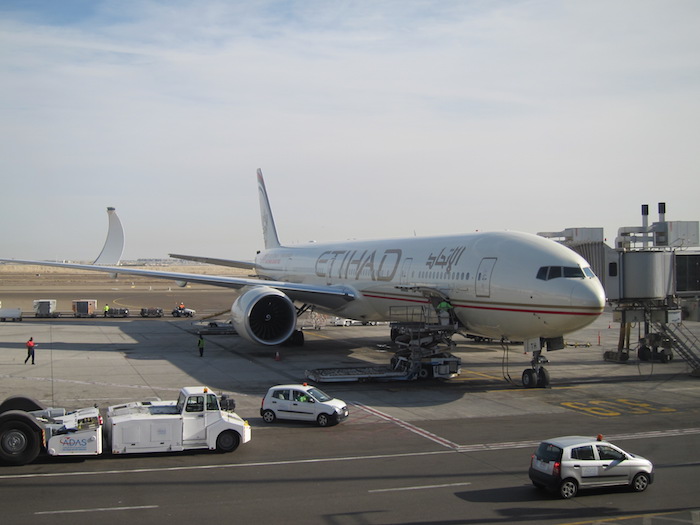 Via CBS San Francisco:
The airline wouldn't allow passengers to get off, so some took to social media to vent that they were hungry, sleep deprived, and never flying with the airline again.

"Out of every airline, this has been the worst experience in my life," said Vinay Ramakrishna. "There's no sanitation, they're out of water, out of tissues, out of apples, out of chocolates!"
In fairness, the whole running out of food thing isn't limited to Etihad's flights which are delayed by 12 hours. 😉
And being trapped on a plane for 28 hours is a serious issue, but of all the things to mention… tissues and chocolates?!
What's especially odd is that Etihad has fudged the flight status on their website, claiming the flight really arrived in San Francisco at 1:30PM:
In reality the flight arrived after 6:30PM:
I have two general thoughts about the delay:
The tarmac rule indeed doesn't apply outside the US, so in this case there's nothing that can legally be done. That being said, it's absolutely unacceptable to leave people on the tarmac for 10+ hours without giving them the option to deplane.
Was the crew also on the plane for 28 hours? If so, that seems like a serious safety issue. There are maximum duty days for crew for a reason, and surely 28 hours exceeds that? How alert can pilots and cabin crew be after working for 28 hours?
Interestingly, on the other end of the spectrum, several Etihad flights have actually left early the past couple of days. For example, take EY11, the A380 service between Abu Dhabi and London. It left over an hour early today:
Why? Because if they stuck around they knew it would have canceled, and I guess the priority was to make sure the flight from London to Abu Dhabi wasn't canceled as well. I guess they decided that leaving early minimized operational disruptions, even if it meant leaving a lot of people behind in Abu Dhabi.
Interesting stuff!