While Emirates has been focused on growing their own airline, Etihad has taken a different growth strategy. They're keeping Etihad (relatively) small, and instead investing in foreign carriers. The collection of these eight carriers is known as Etihad Airways Partners, and they serve over 400 cities across six continents.
Etihad has been working on aligning the experiences across airlines as much as possible, including both the onboard product and the frequent flyer programs.
Etihad is aligning products & frequent flyer programs
Etihad has just announced that they're working on standardizing the experience across airlines as much as possible, including with their frequent flyer program. Etihad will begin offering standardizing fare choices across airlines, and already offers flat beds and dine on demand in longhaul business class across all their partners.

All Etihad Airways Partners offer dine on demand in longhaul business class
Here's part of the announcement:
As an Etihad Guest member, you can now enjoy your membership benefits and privileges to over 400 destinations when you fly with Etihad Airways Partners. You can collect and redeem your miles when flying with any of the Etihad Airways Partners and enjoy the same privileges whether it's priority check-in, priority boarding, lounge access or excess baggage.

In addition to aligning our frequent flyer benefits we've also standardised our Fare Choices and outstanding levels of service. Relax in Business Class with a fully-flat bed on all long haul flights and the option to dine on demand. Fly with Etihad Airways Partners and enjoy a seamless journey across multiple destinations with one ticket taking you and your luggage to your final destination.
As far as their frequent flyer program goes, here's what the aligned benefits look like:
In reality this doesn't represent that much of a change for any of the programs. It's not that they're creating a single frequent flyer program, but rather they're just aligning priority check-in, boarding, lounge access, bonus miles, and baggage allowances, across all airlines. Kudos to them for that, because the difference in benefits across the various airlines got complicated at times.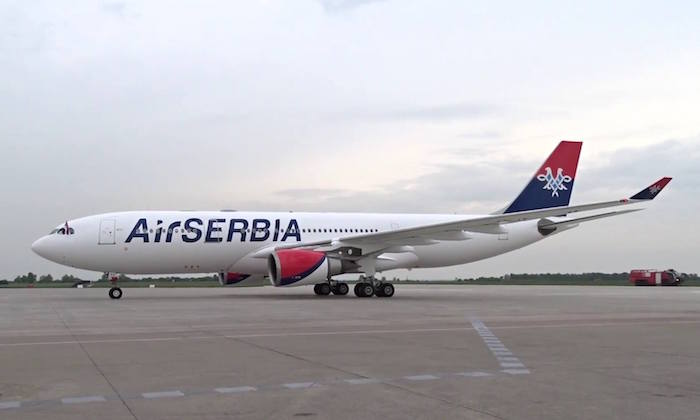 Air Serbia, an Etihad Airways Partner
The big lounge access change Etihad is quietly making
The Etihad Guest program isn't really that generous overall. It's a bit odd to me that the Gulf carriers don't do more to differentiate their frequent flyer programs, given how much excess capacity they have on many routes.
One of the few unique things about the Etihad Guest program has been that Etihad Silver members receive lounge access. There aren't many airlines that give their lowest tier elite members lounge access. Unfortunately it looks like Etihad will lose their competitive advantage in that regard. As of January 15, 2017, Etihad Guest Silver members will only receive lounge access in Abu Dhabi, Mahé (Seychelles), and Belgrade.
That's certainly an unfortunate change, though I guess they felt they were being too generous in that regard. It also doesn't really come as a surprise that this was announced in the name of aligning benefits.

Silver members will no longer get access to the Etihad Lounge New York JFK
Bottom line
On one hand it's nice to see that Etihad is actually aligning services across their partners somewhat, including fully flat beds and a dine on demand concept in business class. At the same time, it's unfortunate that they took the opportunity to devalue the lounge access benefit for their own elite members.