The Gulf carriers spend a lot of money on marketing and branding. It seems to work, because globally these carriers are known for their top notch products, even by people who haven't flown with them before.
Both Emirates and Etihad have big name stars as the faces of their ad campaigns.
Emirates signed a $5 million deal with Jennifer Aniston, where she's the star of several humorous commercials for the airline. Here's the first one, which pokes fun at the US carriers:
Meanwhile Etihad has been undergoing a rebranding, with the tagline "Flying Reimagined." They signed a deal with Nicole Kidman, who is the face of the campaign. Here's their first ad under the new campaign, which is visually stunning:
https://www.youtube.com/watch?v=sXlmF3eI9R0
Well, Etihad is now taking their advertising to the next level, as they're creating a virtual reality film starring Nicole Kidman, which will come out on May 27, 2016. Unsurprisingly, the film will be called "Reimagine."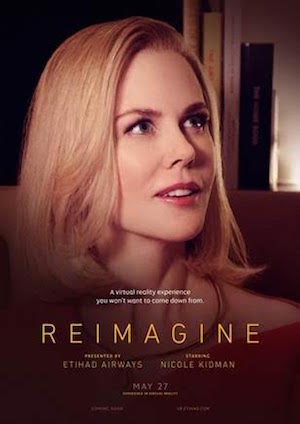 Etihad claims this is the first virtual reality film starring a Hollywood actor, and it seems like it will largely (or perhaps entirely?) take place on the Etihad A380. Here's the trailer for the film:
https://www.youtube.com/watch?v=4WYI01G9gAQ
For those of you not familiar with virtual reality films, the idea is that you can get a 360 degree view of what's going on. Even in the above trailer you can click the buttons at the top left of the video to change which direction you're looking in.
Here's how Etihad describes the film:
The innovative fully-immersive film, which marks the first time a Hollywood actor has starred in a virtual reality film, is a major accomplishment for the airline, and will allow viewers to experience its revolutionary Airbus A380, which includes The Residence – the airline's ultra-luxurious and private three-room suite.
I can't wait to see the whole thing!