Airlines around the world are operating repatriation flights, to transport citizens back to their home countries in markets where there aren't otherwise commercial flights. Well, at least one particular Ethiopian Airlines repatriation flight sounds awful.
Ethiopian Airlines' Nigeria repatriation flights
Ethiopian Airlines has done a phenomenal job keeping its fleet in the air during the pandemic, between operating repatriation and cargo flights. The airline hasn't just operated repatriation flights to & from Ethiopia, but also between other countries, as needed.
Ethiopian Airlines has pretty consistently been operating repatriation flights every couple of weeks from the US to Nigeria. Specifically, the airline has flown from both Houston and Newark to Lagos, to get Nigerians home.
Repatriation flights typically aren't sold and marketed directly by the airline, but rather through an agency that works with the consulate to make citizens aware of these flights.
These flights are typically much more expensive than standard flights. For example, repatriation flights from Houston to Lagos allegedly cost $1,500 in economy or $3,000 in business class, one-way.
With Nigeria being shut down to international scheduled flights for now I guess these flights still serve a purpose. However, as of now international flights to Nigeria are on sale starting in late August, and the same Houston to Lagos flight could cost less than half as much with a connection.

The reason repatriation flights are being delayed
Nairametrics reports on an Ethiopian Airlines repatriation flight from Houston to Lagos yesterday (Sunday, August 16), which sounds less than pleasant. Passengers ended up being on the plane for nearly 20 hours, even though this was just supposed to be a 12 hour flight.
Passengers spent roughly eight hours on the plane on the ground in Houston. The reason? The authorities behind the repatriation flight were trying to sell more seats on the plane to the highest bidder.
Passengers showed up at around 10AM, and as is apparently the norm for these flights, there were more passengers than seats. These repatriation flights not only sell out, but there's a waiting list beyond that, and even people without confirmed seats show up at the airport.
Now, you'd think that clearing waitlisted passengers onto a flight wouldn't cause a delay of hours. Well, apparently the issue came down to officials trying to sell these seats to the highest bidders, pocketing the difference.
While the standard fare on these flights is $1,500, some of the standby passengers paid up to $1,750, with the extra $250 being pocketed by authorities.
The flight was supposed to depart at 3PM, but ended up departing at around 10PM, with passengers being stuck on the plane starting at 2PM. It's one thing if this delay happened before boarding, but I couldn't imagine being stuck on the plane for that long.
After a lengthy delay some passengers apparently chose to get off the plane, and that only caused more seats to be resold.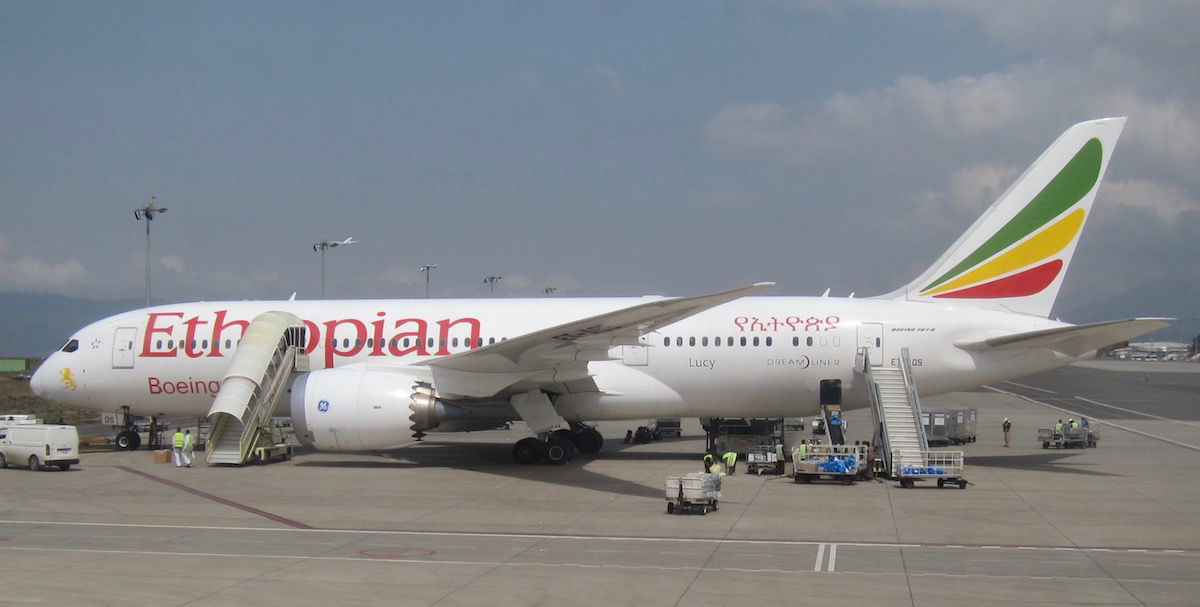 Ethiopian Airlines Boeing 787
Bottom line
Ethiopian Airlines' repatriation flights to Nigeria sure sound like an adventure. I can appreciate them wanting to fill every seat on the plane, though it sounds to me like this delay was more about maximizing profits for the organizers, rather than filling seats at the published cost.
Admittedly Ethiopian Airlines is just acting as a charter operator here, though you'd think there would be a point at which their crews would make it clear that the flight has to leave, with or without passengers.