A couple of weeks ago I wrote about how Ethiopian Airlines quietly stopped accepting reservations for their flight between Los Angeles and Dublin.
The airline has been flying to Los Angeles since 2015, operating a flight to Addis Ababa via Dublin. The airline had pick-up rights in both directions, meaning that passengers could fly solely between Los Angeles and Dublin if they wanted to.
However, recently the airline updated their schedule as of mid-December, and removed the option of booking a ticket solely between Los Angeles and Dublin. The schedule continued to display the same routing, so there's not a logical reason they'd keep operating the flight but not sell seats on that flight as well, given that they have the option of doing so.
So my guess was that the airline was changing their intermediate stop between Los Angeles and Addis Ababa, and that's indeed what has happened. As reported by @airlineroute, Ethiopian Airlines' flight between Los Angeles and Addis Ababa will operate via Lome, Togo as of December 17, 2018.
The airline will have fifth freedom rights between Los Angeles and Lome, meaning passengers can book a flight exclusively between the two airports.
The flight will operate with the following schedule:
ET504 Addis Ababa to Lome departing 8:20AM arriving 11:10AM
ET504 Lome to Los Angeles departing 12:25PM arriving 7:35PM
ET505 Los Angeles to Lome departing 9:35PM arriving 7:35PM (+1 day)
ET505 Lome to Addis Ababa departing 8:50PM arriving 5:40AM (+1 day)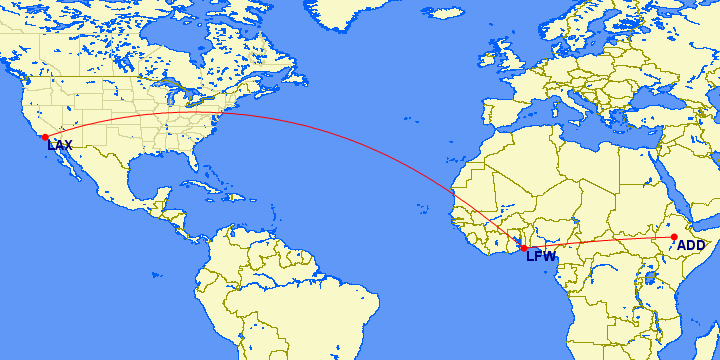 This represents LAX's first nonstop flight to Africa, and it means LAX now joins the exclusive rank of airports with nonstop service to six continents.
Ethiopian will continue to use a Boeing 787-8 for the route. The first sector between Lome and Addis Ababa will cover a distance of 2,581 miles, while the second sector to Los Angeles will cover a distance of 7,635 miles, making the total journey distance 10,215 miles. Wow!
I don't know that much about Togo, though I do sure find this interesting. I understand that ASKY has a hub there, and Ethiopian Airlines has a stake in them, so there's quite a bit of connectivity between there and other points in West Africa. However, is there really that much demand between Los Angeles and West Africa? And is that demand greater than what there was between Los Angeles and Dublin? I'm sure they've done their research, but I find it to be very interesting.
What do you make of Ethiopian's new nonstop flight between LAX and Lome?