In the interest of full disclosure, OMAAT earns a referral bonus for anyone that's approved through some of the below links. These are the best publicly available offers (terms apply) that we have found for each product or service. Opinions expressed here are the author's alone, not those of the bank, credit card issuer, airline, hotel chain, or product manufacturer/service provider, and have not been reviewed, approved or otherwise endorsed by any of these entities. Please check out
our advertiser policy
for further details about our partners, and thanks for your support!
It's no secret that The Platinum Card® from American Express and The Business Platinum Card® from American Express offer the one of the best airport lounge benefits of any card in the market.
Between Priority Pass, Centurion Lounges and Delta SkyClubs, there's no shortage of options for both domestic and international itineraries. But one of the card's best options – and one of the unsung heroes, in my opinion – is the ever-expanding portfolio of Escape Lounges.
I'm based out of Hartford's BDL and I fly Delta to the West Coast through Minneapolis all the time, so if I'm not their target customer, I don't know who is. Needless to say, I've gotten to know these two locations fairly well as of late.
And, as fun as it would be to write a review of BDL's Escape Lounge for all five of you who are based out of Hartford, I figured that a review of MSP's lounge would be more useful. 😉
Who can access Escape Lounges?
While the U.K.-based Escape Lounges are available to Priority Pass members, they've made it abundantly clear on their website that complimentary access to their U.S.-based lounges is limited to American Express Platinum cardholders.
Yes, this invitation does extend to those who have the card's fraternal twin, The Business Platinum Card® from American Express, which is how I gain access.
That said, they've definitely embraced the model of selling day passes, even offering the option to pre-book on their website. The U.S.-based lounges all sell day passes for $40 in advance, or $45 if you walk in, while the U.K.-based lounges retail for 21-25 GBP for advanced registration, or 30 GBP for walk-ins. (If you're not interested in typing that into a currency converter, the U.K. lounges cost a touch less, although that's largely dependent on exchange rates).
I'm going to go ahead and say that I would have a hard time justifying the cost of the day pass, but the added benefit for Amex Platinum cardholders is great.
Location
MSP's Escape Lounge is located in the Delta-dominated Terminal 1-Lindbergh, on the mezzanine level of the main concourse right by the entrance to the E-gates.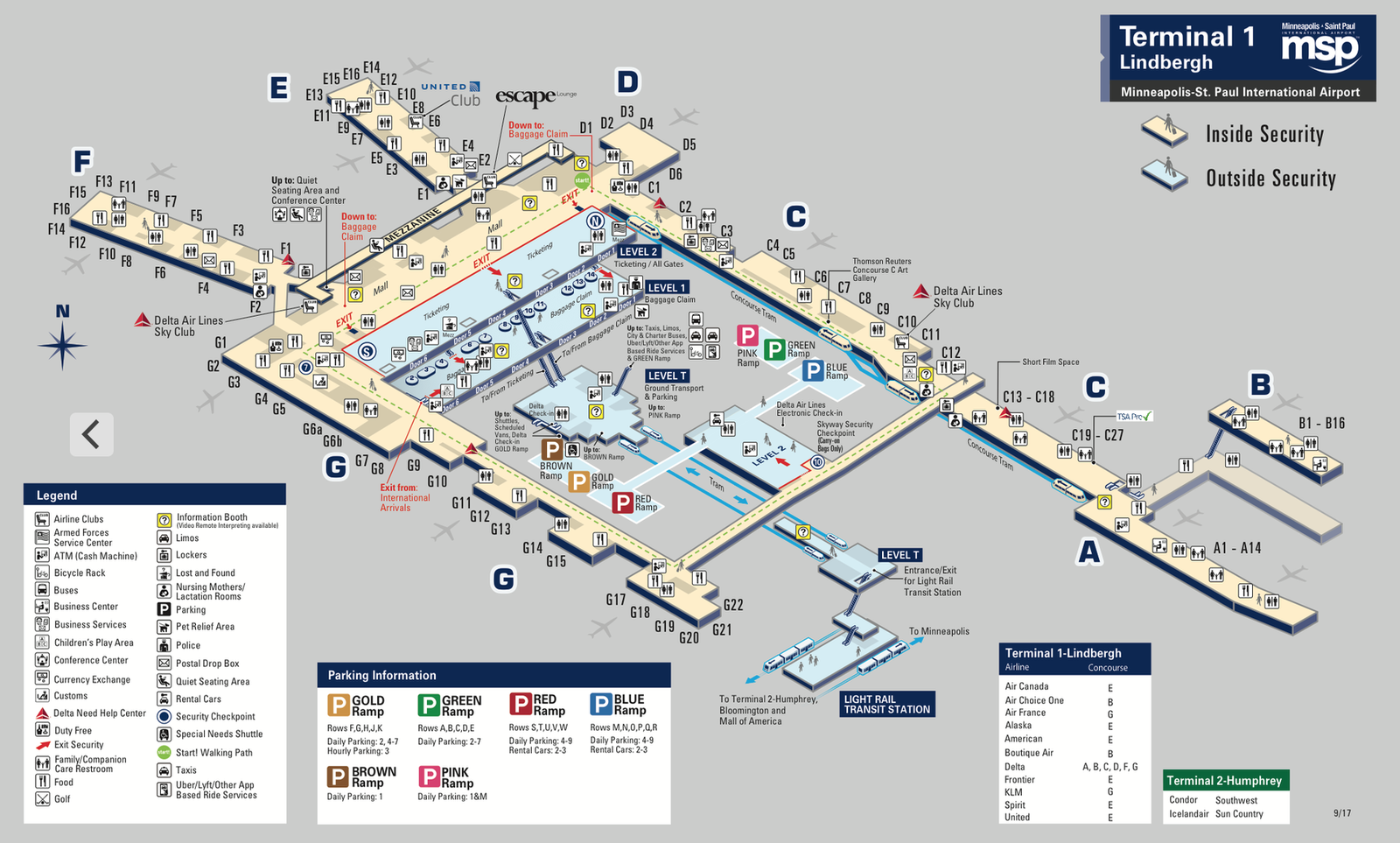 Incidentally, it's located right next to the PGA MSP Priority Pass Lounge, which I'll be sure to check out if my golf game ever gets off the ground (but don't hold your breath).
The mezzanine level sees relatively little traffic when compared to the rest of the airport, and if my first visit was any indication, I think a lot of people walk right past it and don't even realize that it's there.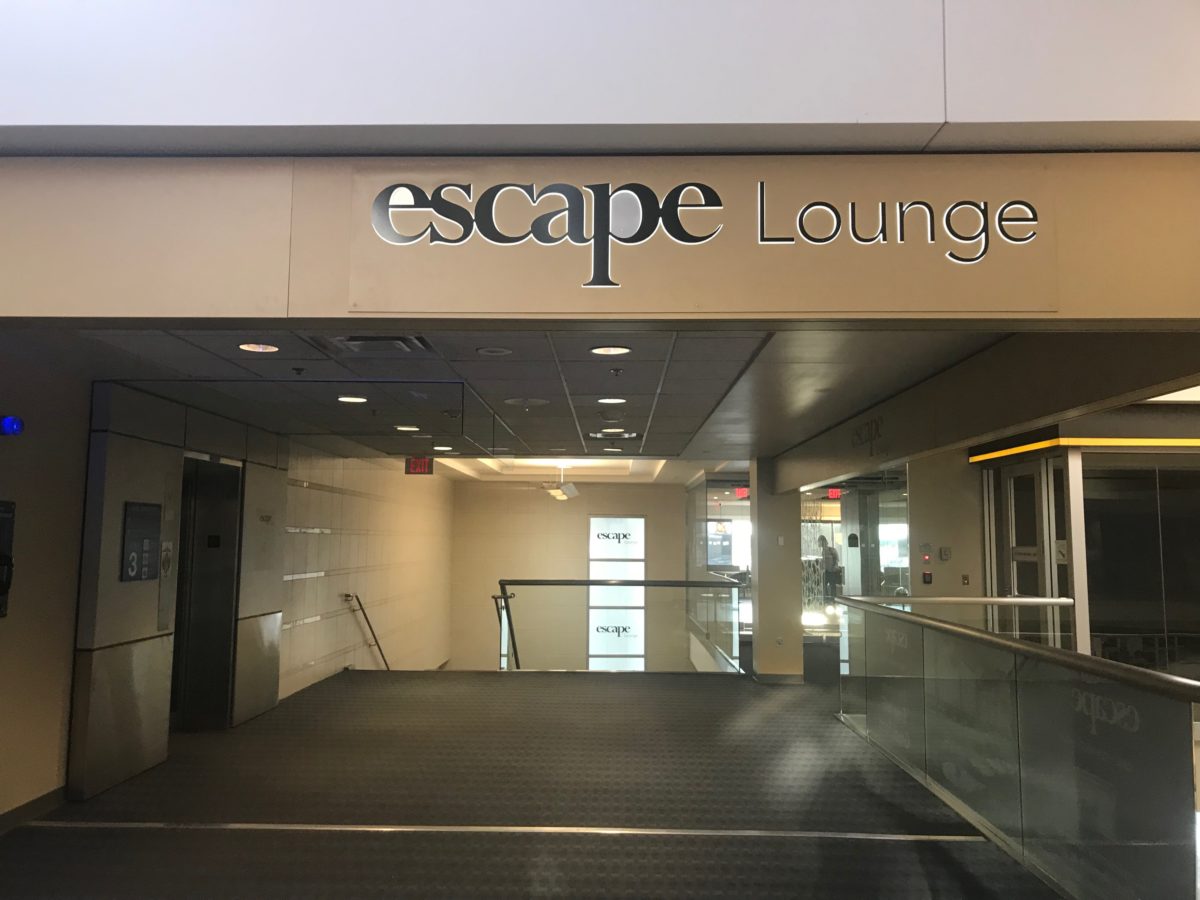 Check-In
My first impression during my first visit to MSP's Escape Lounge was just how quiet it was. I had to wait 2-3 minutes for the server/bartender/custodial staff/attendant – and yes, she was doing all of these jobs – just to come to the desk.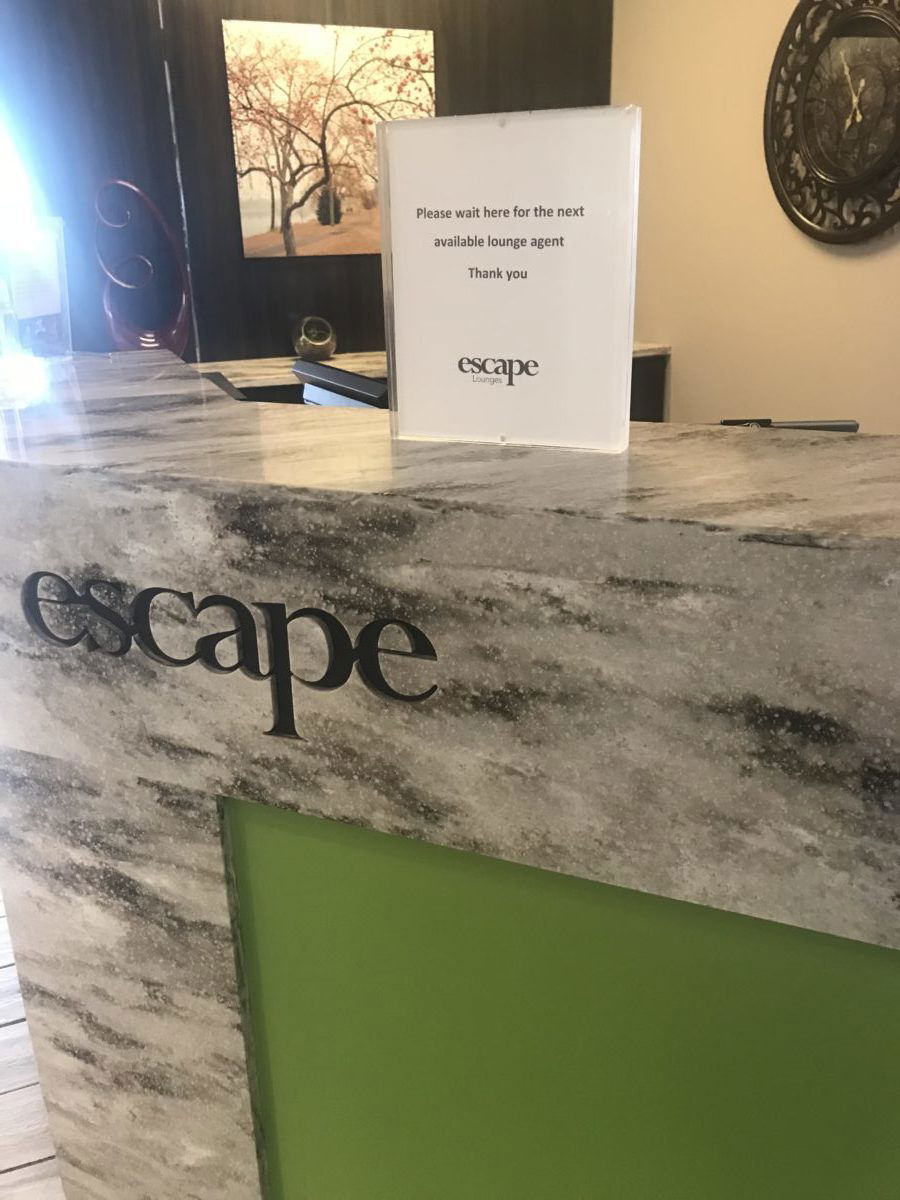 I was required to show my American Express card, my boarding pass, and my I.D., which is standard for Escape Lounges.
It really was no problem that there were only two employees working the lounge, since it was as empty as I've ever seen any airport lounge, ever. I snapped a few pictures of some of the various seating: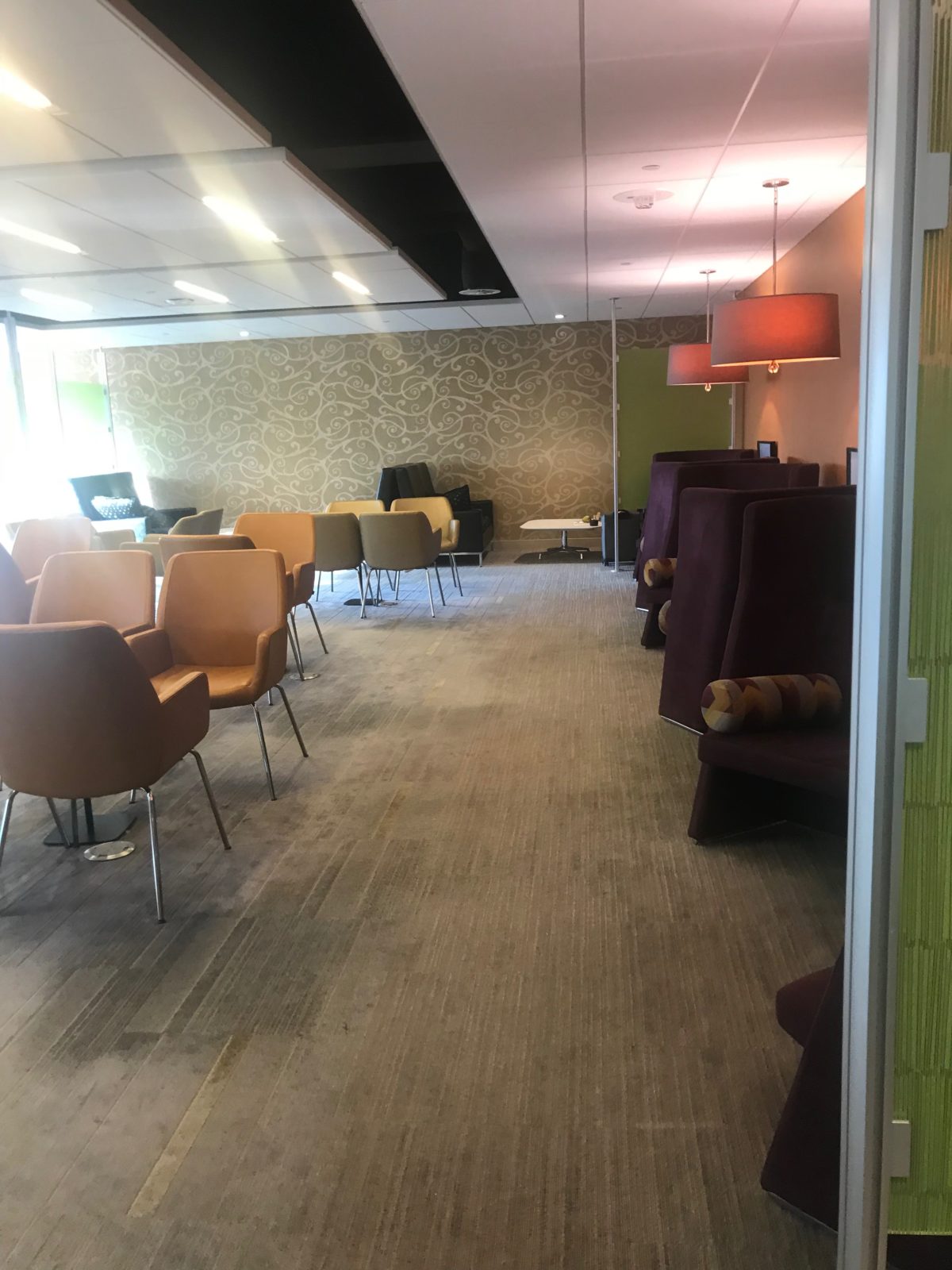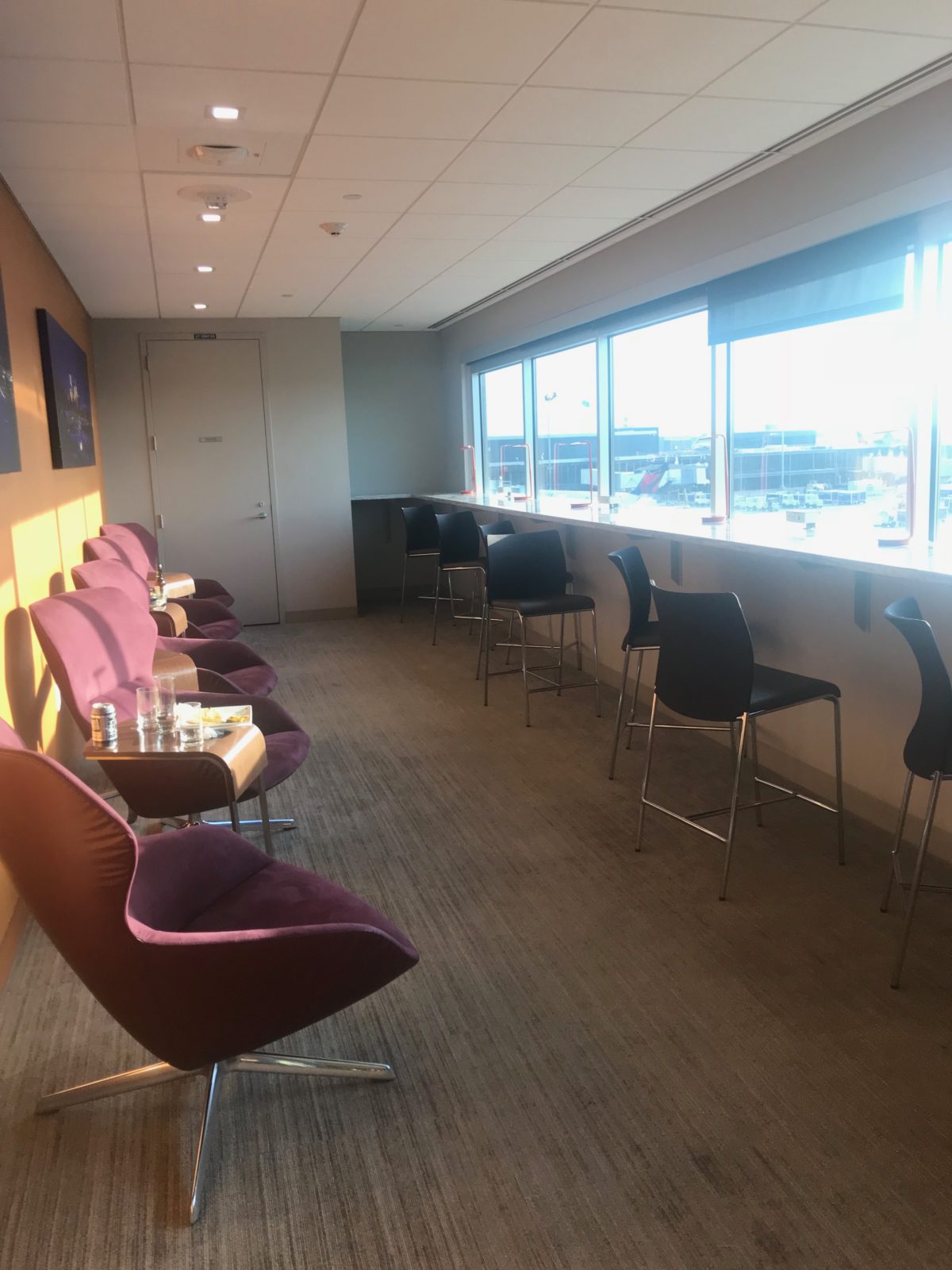 Before checking out the food.
Escape Lounge Food
Escape Lounges tout their food as both "the best in fresh food" and "the best in contemporary cuisine."
While the marketing team may be a little more into hyperbolization than they are in variety of phrasing, I do have to give credit that the food may be "among the best in domestic airline lounges."
I've typically been really happy with the food at BDL's Escape Lounge, and MSP's menu proved no different. Their menu changes often, but their model is to provide food in single-serve dishes, such as these cantonese meatballs and vegetable lentil curry served in cast-iron pots: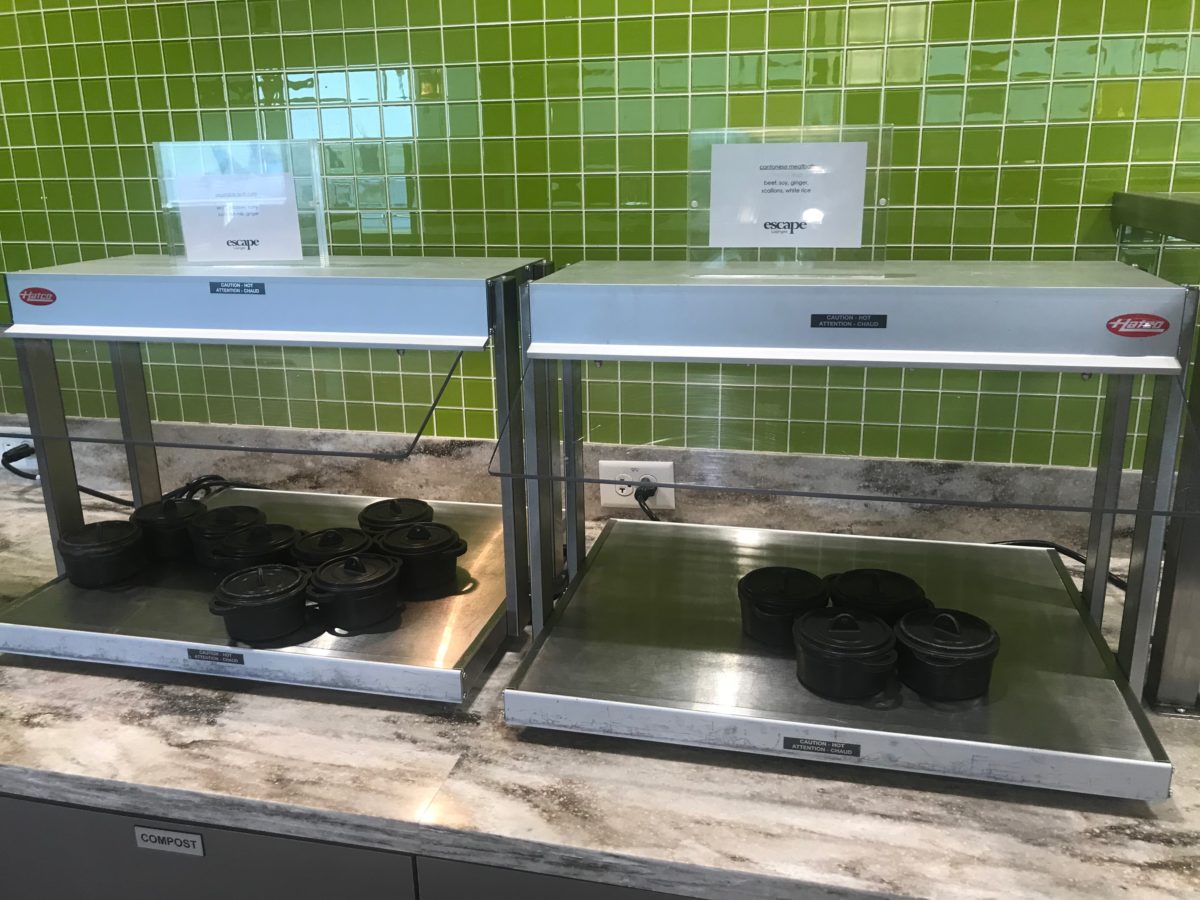 And these single-serve kale salads: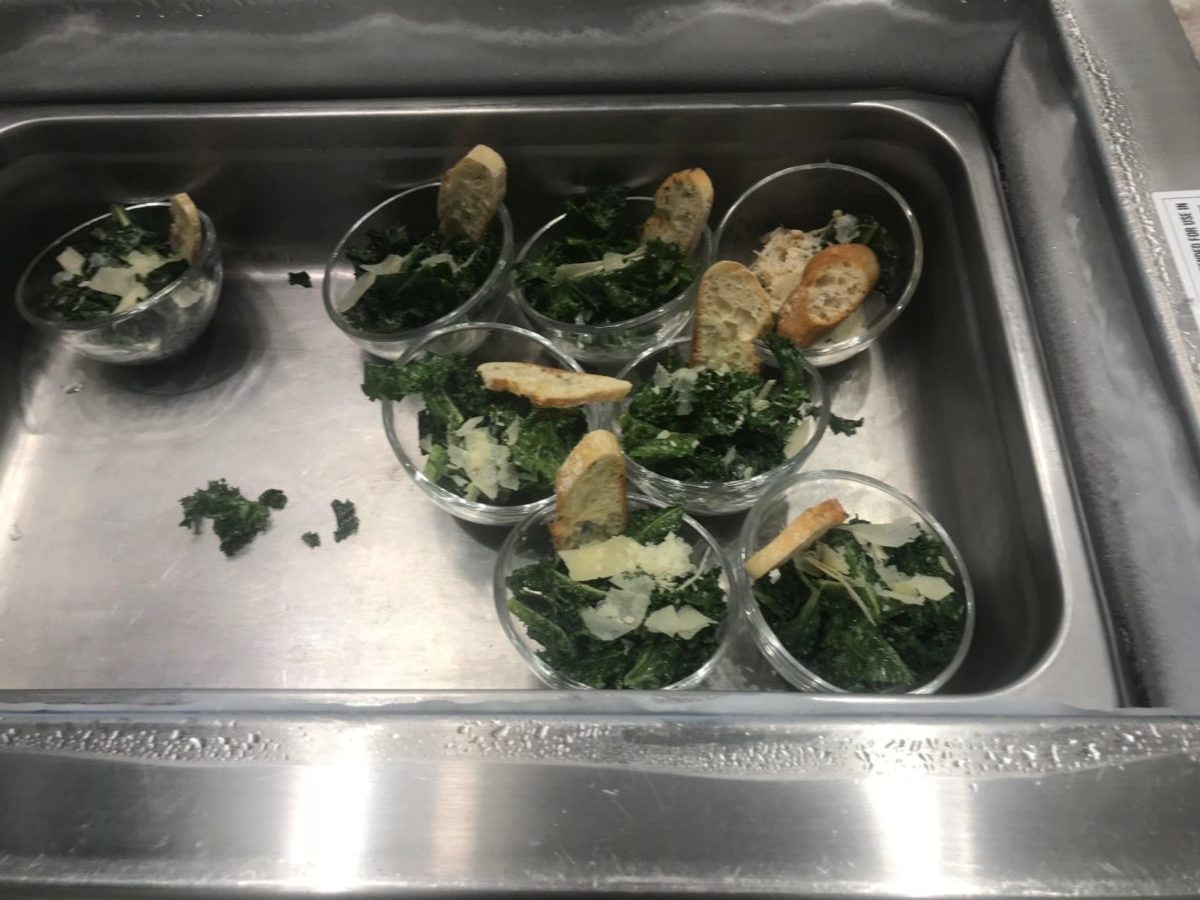 While I personally love this setup – there's no drops of ranch dressing on the carrots, or stray corn kernels in the quinoa – the portions are a bit small.
I'm told that I have an appetite that ranges somewhere between "bird" and "day after Thanksgiving," so I may not be the best benchmark in terms of how filling a dish is, but I could imagine that if you're looking for a meal meal, it may be inconvenient to pick up five single-serve kale salads.
In any event, they also have more informal options, like cheese plates: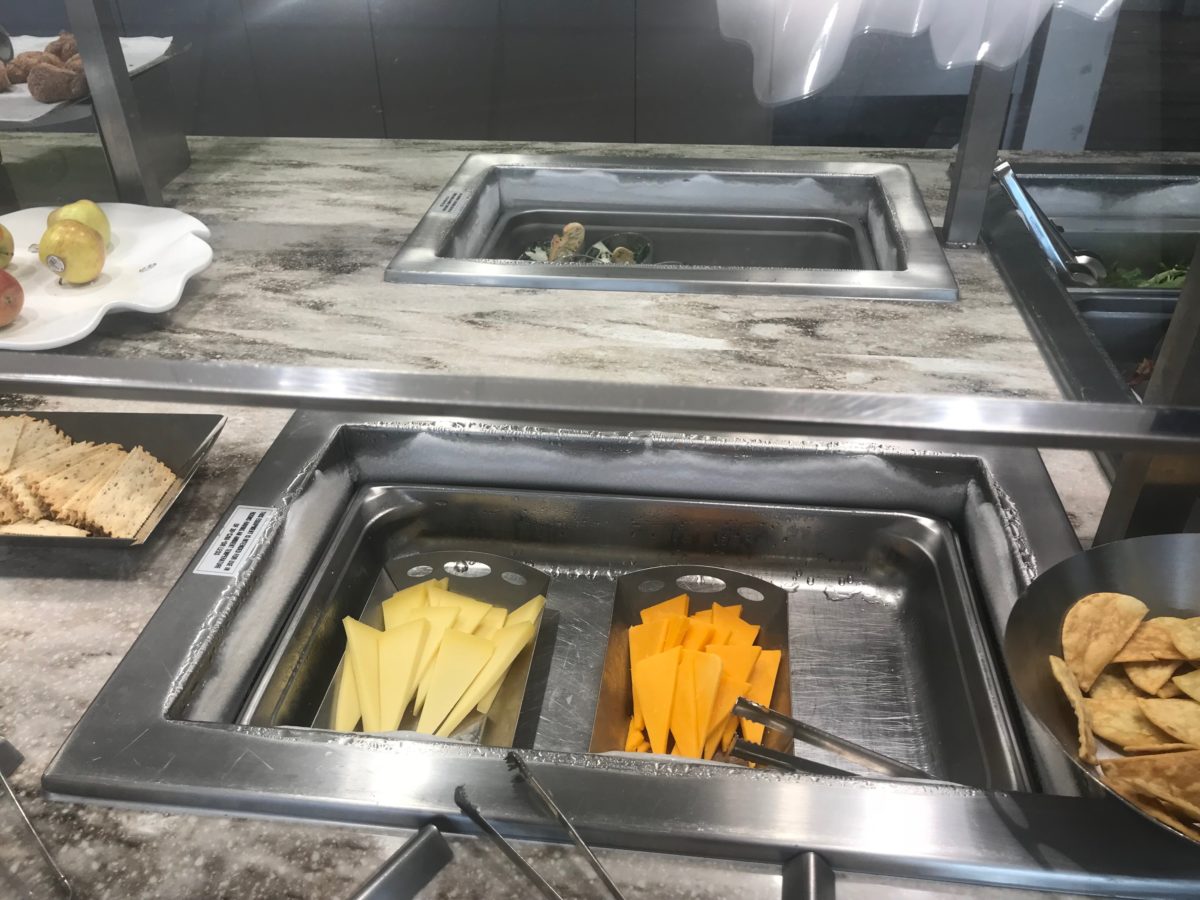 …and a charcuterie board: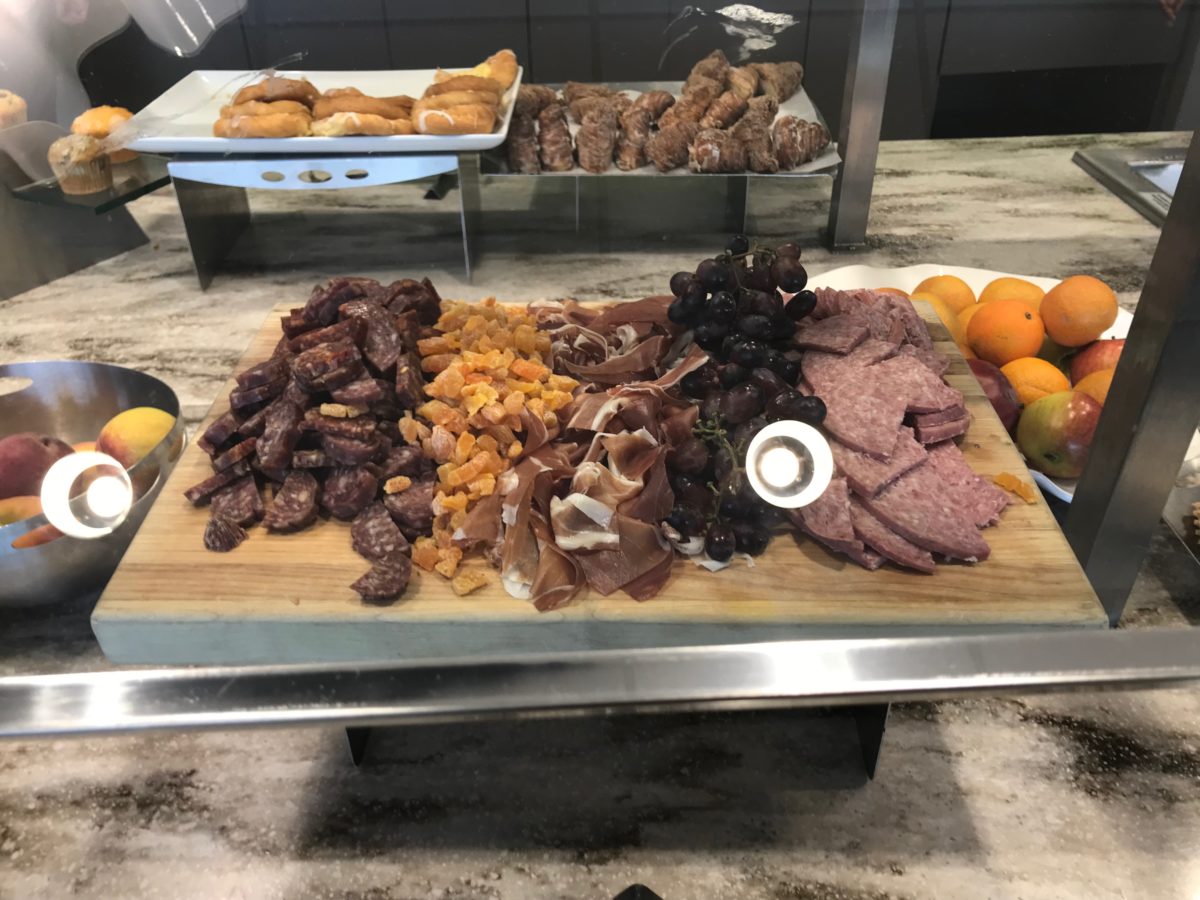 …as well as some less-healthy looking pastry options behind the charcuterie board.
There were also some whole fruit options including…a single, unpeeled mango, in case someone was able to get their Swiss Army Knife past TSA?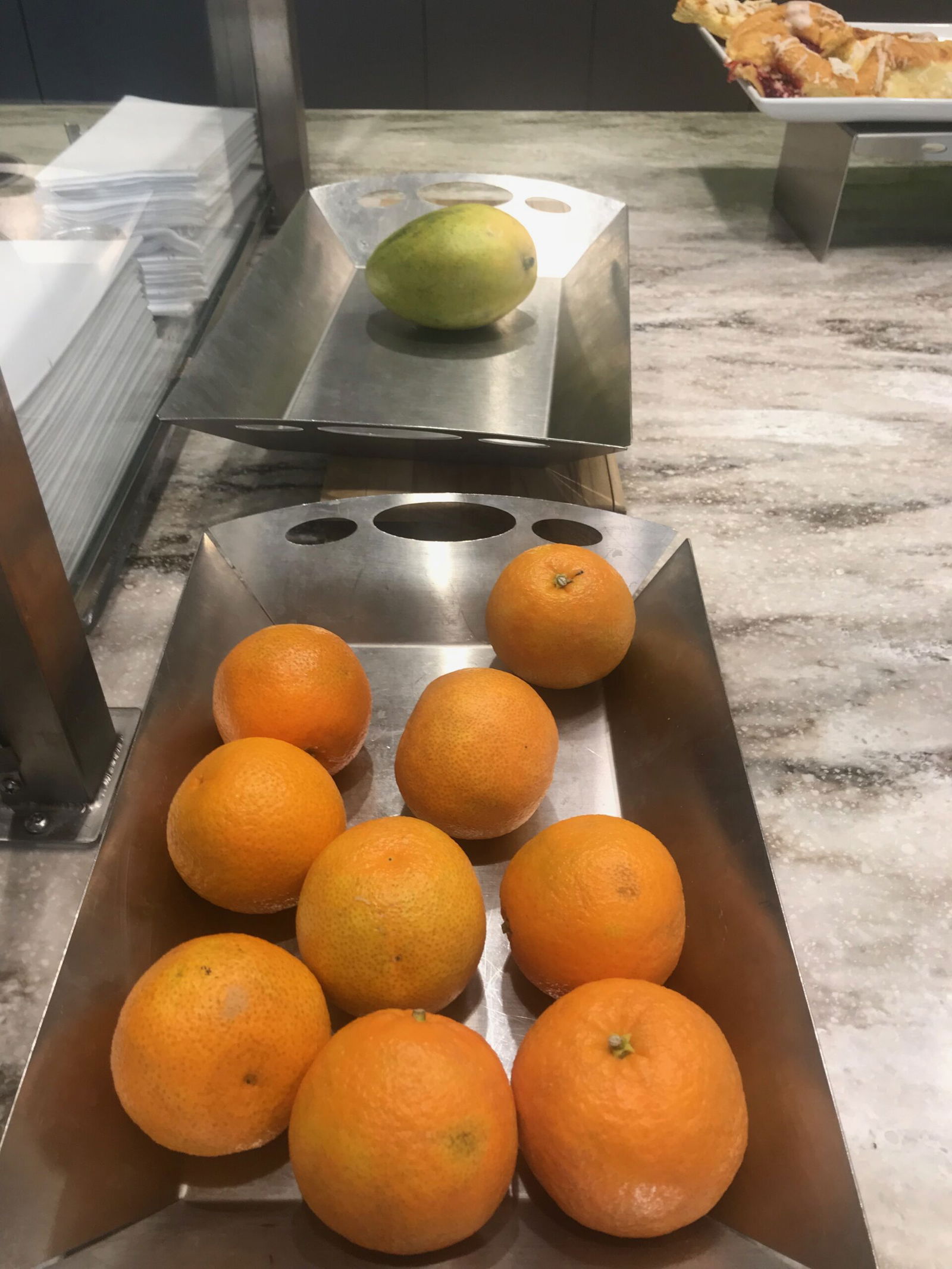 The other side of the check-in area is home to a coffee station: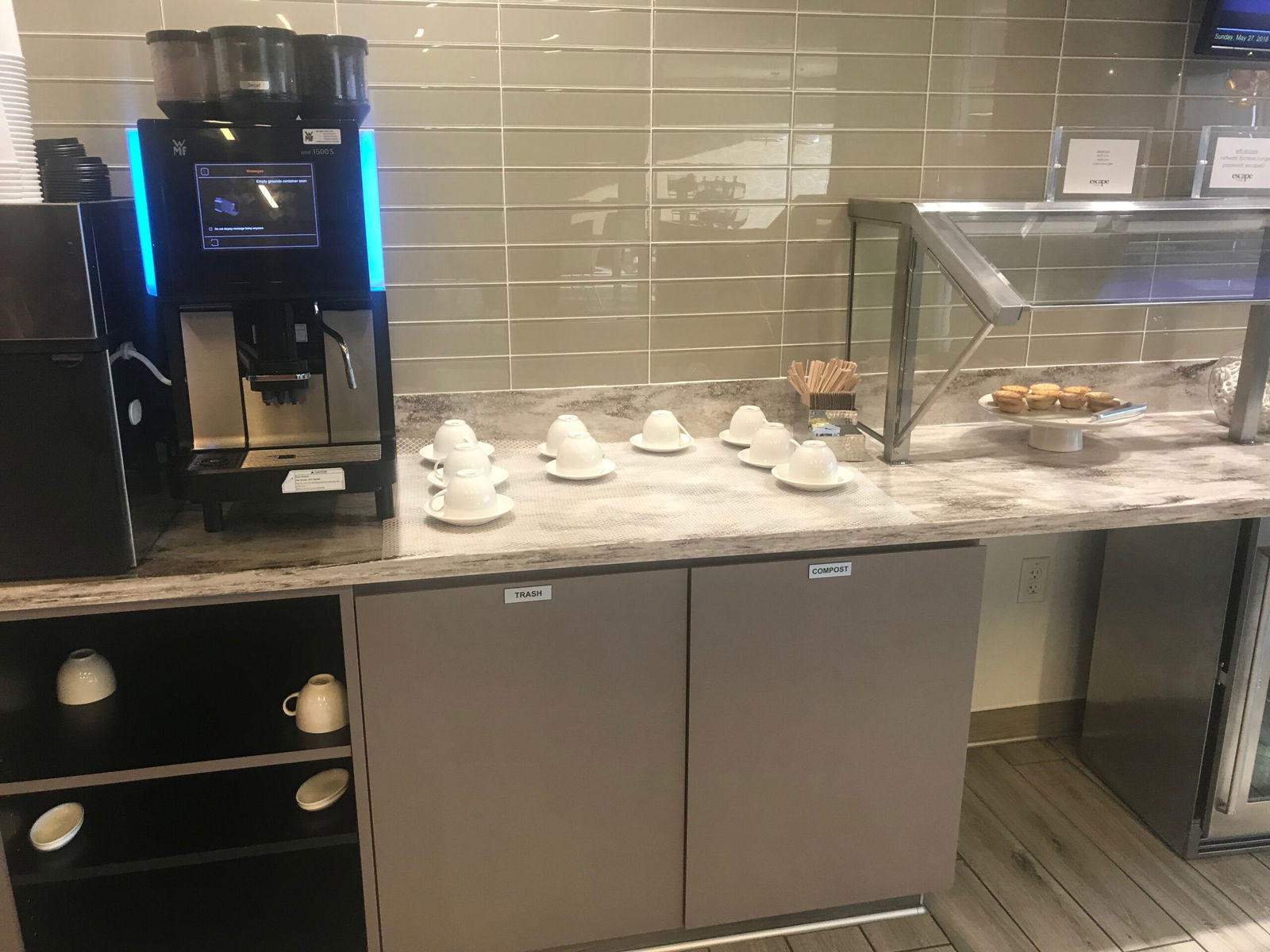 as well as a well-hidden dessert station, with some pretty tasty cherry pies: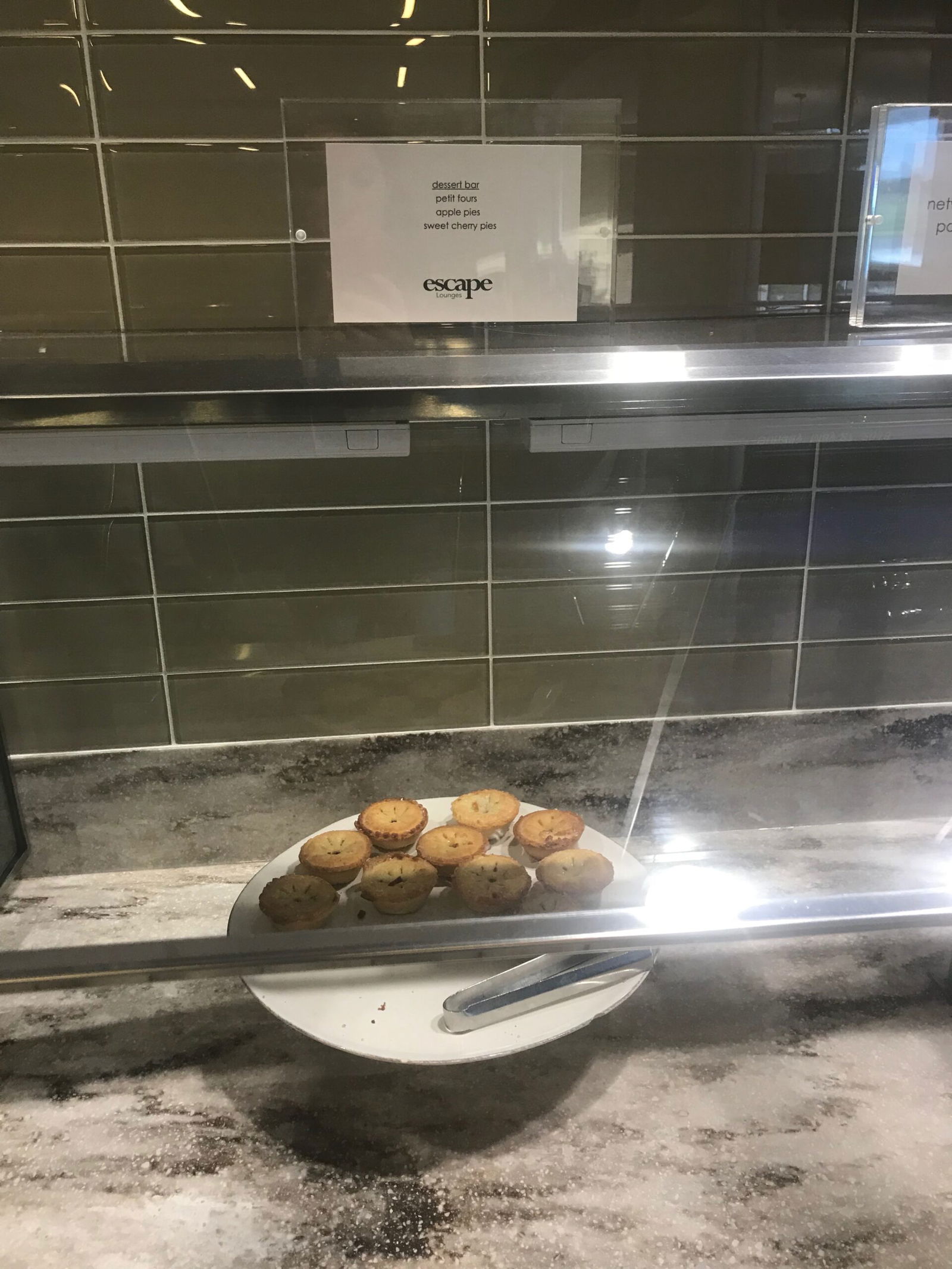 I'll be honest – while I've been really happy with the Escape Lounge food, the coffee is an area that seems to be lacking, both at the MSP and the BDL locations. I tend to gravitate toward lattes whenever I'm in a lounge, and while I don't expect my self-serve drinks to win any barista competitions, they've always tasted vaguely…medicinal to me.
It's never been so bad that I haven't gone back for more, and I haven't gone so far as to regret my drink choices later, but it's an area that could probably be improved in an otherwise-strong menu, and certainly one where MSP's SkyClubs win.
Escape Lounge Bar
The bar setup looked like it would be fairly conducive to socializing – if there were people to socialize with.
Like many U.S.-based lounges, the typical array well drinks, house wine, and beers that I probably wouldn't order plus one microbrew, are all complimentary. Top(ish) shelf spirits and premium wines and beers can also be purchased.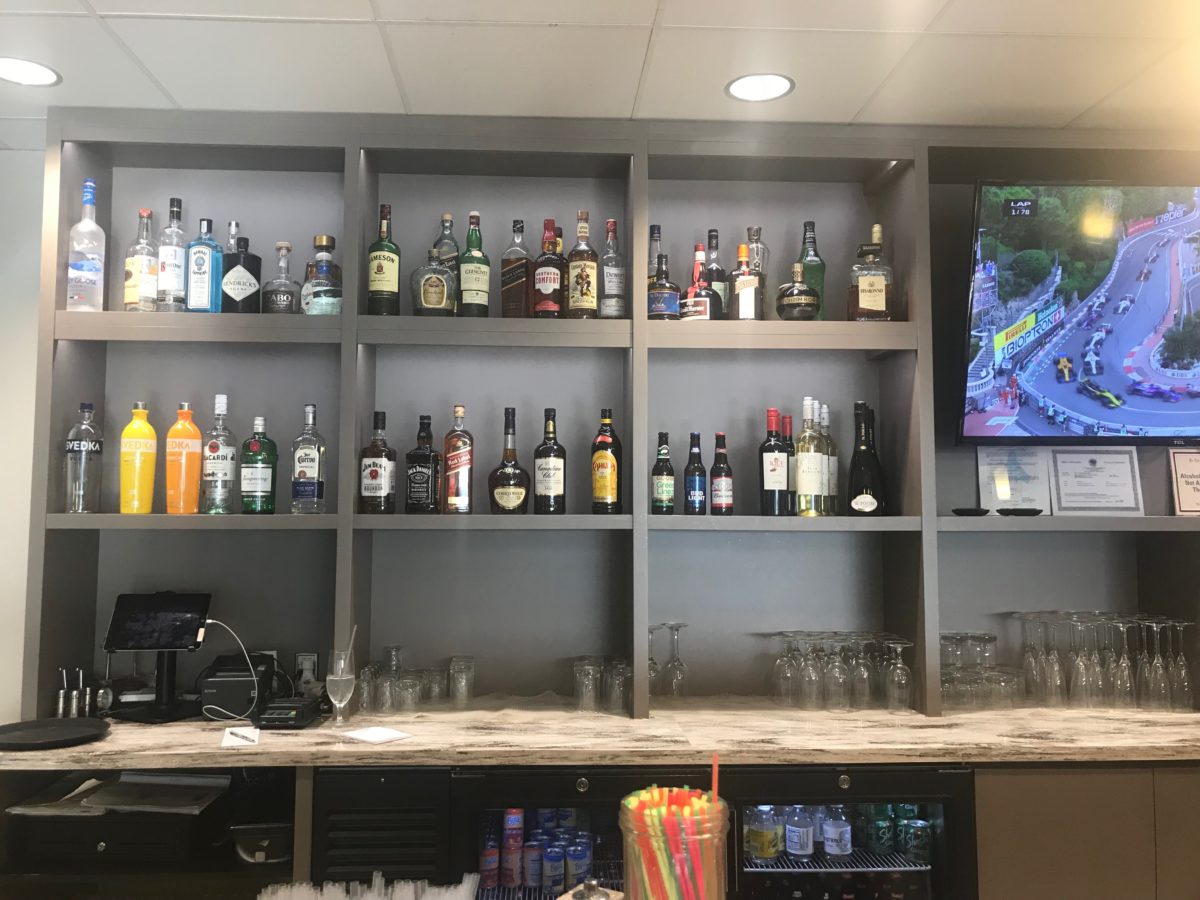 Unfortunately, they didn't have any copies of the menu available, so I wasn't able to snap any pictures, and I really didn't want to bother the staff for one. Escape Lounges do a pretty good job of publishing their menus online, so you can check that out here.
Beers range from $4-$6 a bottle, while wines range from $10-$15 a glass. Spirits can be purchased at $6-$8 a shot.
Escape Lounge Restrooms
This is probably the area where the lounge is most sorely lacking. While there are restrooms located nearby, you have to leave the lounge to use them, and reenter through the front. It's not a huge deal as the staff are used to it, but it certainly detracts from the "premium" experience.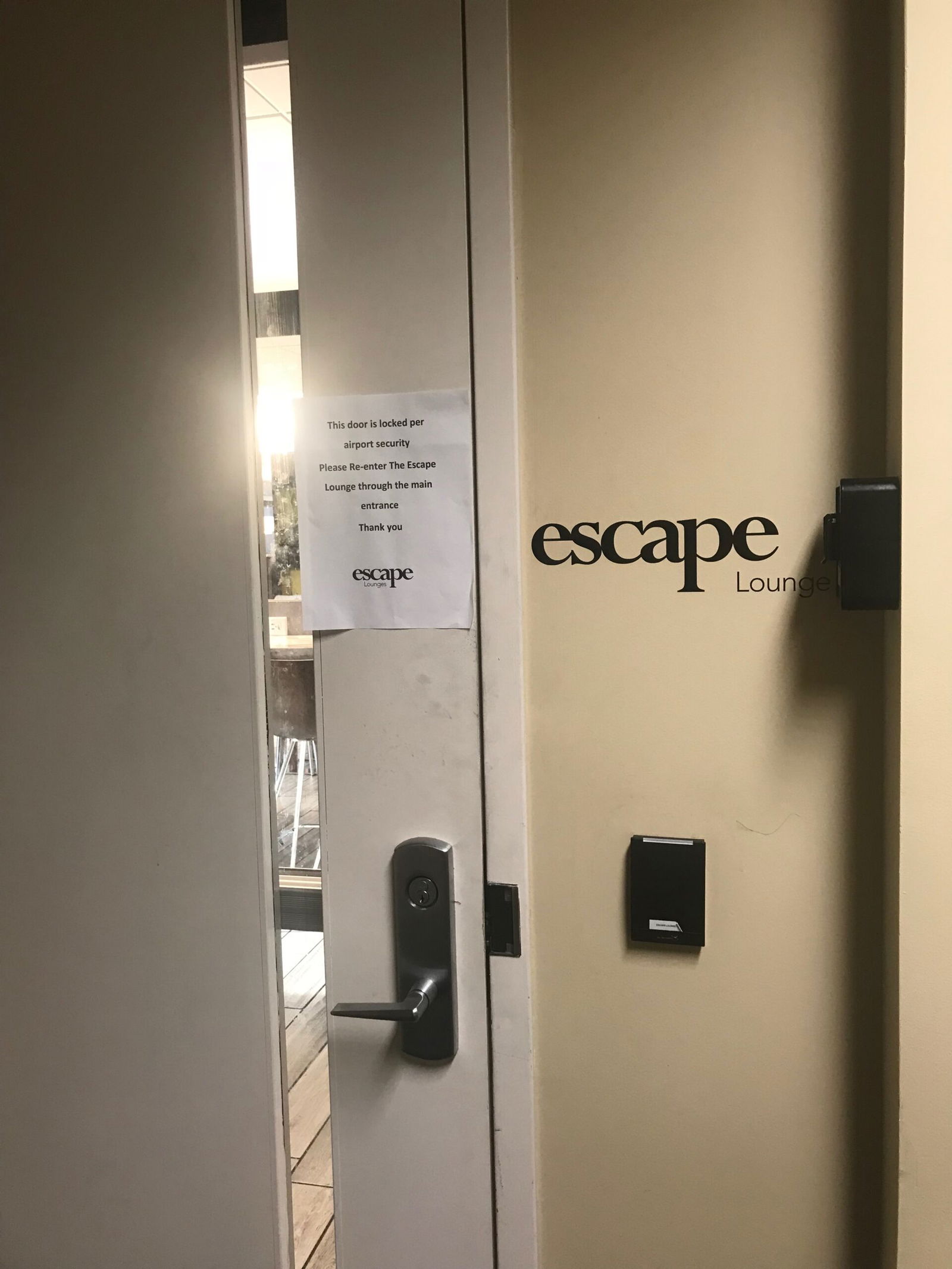 Anyway, here they are. I debated taking pictures of the inside, but decided against it, although I promise there is nothing in there that you haven't seen before.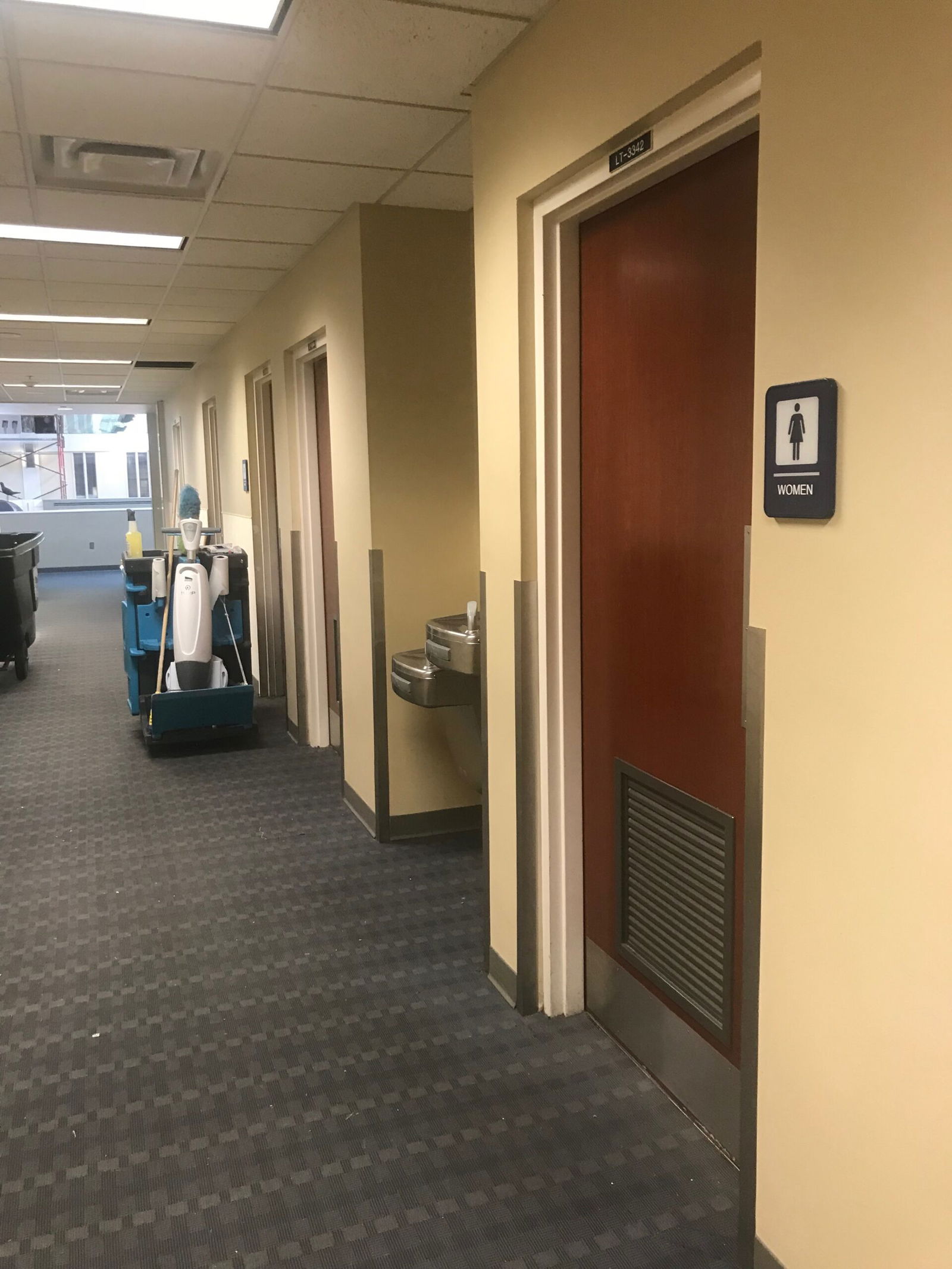 In related news, if you're looking for MSP's least crowded restrooms and don't mind a bit of a walk, then boy, do I have a solution for you.
Escape Lounge Wi-Fi
While I don't have much to show for it in terms of pictures, the Wi-Fi was lickety-split and Netflix-approved. It does require a password, which is posted around the lounge.
Overall impressions
The lack of crowds alone made this visit memorable, and while I know that the holiday weekend made a big difference, I've been back on several occasions and the experience has been consistent. The employees that I've talked to have all indicated that it does get busier at certain times, but I don't think I've ever seen more than a dozen people there.
Aside from the satellite restrooms, the biggest issue was just the lack of staff. It wasn't so much that I minded waiting five minutes for a drink at the bar, considering I basically had the run of the place, but I just felt badly for them. They seemed to be scrambling a ton, and I don't think I've ever heard the phrase "I'm so sorry for the wait" so many times in a single sitting, let alone at an airport lounge.
The couple who packed half a dozen sodas in their carry-on didn't seem to mind the lack of staff, though.
Bottom line
You're not going to find massage chairs, nap rooms, or day spas here. And frankly, that's okay – because they really get the basics right. With solid food options, minimal crowds and lightning-fast Wi-Fi, there's little to argue with here. The day pass might be a bit of a tough sell – MSP has plenty of solid dining options and they already offer free Wi-Fi – but frankly, I think this is a no-brainer for American Express Platinum Cardholders already passing through.
As a matter of fact, given the overall lack of crowds that I've experienced, I would even go so far as to say that I prefer the Escape Lounges over the Centurion Lounges.
So while I'll probably beeline to the C-Gate SkyClubs if I find myself flying out of Siberia the A-Concourse, I absolutely won't hesitate to come back if I find myself with the time.
Have you spent much time at MSP's Escape Lounge, or any of the others? What are your thoughts?