Emirates has just rolled out an A380 with a very special livery. Specifically, this five year old A380 is now sporting a "Year Of Tolerance" livery, which depicts people from diverse backgrounds and cultures holding hands in solidarity.
This is intended to celebrate "the UAE's message of multiculturalism," as 2019 is the "Year of Tolerance" in the UAE. This is being done just ahead of the UAE National Day, which is on Monday.
Yes, perhaps there's a bit of irony to the UAE being a champion for tolerance, but I do think it's a pretty livery, at least, and in theory I appreciate the message.
Today this A380 operated a very special 90 minute flight, with flight number EK2019. The A380 flew at low altitudes across the UAE, including over Um Al Quwain, Ras Al Khaimah, Fujairah, Al Ain, Abu Dhabi, Sharjah, and Ajman.
Emirates even set the Guinness World Record for the most nationalities on an aircraft. The over 540 passengers on the plane were 145 different nationalities.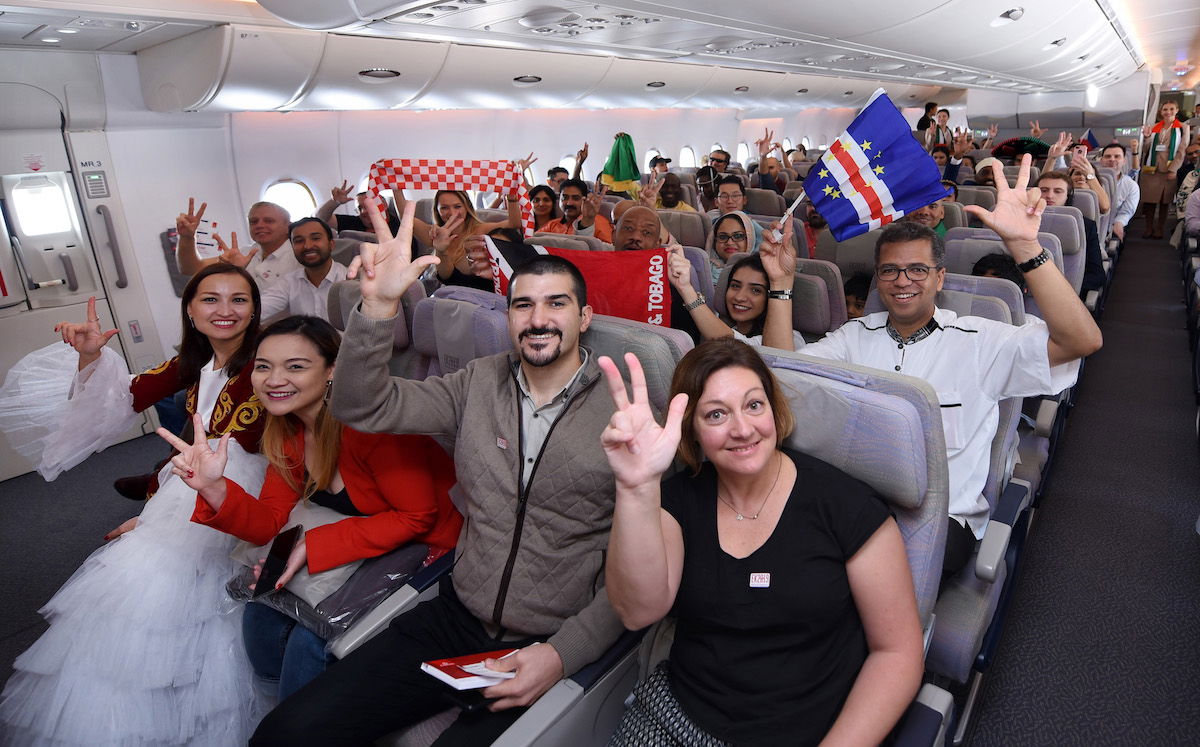 There were three pilots — Captain Abbas Shaban (Emirates' Chief Pilot), Captain Sheikh Saeed Al Maktoum (I think the title needs no introduction), and First Officer Karin Arning (from Germany).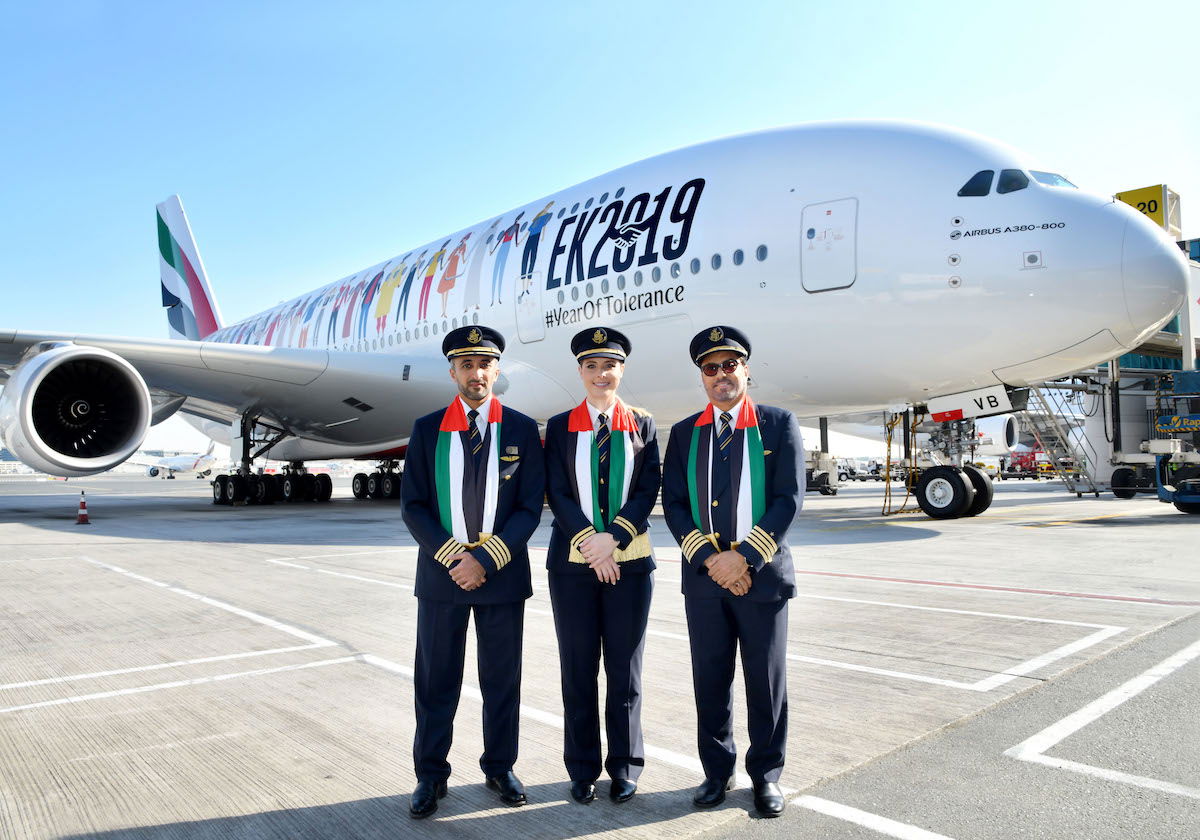 Meanwhile the 22 cabin crew were from 18 countries, and interestingly enough were led by an Emirati national (Emirates has very few "local" flight attendants).
Again, maybe it's just me, but if the goal is to promote multiculturalism, why are three of the four highest ranking people onboard locals? Shouldn't they be doing everything they can to promote how people from all over the world make the country run?
Emirates notes that the average Emirates flight has about 15 nationalities among the crew, and carries an average of more than 50 nationalities in total.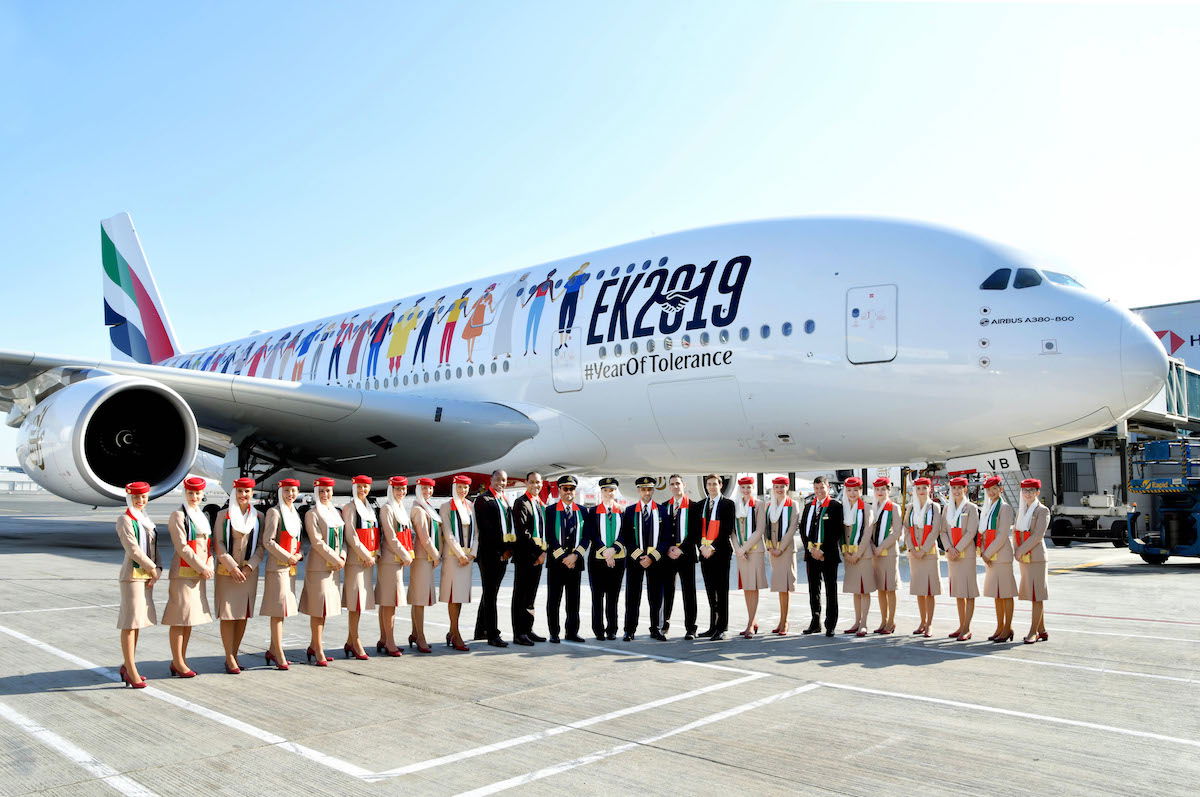 Bottom Line
This is a cool initiative, and there's no doubt that the UAE has a lot of nationalities. It's probably what I like most about the UAE, because there aren't many places where you'll naturally interact with people from so many countries in a given day.
At the same time, the concept of the UAE championing tolerance is interesting. Don't get me wrong, as far as countries in the region go, the UAE is progressive, but I'm not sure I'd go so far as to say that the country is openly "entrenching the values of tolerance, dialogue, coexistence and openness to different cultures" in the way that this initiative is intended to.
On a day-to-day basis I do find the country to be pretty "open" to people, but I wouldn't say that's systematically reflected in the laws.
Sorry, that probably ended up getting a bit more political than it should have. Just my two cents…