Emirates' first class has long been known for being one of the most blingy products in the sky. The way I see it, Emirates has always lead the industry when it comes to being extra. I mean, this is the airline with onboard showers, and also the airline with in-suite minibars, snack baskets, writing kits, etc.
I think it's safe to say that Emirates is the very definition of extra (for those of you not familiar with the term "extra," I think my favorite definition is this one from Urban Dictionary: "Doing the absolute damn most. For no reason.").
Yesterday I had the chance to fly Emirates' new first class to Brussels. To be honest, I didn't think the product could get any more extra than their old first class. But it did. And in this post I wanted to share seven of the most extra things about it.
I'm talking about really over the top extra things. Like, things that are so over the top that the in-suite temperature control, the ability to control the color of your mood lighting, the personal minibar, etc., don't even make the cut. Yes, Emirates' new first class is even more ridiculous than that.
So, in no particular order, here are the most hilariously extra things about Emirates' new first class:
Order room service… by video
In the old Emirates first class there were only two ways you could order something from the dine on demand menu. Either you had to push the call button and talk to a flight attendant, or you could call the flight attendants via your in-suite phone. When you really think about it, that's sort of unacceptable — what is this, the 21st century? People aren't paying thousands of dollars to only have two options for requesting caviar and Dom.
Good news! There's now a third way you can order stuff. Specifically, you can initiate a video call with the flight attendants in the galley, who in reality were roughly three feet from my fully enclosed suite while we had this virtual conversation.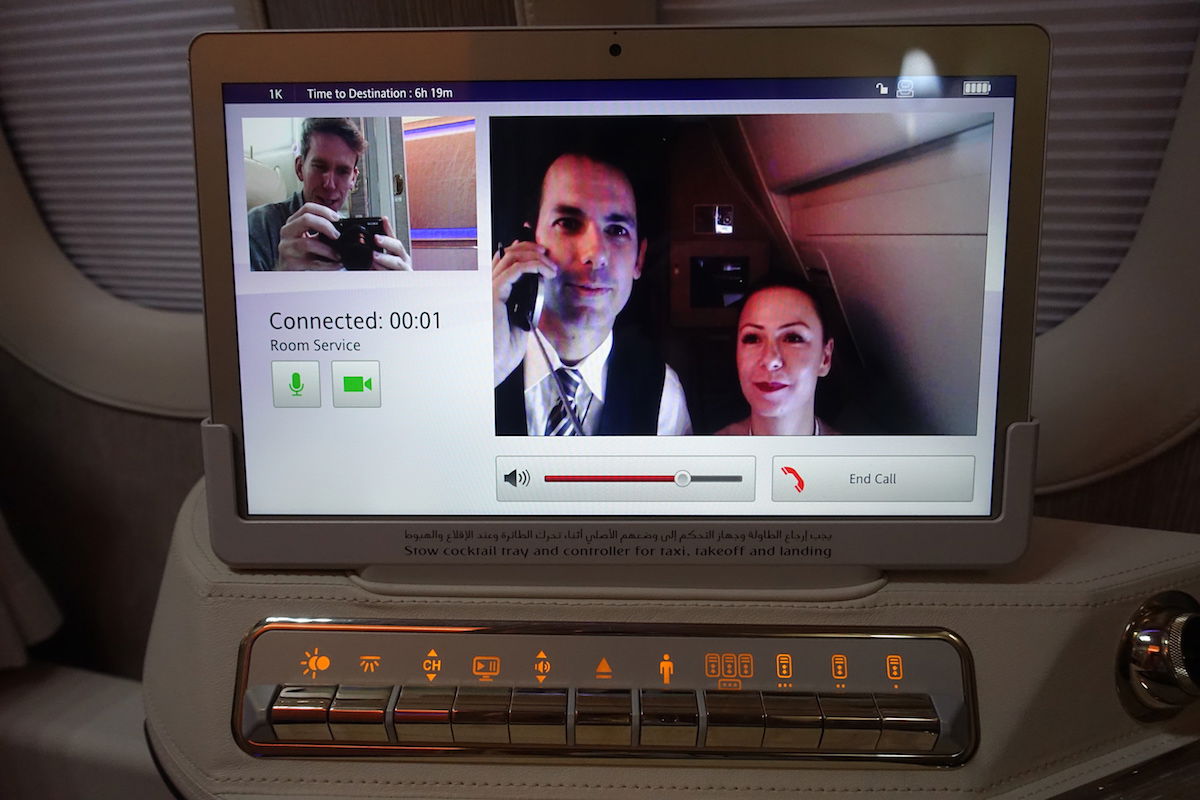 The hatch
Emirates' new 777 first class is the world's first fully enclosed first class suite. It's enclosed from floor to ceiling, unlike all previous first class products. Personally I didn't find the suite to be claustrophobic at all, though there was something about the hatch that gave me jail vibes. Rather than having to open your suite door, there's an opening closer to the front of the suite through which the crew can serve you a drink, etc.
I felt like a pretty posh prisoner…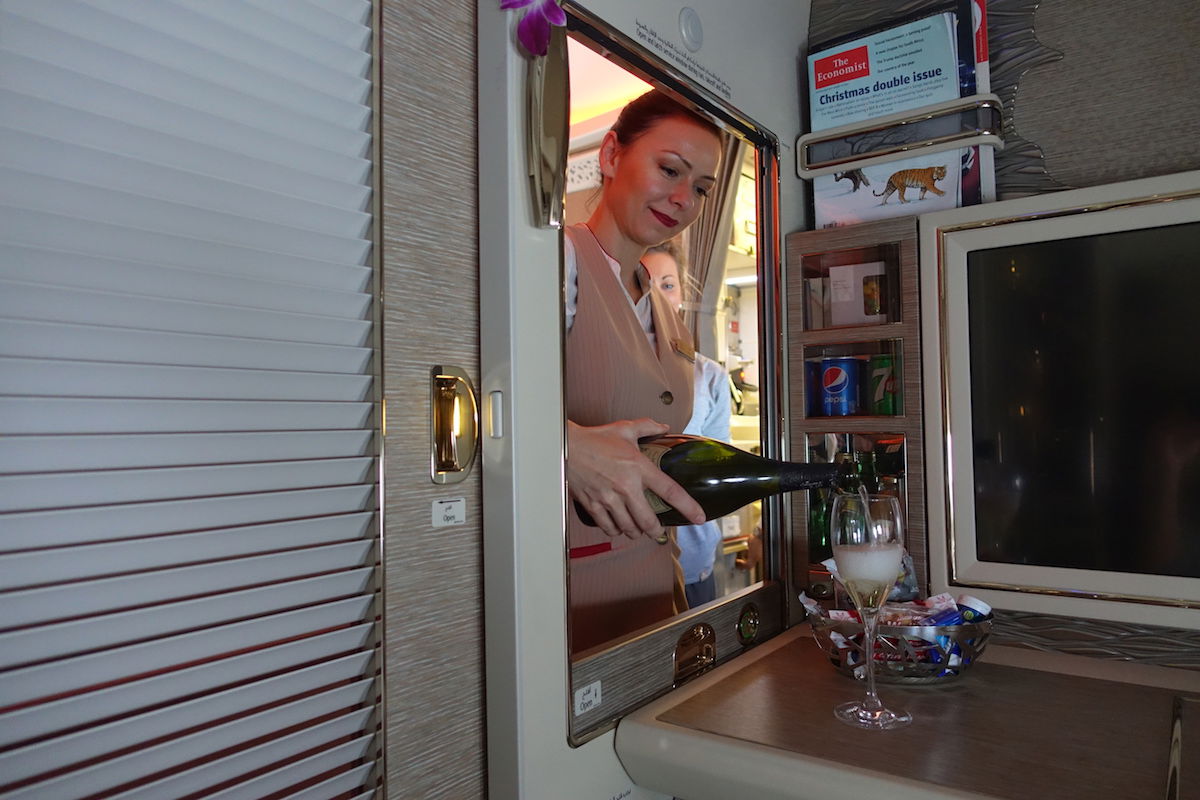 Binoculars
Emirates' new first class suites come with binoculars, because… well, I'm not actually sure why. Nonetheless I felt like because I was offered them I had to use them, though after using them for about three seconds I felt really ridiculous (who uses a pair of binoculars from their airplane seat?!), and put them away.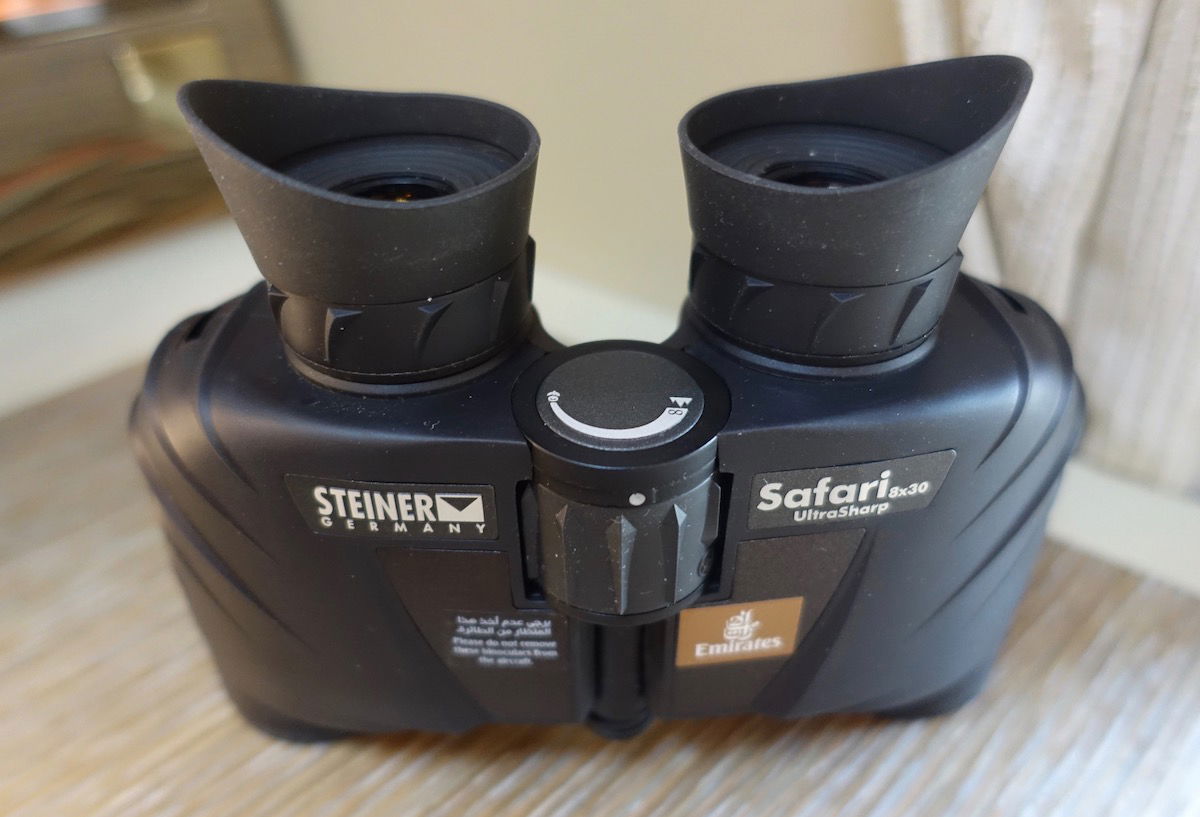 Curtains to nowhere
Emirates' first class seats have automatic blinds, so you don't even have to close the window shades manually like you'd usually have to do on a plane. They close with the push of a button, and then there's full darkness.
So you might ask yourself (and actually several people have already asked me) "why are there curtains to draw in front of the windows when they're fully dark? Because Emirates, d'oh!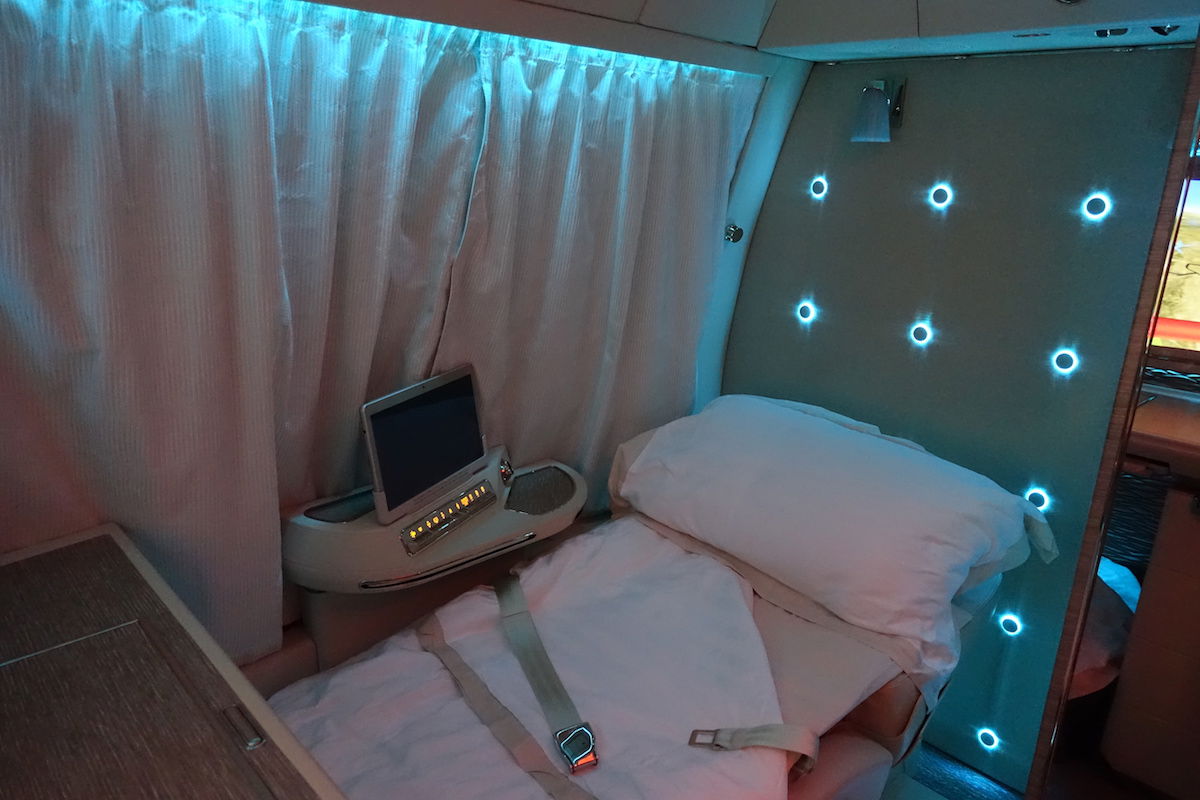 Virtual windows
Maybe this isn't actually extra, but rather it's just plain cool. Usually people dread being in a middle seat (okay, maybe less so in first class than economy), though Emirates solves any downside associated with that with their new product. That's thanks to their virtual windows, which broadcast exactly what you'd see outside the windows. And yes, even the virtual windows (which can be shut off) have the unnecessary curtains.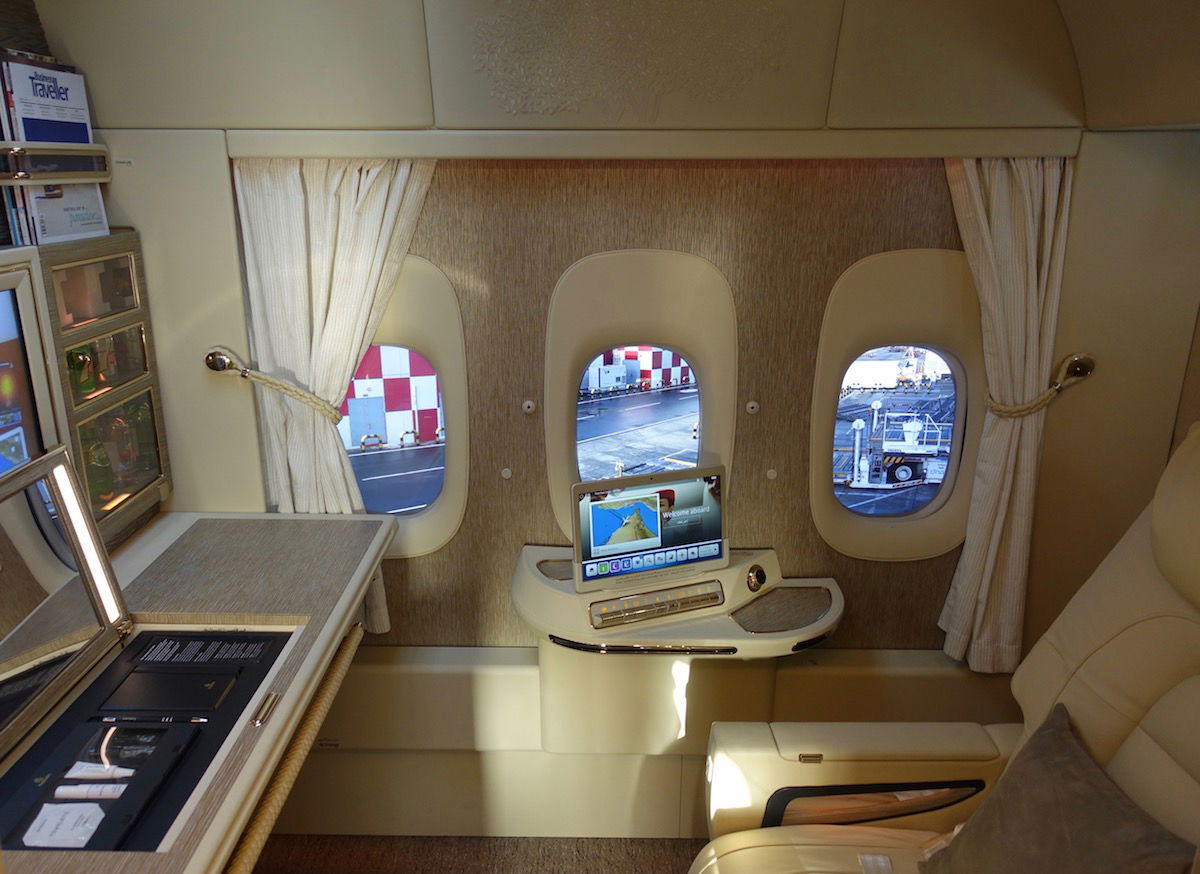 Adjustable floor lighting
The new Emirates first class suite has a ridiculous number of lighting options. Like, the options are endless. You can pick your color, you can pick the intensity, you can control different lights in different ways, etc. I could have probably spent the entire Dubai to Brussels flight just changing the lighting seconds.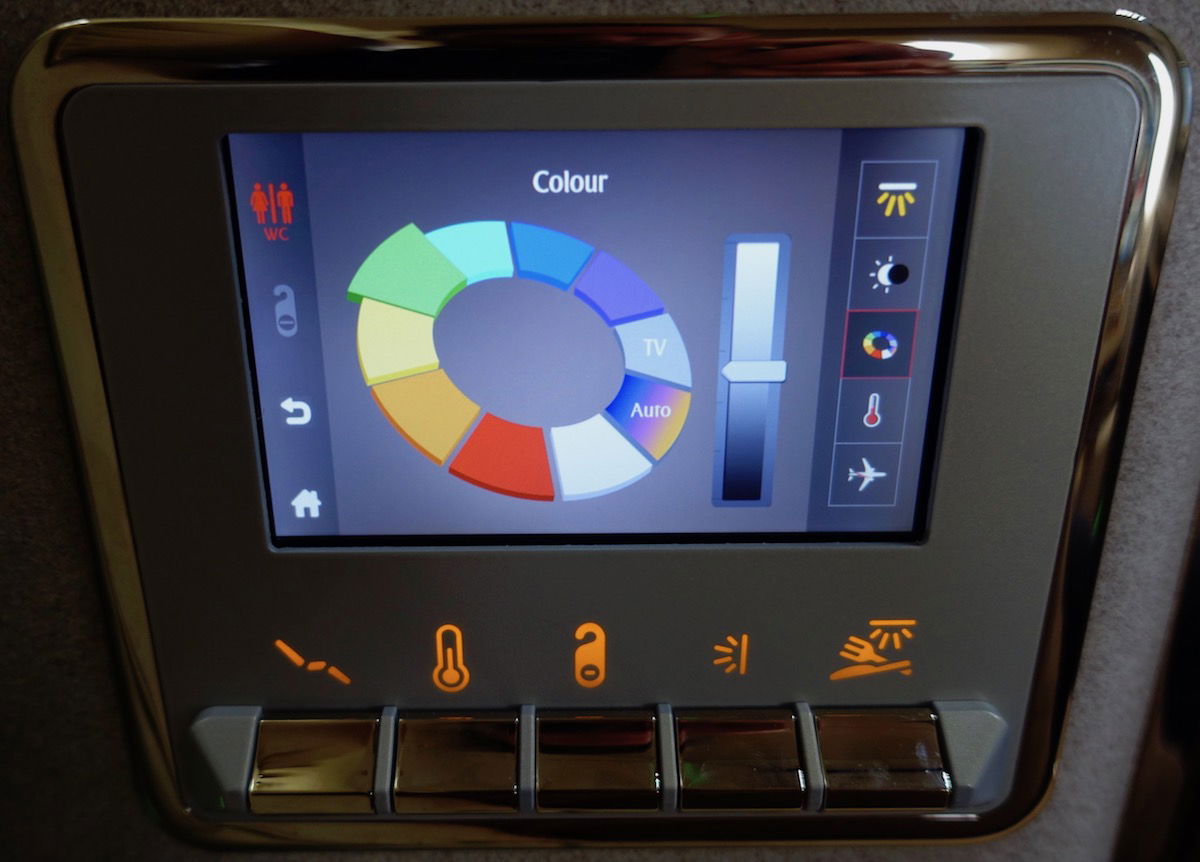 However, that's not the aspect of the lighting that amused me the most. Instead what impressed me the most was the in-suite adjustable floor lighting.
Think about that for a second. When designing this seat, someone said "you know Tim, something's missing. I don't think the hundred current lighting options are sufficient. We should also add adjustable floor lighting, just to be on the safe side."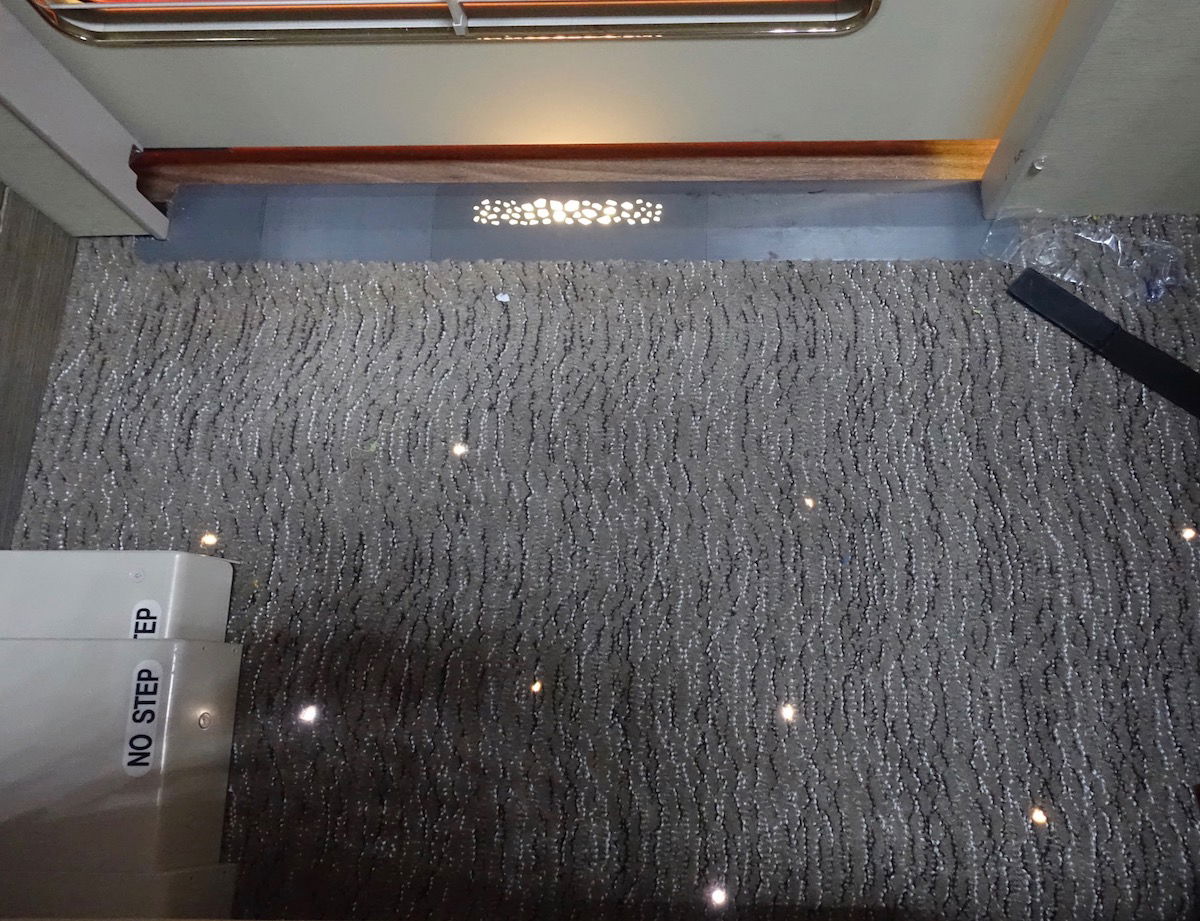 Personal bars of soap
There are a lot of airlines with high end toiletries in their first class lavatories, though typically at best you're still getting liquid soap. Emirates instead decided to offer individual, one time use, bars of soap. As one does, when they have guests.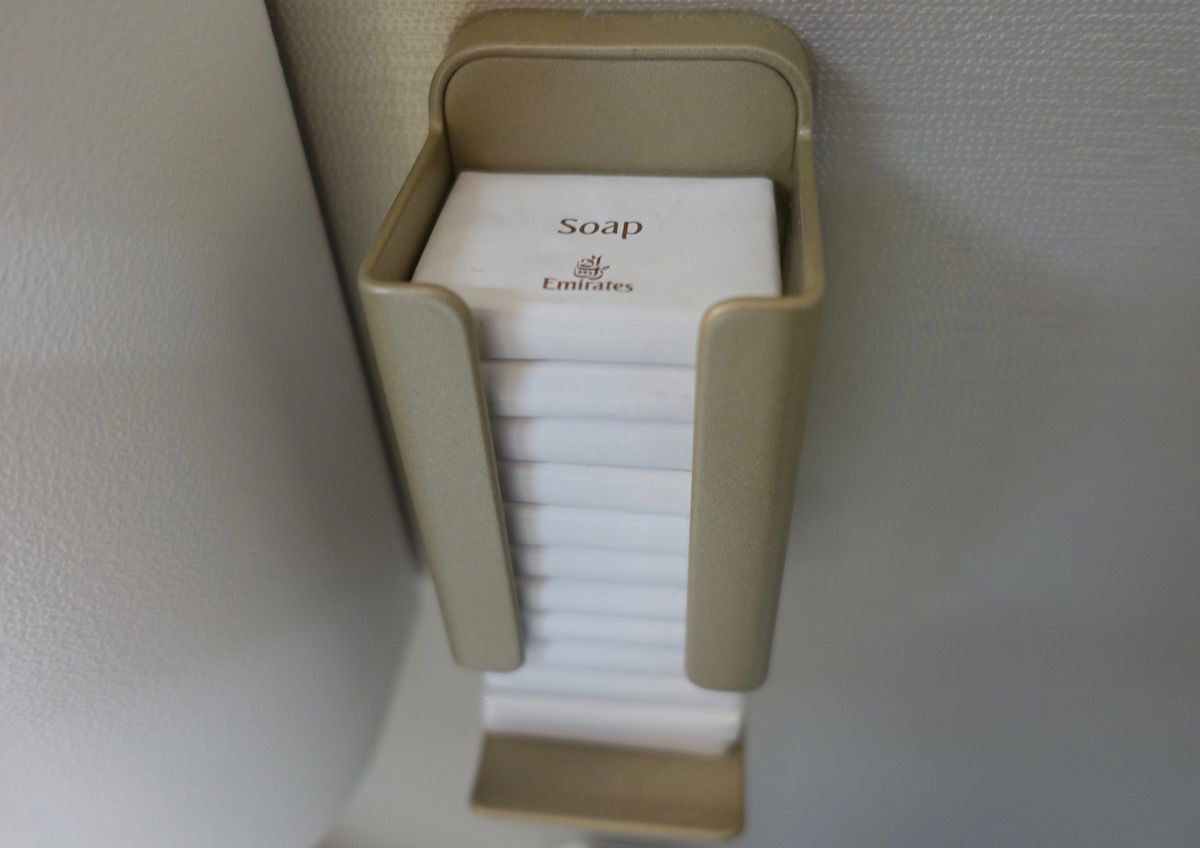 Bottom line
Prior to them introducing their new first class, Emirates already had one of the most extra first class products out there. Well, they just changed the goalpost on that front yet again. I found myself laughing out loud several times during the flight at just how ridiculous some of the features are.
Stay tuned, next I'll cover my thoughts on the cabin as such, and whether I think this is the world's best first class product.