Compared to airlines in the rest of the world, the Gulf carriers are still pretty "full service" across the board. However, they're increasingly trying to cut costs and monetize their products, and that's true regardless of what cabin you're flying in.
As of last October, Emirates began charging for seat assignments for those on many economy fares. Specifically, those booking Economy Special and Economy Saver tickets have to pay for seat assignments in advance, while those in Economy Flex and Economy Flex Plus can continue to select seats for free in advance.
It looks like Emirates sees more opportunities to monetize economy seat assignments, as they've changed their seat assignment fees as of August 20, 2017. The changes aren't necessarily bad news — that's to say that passengers have more access to special seats than they had before, for a fee. As a starting point, here are the terms & conditions for Emirates' seating policy prior to August 20, 2017, and then the policy as of August 20, 2017.
Under Emirates' new seating policy, they have four different types of economy seats:
Regular
The standard seat in Economy Class designed for ultimate comfort.

Preferred
A seat closer to the front of the plane, allowing you to disembark quickly.

Twin
A row of two seats at the back of the 777 aircraft and at the front of the aircraft on the upper deck of the A380, usually closer to the onboard lavatories.

Extra Legroom
An exit row seat with extra legroom. These seats may also be closer to the lavatories or galley on some aircraft.
It's nice to see that even Emirates' regular economy seats are "designed for ultimate comfort." 😉
So, what are the fees to select seats in advance? Anywhere between $15 and $135 per segment, depending on the type of seat you're going for: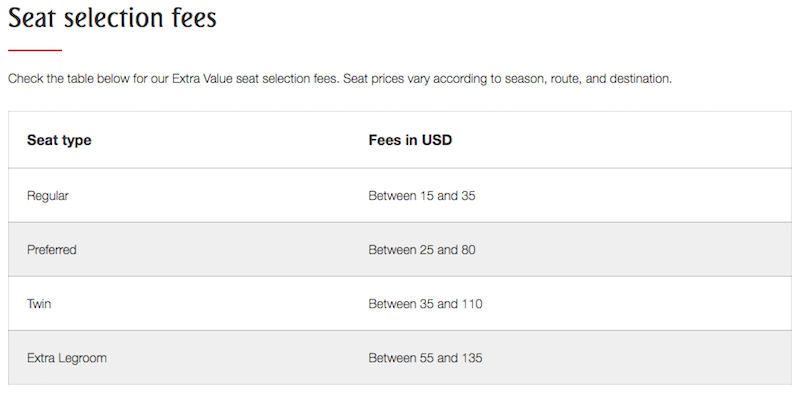 I can understand that seating prices vary by route and destination, but also by season? Interesting…
Keep in mind that most passengers flying Emirates are connecting in Dubai, and are flying at least four segments roundtrip. That means assigning seats for a roundtrip ticket could cost anywhere between $60 and $540 per person. Ouch.
Elite Skywards members do receive certain seats for free, depending on their elite tier: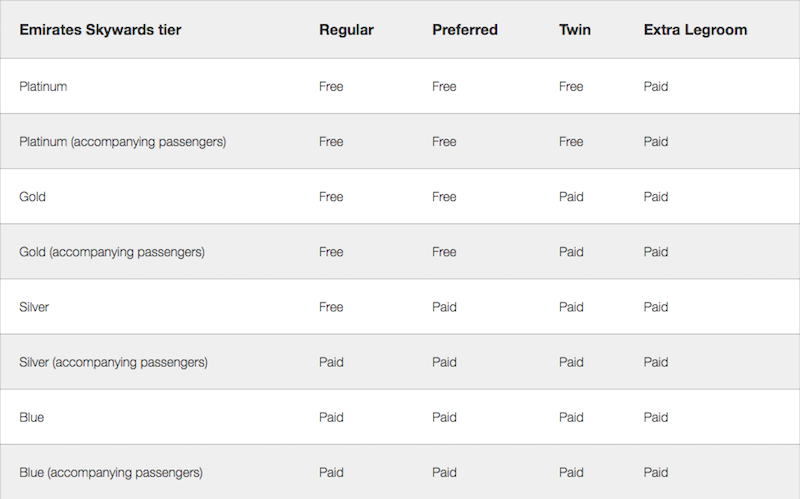 I find it incredibly cheap that they don't even offer Platinum members free exit row seat assignments in advance, or Gold members free "twin" seats in advance. At a minimum you'd think they'd offer discounted access to those seats. While the Gulf carriers offer an all around superior experience, I find their loyalty programs to be weak. You'd think they'd want to encourage passengers to choose one Gulf carrier over the others, but the programs doesn't offer much compared to what else is out there.
While Emirates is definitely increasingly monetizing economy seat assignments, I can't for certain that these changes are negative across the board. For example, in the past Platinum members couldn't even select exit rows in advance (they had to be requested at check-in), while now people at least have the option of paying for them in advance.
Still, given that most passengers on Emirates are flying four sectors roundtrip, in some markets you're potentially looking at paying almost as much for seat assignments as you'd pay for a ticket in the first place.
(Tip of the hat to LoyaltyLobby)