Update: Read my full EL AL Business Class 787 Newark To Tel Aviv review.
Hello from Israel (at last — I'm so excited to finally be here)! My mom and I just flew EL AL's new 787 business class from Newark to Tel Aviv, and I wanted to share my initial impressions in this post. EL AL began flying their 787 to the US just a few weeks ago, so I'm happy I had the chance to experience the new service within the first few weeks.
I have to be honest, I came in with low expectations. Most of what I've heard about EL AL has been pretty negative, given their outdated first & business class seats, which are one (or possibly two) decades past their prime. However, the 787 seems to represent a new chapter for the airline… and I was blown away!
EL AL has a staggered configuration in business class on their 787. Their seats are very similar to United's new Polaris seats.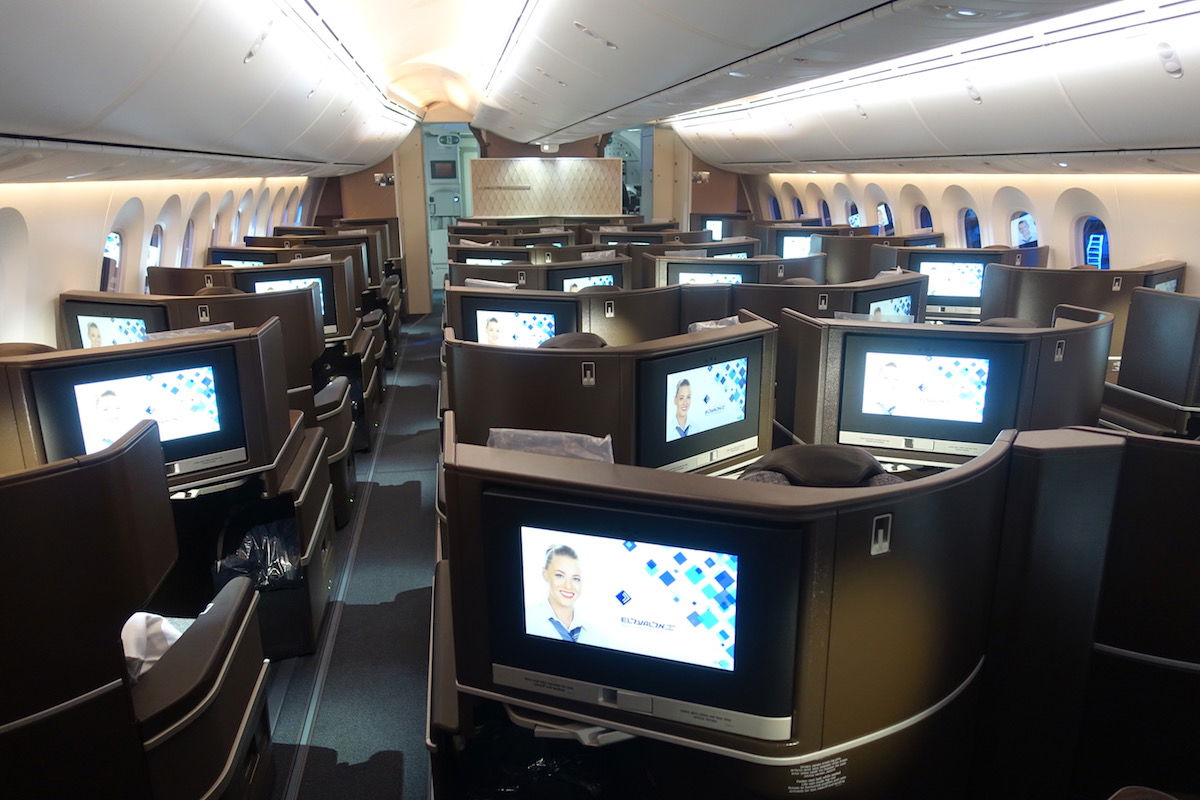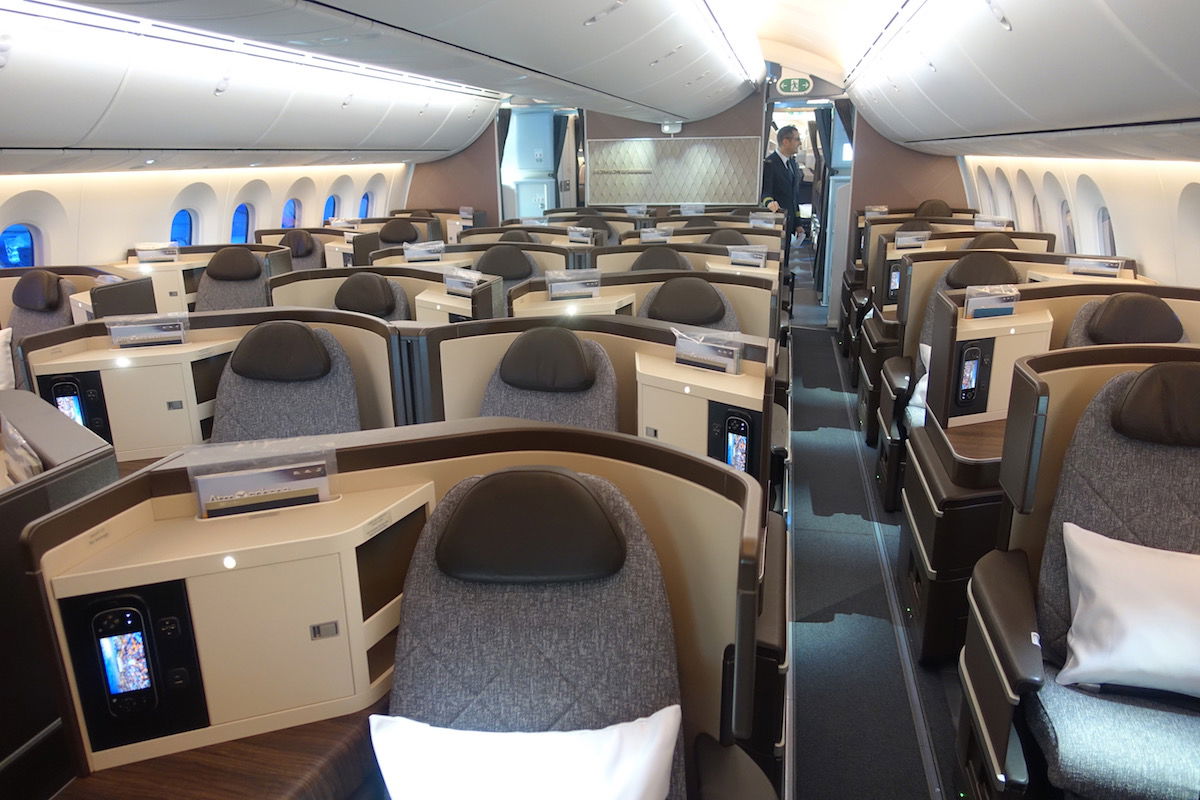 These are solid fully flat seats with direct aisle access for everyone. They're a bit on the tight side, though. That's not because of EL AL's design, but rather because the 787 is a bit narrower than the 777, so the footwells are also a bit narrower. I still prefer reverse herringbone seats and Apex Suites, but these are solid seats. I also think EL AL did a great job with their cabin finishes.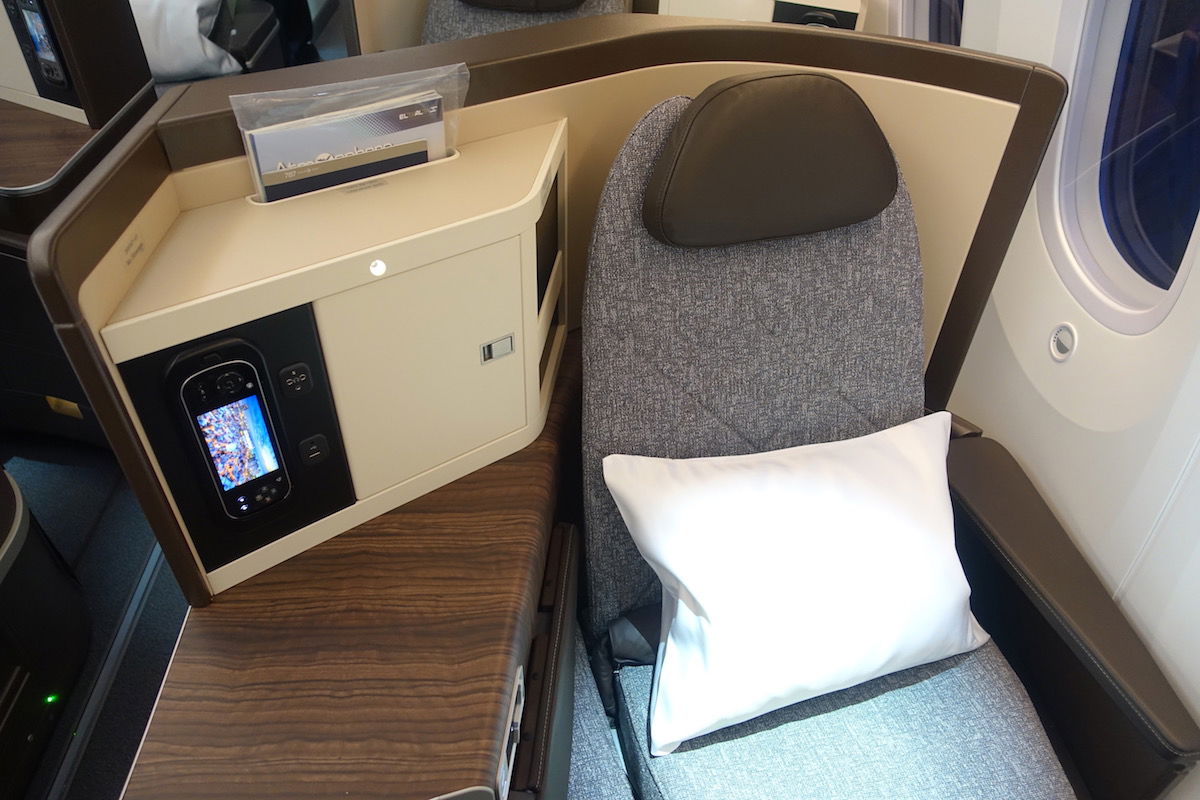 In terms of amenities, there was a fairly basic Salvatore Ferragamo amenity kit.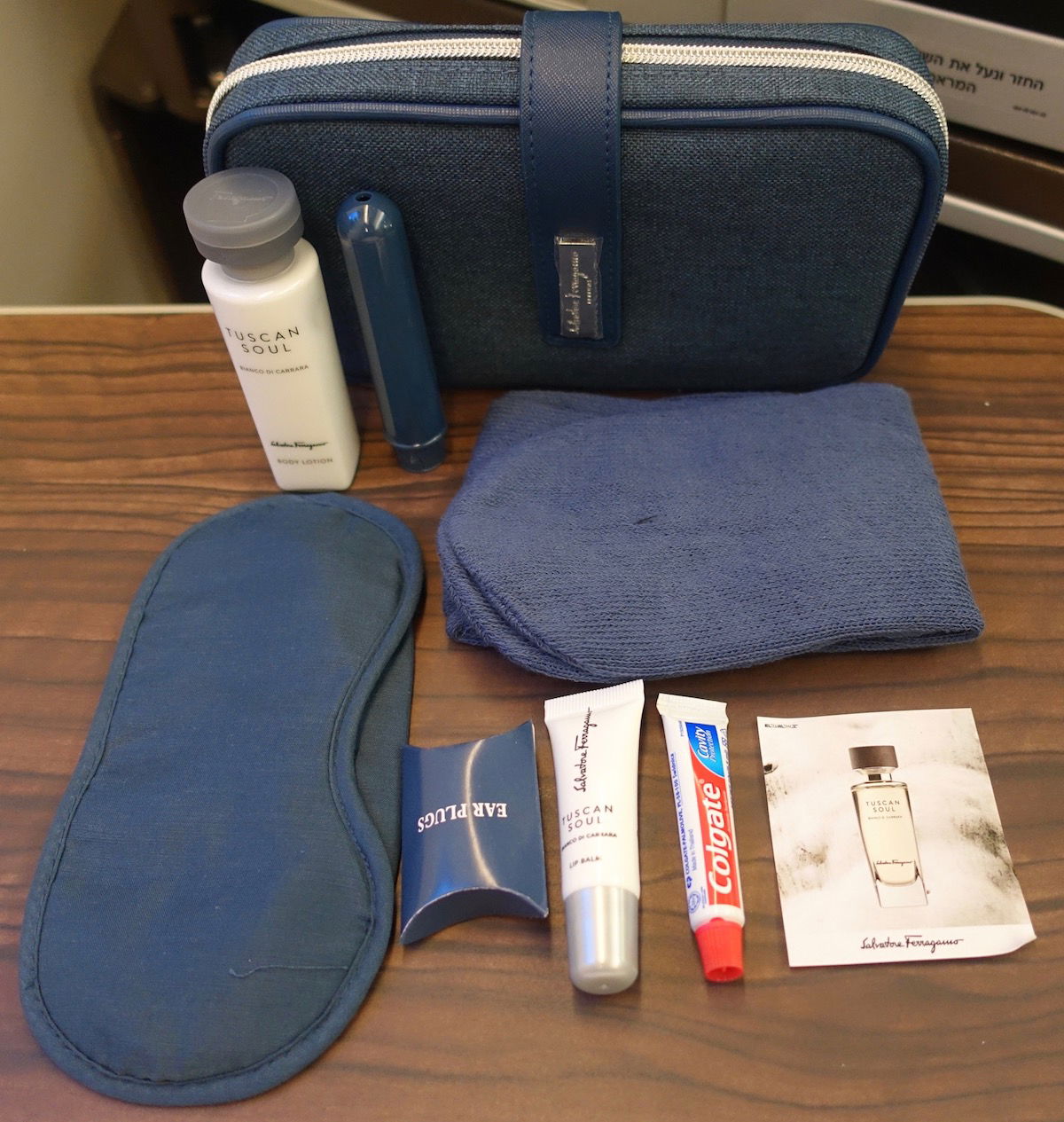 Then there was a pillow and blanket. The pillow was plush, and the blanket was thick without being warm, so they were both better than I was expecting. There's definitely better bedding out there, though, and it would be great to see them eventually invest in that.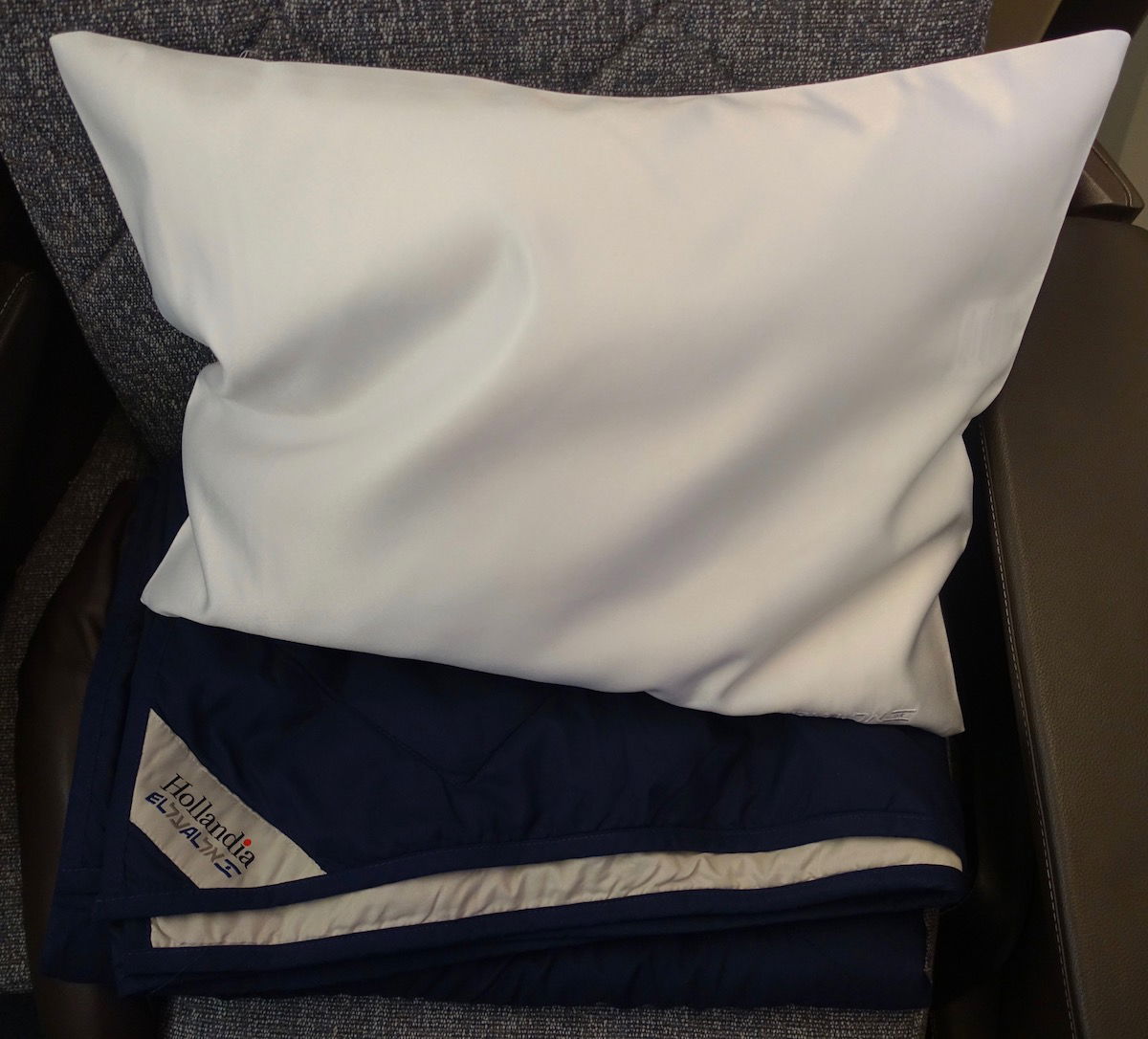 There were good noise canceling headphones, which went well with the solid selection of inflight entertainment (it wasn't as good as Emirates' ICE system, but it had dozens of movies, TV shows, etc.).
Based on what I had heard prior to my flight, the food exceeded my expectations. The overall service concept is definitely focused on efficiency and maximizing rest, as you can have everything served at once, if you'd like.
Service began with mixed nuts and drinks — I had an Israeli sauvignon blanc to drink (all their wines are Israeli, which I love).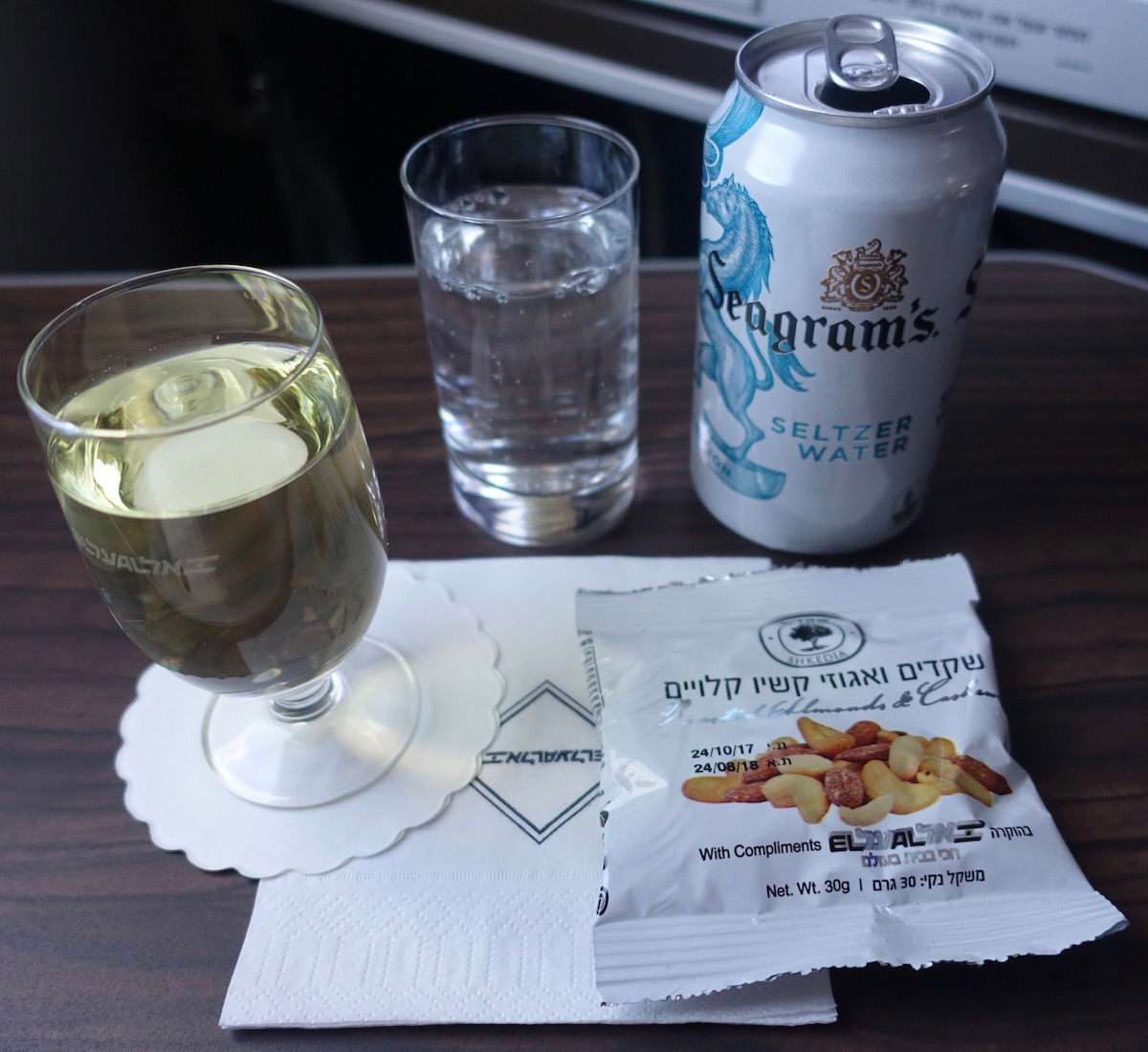 For the first course I had the sesame crusted seared tuna with daikon radish slaw, and a fresh baby greens salad. The tuna was excellent, while the salad was bland.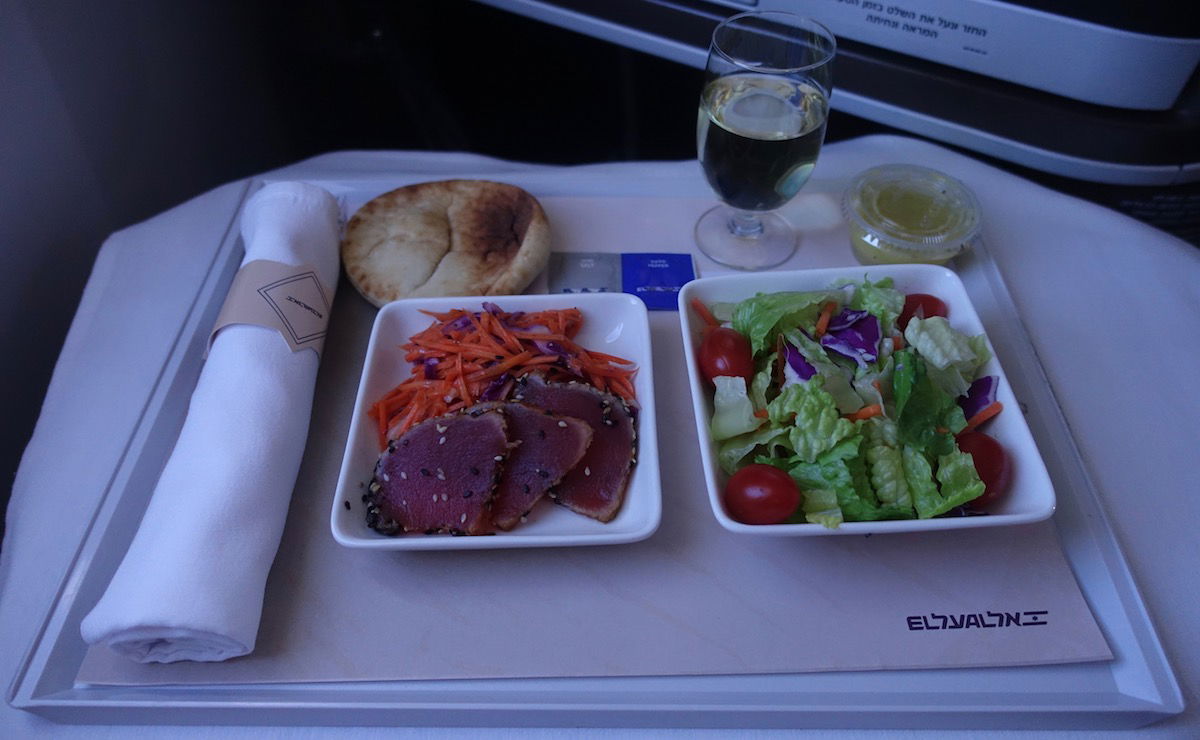 For the main course I had a sweet chili glazed seared salmon fillet with basmati rice, sugar snap peas, and pea tendrils. The fish itself was good, though the sweet chili glaze was barely noticeable.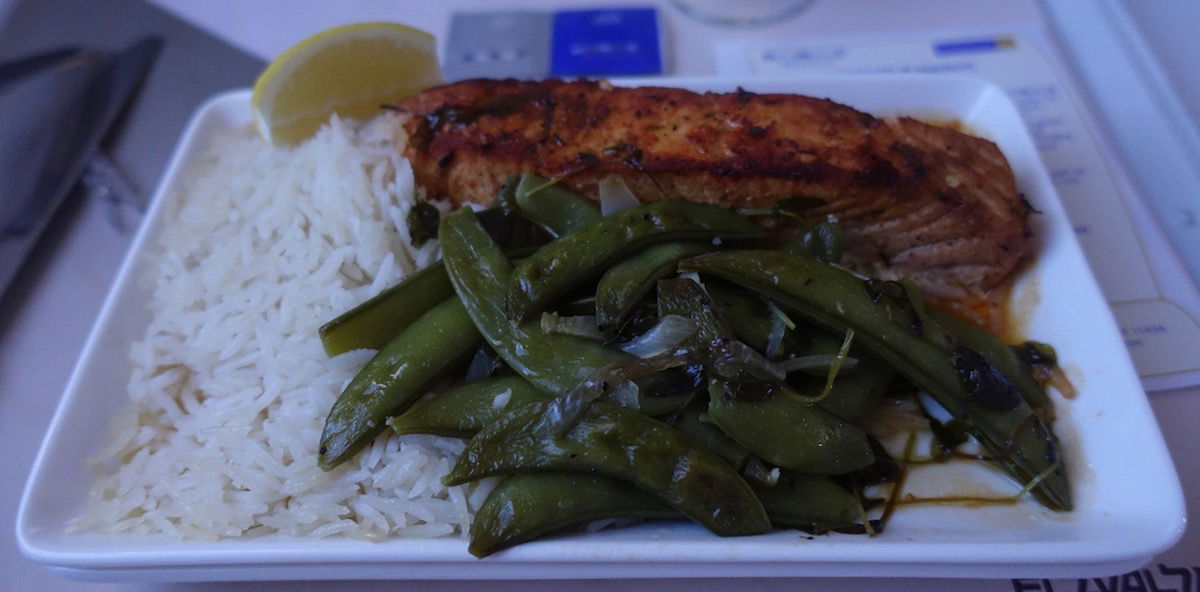 Then for dessert was fresh fruit and an incredible chocolate pastry. It was so good.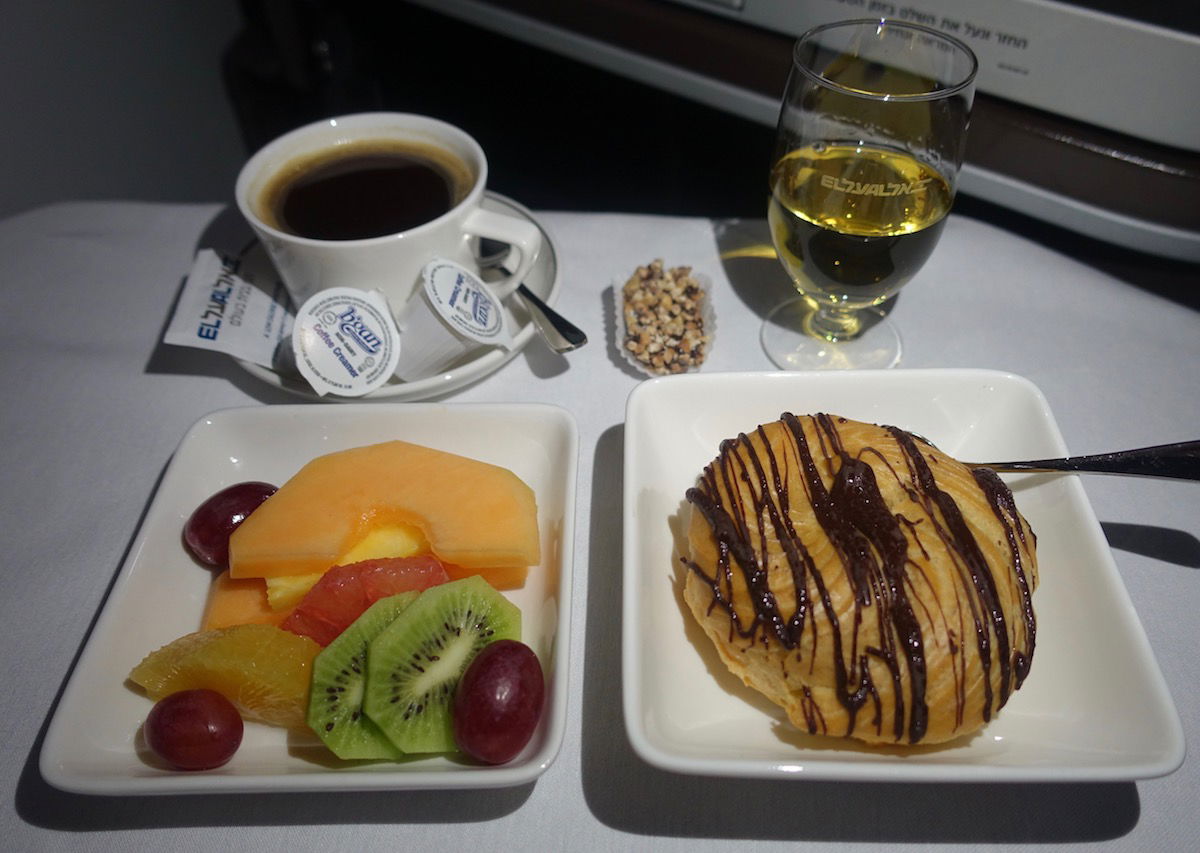 It's not often I say this, but even better than the dinner was the breakfast before landing. I selected the yogurt and granola as my choice (the other option was an omelet), and it was served with an Israeli salad, delicious salmon, a warm wheat bagel, fresh fruit, and a Nespresso cappuccino. In addition to a breadbasket, they also came around with a separate basket that had cinnamon rolls, chocolate croissants oozing with chocolate, etc. I resisted the urge, but it smelled so good.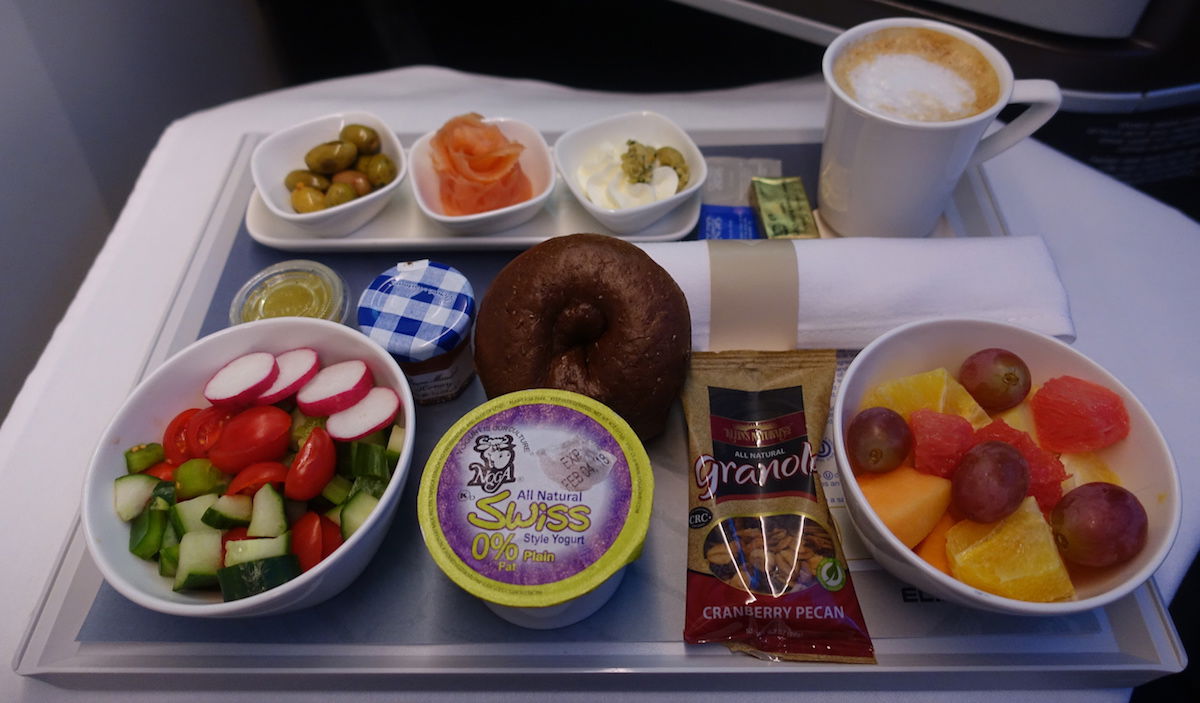 What really blew me away about EL AL was the service. Taking care of my aisle was Adi, the inflight service manager, and Nadine, one of the business class flight attendants. They provided the most authentic and warm hospitality imaginable. Adi came around to each business class passenger during boarding to welcome them onboard, and did the same again before landing to get feedback on the flight.
They clearly took pride in the new plane, and interacting with them made me even more excited about our visit to Israel. When Adi learned it was our first time visiting, he spent a good 20 minutes giving us all kinds of tips. And most importantly, he took amazing care of my mom, which is priceless.
The quality of a crew makes such a difference in terms of the overall experience, and can make up for minor shortcomings with the rest of the soft product. Our flight was exceptional thanks to the kind crew.
Based on EL AL's former first & business class seats, I said they were an airline worth avoiding, given that many other airlines offer better seats to Israel. However, EL AL's new 787s are gorgeous, and I'd recommend them without hesitation.
There's certainly still room for improvement with the soft product. I think they could eliminate the trays and maybe invest a few more dollars per person in the meal service, like improving the salad, plating the main course in the galley rather than having it pre-plated, etc. I also wish they had more Israeli meal options. It's my first day, and I've already fallen in love with the food here.
But the brand new plane combined with an exceptional crew really made this an excellent flight. Now I'm curious to see what EL AL's 777 first class is like for the return trip.