Update: This is a reminder that this deal is still available, and also a heads up that my Hilton Honors points just posted. There were lots of questions about how long it would take for points to post, and so far it seems the answer is around four weeks.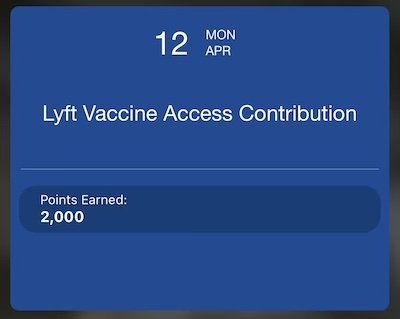 You can find the original post from March 17 below in its entirety.
---
Here's an opportunity to donate to a great cause, and potentially come out ahead purely in terms of the points you earn.
Earn Hilton points for making a donation
Hilton and Lyft have a partnership that allows Hilton Honors members to earn bonus points for Lyft rides (if you're not yet enrolled in this partnership, you should be).
Well, Lyft has launched an awesome vaccine access initiative, as the company is mobilizing partners and community members to help provide access to 60 million rides to and from vaccine appointments. This is intended to benefit low-income, uninsured, and at-risk communities across the country.
Through May 31, 2021, Hilton Honors will award 2,000 bonus points to member who has linked their Hilton Honors and Lyft accounts, and contributes at least $5 t0 the Lyft vaccine access fund. On top of that, Hilton will also match all contributions up to $50,000.
Personally I value Hilton Honors points at ~0.5 cents each, so I value the 2,000 points at $10. That means you could donate $5 and get $10 worth of points (by my valuation).
Now, of course it would be nice to donate more, but ultimately you're still doing good by donating $5, as it's a win-win. Presumably Hilton Honors is donating the points and not charging Lyft, in addition to matching the first $50,000 in contributions, so everyone wins.
How to make a donation
To make a donation to Lyft's vaccine access fund, follow this link and click on "fund a ride" at the bottom right of the page.
Then you'll just have to verify your identity.
Then you can easily make a donation using the credit card linked to your Lyft account — you don't even have to enter the info again.
There's no need to enter your Hilton Honors information during this process, assuming your accounts are linked correctly.
Chase & Delta also have offers that could stack
Some of Lyft's other partners are also partnering with this initiative, though Hilton is definitely being the most generous.
There are also opportunities with both Chase Ultimate Rewards and Delta SkyMiles here:
Chase is offering 10x Ultimate Rewards points on donations, and in the next several weeks it will also be possible to make donations with the Pay Yourself Back program
Delta will award 250 bonus SkyMiles to the first 15,000 Delta and Lyft linked SkyMiles members who contribute a minimum of $5
The Hilton Honors offer is by far the most generous. However, you should be able to stack these:
You can certainly pay with a Chase card to earn 10x points for your donation
You can link both your Delta SkyMiles and Hilton Honors account to your Lyft account, and historically rewards have stacked, so you might be able to earn 2,000 bonus Hilton Honors points and 250 bonus Delta SkyMiles
Bottom line
Lyft has an awesome program intended to give people rides to vaccine appointments, which is a worthy cause. If you donate at least $5 you can also earn 2,000 bonus Hilton Honors points, which I personally value at $10. You can even earn 10x Chase points for the purchase, and might even be able to earn 250 bonus SkyMiles as well.
Do you plan on earning Hilton Honors points with this Lyft vaccine initiative?